See What Artists-in-Residence at a Trash Dump Create
Meet the artists who transform San Francisco's trash into art.
Rainbows on a pile of styrofoam, as part of artist Robb Godshaw's exhibition at Recology. (All Photos: Recology San Francisco Artist in Residence Program) 

A local dump might seem an unlikely place to create art, but that's exactly what's been happening at the San Francisco Transfer Station and Recycling Center, Recology, since 1990. As part of Recology's Artist in Residence program, local artists transform trash into art at an on-site studio, using discarded materials sourced directly from the garbage and recycling of San Franciscans. 
The idea originated with artist and environmentalist Jo Hanson. After creating her own art with trash and assisting with campaigns such as city-wide street sweepings, in the late 1980s Hanson approached Recology about a program where artists could reuse materials from the dump. At around the same time, San Francisco was implementing new recycling laws, and looking for ways to raise awareness about waste. The artist-in-residence program fit that bill.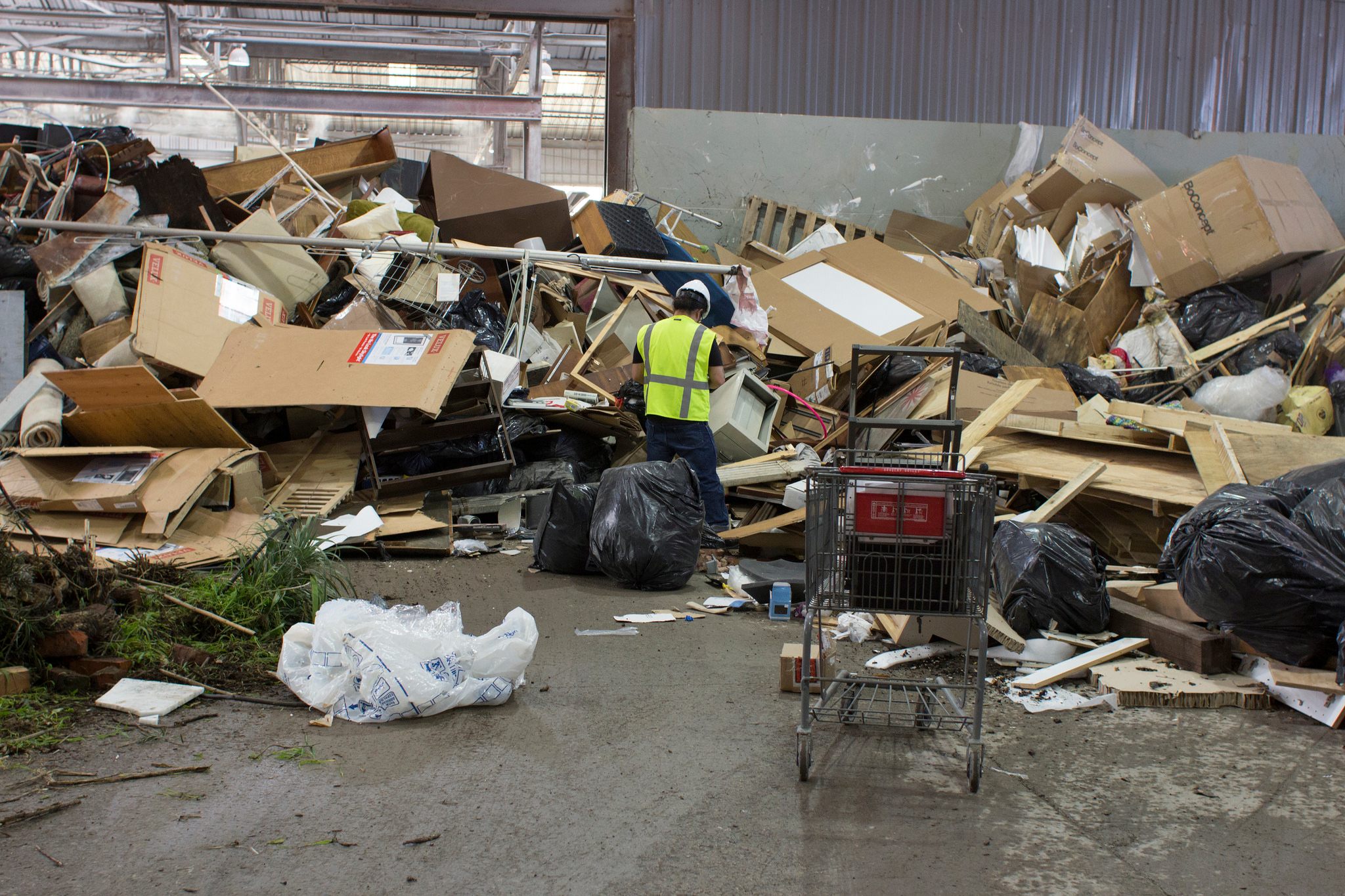 Weston Teruya, a 2016 Artist in Residence, searches for materials to reuse in his art. 
Since then, over 150 artists have participated in the program, and the site has expanded to include a sculpture garden and "Dump Farm" for growing vegetables. The city's recycling laws have also changed as awareness of climate change has grown. San Francisco now requires mandatory composting and recycling, and has a goal that no waste will be sent to the landfill by 2020.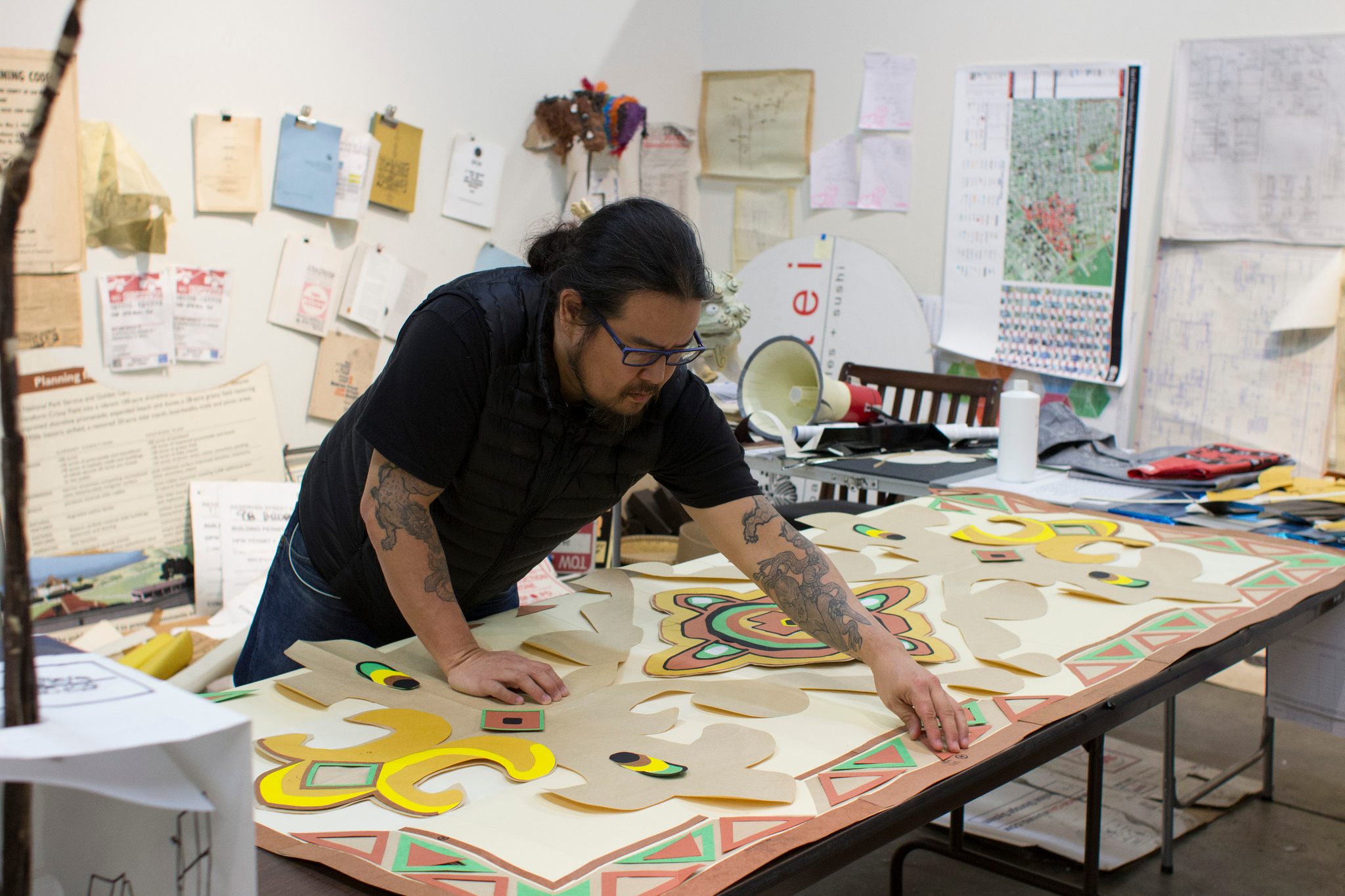 Teruya at work. His residency will end in May 2016, with a 2-day exhibition at Recology. 
Today, six professional artists and three student artists are chosen to complete the program each year. They work for four months on their pieces, which stretch across variety of mediums, including sculpture, mixed media, collage and photography. The materials are sourced entirely from the dump, and to assist with the scavenging, the artists are supplied with safety gear and an all-important shopping cart.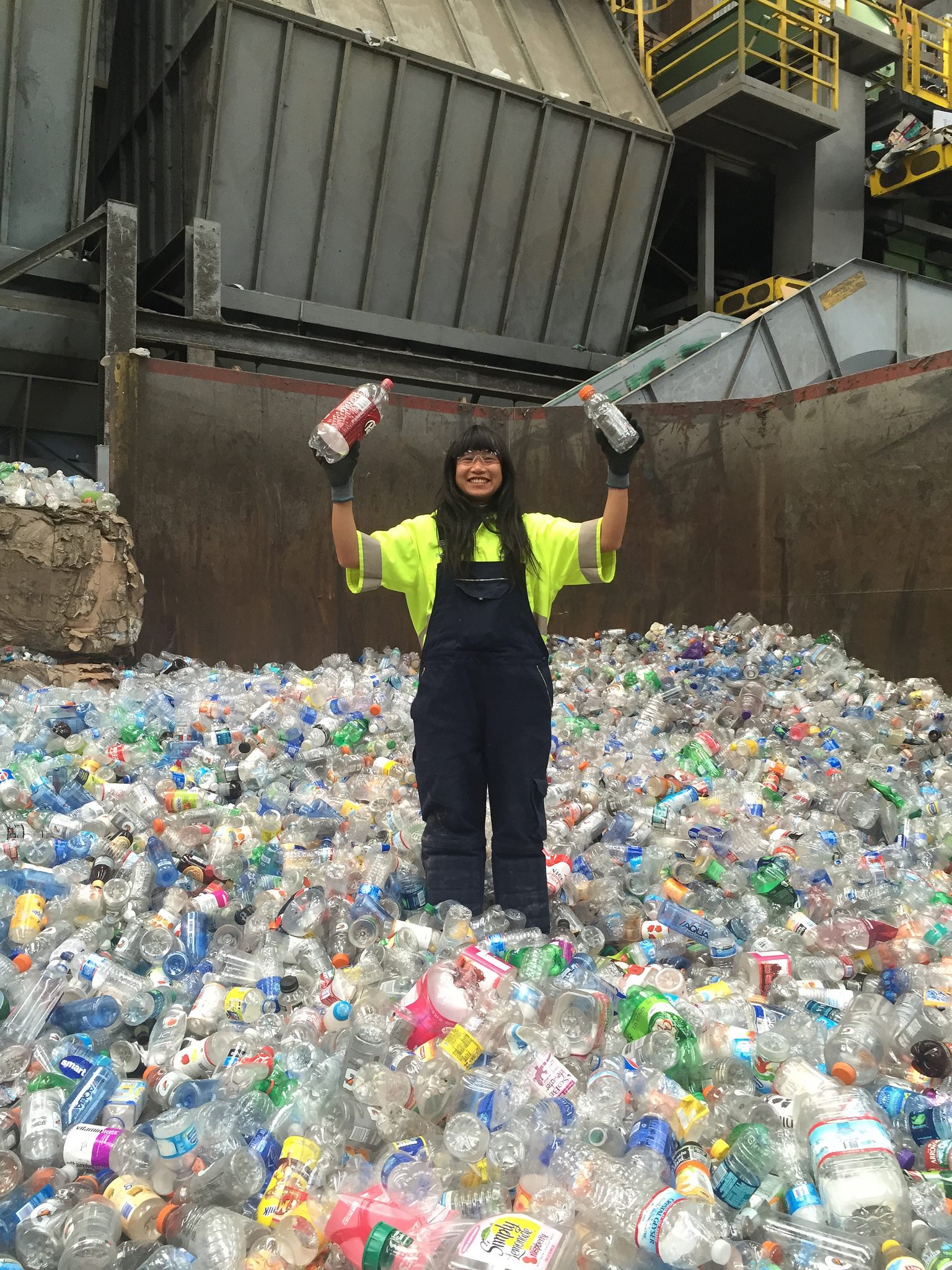 Artist Ma Li sourcing plastics. 
One such artist is Ma Li, who worked on a living installation while in residency. She created a spring garden using materials she had found, including water bottles, foam, window blinds and plastic tubes.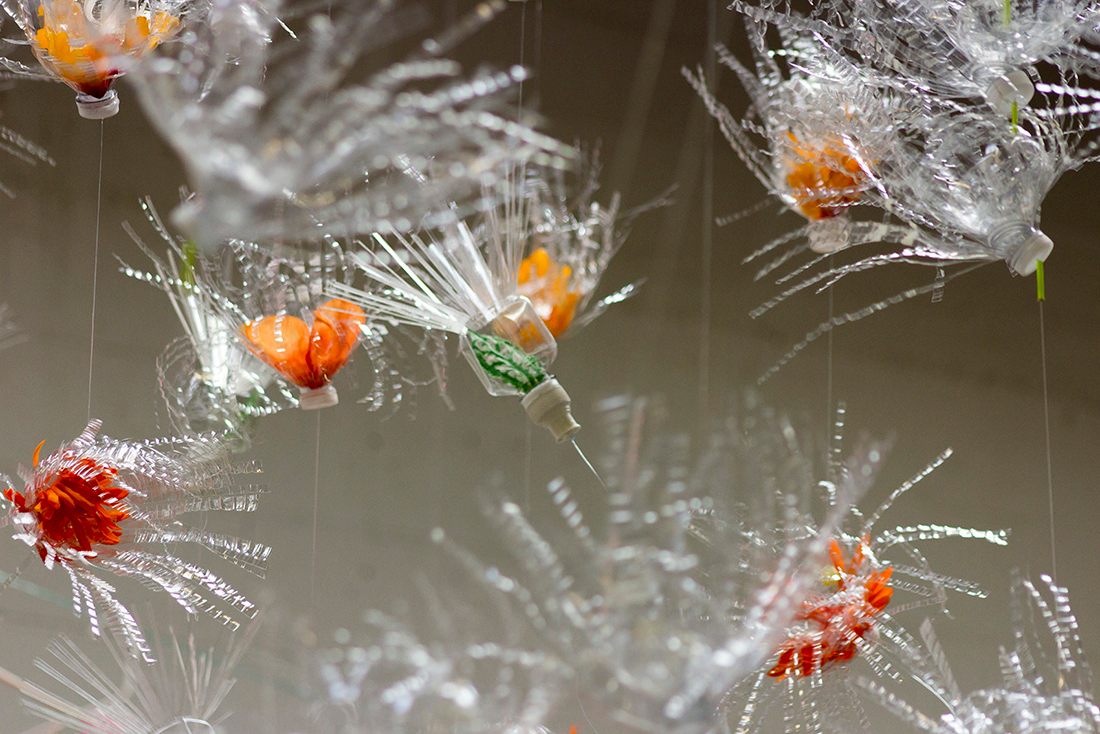 A detail from Ma Li's installation. 
The following artists all participated in the program in the last five years, and have created works from a wide assortment of discarded items, include wood, string, a surgical knee brace, a headlight and aluminum heat-sinks. Take a look at their unique reuse of San Francisco's waste.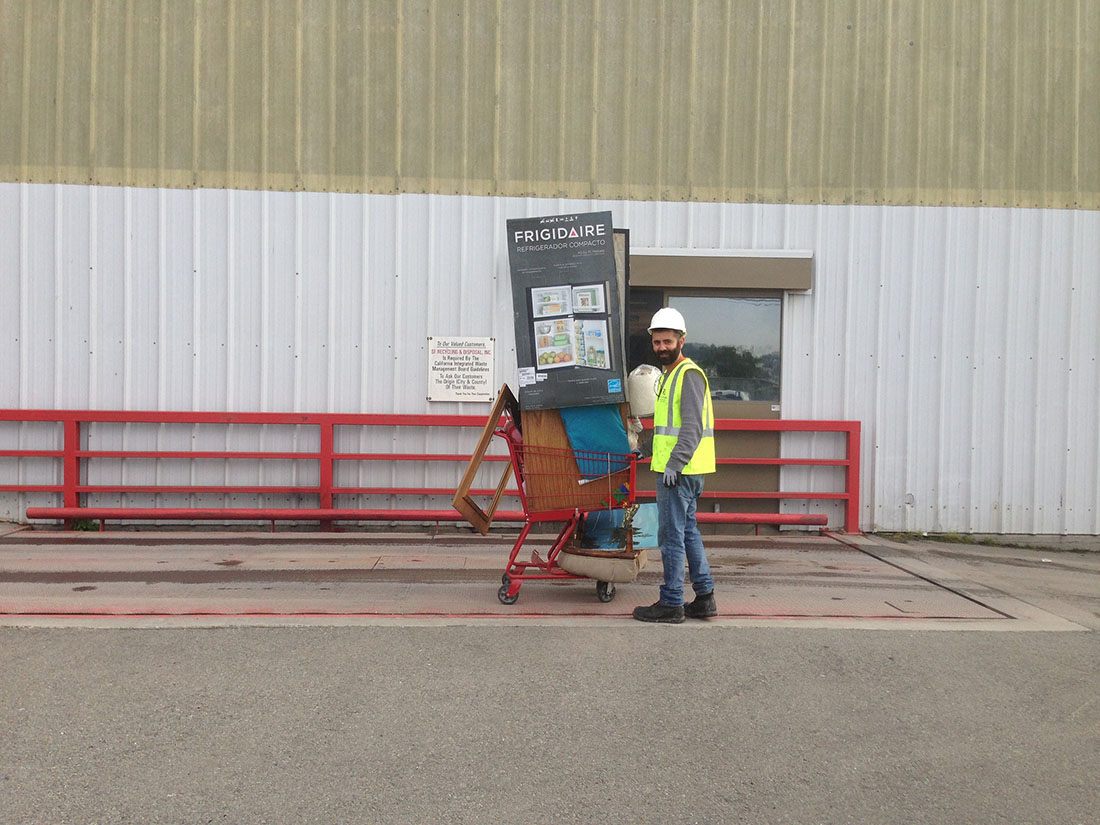 Jamil Hellu with his shopping cart of materials. 
An Act of Covering Someone with Paint, 2014 by Jamil Hellu. This piece was part of a series of self-portraits Hellu made while in residence at Recology.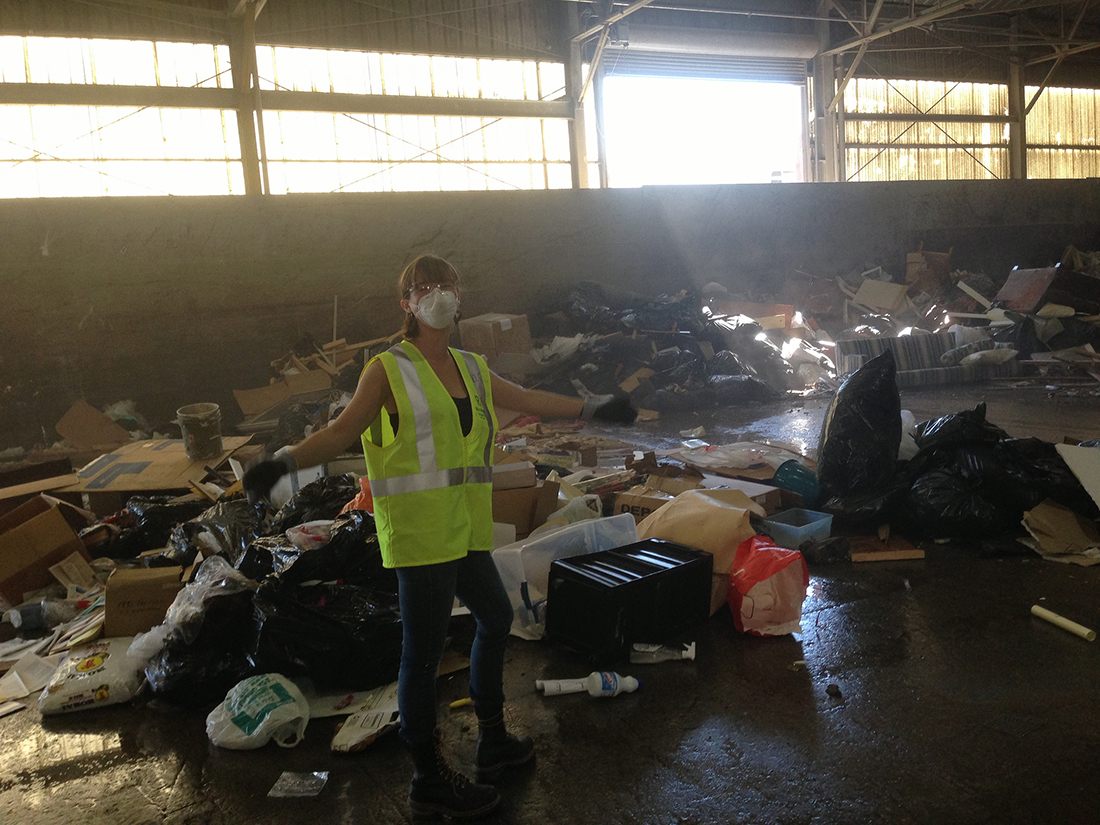 Yulia Pinkusevich scavenging at the dump.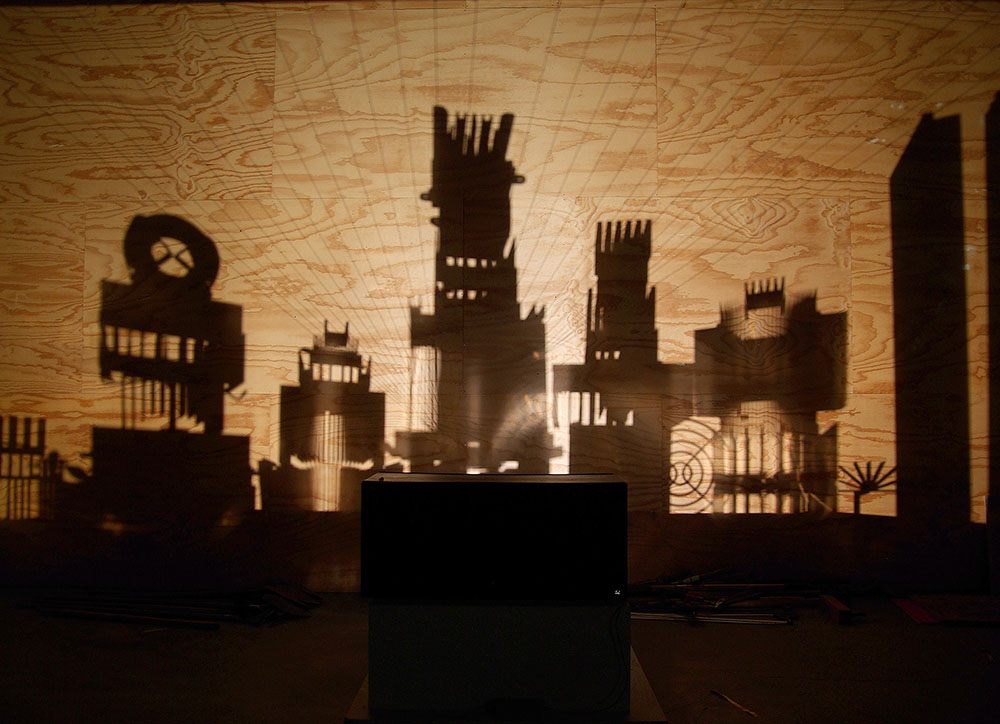 A light installation by Yulia Pinkusevich, including materials such as aluminum heatsinks, wood, string, LED lights, electronics.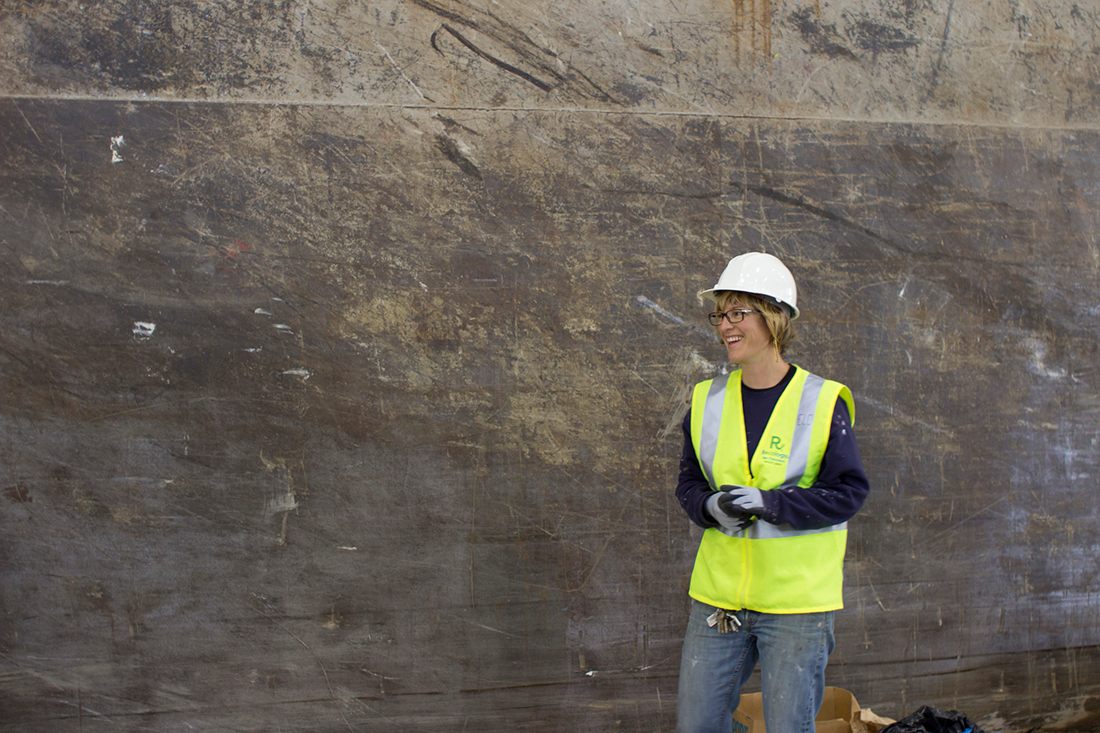 Kristin Cammermeyer on site.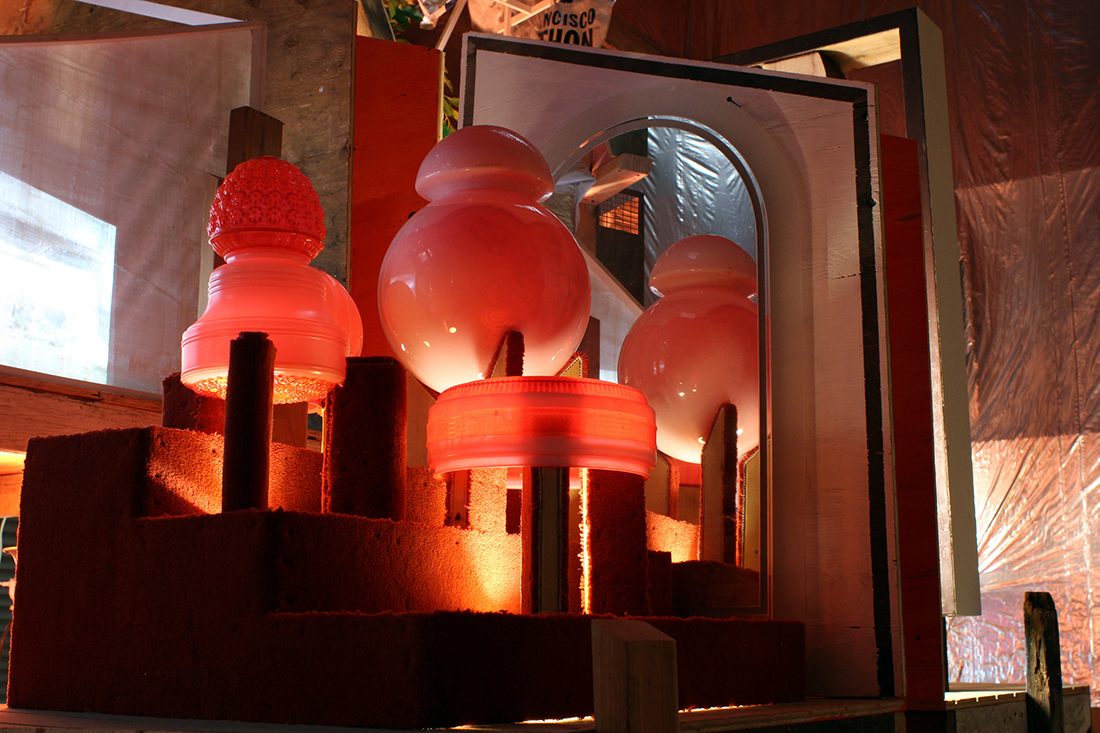 DOUBLE HOW: Glass Light Globes, 2013, a mixed media installation by Kristin Cammermeyer.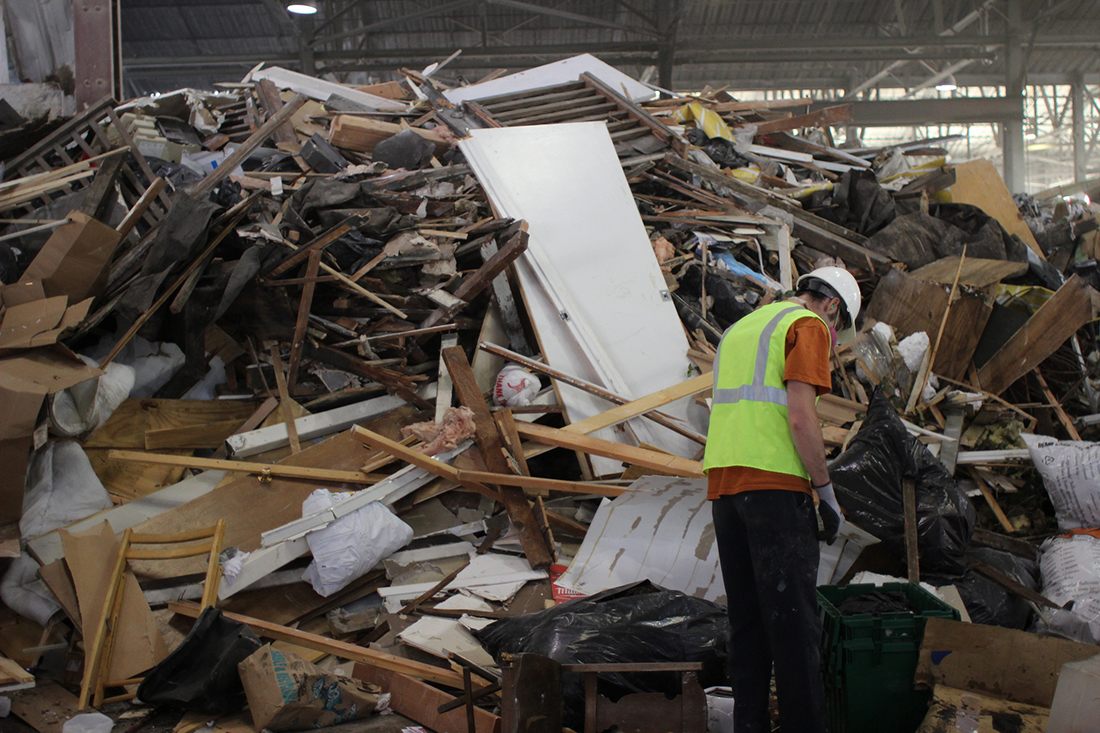 Jeff Hantman digging into a pile of waste.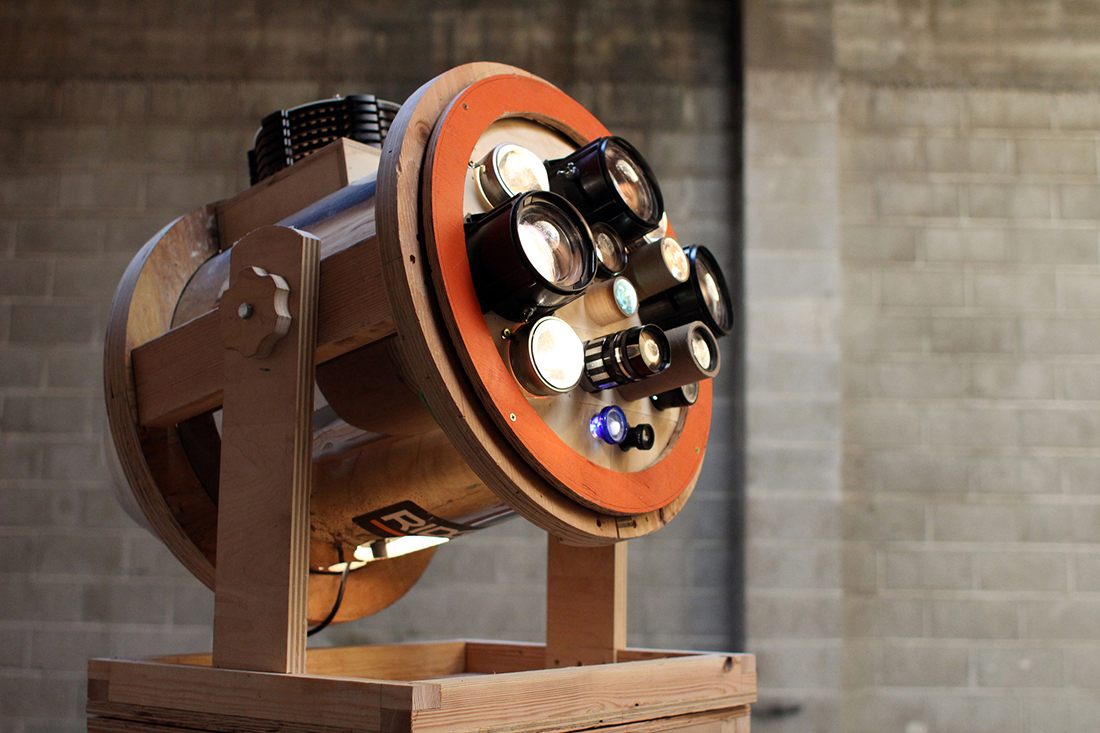 Jeff Hantman's Ridgid Light, 2013, which included shop vacuum can, headlight, camera and tv lenses, plywood, 2x4s, projector, shade for industrial lamp, surgical knee brace and glass bowl.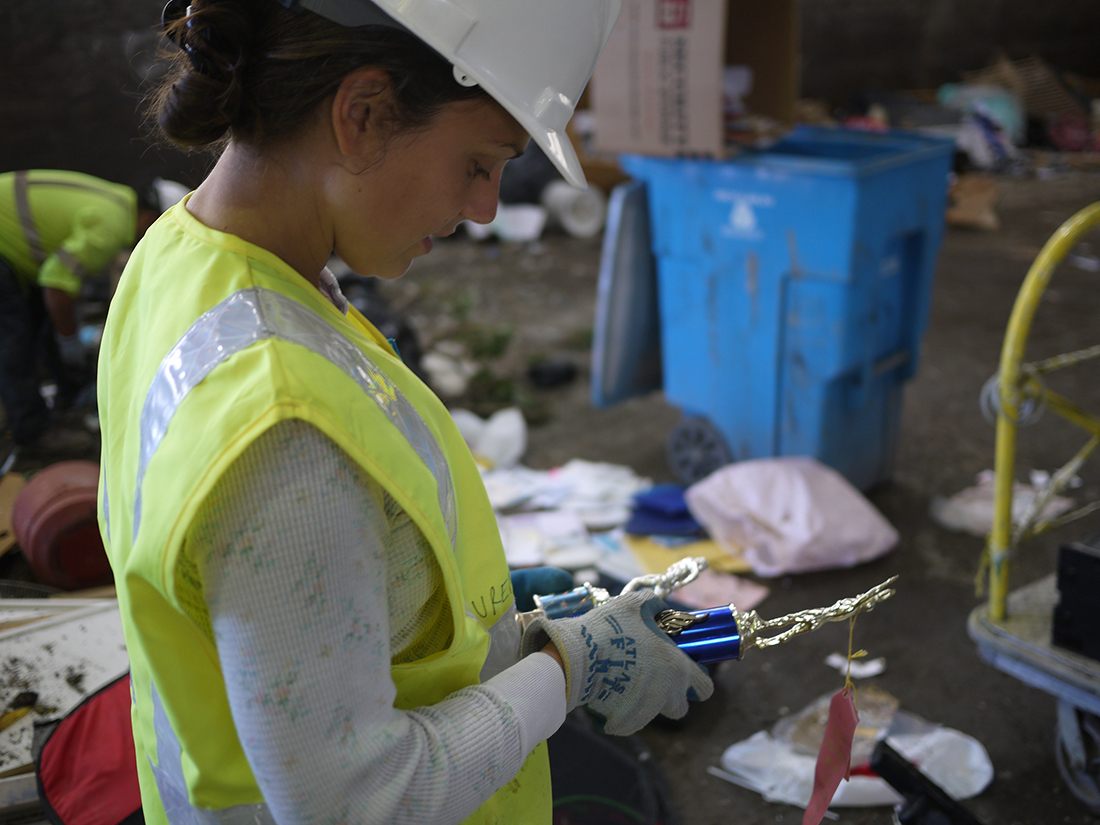 Lauren DiCioccio examining an item for potential reuse.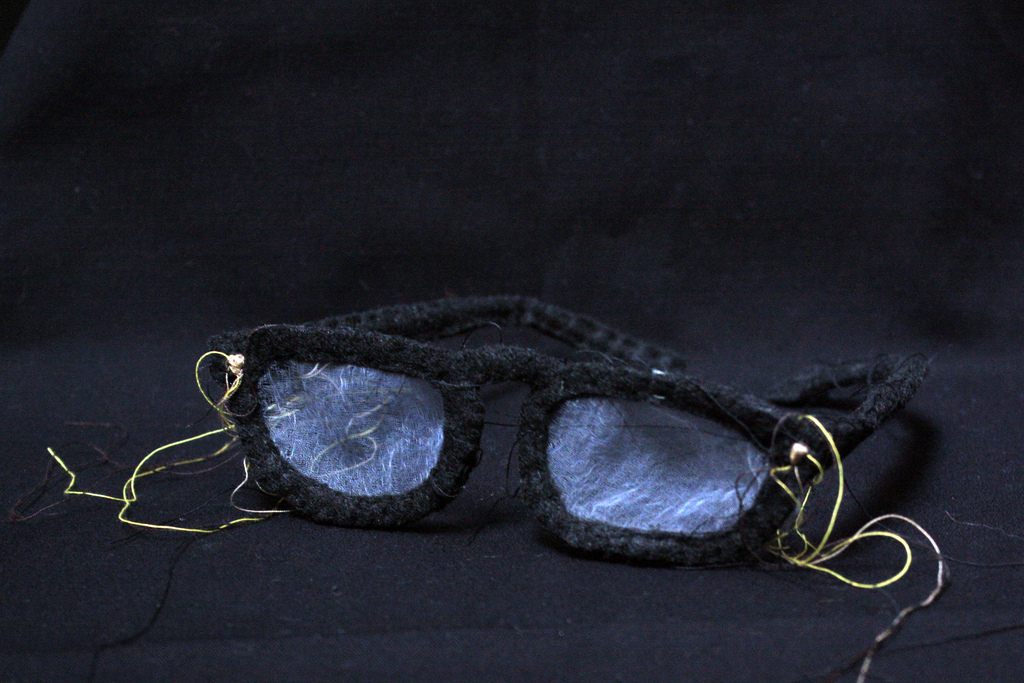 Glasses, 2011, a hand-sewn sculpture by Lauren DiCioccio.