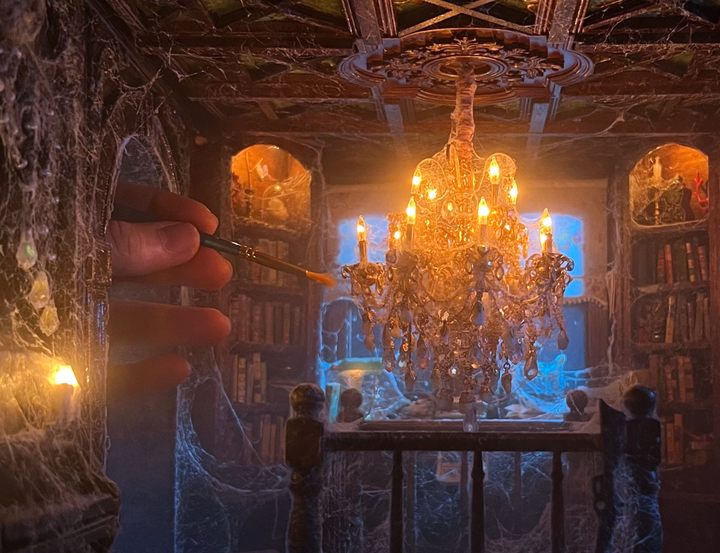 Explore the Insidious Secrets of This Haunted Dollhouse
From human-teeth tiles to teeny-tiny taxidermy, this insanely detailed interactive diorama reflects the magic, lore, and history of the Southern Gothic.
Lipstick-stained cigarettes line a grimey bathroom sink. In the kitchen, a pink fridge is covered with news clippings, old photos, and rust spots. It sits open just a crack, enough to see the rancid food, pet carcasses, and bedpan inside. Across the house, a balding cat is curled up on a distressed pink loveseat in an arsenic green parlor.
Despite the cobwebs and peeling wallpaper, the house isn't abandoned. Rather, it's freshly furnished, and is still being added to every day. And you can admire every room at once without concern about freaking out when you step inside. In this three-foot-tall dollhouse, minutely and extravagantly detailed, a ghost story set in 20th-century Mississippi unfolds.
The Southern Gothic Dollhouse, created by San Francisco–based artist Lauren Banks, started as a pandemic hobby after the cancellation of her annual Halloween party. Born out of a single college course in set design and a love for all things spooky, the home became an obsession for the past three years. The theatrics—from tiny flickering spell candles, to crime scenes (adorned with Banks's actual blood), to lightning storms—aren't just for show. Like in any good ghost story, the truth isn't offered freely; lies in details, a dark saga told in clues, snatches of history, and the ramblings of unreliable narrators—all hallmarks of the Southern Gothic genre.
"The idea is that there are all of these tiny stories," says Banks. "There's hundreds of them that you can just rabbit hole into."
Without giving too much away, the story told by the house follows multiple generations between 1900 and the 1960s, somewhere along the Mississippi River, on the border with Louisiana. There's the long-time homeowner Rose, her lost lover Georgia, a lost "daughter" named Magnolia, several others, and now, you. A viewer, the explorer of the home, joins a ragtag crew of Southern girls—Penny, Mouth, and Bug. Your "friends" dared you to enter, where, room by room, you search for a spellbook and unfurl the tragic history of the house and the souls trapped inside.
The house—now with an in-progress swampy green exterior—is three stories high, plus an attic, and was based on a kit from Greenleaf Dollhouses. Banks kept the 10-room layout—attic, bathroom, kitchen, parlor, foyer, library, two bedrooms, two hallways, and some secret bonus nooks and crannies. But she then took liberties with many of her own alterations to the architecture.
She's taken on mini carpentry, electrical work, and 3-D printing to build balconies, ornate wooden floors, infinity mirrors, stained glass windows, and more. In true miniature scale, an inch in the dollhouse is equivalent to a foot in the real world. The house is crammed full of possessions, many of which Banks has commissioned from the larger miniature-creator community. From family portraits, to an anatomical heart cast, to a hyper-realistic gramophone and records, all the items she receives have become part of the story. Most importantly, every element has to look like it belongs in the old haunted home. Banks took on the task of distressing herself—washing, oxidizing, scratching, and burning to get the perfect worn effects.
Banks has worked her way through each floor, starting with the central staircase, staining and staging as she goes. Each room today lies in various levels of completion, and as the story evolves, so do the rooms. Banks didn't start with a hard narrative for the house or its inhabitants. Rather, each character and scene is still in progress, being shaped by Banks's continuous education in the genre she so loves.
"I am not a Southern Gothic expert by any means," she wrote in an April 2021 post on Instagram, where she's been documenting her progress, "but by the time I'm done with the project, I hope to be." Inspired by literary classics such as William Faulkner's A Rose for Emily, Toni Morrison's Beloved, and Michael McDowell's The Elementals, Banks quickly realized that if she was going to explore this complicated genre, especially as a white woman, she needed to dive deeper into the history. The effort is apparent in the way her work has evolved.
"I have to say, I was incredibly impressed not only from a scholastic perspective, but from a world-building perspective," says Kit Bauserman, a doctoral student studying gothic and horror studies at William & Mary in Virginia. "Everything seemed incredibly well researched."
Over the past two years, Banks has immersed herself in history and literature, and collaborated with experts, from historians to magic consultants. But Southern Gothic can be hard to define with any precision.
Southern Gothic is often tied to literature, with Baltimore's Edgar Alllen Poe widely considered the genre's first author. It has fantastical elements, but keeps close ties to history, oral traditions, and folklore, specifically those of the post–Civil War era, when the grandeur of the South—built on the labor of enslaved people—was crumbling.
"We see things like decaying manors as the decay of Southern wealth," says Bauserman, who grew up in the Shenandoah Valley of Virginia. "The Southern plantation being haunted by the wrongly and previously enslaved is not the first, but a staple manifestation of the haunted house."
Broader gothic traditions are the roots of modern horror, as well. "Horror has historically been used as a tool of critique against the dominant narratives within American culture," says Bauserman. "It's very much used as a tool of commentary and resistance. So understanding different undercurrents and power dynamics is something that gothic horror really aids in."
Through her miniature world, Banks has been exploring how some of the narratives and tropes of the Southern Gothic, horror, and ghost stories still play out—from racial issues to gender constructs, from sexuality to food history. "Choosing a dollhouse as a medium was intentional," she says, "because a big part of this is exploring why women are so tied to the domestic space, and how that space is both a prison, but also a sanctuary." As she shares her work on social media, it has been sparking conversations about that history and lore. "The reason for it existing is not in the final product, but in the space explored prior to product—the time taken to think, learn and share," she wrote on her website.
Southern Gothic folklore and magic are popular topics on Banks's page, as well as in her work. She collaborates with a magic consultant to accurately and authentically represent Nordic, hoodoo (a spiritual practice created by enslaved people in the American South), and other Southern communities' spells and symbols, with respect to closed or sensitive practices. Jars of honey found in the master bedroom, for example, are reminiscent of a hoodoo practice used to sweeten a person or situation in your favor, says Bauserman. Nordic runes painted in cemetery dirt mixed with blood and the presence of an ancient black gator also play into the unique location and time in history, they point out.
There are so many symbols, clues, and details in the home that it can be hard to know where to look. Pinhead-size bees—which carry symbolism in many cultures—serve as guides, drawing the explorer's eye to relevant clues.
The landscape also plays a central role in history and Banks's story. For teenage Magnolia, the house becomes more prison than refuge. She runs away and hides in a swamp, but it doesn't end well. In her room there are pill bottles, dolls, and forbidden love letters, suspended in swamp water rising to the ceiling—made by Banks from resin. Swamps have a long tradition in Southern Gothic literature and history, as places where enslaved people fleeing to freedom found both refuge and danger, says Bauserman. "Magnolia [who is biracial] running off into the swamp hit a perfect literary and historical beat," they say.
None of the characters appear in the diorama story in person—there are no dolls in the house, save a few skeletons. "You don't want to look directly at the thing," Banks says. Instead, the family appears in mirrors, portraits, possessions. "The details in how those things were kept or neglected over time, stuffed aside in shame or presented proudly on her mantle, say so much," Banks wrote in an Instagram post.
On the second floor, a library overlooks the living room, complete with a chandelier laden with real human teeth, hanging over the central balcony. On the desk sits a typewriter, surrounded by lipstick-stained teacups full of whiskey, candy, newspaper clippings, and, of course, shelves of books and oddities. If this room seems more "realistic" than some of the others, says Banks, that's because it's hers. Like gothic writer Shirley Jackson, Banks has written a bit of herself into the display. "So all the rooms in the house, they're reflective of all these other books, these fictional stories." she says, "but this room is reflective of someone who is very real."
Banks estimates that she has about two years left to go on the house. One day she hopes to hide it inside a secret room in a rental home, where people can follow clues around the house to find it.
First, Banks has to write a book that tells the story of the home, at the demand of her followers. The house won't ever be for sale, she says, but she does sell smaller pieces with the same aesthetic, with proceeds going to The Campaign for Southern Equality, which supports LGBTQ+ youth in the South. Banks imagines her future grandchildren unraveling the mystery one day in the future, when she is herself gone. "I think the added challenge will be that I am not going to be there to explain it to them," Banks says. "[Now] I will talk 'til I'm blue in the face explaining it when people come and see it, and I know I just won't have that luxury." By that point, a phantom presence in that dusty miniature library will have to be the guide.