Some Turkeys, a Dead Cat, and a Lot of Turkey Experts
What's going on here?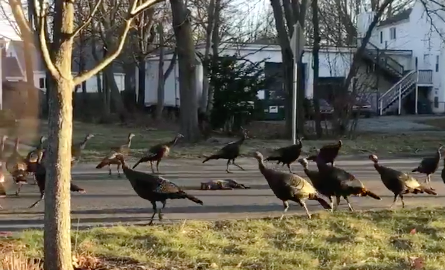 Nature is full of mystery, but none are as compelling at this very moment than why these turkeys are circling a dead cat.
As seen in a recently released video that has been spreading across the internet like overflowing gravy on a Thanksgiving plate, a group of turkeys was caught on tape walking in a nearly perfect circle around a deceased cat in the middle of the street. The person filming the strange behavior, which he tweeted, seems to be baffled by the birds' conga line, but experts quoted across the internet seem to blame it on one thing: turkeys are kind of dumb.
These turkeys trying to give this cat its 10th life pic.twitter.com/VBM7t4MZYr

— J… (@TheReal_JDavis) March 2, 2017
An expert Gizmodo spoke with, posited that the birds were just curiously checking out a potential threat, and got locked in a hypnotic cycle of one bird following the tail of the one in front of it, unto infinity. Other turkey specialists, including ones quoted in The Verge, seem to have come to similar conclusions, saying they'd seen similar behavior in the turkeys before.
Among the other publications to have spoken with turkey experts today: Boston Magazine, the Huffington Post, and the Boston Globe. 
Today was a big day for turkey experts.