Discovering the Modern South Asian Ritual of Making Chai
Remember the history, practice, and be creative.
Secret Obsessions is Atlas Obscura's new column where we ask wondrous people to take us down a rabbit hole. This edition features actor and director Sujata Day, as told to Associate Editor Sarah Durn.
The fog was rolling in across the tea garden. When I looked out the window, I could just make out snow-capped mountains rising in the distance. The alpine air was fresh and crisp and cool—a sharp contrast to the thick, hazy air of Kolkata, where we'd traveled from. Most of all, I remember how green it was. The tea plants seemed to stretch on for miles and miles, as my brother and I played among the carefully planted rows. I had never seen so much green in India before.
I was eight years old then, and it was my first visit to my great-uncle's tea garden in Darjeeling. My brother and I took to calling him "Candy Dadu," our candy grandpa. He was always sneaking us little sweets and chips that he had secreted away.
One afternoon we were sitting on the porch of his bungalow and someone had just stirred up a fresh pot of chai. The rich mixture of spices and tea drifted out to us. I remember tasting the milky, golden-brown drink, but I was too young. It was too bitter. It wasn't until much, much later that I could add taste to the sensations and memories that the tea garden evokes.
Fast-forward, 10 years later. I had just moved to Los Angeles. We had some family friends living nearby in Thousand Oaks, and I stayed with them when I first moved out there from Greensburg, Pennsylvania. They helped me find an apartment and showed me around. Once I moved out, I still visited often for lunch and hung out for a few hours. After every lunch, everyone started to slip into a carb coma, so every day at 3:00 p.m., my uncle (we refer to our parents' friends as aunts and uncles) would say, "Okay, it's time for chai."
I was like, "I gotta watch this." And I said, "Oh my gosh! Teach me how to make chai!"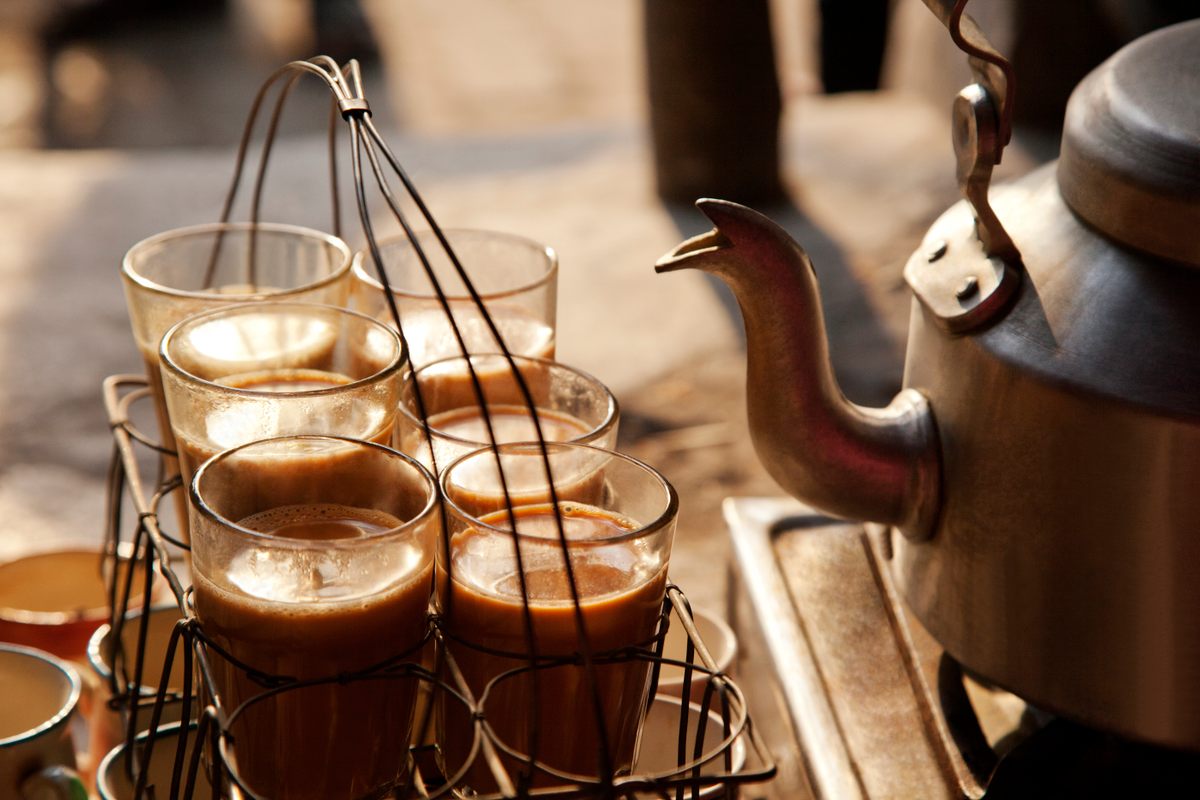 So I watched. He'd boil some water and throw in ground ginger and cinnamon and some tulsi leaves, which my aunt grew in the front yard. Obviously milk. And then he would add the sweetness later, depending on who was drinking it. There's no one way to make chai. Every Indian family has their own mix of spices, their own way of putting these simple ingredients together to make something that can taste, smell, and feel very different from house to house, but still ties people together.
You can add a lot of random different things. You can make it your own. A lot of Indian moms and dads and aunts and uncles do not use recipes at all. It's about what you want it to taste like. And that was the beginning of my obsession.
Now, as soon as I get up, I start making chai. I experimented a lot. I simmer the tea as I wash my face and brush my teeth and put on lotion and sunscreen. Then I go back to it, but I don't always time it very well.
Sometimes by the time I get back to the kitchen it's already blown up all over the stove. This still happens probably once a week.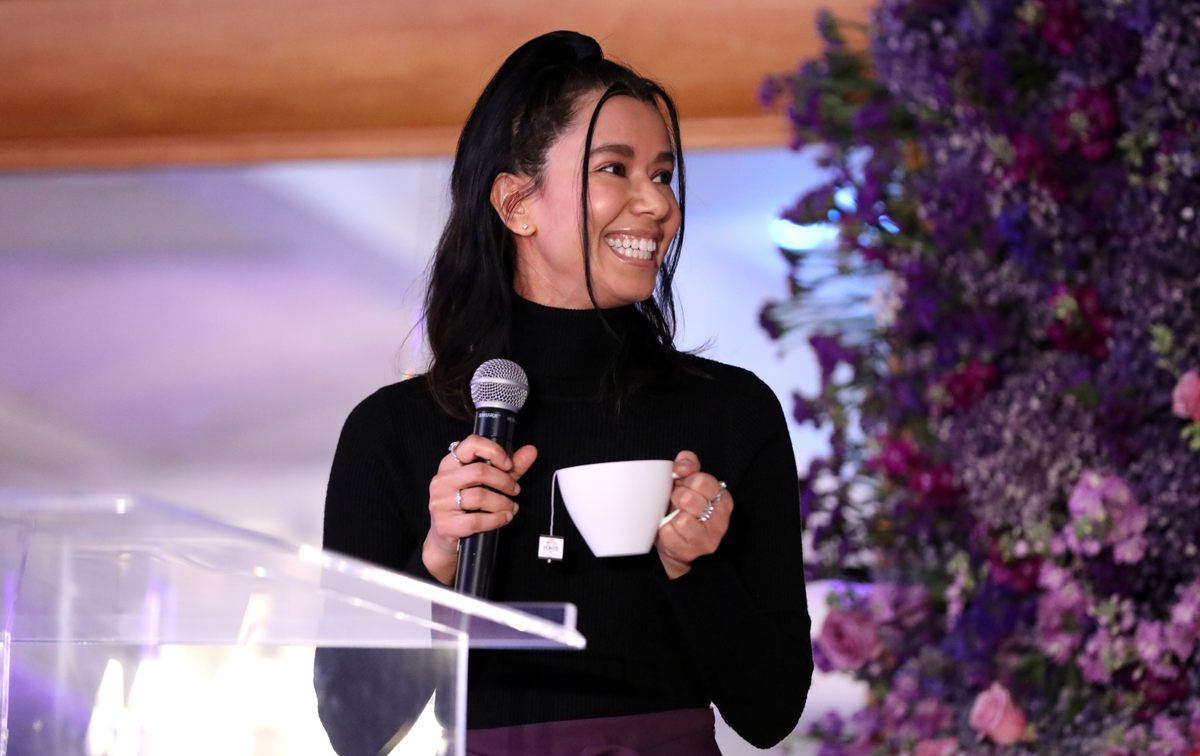 I have such a crazy job and schedule where nothing is certain. But my chai, the certainty of it, the ritual, it really places me in a zen-ful place. It rests my mind, and takes me away from the things that are mostly out of my hands.
But what's really exciting is when I go back to see my parents in Pennsylvania. They don't make their own chai, so every morning I make them mine. And I use the tea from our family's tea garden. It connects me to the generations who've passed it down. From the moment I set foot in Darjeeling and experienced the almost surreal, magical nature of that town, I immediately felt connected. Even though I was so young, I knew it was a special place. And now, it all comes together—every morning, no matter where I am.
Sujata Day is an actor and director known for HBO's Insecure and her debut feature film Definition Please, now streaming on Netflix.
Sujata's Masala Chai
Sujata Day
Total time: 25 minutes
Makes about two cups
Ingredients
18 ounces water
1 tablespoon fresh ginger
1 teaspoon cinnamon
½ teaspoon ground star anise
½ teaspoon ground cardamom
½ teaspoon ground cloves
3 fresh tulsi leaves
1 tablespoon Darjeeling black tea* (optional)
1 teaspoon honey, brown sugar, or your preferred sweetener (optional)
4 ounces milk or milk substitute (optional)
Instructions
Bring a large pot of water to a boil.

Grate the fresh ginger (my secret weapon).

Add the ginger to the water, along with the turmeric, cinnamon, fresh tulsi leaves, star anise, cardamom, and cloves. (Note: I keep a mixture of these dry spices on hand.)

Simmer for 10 minutes.

Add the tea.**

Simmer for another 10 minutes. (Note: The pot will boil over if you're not careful, so try to keep an eye on it.)

Strain the tea and spice mixture into a teapot (or whatever container you have on hand).

Add your preferred sweetener to taste.

Enjoy!

If I'm feeling wild, I'll heat up some milk and throw it in there! But generally, every day I drink it without milk.
Notes and Tips
* I recommend One Stripe Chai Co., The Chai Box, Alaya, or Kolkata Chai Company's "DIY Masala Chai Mix," which comes with an array of spices already mixed in. 
** The amount of caffeine is up to you. So you can put in as much tea or as little tea as you want, depending on what you're feeling. Sometimes I even make this exact recipe without the tea and just have it as an herbal concoction.
Gastro Obscura covers the world's most wondrous food and drink.
Sign up for our email, delivered twice a week.