In Sweden, There Is No Christmas Without Donald Duck
Oh boy, oh boy, oh boy.
Every country has its own festive holiday traditions. Austrian children fear Krampus, the half-goat, half-demon who beats naughty children with sticks. Catalonian nativity scenes feature a small defecating man. And in Sweden, about 40 percent of the country gathers round the squawk box on Christmas Eve—to watch Donald Duck.
Every year since 1959, at 3 p.m. on Christmas Eve, the 1958 special Kalle Anka och hans vänner önskar God Jul (Donald Duck and His Friends Wish You a Merry Christmas, in English) is screened on Sweden's main public television channel, TV1. Known in English as From All of Us to All of You, this hour of Disney mayhem is hosted by Jiminy Cricket, who leads viewers through about a dozen "Christmas cards" that open to reveal shorts, film clips and other cartoons dating from the 1930s through the 1960s. For decades Sweden only had two channels, and this was the only time of year when people could watch Disney animation or American cartoons on television. And the tradition stuck. Swedes are so compelled by the cartoon that last year during the program, cell data usage fell 28 percent and calls to emergency services dropped 16 percent, reports the Local.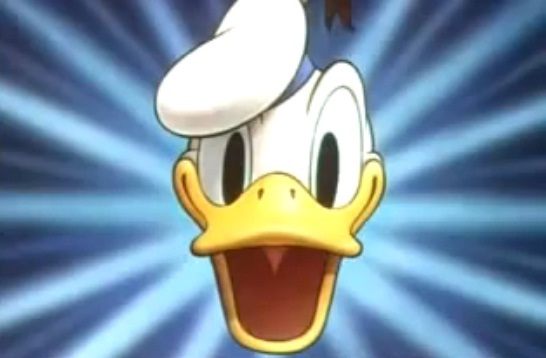 But there are a few local twists. A host presents it live, playing the role of Uncle Walt in the original Walt Disney Presents series, and a snippet from a recent Disney-produced movie finds it way into the mix. "The show's cultural significance cannot be understated," writes Slate's Jeremy Stahl, who watches the show with his wife's Swedish family. "You do not tape or DVR Kalle Anka for later viewing. You do not eat or prepare dinner while watching Kalle Anka." The viewers' silence is only broken for the recitation of favorite lines or eruptions of laughter.
And so the soft, angry glow of a barely intelligible duck has assumed the role of the fire around which people have long gathered to hear, once again, stories that they've heard a hundred times before. "It's not really that the films are so good," Charlotte Hagstrom, a professor of ethnology at Lund University, told NPR. "It's more like it's a ritual to sit down with your family every year at the same time watching the same films."