Burying the Dead in Taipei's Public Parks
The eco-friendly approach reflects Taiwan's shifting funerary practices.
Twice a year, the Chen brothers Boris and Po-An hop onto the latter's motorcycle and make their way up the mountainous district of Wenshan in Taipei. It's a scenic journey that will take them past the leafy grounds of a solar farm that sits on a restored former landfill called the Fudekeng Environmental Restoration Park. The Taiwanese government implemented this urban rehabilitation project in 2003 to protect vestigial green space in the capital, hoping to repair damage caused by unfettered urban expansion through the 1980s.
The Chens continue driving until they arrive at a beautiful arboretum that was parceled off from the same area as the solar farm. It defies belief that this verdant sanctuary was once covered in waste. Here, the brothers set their cans of chilled coffee down underneath a grove of cinnamon trees. "Our mother's ashes are buried there," Boris says, pointing to a spot under the trees, about three feet away from him. No physical markers point to the presence of human remains. Aside from the Chens, there are four other people taking a stroll around the park. "The weather is not ideal today," says Po-An, "or there might be more people."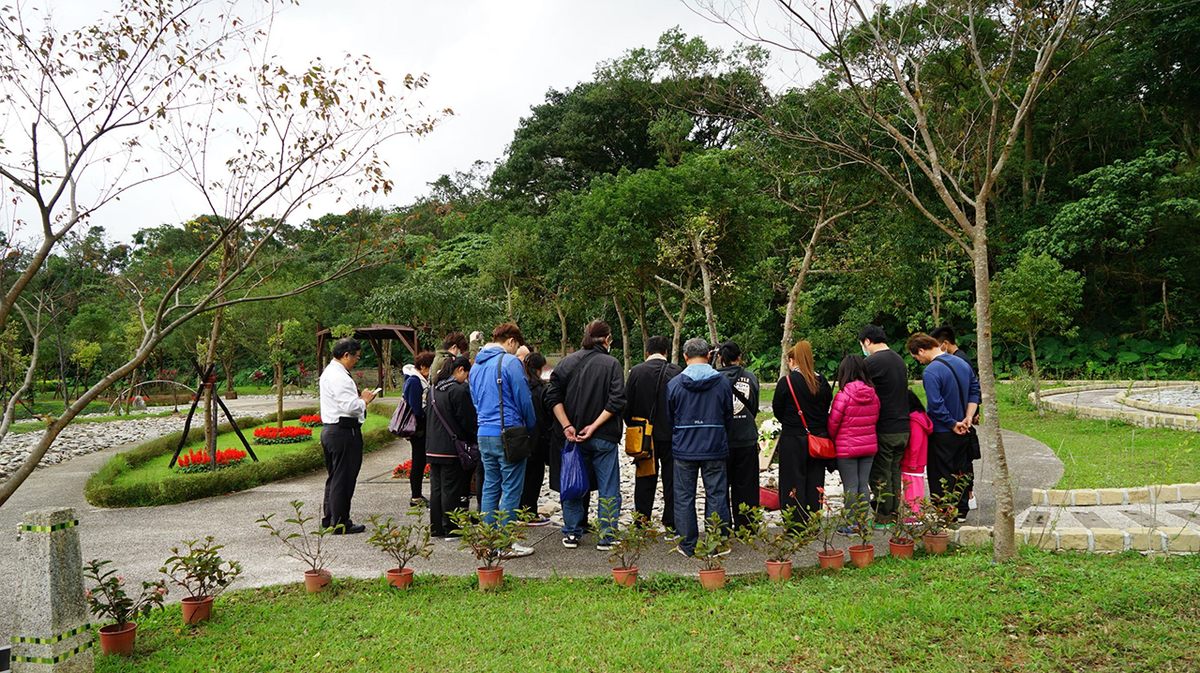 Welcome to Yong'ai Garden, an area of land stretching across 1.2 hectares and one of two public parks in Taipei where tree burials have been taking place since 2007. The concept of a tree burial is simple: family members place the ashes of the deceased into a biodegradable container, and take it to the garden. They then choose from 13 clusters of almost 8,000 trees: cherry blossoms, osmanthus, magnolia, and camphor are some of the more popular options. The caretakers of Yong'ai Garden provide the family with shovels and direct them to the burial area they have chosen. They are careful not to disturb specific sites, marked by small iron rods, where another tree burial has taken place recently. The family digs a hole in the ground that is approximately half a meter deep (1'8"), places the ashes into the hole and covers it with soil and stones. The entire process is completely free of charge. In an innovative turn on traditional Chinese funerary beliefs, the bereaved are also encouraged to set up online memorial tablets for their loved ones, in place of physical gravestones.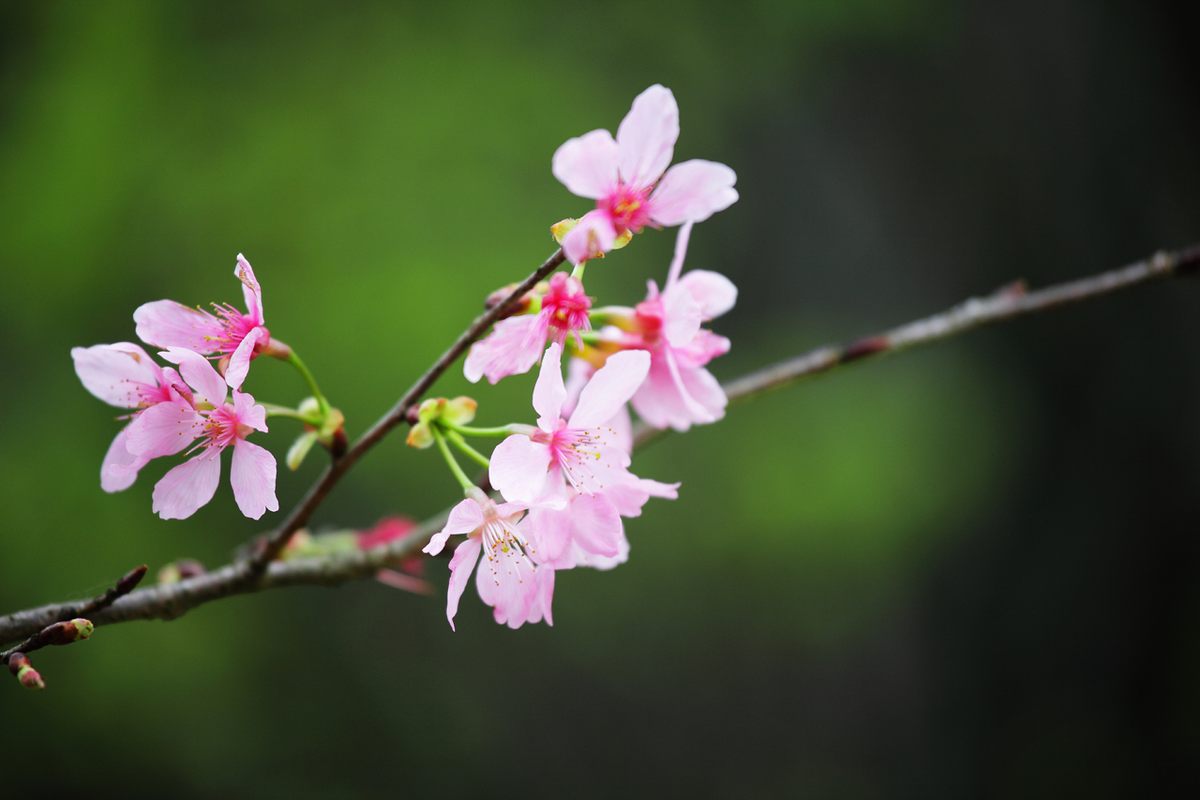 Taiwan has the lowest birth rate in the world, faces the looming threat of almost half its population being elderly by 2065, and is constantly battling the problem of land scarcity. For these reasons, tree burials and other types of eco-friendly interment are becoming an increasingly popular and space-efficient way of dealing with the dead. Over the last two decades, large public columbaria, which enable the storage of urns holding human remains, have stalled the need for the development of more burial sites. These columbaria essentially serve as apartment blocks that house the dead. But as occupancy across columbaria fills up, the Taiwanese—especially those in densely populated cities like Taipei—must reckon with alternative methods of addressing death. The draw of tree burials is particularly strong because it is free, as compared to having to purchase a niche at a columbarium, which according to funeral industry experts cited by Quartz could cost upwards of NT 200,000 ($6,500)—a hefty sum, considering that the average monthly salary in Taiwan was NT 49,989 ($1,700) in 2018.
The Ministry of the Interior reported a record high percentage of cremations in 2017, comprising 96.3 percent of all deaths. One in every 20 people opted for an eco-friendly burial in the same year—a substantial spike from just 0.47 percent of all deaths in 2008. Cheng Ying-hung, deputy head of the ministry's Department of Civil Affairs, also urged people to pay their respects to the deceased in more environmentally friendly ways, such as through ceremonial offerings of fruit, rather than the burning of paper money, which is commonplace.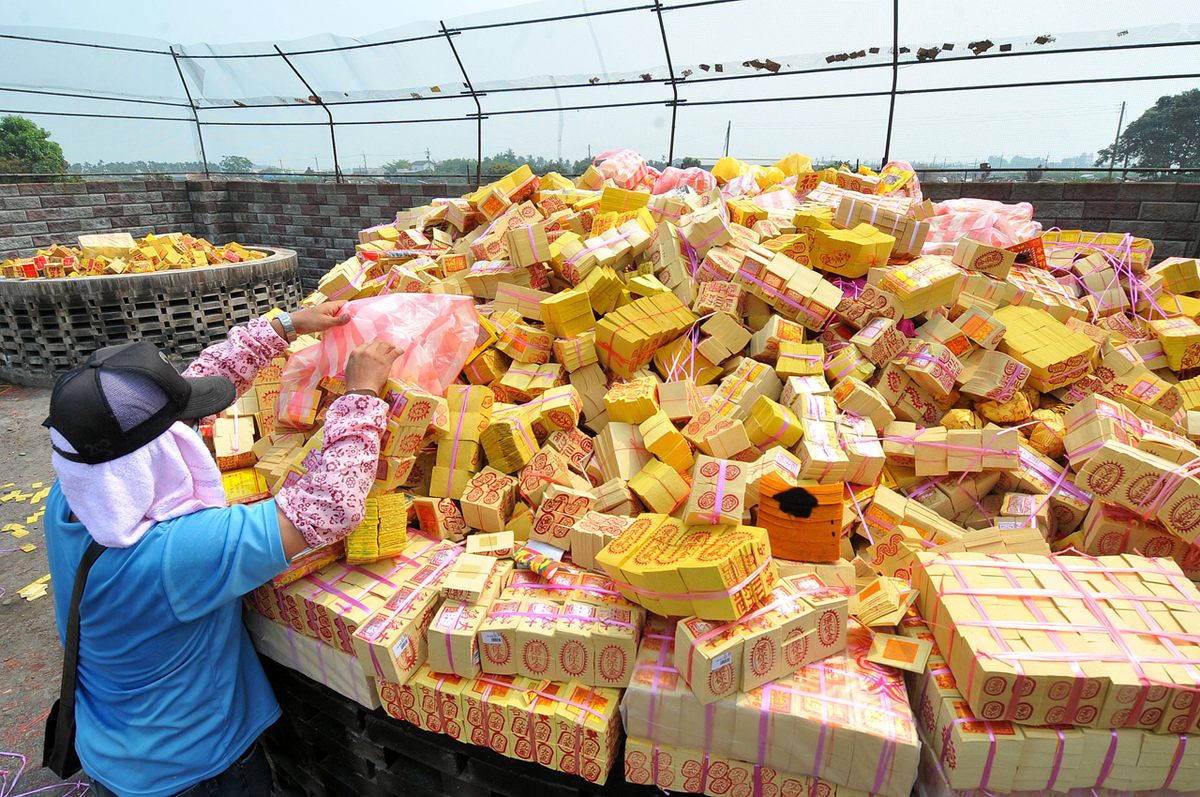 The Chen brothers say their mother read about Yong'ai Garden in the newspapers before her death in 2012. They were surprised when she made it clear to her children that she wanted her ashes to be buried there. "It's quite atypical of other Taiwanese her age, and there are probably a fair number of people who would still hesitate to opt for a tree burial," says Boris. "Ancestral worship is very important to Chinese culture, and there is a fear that not having a grave has an adverse impact on their way out of the earthly realm." Taiwan remains firmly anchored to Confucian beliefs, including filial piety. As such, tending faithfully to the graves of one's ancestors, especially on Tomb Sweeping Day in April every year, is an important aspect of fulfilling one's duty in life. In fact, Yong'ai is part of the Fude Public Cemetery, which also manages a columbarium as well as thousands of other conventional graves in the vicinity.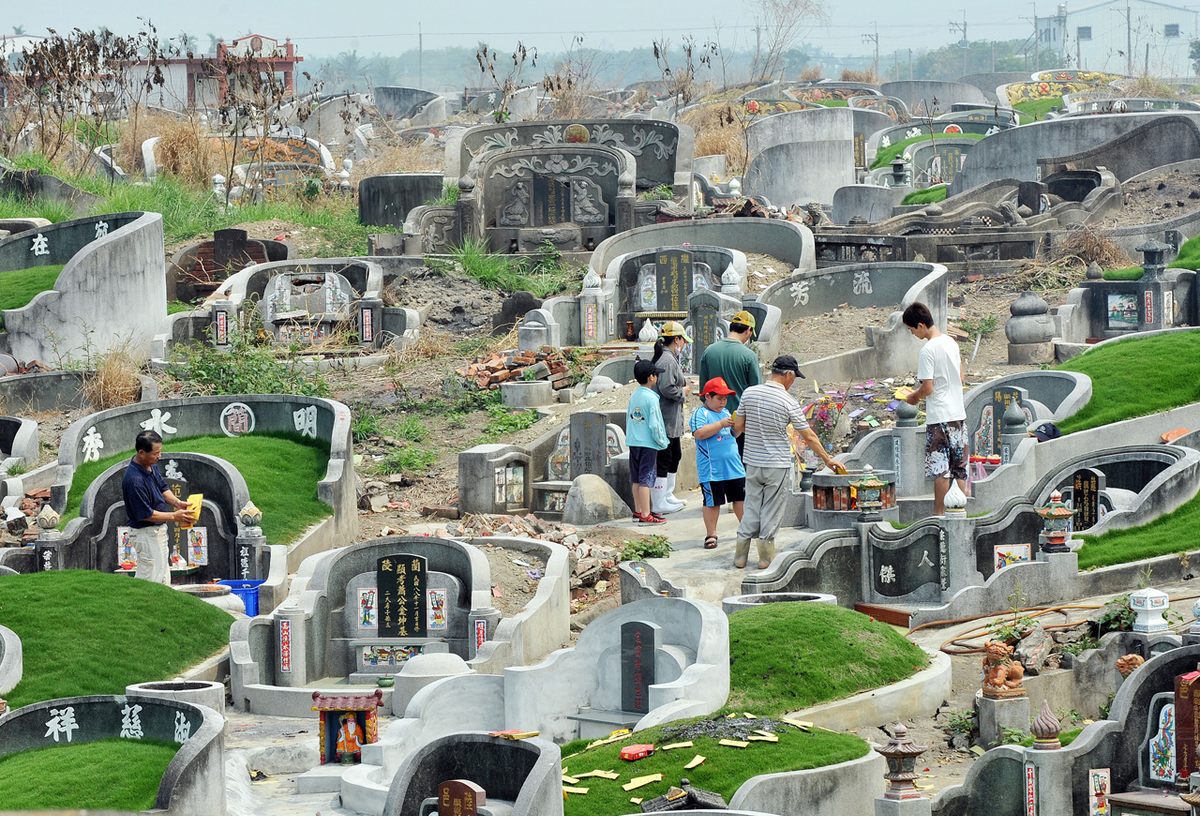 Wu Hsi-he, a driver I encountered on the hike up to Yong'ai, objects to tree burials because he believes that they will gradually erode collective memory of Chinese funerary practices, which are often elaborate in nature. "We are already starting to forget many of our traditions," he laments, "and a people who don't have a history can't navigate the future wisely." Still, he enjoys going to Yong'ai on the weekends with his family. "I like showing my grandchildren the different types of trees here, and sometimes I play the dizi (a type of Chinese flute) with my friends." Yong'ai's popularity has not gone unnoticed by the Taipei City government, and in 2017 another garden adjacent to Yong'ai was created from the former landfill, and transformed into a tree burial site for pets.
To some, the idea of a public park that also serves as a cemetery seems macabre, but neither Boris nor Po-An shares that sentiment. "It's peaceful here without being overly somber, and we can take time to catch up in a way that wouldn't be possible in a noisier setting," Po-An says. The brothers visit Yong'ai on Tomb Sweeping Day, when they say the park is thronging with families, and in December, which is the month when their mother passed seven years ago. I ask them how their mother's choice to have a tree burial has changed the way they think about death. Boris thinks it reaffirmed his decision to have a tree burial. "It's just much easier for my descendants in the future, and besides, like my mother, I'm not afraid of not having a marked grave or an ancestral altar. I believe it is more important to be loved in life, than to be concerned with the ways people choose to remember you when you're gone."
You can join the conversation about this and other stories in the Atlas Obscura Community Forums.