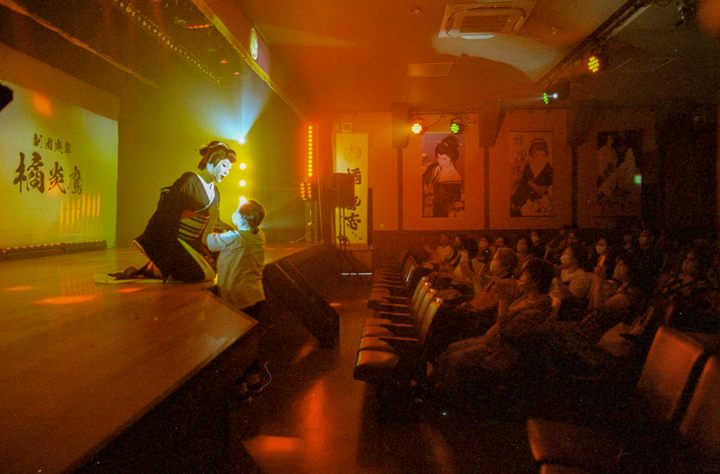 In Japan, 'Theater for the People' Makes Fandom a Part of the Show
The constantly evolving form of taishū engeki bends both gender and genre.
Stepping into a taishū engeki show is like being welcomed into a wild and flamboyant secret society. As performers in outlandish costumes dance on stage, delighted fans dance along in unison from their seats. Somehow, everyone knows the moves. Periodically, an excited fan will scurry up to the stage with an envelope or wrapped gift, or will jump into the aisles looking for more room to wave a glow-stick. This might sound like a crowd of teenagers at a pop concert, but many women in attendance are old enough to have teenage children of their own.
At tonight's show in Osaka, the zachou, or troupe leader, is Shinya-san. "Nothing makes me happier than having people from all walks of life watch the shows," he explains. "If there's one thing to expect from taishū engeki, it's to have fun and enjoy yourself."
Shinya-san has been coming to these shows since he was five. When he was 15, he left school to join a taishū engeki gekidan, or troupe. Now 36, he is relatively young for a zachou. His shows are influenced by everything from kabuki to Disney to hip hop. "I like to take elements from other Western dance disciplines," he says. "We can literally put on a performance in any shape or form that we please."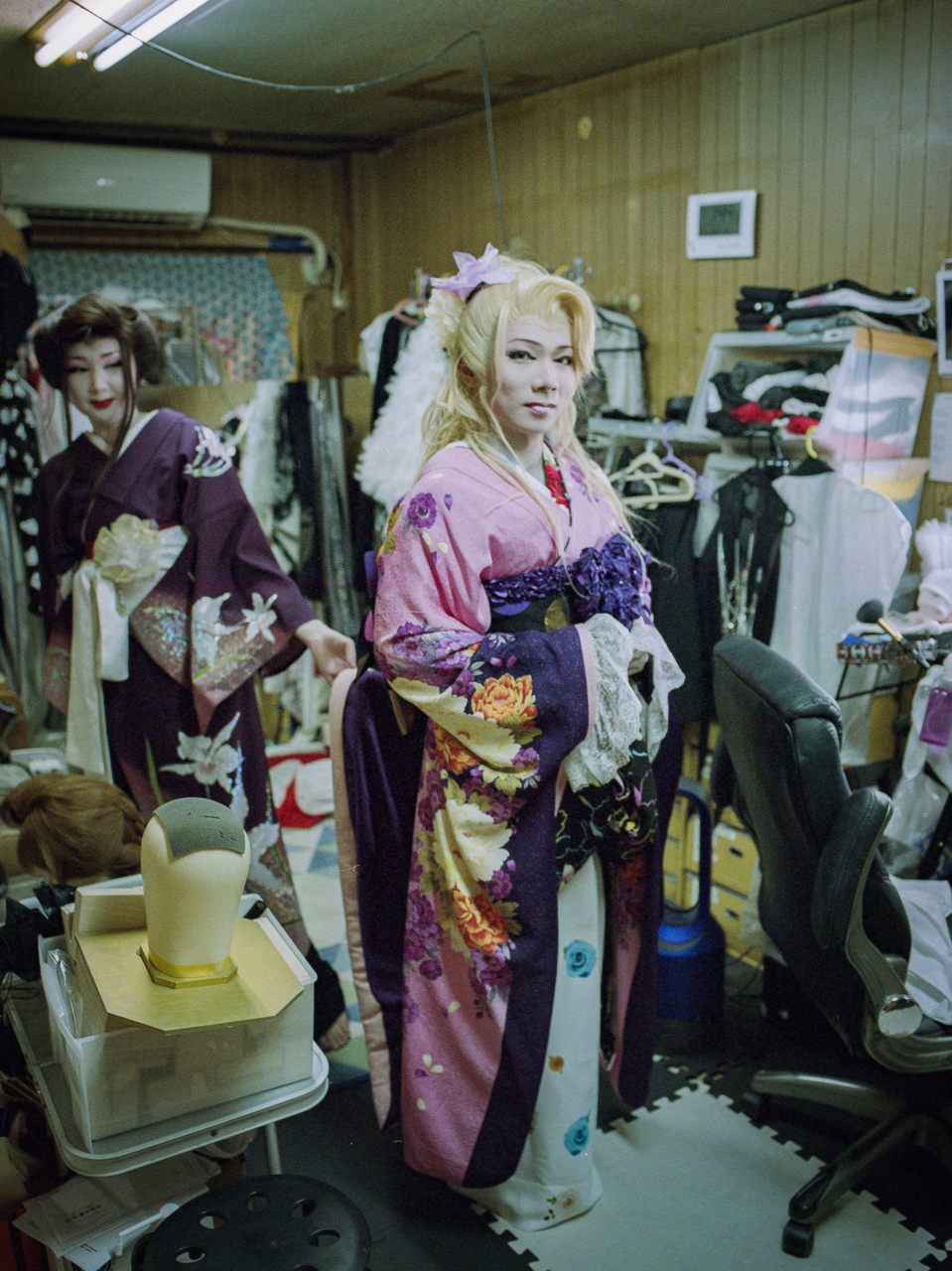 Taishū engeki broadly translates as "theater for the people," and is usually split into two distinct halves: a play that fuses Edo-period drama in the style of a soap opera, followed by bouts of dancing and music. The dancing is a relatively new development, Shinya-san says. Unlike higher-brow forms of Japanese theater such as kabuki or Noh, taishū engeki doesn't take itself too seriously, and is changing with the times. The emphasis is on having fun and making friends. Each gekidan inspires a deeply loyal and committed fanbase, many of whom make huge sacrifices to follow their idols.
Taka-san and his partner Rieko-san have been following Shinya-san for almost 3 years, and organize a large part of their life around Shinya-san's shows. In the beginning, Taka-san says, he had no interest in taishū engeki, and Rieko-san would come and watch alone or with friends. "Eventually she convinced me to come to a show, and the energy blew me away," Taka-san says. "I've been hooked ever since." When Shinya-san's troupe is in town, Taka-san will adjust his working hours around the performance schedule. "We will come to at least one show, but often two shows a day. We are loyal to Shinya-san only! We never attend another zachou's show."
Taishū engeki performers are encouraged to develop a unique and recognizable alter ego, so they take responsibility for their own makeup, costume, and choreography. This isn't only a matter of tradition: It's also about building long-term relationships with fans and keeping them coming back. As such, there's a remarkable level of interaction, from direct addresses of audience members from the stage, to boisterous hand-shaking sessions after the show. There's no "fourth wall" of the sort you'd encounter in Western theater.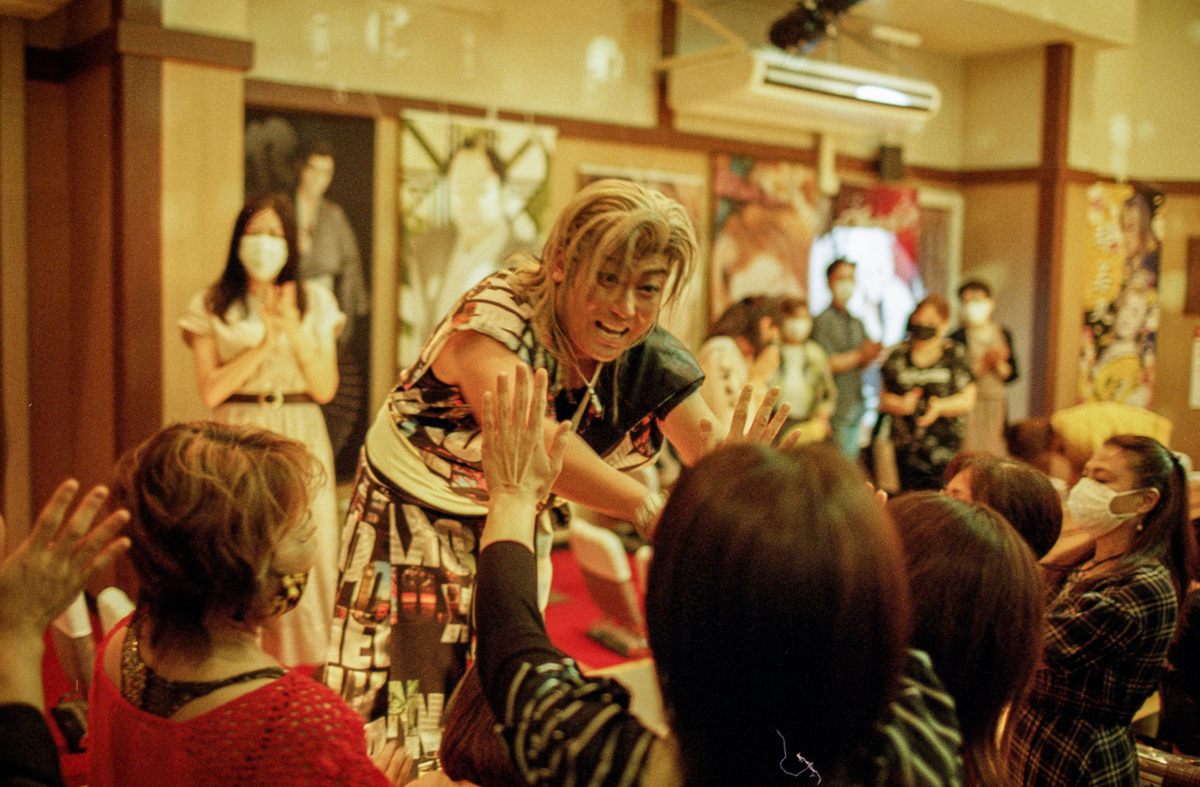 The fans also love to shower their favorite performers with gifts, even in the middle of the show—not least because it gives them a few precious moments up-close with their idols. Taka-san and Rieko-san once gifted an ornamental Japanese sword. "It was wonderful," Rieko-san recalls. "They used it in the show the very next day. We've seen it used a few times again since." Others write letters or clip colorful charms to the performers' kimonos. Sometimes they'll give money; gifting several hundred dollars at a time is common. Audience members will even band together to buy the performers a bag of assorted soft drinks, which are drunk on stage during a break. Friendships often form, and there is a feeling of close-knit community, though jealousies can also develop when the zachou appears to be giving one fan more attention than another.
A troupe will work collaboratively to plan its shows, but the zachou is generally the main draw, and the figure who appears on posters. It might be hard to tell behind the eccentric makeup and flowing wigs, but most of the performers here are men, and cross-dressing is often a part of their act. "I love the dressing up," says Taka-san. "I like that the performers are free." (Some women perform, but rarely dress as men.)
As lighthearted as the shows can be, the work itself can be grueling. Troupes are always on the road, perform twice daily, and are allowed only one day of rest each month. They usually sleep on the theater grounds, and at the end of the month, they rotate to a new theater. After the first show of the day, performers take a quick lunch on stage together, and then they move straight into preparations for the evening show. Every day is different, with a new script, dances, and costumes on display to woo a returning crowd.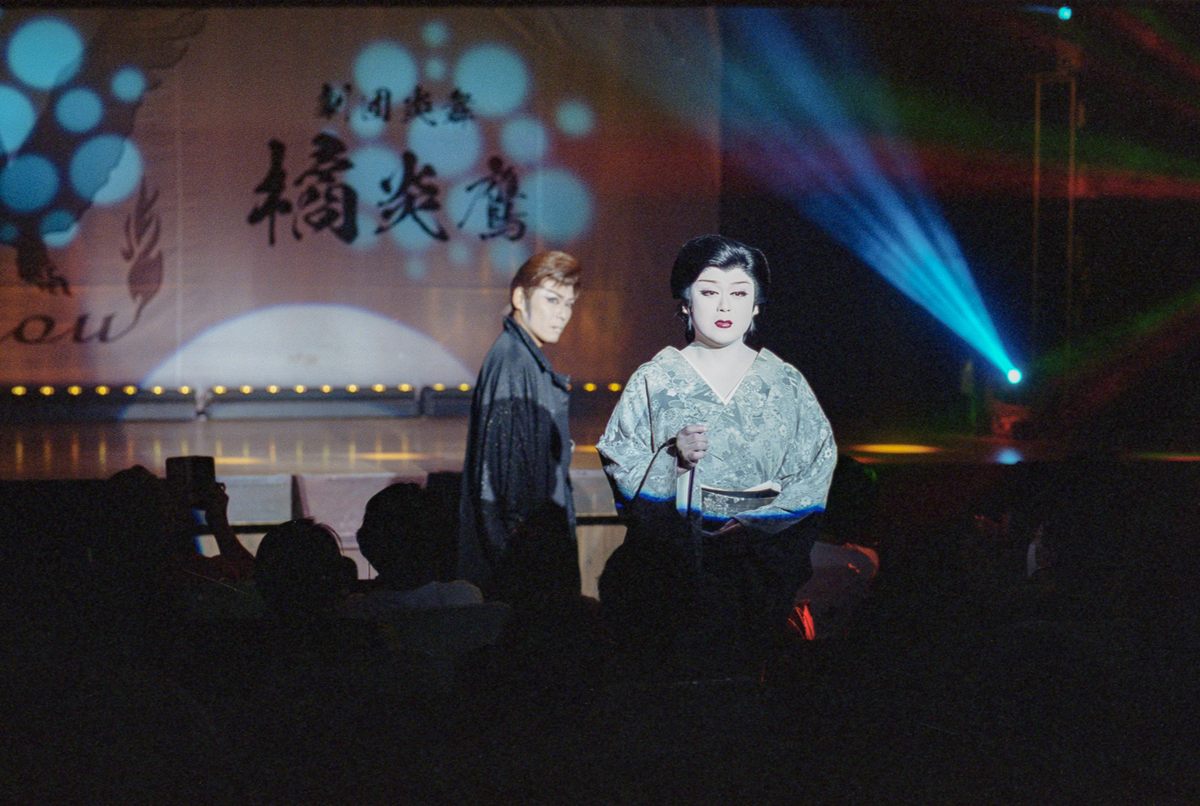 When asked where they find the time to actually plan for shows, the performers don't seem to know. "We synchronize and introduce new elements all the time," says Shinya-san. "We spend so much time performing together, a lot of it happens spontaneously." Being accepted into a troupe can be a dream come true for any young aspiring performer, but many quit within a few years. The backstage reality behind the glitz and glamour can quickly become too much.
On one occasion, Taka-san and Rieko-san arrived at a show to find Shinya-san leaving in an ambulance, having collapsed backstage. "It was awful to see," says Rieko-san. "He works so hard and must have been exhausted. I can't understand why he doesn't take more time off." But for Shinya-san it was business as usual, and the shows continued the very next day. Amongst the troupe exhaustion seems to be an accepted hazard of the job. "It's hard. Lots of young performers drop out after a few months," says another performer. "But we know what it takes to keep our art form alive."
When Shinya-san was a child, his mother would bring him to taishū engeki shows. She passed away shortly before he became zachou, but he keeps a picture of her backstage. "She never saw me on stage, as the head of my own troupe," he says with great sadness. But she's ever-present in his mind, and remains a strong inspiration for his work.
As the month draws to an end and the show prepares to leave town, most of the fans prepare to resume their normal lives. A few are so dedicated that they will commute to the show's new location. For some, taishū engeki is a lighthearted form of escapism—but for others, it is a way of life.