Taiwan Is in the Clutches of a Claw Machine Craze
In arcades across the land, at all hours of the day, people vie for both novel and practical prizes.
The tropical cities of Taiwan do not know the absolute stillness of late-night quiet. In a little hole-in-the-wall restaurant, people chat and dine. Light from the abundant 24/7 convenience stores leaks onto the darkened streets. And over the past few years, all-night arcades full of claw machines, in residential and entertainment districts alike, have drawn enthusiasts in the early hours. Hundreds of times every night, a coin is pushed into the slot, the plastic joystick maneuvered, a button pressed, and the claw drops onto plushies, Apple earphones, keychains, or…hair dryers.
The claw machine game is a straightforward one. For 10 Taiwanese Dollars (NT), or about 33 cents, a player uses a joystick to position the claw over a prize, then lowers it to pick up the object and drop it into a chute for retrieval. In other places around the world, it's most commonly used for stuffed animals and sometimes candy.
In Taiwan, though, it isn't uncommon for claw machine renters to stock their machines with anything from stuffed animals to vegetables, hairdryers, and lingerie. Arcades may have around 30 machines, each one sublet to a renter who is responsible for supplying the prizes and maintaining the machine. Most renters personalize their claw machines to target their desired customers. A machine might have bungee cord flooring and walls, its prize an oddly-shaped block that you trade in for a more expensive prize. Another common modification uses chopsticks to dangle prizes temptingly over the chute.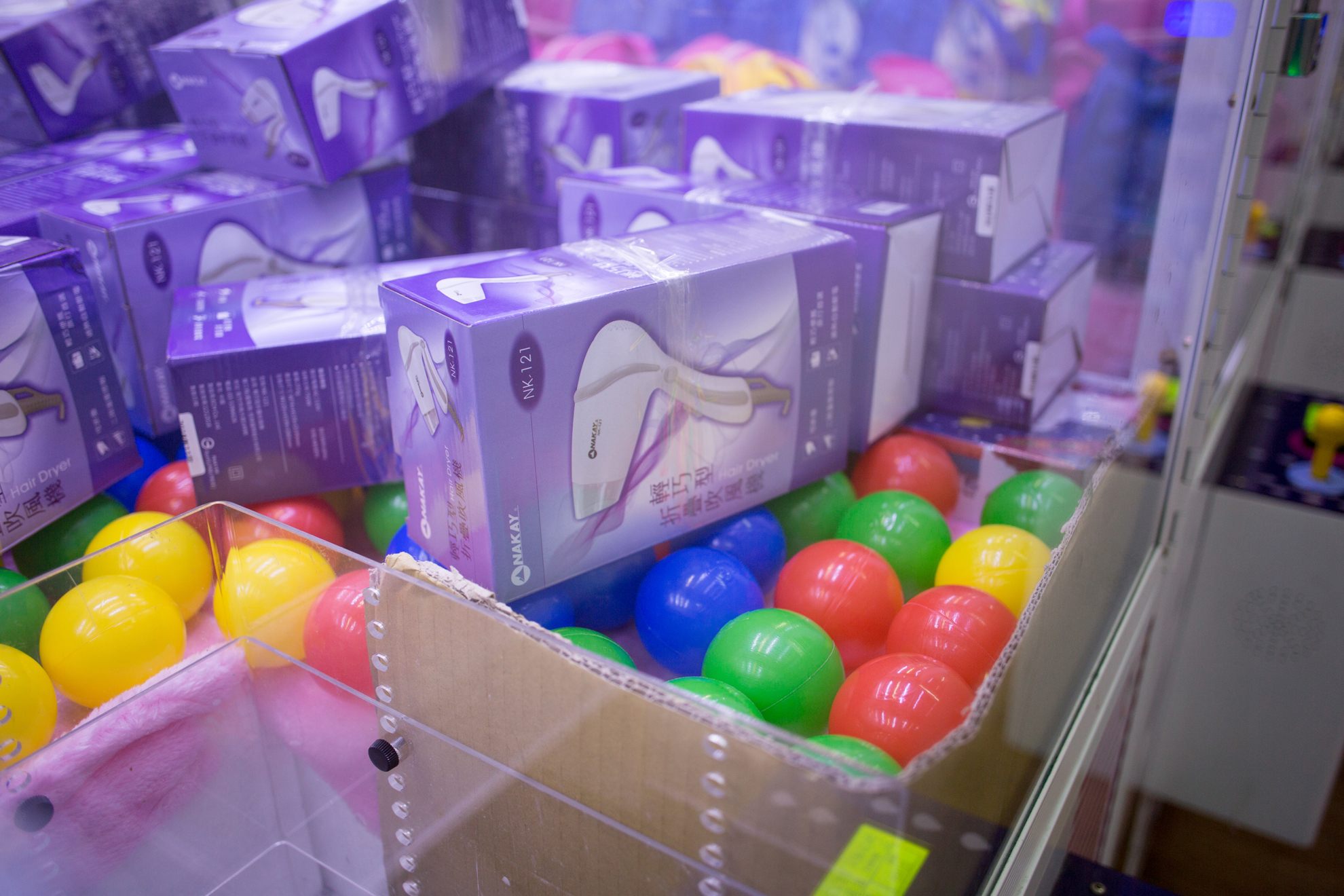 "The weirdest [claw machine I've seen] had to be some kind of naked model dolls," Besu Yumin, a 26-year-old Taipei schoolteacher says. "Which I don't think is appropriate, since kids go there."
A whole culture has built up around the claw machine craze. Even in the middle of the night, players hone their prize-grabbing techniques. Enthusiasts are often found online, creating tutorials on tips and tricks, like wiggling the machine's joystick in certain patterns to swing the claw. Claw machine renters also learn about what it means to run a business. They choose and place their prizes strategically, keeping their desired target market in mind. They adjust the settings of their machine to allow enough prizes to be won that players will return.
"You start out renting these claw machines with stuffed animals because it's easier," says Dennis Zhao, who rents several claw machines near the Gongguan night market, "and then you can move into more difficult items when you learn your audience."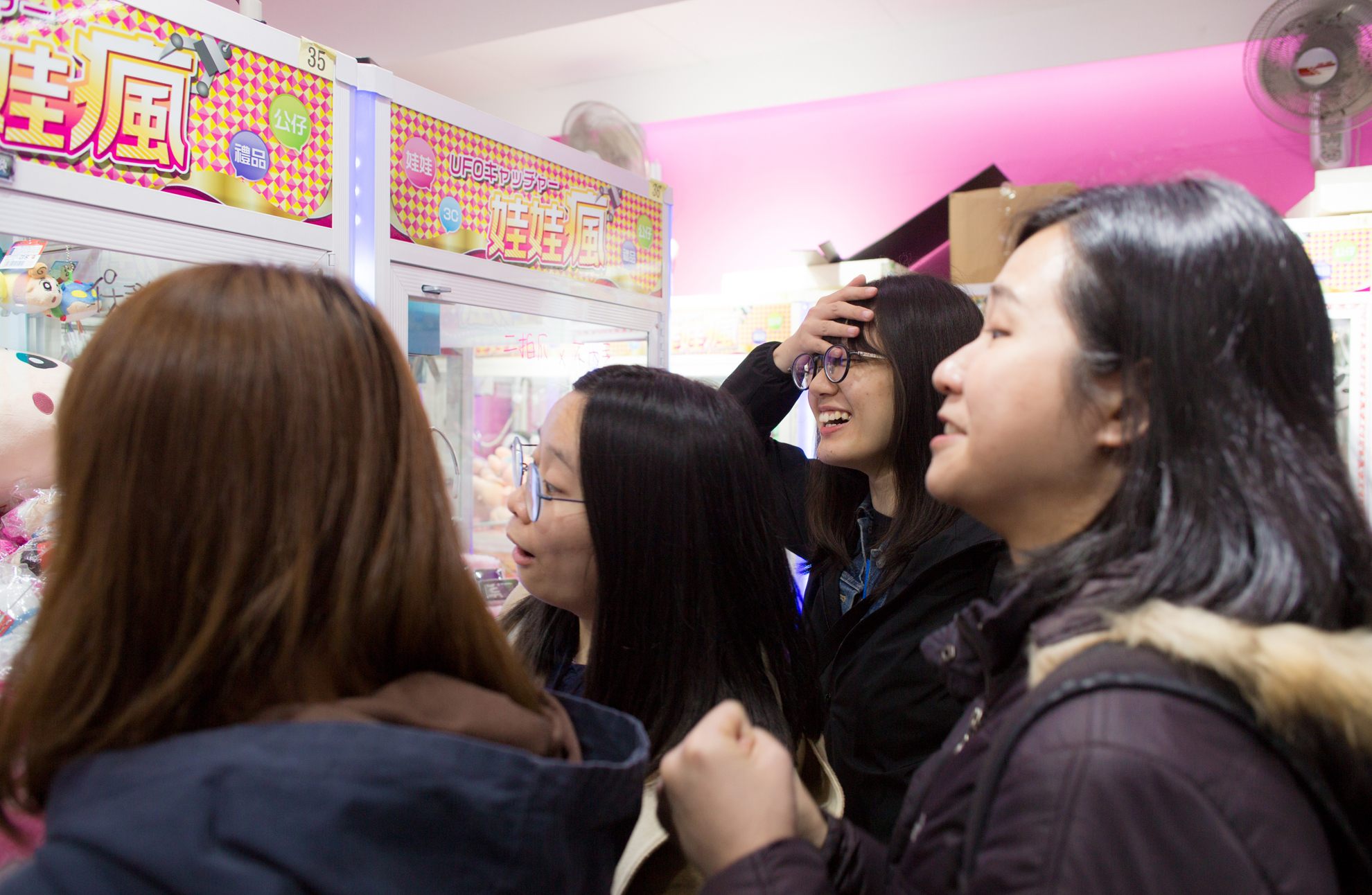 If you ask Taiwanese residents, they aren't sure when the machines started becoming so popular, but the number of companies running the country's claw-game arcades has nearly tripled over the past two years, according to data from the Ministry of Finance. During a meeting held by the Finance Committee of the Legislative Yuan, Democratic Progressive Party Legislator Chiang Yung-Chang said that over 100,000 people derive an income from the more than 10,000 claw machine arcades. According to the ministry, one arcade exists for every two convenience stores in Taiwan. (And if you've ever been to Taiwan, you know how ubiquitous convenience stores are, with three or four on nearly every block.) The number of arcades more than doubled from 2017 to 2018, and they are currently the Taiwanese entertainment industry's largest tax income source. Taiwan's Central Bank had to raise its budget for 2019 to issue more NT$10 coins because of the claw machines.
But why have these games become so popular and stayed popular? Some Taiwanese news outlets have taken guesses. As already-low wages in Taiwan stagnate, young people and some office workers see the claw machines as a smart investment, since they generate a source of steady cash flow with minimal risk. "With salaries failing to keep up with the cost of living in Taiwan," writes the South China Morning Post, "players see the machines as inexpensive entertainment while operators consider them an effective investment."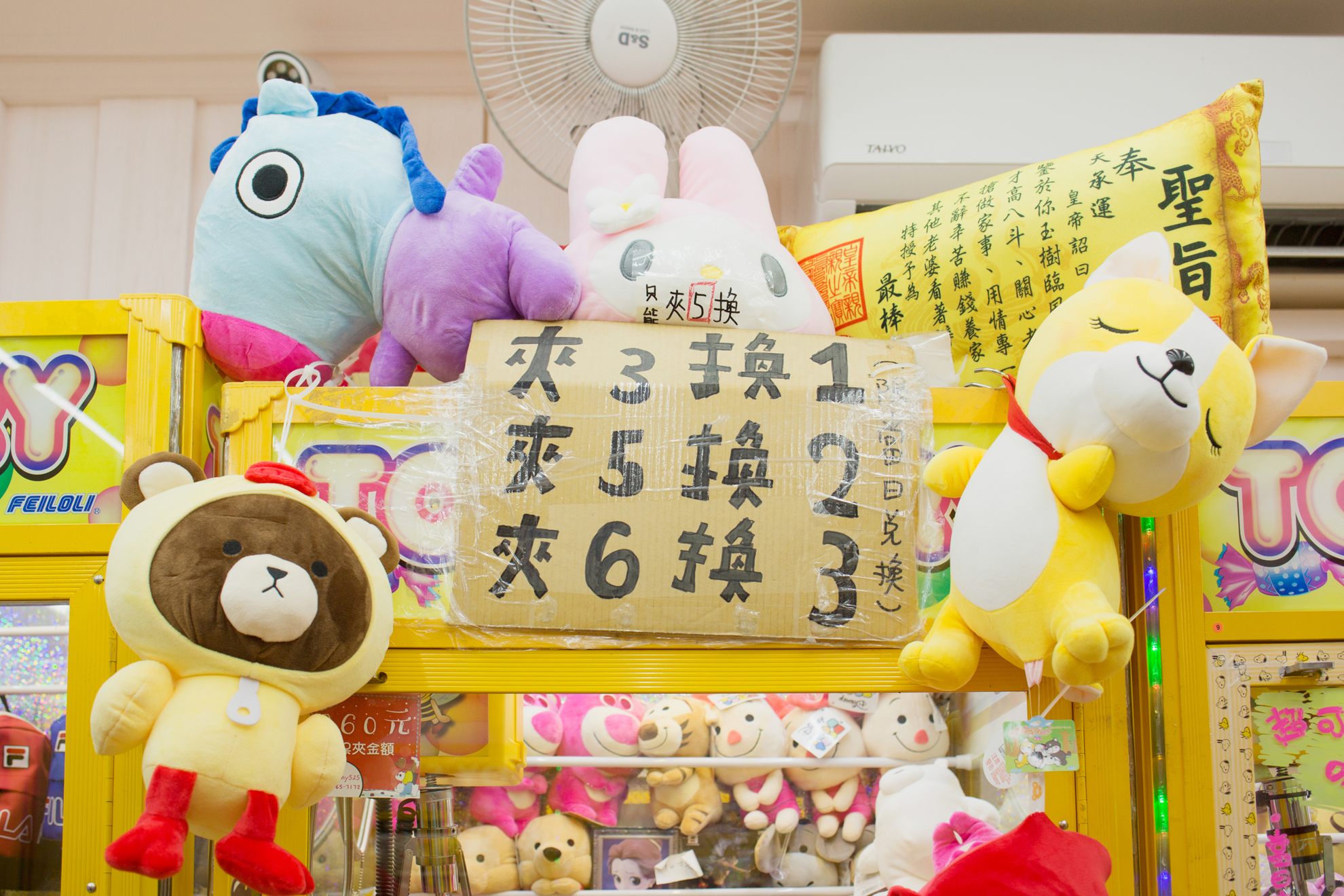 An owner of an arcade generally rents out each of their 30 or so machines at NT$5,000 ($159) a month, turning a profit of about NT$150,000 ($4,765) a month, meaning they could break even in less than a year. In turn, a renter can make a profit of NT$5,000 ($159) per machine per month—without startup costs, without overhead fees, and without much risk. To put this in context, the average hourly wage in Taiwan is NT$150 ($4.77).
For the players, the machines can be an economically enticing option for restocking household supplies. With some machines containing prizes like toilet paper, hair dryers, and portable chargers, it's often much cheaper to win them than buy them in the stores, even after several tries. Still, it's the addictive nature of the game that makes it viable.
"I would play when I pass by, thinking it won't cost much money anyway," says Besu. "After giving it a try, you just have to get the thing you suddenly 'want' to have."
The claw machine craze has not been without controversy. In November 2018, police charged a New Taipei man for selling live crabs and crayfish in a machine. In December 2017, the managers of a claw machine arcade, also in New Taipei, placed bikini-clad women inside the game, sparking fury and outrage about objectification.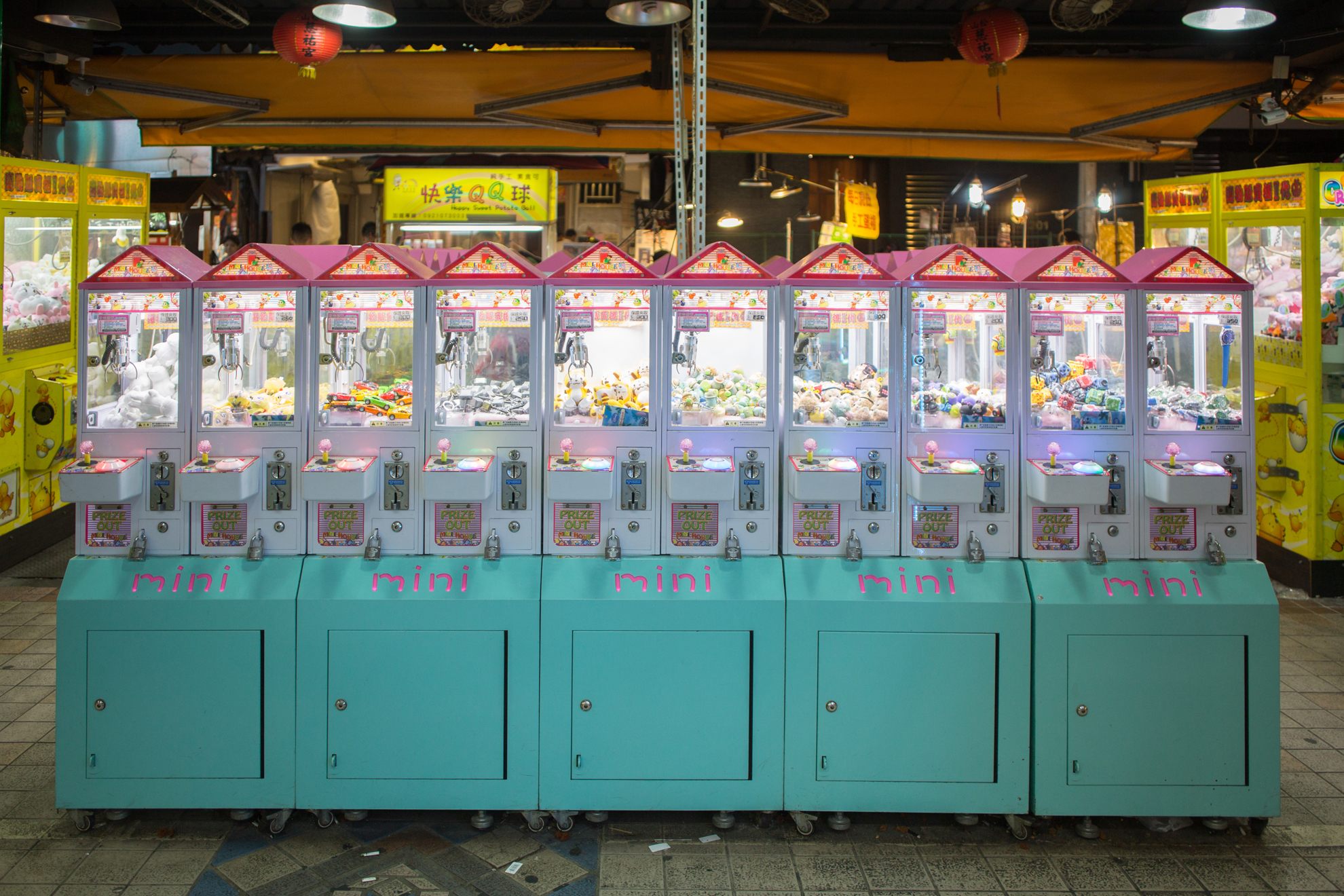 Most of the concern, however, comes from the nature of the claw machines themselves. Common knowledge dictates that these claw games are rigged: The claws are too loose to even pick the prize up, or they let go just ever so slightly when the prize has been held, or fling the prize away from the chute. In the United States, claw vending machines are specifically exempted from statutes that regulate gambling devices—but only if they comply with certain rules.
Taiwanese news outlets have reported that people have been known to spend NT$4,000 to NT$5,000 ($127 to $159) per month on claw machines, which is often around half of a family's food budget. In February 2018, after reports of children spending their breakfast money on the claw machines, Taiwanese legislators discussed requiring claw machine arcades to follow the regulations for video game arcades, stating that they cannot be built within 50 meters of junior-high or elementary schools, high schools, vocational schools or hospitals. A recent investigation performed by the Executive Yuan's Consumer Protection Committee and the Consumers' Foundation found that 70 percent of Taipei claw machine arcades sold illegal goods and violated at least seven laws and regulations. Many are within 100 meters of schools.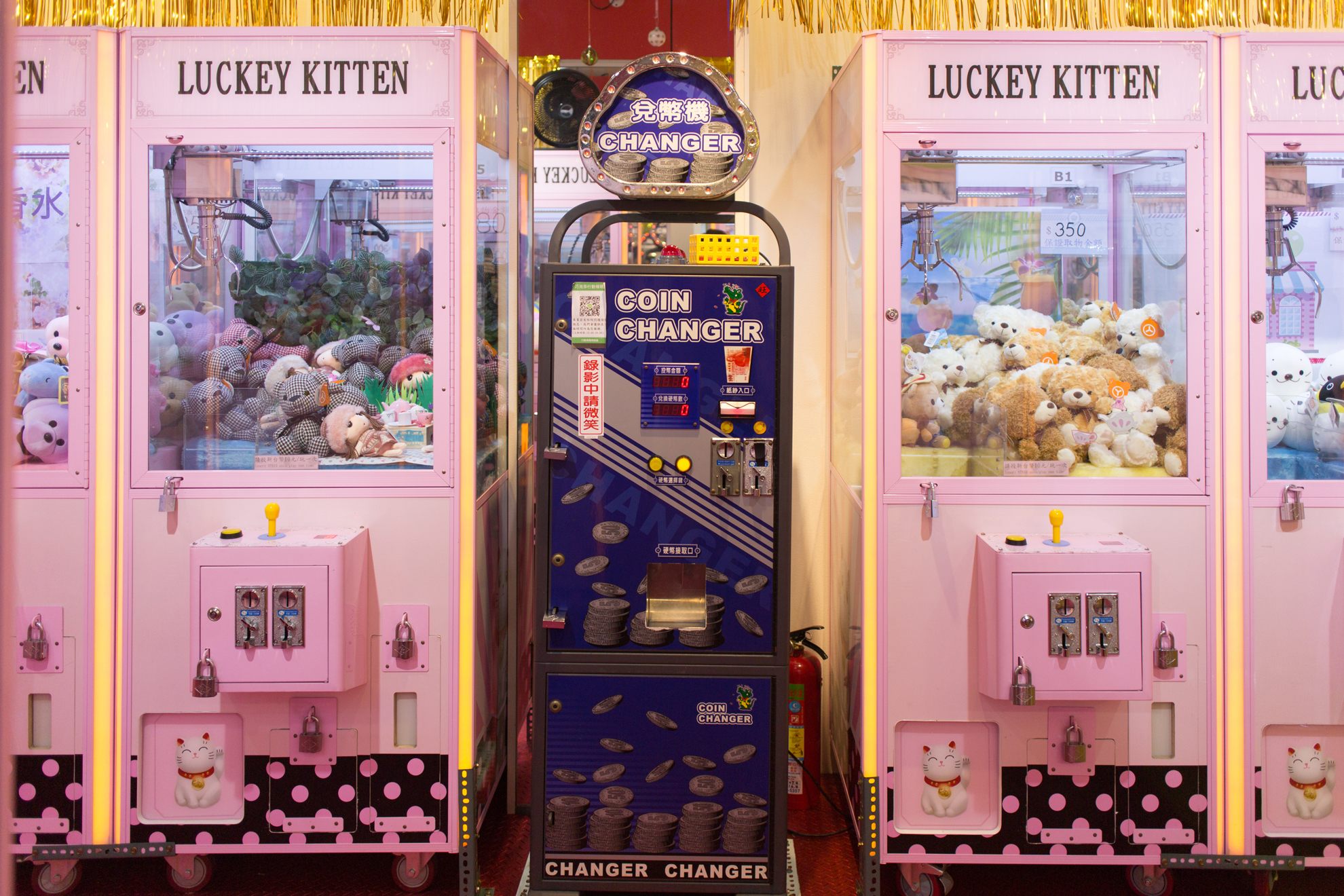 Tainan Municipal An-Nan Hospital psychiatrist Chang Chun-hung has warned the Taiwanese news outlet United Daily News about the addictive nature of claw machine games, saying that many Taiwanese have suffered disruptions to their professional and private lives because of claw machines.
Initially thought to be just a fad, claw machines are becoming a more permanent fixture of Taiwanese life. As Besu says, "I feel like it's just like grabbing a cup of tea with potentially losing some money."