Take a Tour of Trendy Panama City, Led by Former Gang Members
The seedy history of the Panamanian capital–through the eyes of those who lived it.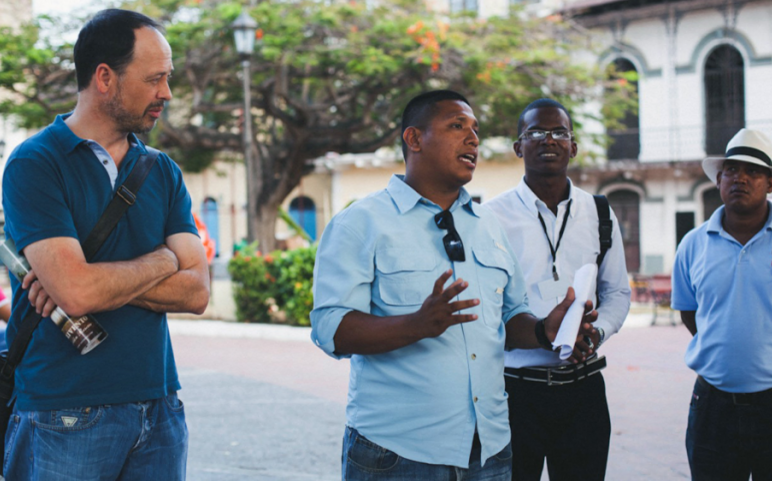 Alexis Montenegro leads a group of tourists through Plaza Herrera. (Photo: Tania Rodriguez)
Ten years ago, the infamous gang leader Mario LaMafia jumped off a fifth-floor balcony of Panama City's American Trade Hotel while running from a spray of gunfire. He survived both the leap and three bullet wounds to the chest.
"Now he works at the fish market down the street," 65-year-old Santiago LaBastid tells me with a mischievous, toothless grin.  
LaBastid and I are in secret stairwell beside the back entrance to the hotel. The walls along the staircase are papered with photos of graffiti; mysterious symbols and artifacts and out-of-context phrases.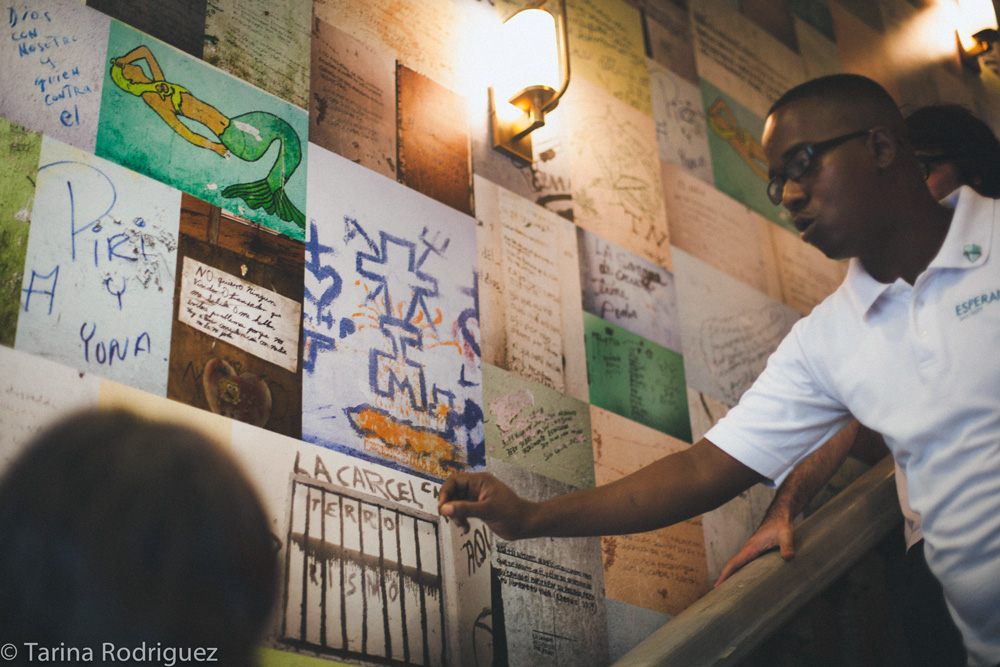 The wall at the American Trade hotel. (Photo: Tarina Rodriquez)
He points to an image of a curvaceous mermaid and says it was drawn by the street artist Tita La Maldita. She knows her way around a can of spray paint, but get on her bad side and you'll wind up with a swift cut to the neck.
The images are relics from inside this building before it was a $200-a-night destination hotel, he explains. Not long ago, its rooms were inhabited instead by drug addicts, sex workers and gang members.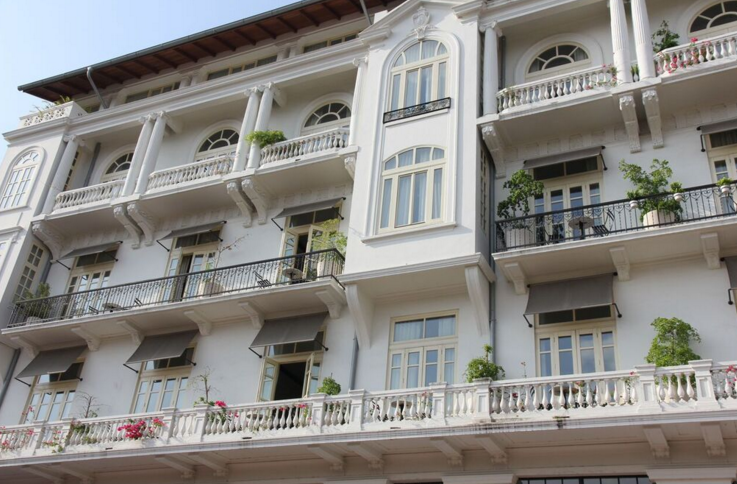 "This place was ground zero for drugs and prostitution," LaBastid says with a mischievous, toothless grin. "All the gangs across town would congregate here to take care of business."
We leave the hotel, pushing past tanned men and women in flowing dresses and linen shirts. Some of them sling camera equipment around their necks. It's opening weekend of Panama City's international film festival, and industry insiders have overtaken the lobby. They're laughing and networking and sipping watermelon margaritas.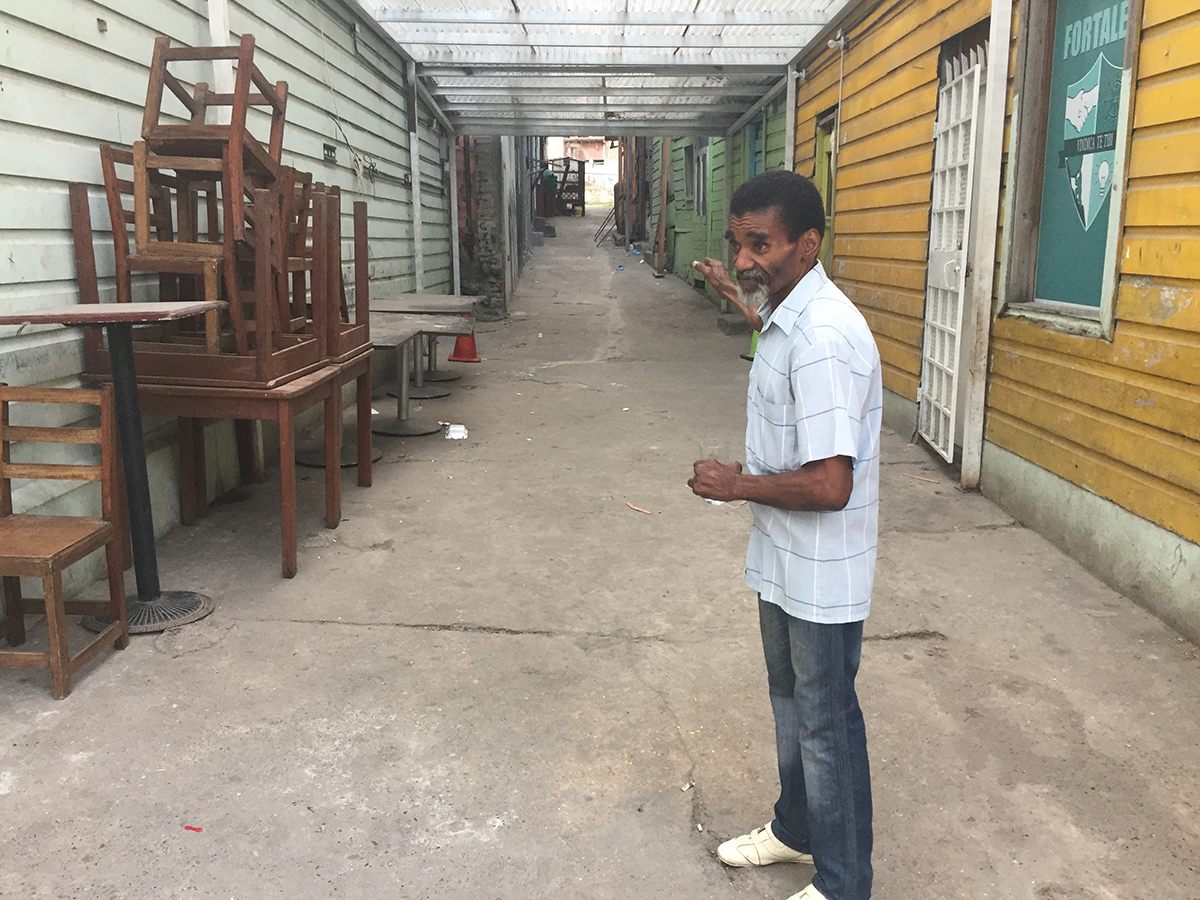 LaBastid in the alleyway outside Fortaleza's headquarters. (Photo: Carly Schwartz)
A few cobblestone blocks away, in front of an alleyway with a fresh coat of yellow paint, LaBastid introduces me to Alexis Montenegro. Montenegro, 30, used to be one of the leaders of Casco Viejo's formidable Ciudad de Dios gang. He's spent time in jail. His teardrop tattoo suggests he may have killed someone. His mild-mannered demeanor makes that hard to believe.
Montenegro, along with a handful of his friends, defected from Ciudad de Dios nearly a decade ago. They grew up together in Casco, which was long considered one of the most dangerous areas of Panama City. As the neighborhood started to transform–with the help of deep-pocketed developers enchanted by the colonial architecture and waterfront locale–the men decided to take a cue from their surroundings.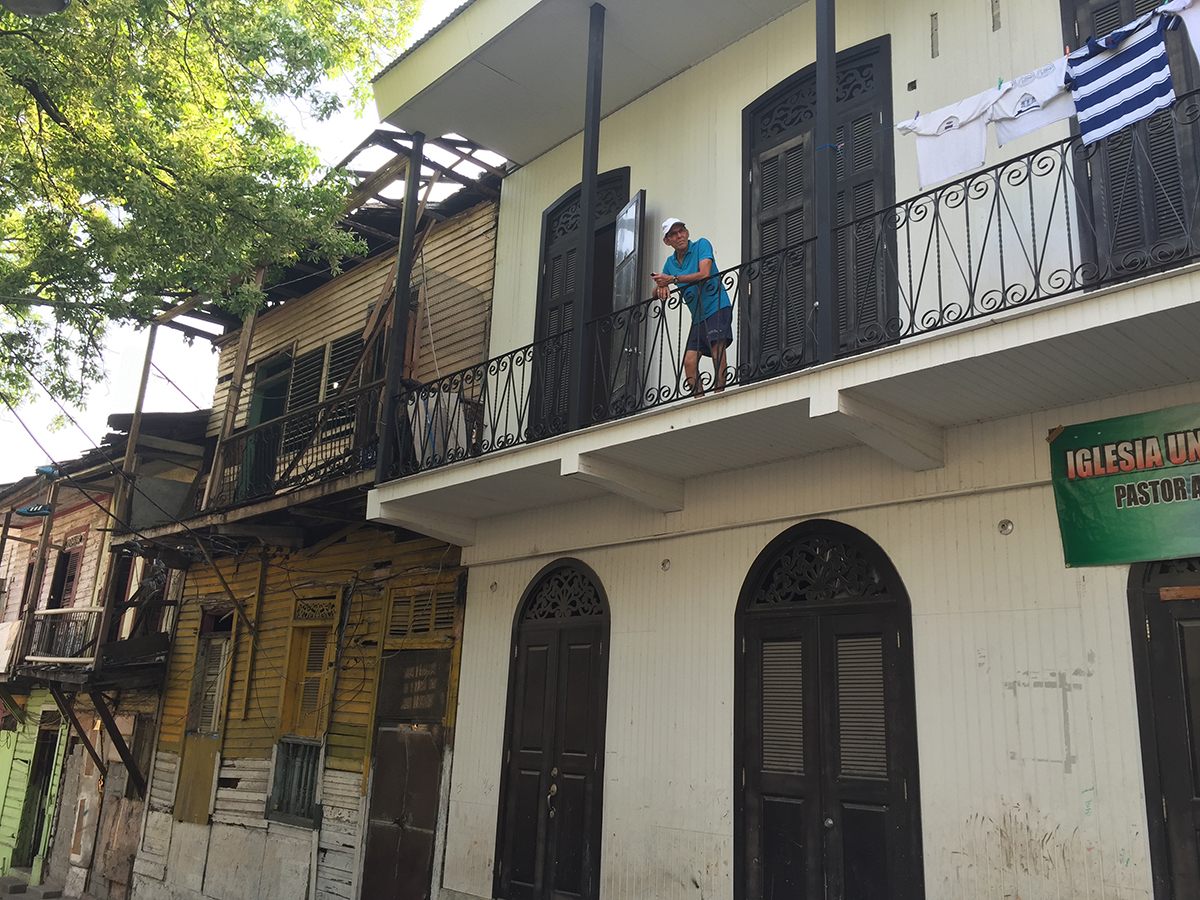 Casco balconies. (Photo: Carly Schwartz)

"We realized if we kept doing what we were doing, we would either end up in the grave or in jail," Montenegro says. "We had babies at home. We didn't want to put our families' lives at risk anymore." 
Montenegro and his pals run Fortaleza, a tour company that takes curious travelers on uncensored journeys through Casco. The group's head honcho, Jafet Glisan, is a minister who's getting his license to practice human rights law. LaBastid, who leads the English-speaking tours, is a Panamanian-born army veteran who spent 42 years living in the United States, mostly on the streets, before returning home.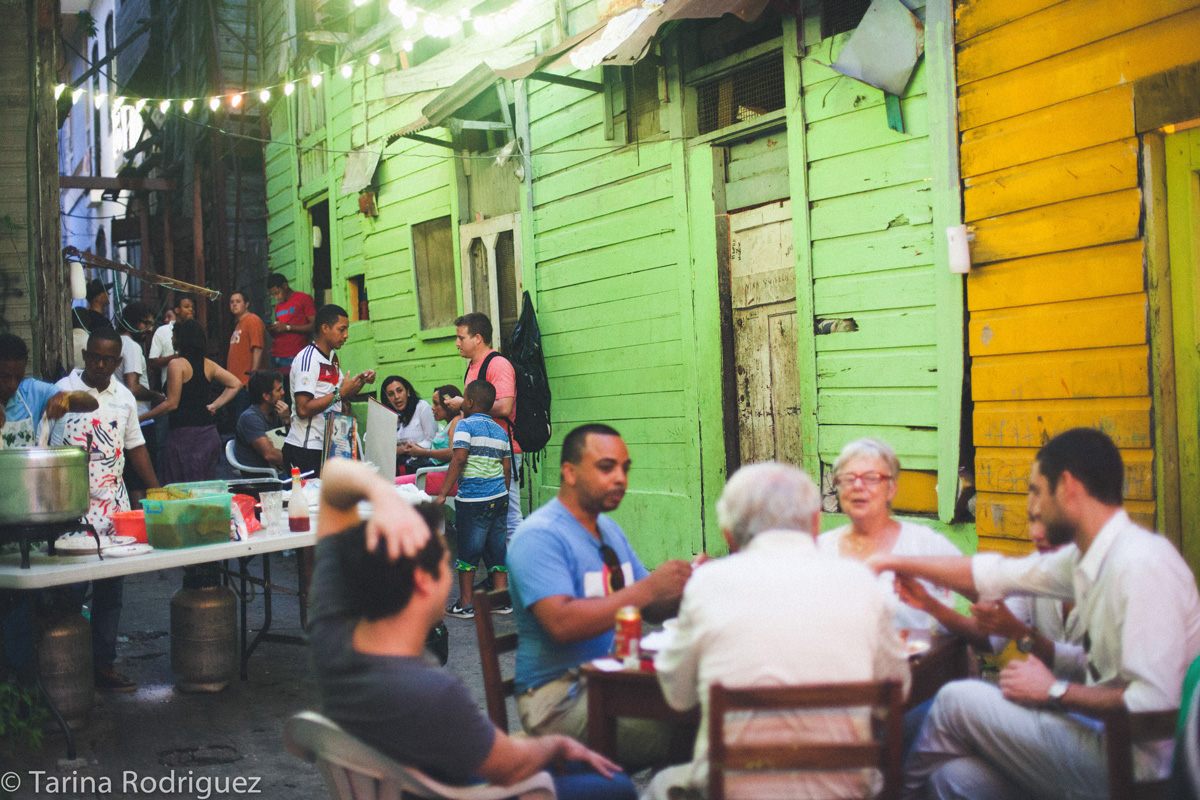 Stopping for a bite to eat in Casco. (Photo: Tarina Rodriguez)
Each tour culminates in mojitos and an al fresco meal of whole fried fish in the yellow alley, which used to be Ciudad de Dios' main gathering space. Now it serves as both Fortaleza's office space and a small outdoor restaurant. The men hope the eatery will soon gain as much popularity as the tours, of which they give dozens per week.
Montenegro shows us Fortaleza's logo above the office door. It's shaped like a shield and features, among other icons, a Sisyphean figure that symbolizes the heavy load each of the tour guides still carries from his past.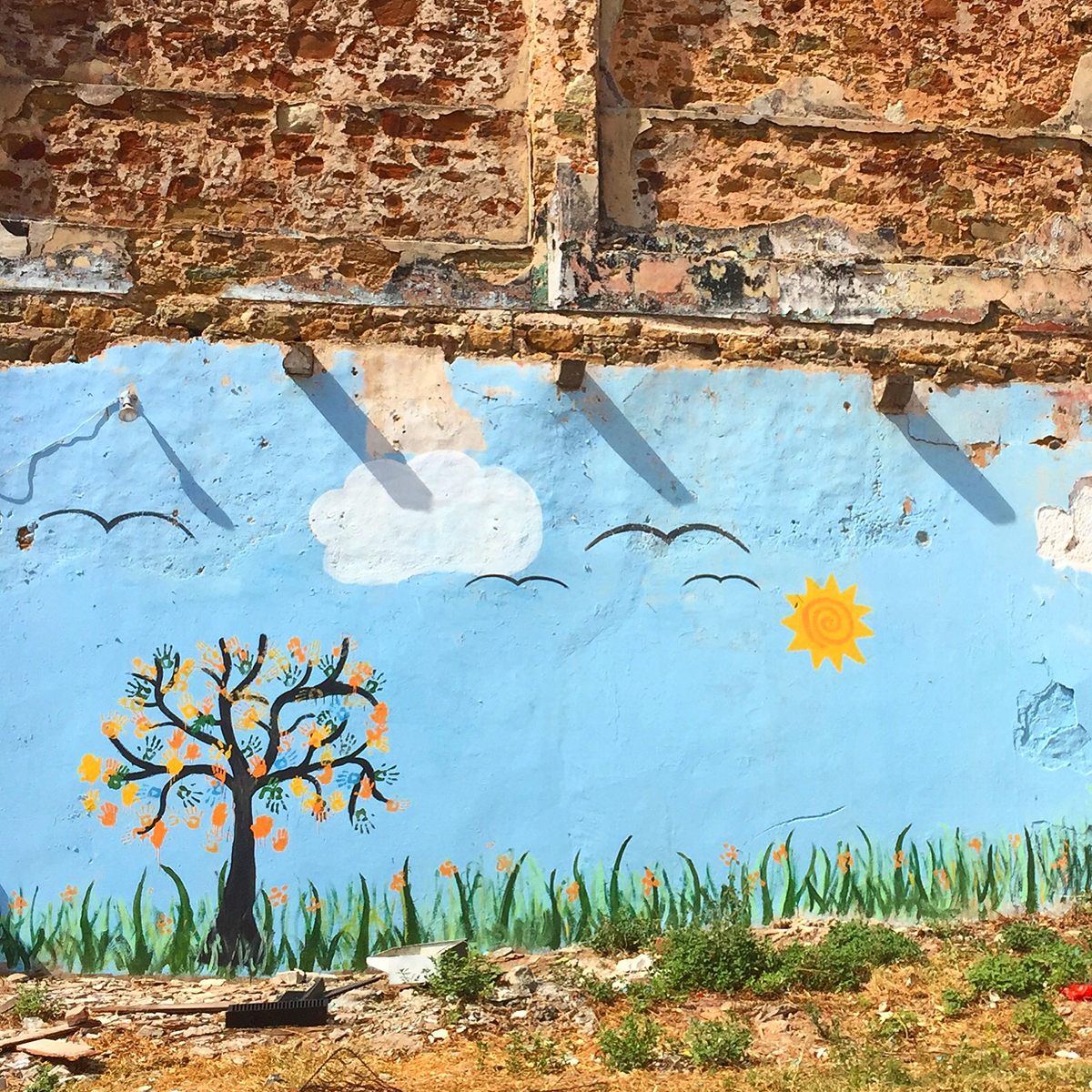 Street art in Casco. (Photo: Carly Schwartz)
According to Montenegro, there are still roughly 200 gangs in Panama today, but none of them operate in Casco anymore. Now the area feels like a sort of dilapidated Disneyland, pastel and polished and full of tourists but still rough around the edges. Art galleries and bed & breakfasts with second-story balconies share the same blocks as roofless urban ruins, but the abandoned structures give off an air that's more charming than crumbling.  
Many families still squat inside the unclaimed spaces. Someday rich people will pay them to move out, LaBastid says. But for now they're not going anywhere. He introduces us to a few such denizens as we walk. Children play on stoops as women in sundresses bounce infants on their hips. A man in a page-boy cap pushes an ice cream cart. Reggaeton blasts from passing cars.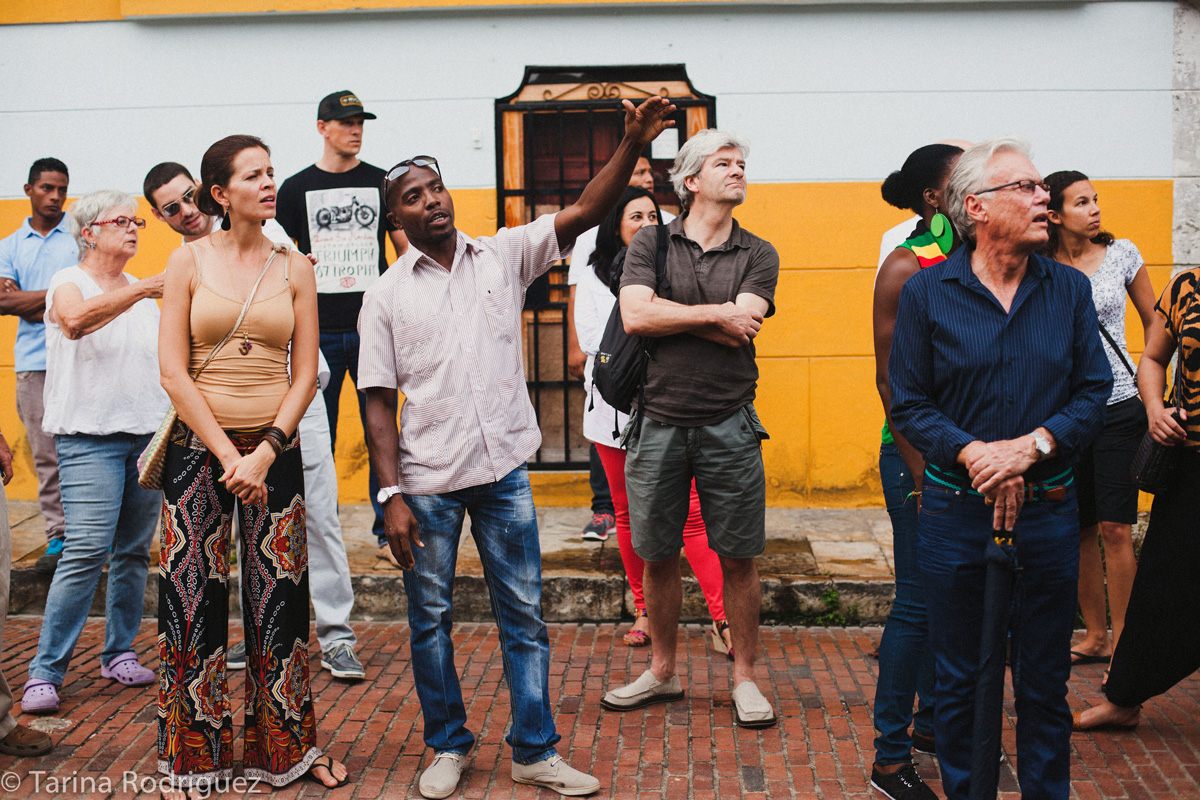 A group on the tour in Cosco. (Photo: Tarina Rodriguez)
We pause beside the remains of a hulking brick wall. It formed the entrance to Casco in the 17th century, when the neighborhood was the city's focal point. Back then, the walls were built thick and high in an attempt to blockade the Dutch pirate Henry Morgan, who was on a quest to steal the city's famed golden altar. Most of the walls are gone now, but the golden altar is still safely sequestered in a church down the street.  
Around the corner, LaBastid takes us to the childhood home of Panamanian horseracing legend Lafitte Pincay, Jr. It's a ramshackle four stories of peeling paint and dark, shutterless windows. Pincay has moved on to fancier digs, according to LaBastid. Today his nephew squats inside.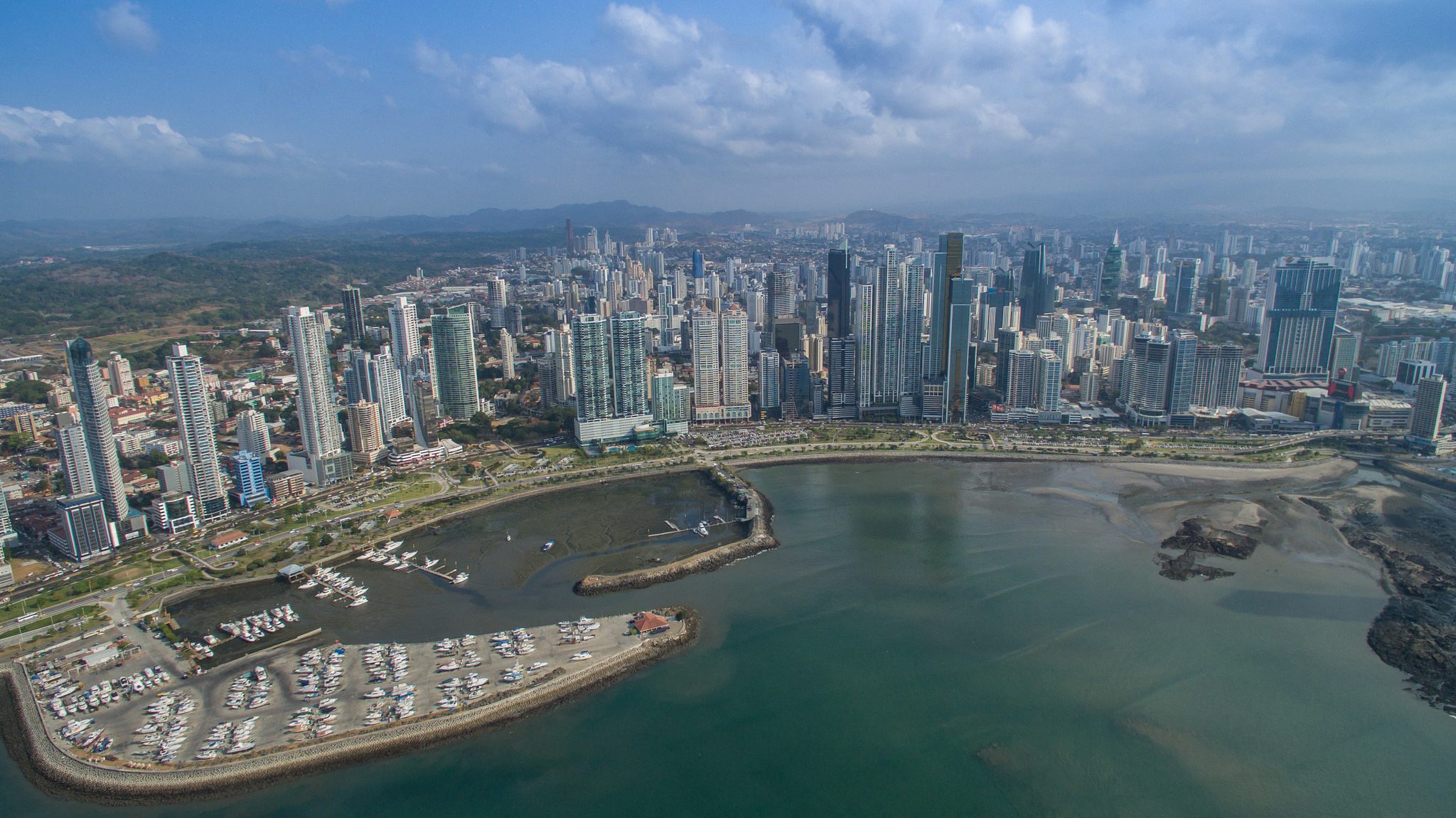 An aerial view of Panama City. (Photo: f.ermert/CC BY 2.0)
La Voie, the hottest nightclub in town, is on the waterfront across the way. "That was the best place to get killed," LaBastid says. Murder victims' bodies would be hidden in a network of tunnels accessed through the basement.
It's one of Montenegro's favorite stops on the tour because it's a metaphor for Fortaleza. "We changed just like the neighborhood did," he says. "We want to show others that they can change, too."