The Microsoft Office World Championships Feature Blood, Tears, and Very Little Sweat
Behind the scenes with the teens trying to become the best in the world at Powerpoint.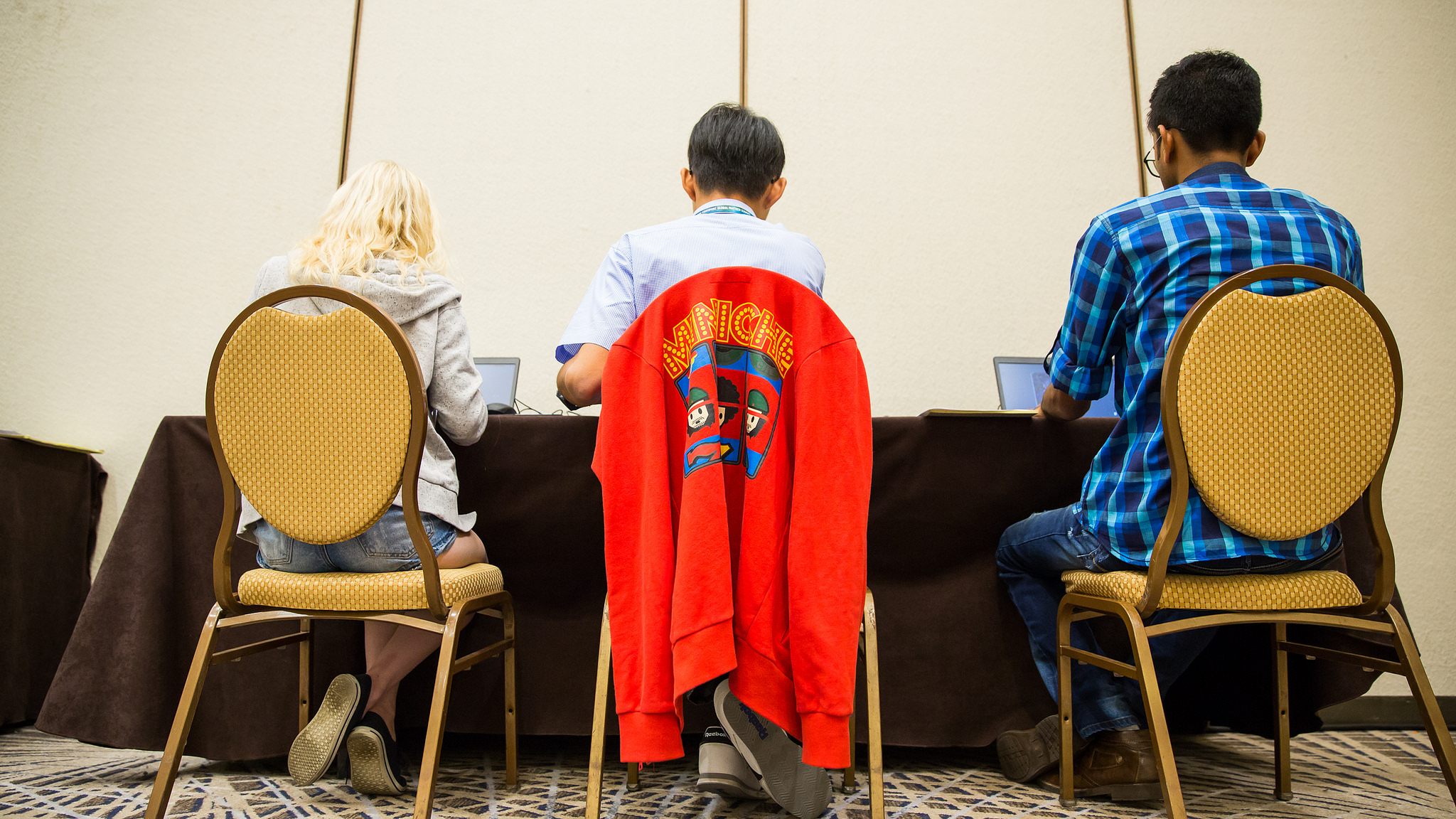 Ryan Catalfu's hard work is finally paying off. Over the past year, he has put in hundreds of hours of training, earning a spot on the renowned United States team. Last week, he traveled far from home, met his competition, and settled in for the week of his life. And on Monday, August 8th, the 17-year-old North Carolinian woke up ready to take on the best in the world.
When he heard, later that day, that his event had been delayed, Catalfu didn't let it faze him. He got in a few more practice reps. He called up an old coach for last-minute pointers. He ate some lunch. And when his name was finally called, he walked into the arena calm, focused, and ready to absolutely crush everyone at Powerpoint 2013.
Catalfu is a proud contender in one of our era's most unique challenges—the Microsoft Office Specialist World Championships. Held annually since 2001, the MOSWC pits software-savvy 13- to 22-year-olds against their peers from around the world. Some take home scholarships, medals, and their home countries' undying adoration. Others leave with nothing but sore fingertips and slightly bruised pride.
During the competition, students are given a complex printed document and asked to recreate it, pixel for pixel, in their chosen program. They're judged on accuracy and speed. "It's kind of like the nerd Olympics," says Craig Bushman, who has run the event for six years, and is Vice President of Marketing at Certiport, the company that runs Microsoft's certification tests. "It's very intellectual. But the same emotions that the Olympic athletes go through—anticipation, sizing up the competition—are there."
Forty countries, from Australia to Macedonia to Zimbabwe, sent delegations to Orlando, Florida for the 2016 Championships. Competitors sport their countries' flags and trade patriotic pins; this year, Team Thailand wouldn't even hit the pool without their matching orange jackets. This nationalism is tempered by incredible good-naturedness. "Even though there's this competitive spirit, everyone's very nice," says Daniela Pavlova, a Powerpoint 2013 competitor from Bulgaria. "It's a very nice and friendly atmosphere."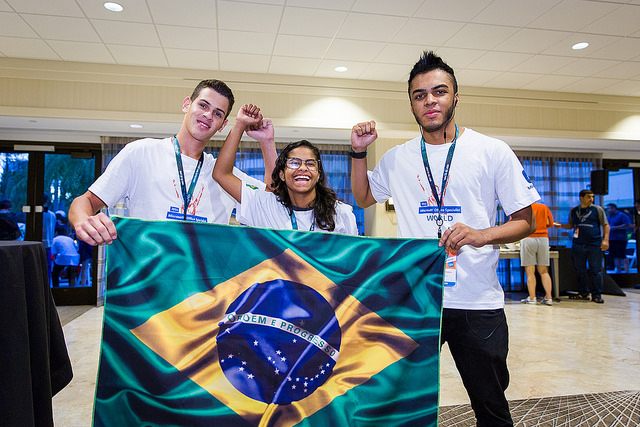 Team Brazil, representing. 
If the MOSWC is the nerd Olympics, Catalfu, who hails from Cary, North Carolina, is this year's beloved underdog. Last year, after beating every other American in Microsoft Word, he placed second at Worlds, losing the gold by a hair. "I was so close," he told the Raleigh News & Observer at the time. "I wish I knew what was different, or what I did that was wrong."
He wanted another shot—but MOSWC rules don't let former competitors try again in the same event. To avenge last year's loss, Catalfu had to switch to a whole new sport: Powerpoint. So, like Michael Jordan signing with the White Sox, he went back to square one.
He spent this year training hard (at last count, he said, he had taken over 300 practice tests) and, unlike with Jordan, it paid off: he won another slot on the US team. "I really loved it here, and so I really, really wanted to come back," he says. "That was my motivation."
Team Thailand, getting their blood up.
The organizers embrace this. Yesterday, they had former astronaut Story Musgrave talk to the students about the benefits of licensing ("Can you say you're a pilot without a license? No!"), and then took them all to Disney World, like true Super Bowl champs. Today, they'll announce the winners during a pomp-filled ceremony, which will be livestreamed. "It's always very emotional," says Bushman. "There's screams and excitement. When the students return to their home countries, many of them are received at the airport as conquering champions."
That's a strong response for what is essentially a gussied-up certification program. But although tech-savvy youths like Catalfu will likely end up running the world someday, reaping all kinds of social and economic benefits, this isn't always clear to the teens themselves. Many of them credit the MOSWC with increasing their confidence, and getting them excited about their potential future careers. It translates a different kind of hard work into the hoopla usually reserved for winning football teams.
If nothing else, these teens could teach Olympians a thing or two about sportsmanship. "Whoever wins, I know that person is talented and has worked very hard, and I will be happy for them," says Pavlova. "Everyone here is already winners."
Update, 8/10: As was announced this morning on the livestream, Ryan Catalfu took home the gold in Powerpoint 2013. "The category was so competitive, he won by one point," says Certiport PR Manager Allison Yrungaray.