The Story Behind the Most Baffling Photo Taken on the Golden Gate Bridge
Why San Francisco's mayor brought a blowtorch to open the city's new bridge.
(Photo: OpenSFHistory/wnp14.2949.jpg)
The man in the goggles above is named Angelo Rossi, and before he was mayor of San Francisco and cut through a silver chain with a torch on the Golden Gate Bridge, he lived in the gold-rush town of Volcano, California.
Like thousands of others, Rossi's father came to California from northern Italy in search of gold. He didn't find much, though, opting instead to open a general store in town. When Angelo was six, his father died, and when he was 12, the store and his family home burned down. Which is how the Rossis—including his mother and six siblings—ended up, in 1890, in San Francisco. 
Angelo Rossi was originally a florist, but swiftly became involved in local politics as an adult, first being appointed to the city's Playground Commission, before later being elected to the Board of Supervisors. In 1931—two years before construction started on the long-gestating Golden Gate Bridge—San Francisco's then-mayor won California's gubernatorial election, and it was Rossi who was appointed to replace him. 
Six years later, on May 27, 1937, Rossi, having been reelected twice, found himself on the newly completed Golden Gate Bridge with a torch in his hand, ready for his close-up. 
What followed, according to an item in the San Francisco Chronicle, was a bit of a farce: the torch failed. 
"It snorted, popped, wheezed asthmatically, hissed defiance, and went out," the paper reported. 
A second try, after the torch had been relit, didn't go much better. It went out again. The third time was the charm, however, and Rossi melted the chain, surrendering the torch "with relief," the paper said.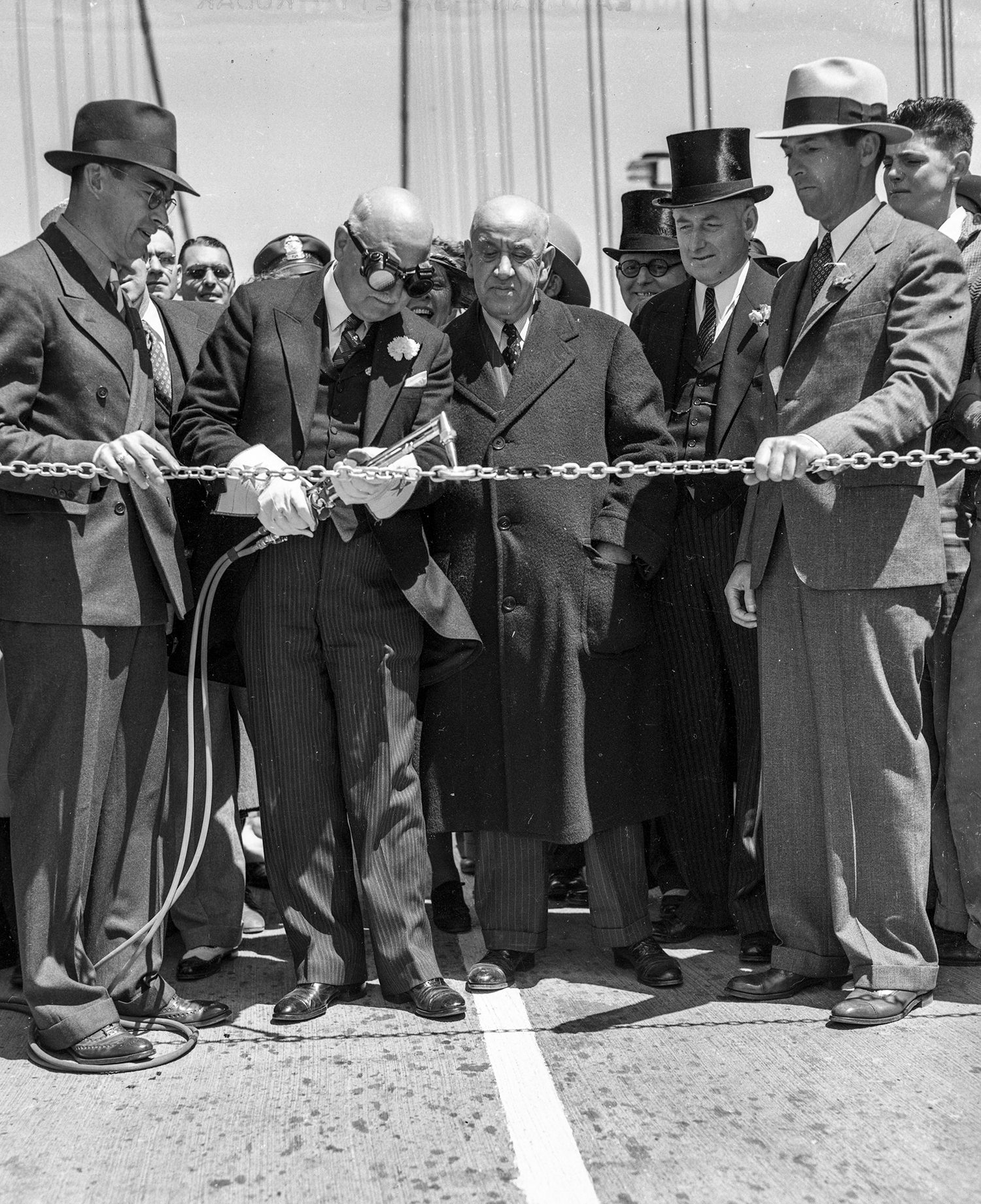 (Photo: OpenSFHistory/wnp14.2949.jpg)
That day—May 27, 1937, when nearly 50,000 people walked across the bridge, in celebration—had been a long time coming. 
Probably many a city resident had looked across the Golden Gate strait in the the decades prior and wondered whether the sides could be connected with a bridge, but it wasn't until World War I that a newspaper editor first put the idea in writing, proposing a span.
A few years later, in 1920, the federal government took depth soundings of the strait, finding that the water was more than 300 feet deep, leading some engineers to argue that a bridge was simply impossible. Or, if not impossible, prohibitively expensive, mostly because a bridge that long had simply never been built before. 
But a Chicago engineer, Joseph B. Strauss, told officials that he could pull it off, and for $25 million to $30 million (about $500 million in today's dollars), not the $100 million that some were saying it would cost. 
Strauss's original plans, though, weren't much like the bridge you see today; they were a complex design of a hybrid cantilever-suspension bridge, something like the old San Francisco-Oakland Bay Bridge. It was a New York engineer named Leon Moisseiff, in 1929, who persuaded Strauss to work on a simpler design: a pure suspension bridge, anchored by two massive towers, one named San Francisco, the other Marin. 
A year later, the War Department, which owned the land on each side of the Golden Gate strait that the bridge was to be built on, officially approved the project, and two months after that voters overwhelmingly approved a $35 million bond issue to pay for the project.
On January 5, 1933, construction of the bridge officially began. By 1936, the towers were completed, and suspension wires were installed. That October, the project saw its first worker death, of a man named Kermit Moore, who was killed when a derrick fell on him. 
It would get worse: in February 1937, just three months before the bridge opened, 10 workers died when scaffolding they were working on fell onto the safety net, which gave way under the force of their weight.
Work continued, though, and two months later the bridge was mostly complete, having been paved, with the last of the 1.2 million rivets driven in. Strauss, a stoic man, said this to the papers then: "You asked for a bridge. We have given it to you."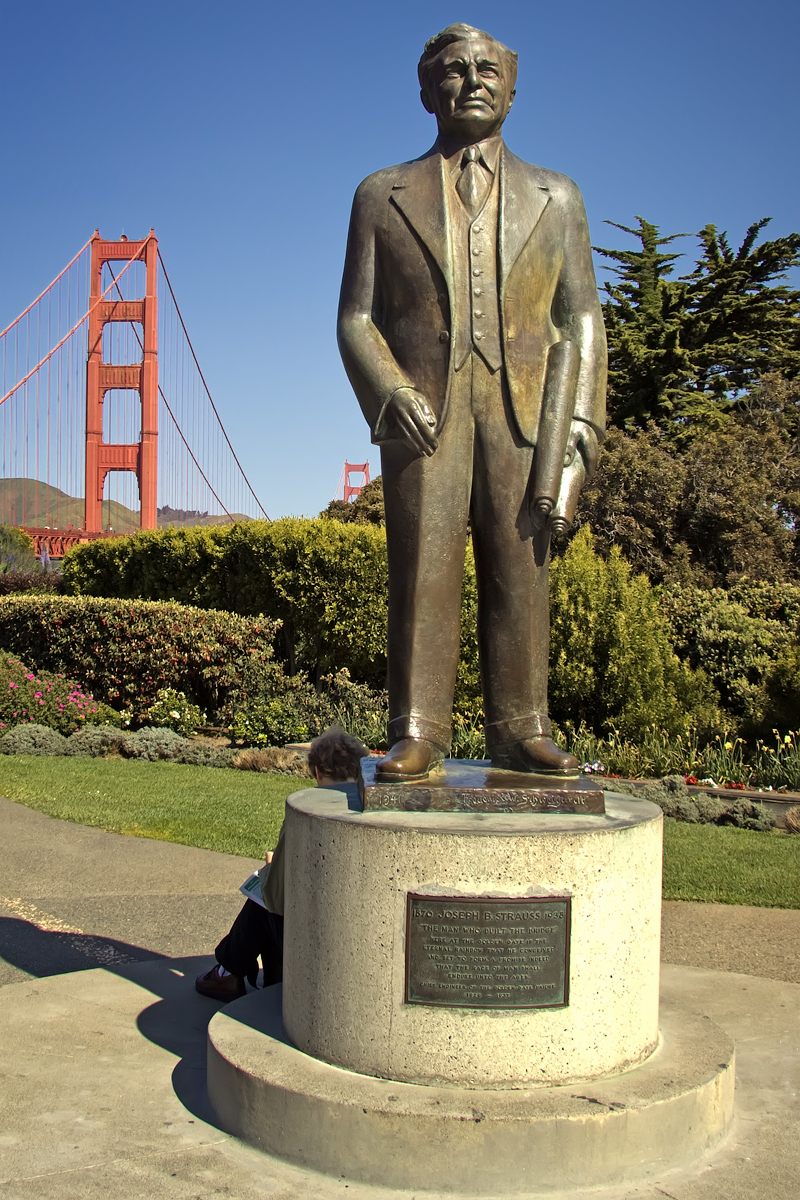 A statue of Strauss. (Photo: Steven Pavlov/CC BY-SA 3.0)
The completion of the bridge also meant it was time for Rossi's big day with a torch, a photo op if there ever was one. And Rossi's torch wasn't just any torch, but a gold-plated one crafted just for the occasion.  
There were three chains that stretched across the bridge that day, one made of gold, one of silver, and one of bronze, with Rossi responsible for the silver one, the May 26, 1937 edition of the Lodi News-Sentinel reported. The other two were cut by the president of the Golden Gate Bridge and Highway District (officially the owner of the bridge) as well as the treasurer of the Redwood Empire Association, a now-defunct but once-powerful group of business leaders. 
Why chains, and not, say, ribbons? Because, officials thought, they'd just built a monument to steel. Cutting metal was only proper, even if, according to the San Francisco Chronicle, Rossi himself might have preferred scissors. 
"Mayor Rossi will never make good as a welder," the newspaper said. "Even the crowd could sense that the mayor's torch didn't like him."