The True Story of the Rainforest Cafe is Even Wilder Than You Thought
The founder of the world's premiere "eatertainment" brought live animals to the mall.
It can be hard to hear the daily specials over the storm, a loud and distracting production that happens every 17 minutes or so in a Rainforest Cafe. Lights flicker on and off to mimic lightning, an animatronic gorilla beats its chest and the sounds of elephants trumpeting overpower whatever your safari guide (that's what the Rainforest Cafe calls waiters and waitresses) might be saying. While the exact rainstorm can differ from restaurant to restaurant—there are currently 27 Rainforest Cafes worldwide—the experience is designed to remain the same: casual mall dining in the middle of the rainforest.
Except, the experience has changed since Rainforest Cafe's began in the mid-1990s, when they had fewer locations, but actual live animals on hand. It seemed like such a staple of the '90s, hitting culture at a moment when both malls and the rainforest cause reigned, that it's easy to forget how bonkers it all was—parrot wranglers, erupting "volcanos", the wishing well with the animatronic crocodile paired with themed dishes like "Rasta Pasta".
Even celebrities embraced it. Jen Bertsch, a member of the original team who worked as an assistant manager at Mall of America's Rainforest Cafe for five years, remembers when Michael Jackson paid the cafe a visit for a special charity lunch with kids from a local cancer center.
"He was mesmerized," she says. "I remember him standing in front of the talking tree for like, 10 minutes, just standing there, staring at it, watching it."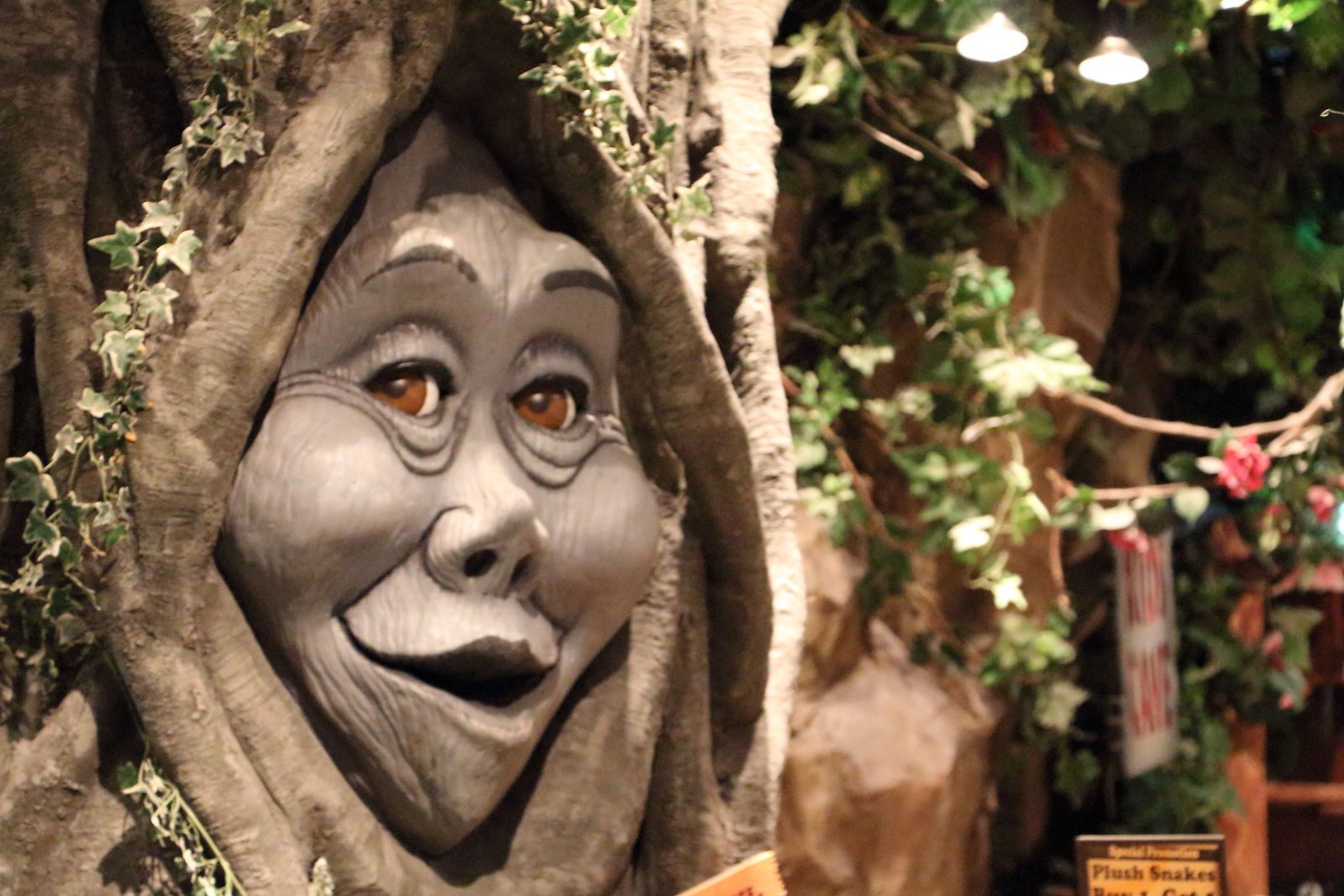 Decor at Rainforest Cafe in Orlando, Florida. (Photo: Don Richards/CC BY 2.0)
It took a very determined man to create a dining chain, "eatertainment" unlike any other.
The original location, still standing although it recently changed floors, is located in Minnesota's Mall of America. But the first Rainforest Cafe, at least its original concept, was born in founder Steven Schussler's Minneapolis home. After selling basically everything he owned, the former advertising salesman covered his house in his restaurant pitch. "Artificial waterfalls tumbled down custom-made rock formations, animatronic crocodiles bobbed their heads, and speakers piped in the roar of a tropical thunderstorm," wrote Fortune magazine in 1996. Schussler used 3,700 extension cords to power the 20 different sound systems, lights and fog pumps for this prototype.
Also, animals. "Forty tropical birds, two 150-pound tortoises, a baboon, an iguana and a bevy of tropical fish housed in ten 300-gallon fish tanks," Schussler writes in his memoir, It's a Jungle In There, about his menagerie. A greenhouse laboratory he had installed on the roof not only housed a full bar and tables, but also real butterflies bred "to determine how long they would survive and whether they would fall in the food."
His neighbors guessed he was running either "a temple for devil worship or a bordello," wrote Orange Coast magazine in 1998. And his local power company decided he was growing marijuana, thanks to an exorbitant power bill: Schussler told Fortune his $2,000 electricity bill in October 1994 was the highest for any residence in Minnesota. It wasn't long before the Drug Enforcement Agency showed up at his doorstep.
"Overall, it took me three years and almost $400,000 to get the house developed to the point where I felt comfortable showing it to potential investors," Schussler writes in his memoir. Even then, it wasn't easy: "I figured it would be like Field of Dreams: if I built it, people would come," he said to Orange Coast Magazine. "But it certainly was not an overnight success. [Investors] couldn't see the forest for the trees. They weren't visionaries."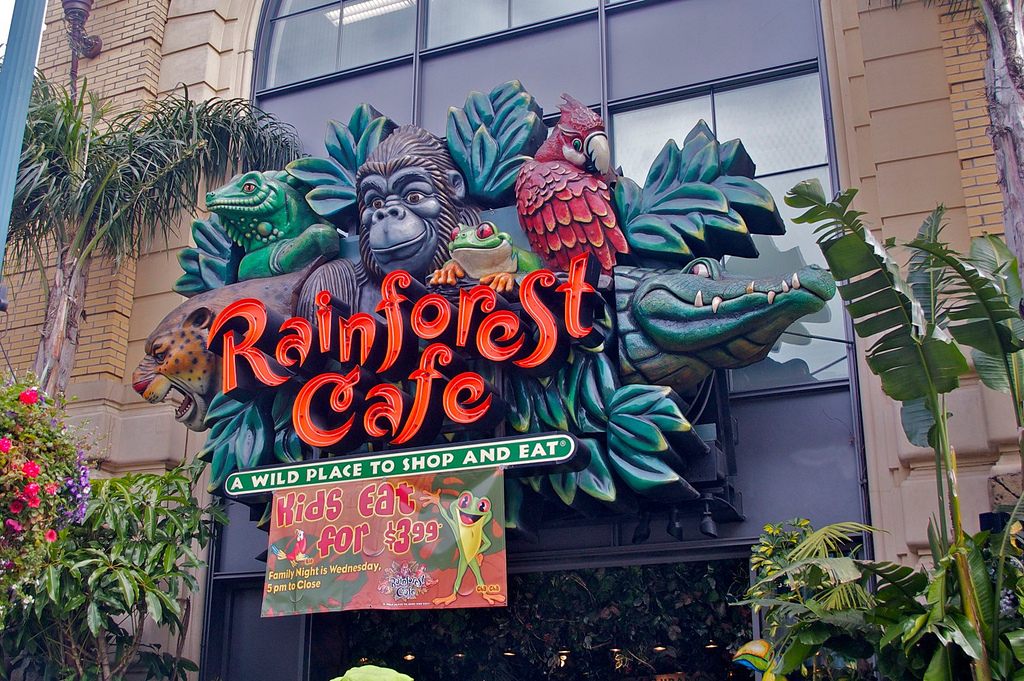 Outside the Rainforest Cafe in San Francisco. (Photo: Douglas Neiner/CC BY 2.0)
But Schussler was. Eventually, as Schussler teetered on financial collapse, a gambling magnate named Lyle Berman, made rich by founding Minneapolis' Grand Casinos, came by Schussler's homemade jungle. After a few visits, the idea grew on him and he took a chance on the concept—investing $1.2 million dollars and becoming Rainforest Cafe's first chairman and CEO.
Lucky for Schussler and Berman, their home state already had the perfect place to open a rainforest-themed restaurant experience—live animals and all. Bloomington's Mall of America, which had launched just a few years earlier, in 1992, was the largest shopping mall in the United States. The Rainforest Cafe would open its doors on February 3, 1994, and within a week the wait for a table was as much as three hours.
Jen Bertsch, who now works as a career coach, helped Schussler open that first Rainforest Cafe. She protested, but after a former co-worker told her to "just come out and see it," she showed up and was blown away by the experience: "When I was walked through it, I felt like I was, all of a sudden, through the hole in Alice in Wonderland or something. [Diners] were shocked. They would stand there and go, 'What in the heck is this place? What has happened here?' People would wait in line to eat for 2 hours."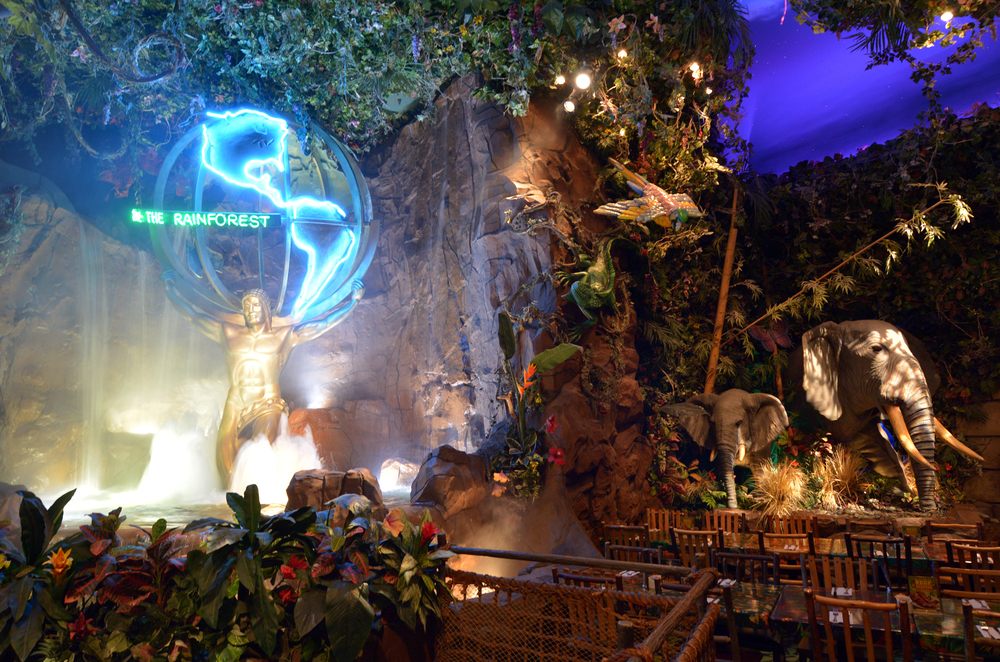 Inside the Rainforest Cafe, complete with mechanical elephants, in San Francisco. (Photo: ChameleonsEye/shutterstock.com)
Each Cafe didn't just have Safari Guides (waiters and waitress), Tour Guides (hosts and hostesses), Pathfinders (retail sales associates), Navigators (bartenders) and Safari Assistants (bussers), but they also needed curators—who took care of the location's array of live animals – and facility operators—who took care of the location's array of not-so-live animals.
Rick Peters, the director of operations for San Francisco's 33,000-square-foot Rainforest Cafe in 2000, told SFGate that there was "an entire control room set up just to monitor the computers necessary to keep all the action in motion."
"It's not like if a sink is backed up, you can just call a plumber," he said. "If a gorilla's arm stops working, we need someone right here who can fix it immediately."
Debbie Goodrich, who also goes by The Parrot Lady, an educational alter ego, was one of the Rainforest Cafe's early curators, working at the chain's second location outside Chicago. She helped to not only take care of the restaurant's in-house animals, but also to develop off-site school programming for the Rainforest Cafe. Goodrich and her team would bring along coupons: One free kid's meal if you showed back up at the Rainforest Cafe. Education and marketing, in one fell swoop.
"It finally gave people in the animal world a good salary position," she says. "We started having curator conferences. It became a very big deal."
In the next few years, quite a few Rainforest Cafes would pop up across the United States, as its stock, which started at $6 a share at its initial public offering in April of 1995, went from $22 a share in October of the same year to about $50 in June of 1996, bringing in millions more in capital for further expansion. In that same year, a new Cafe opened at Walt Disney World Resort in Orlando, Florida; a second opened at the Animal Kingdom in 1998.* By 1999, each location was making over $8 million a year—the most revenue per spot of any restaurant in the country. Finally in 2000, despite Schussler's pleas (and "at a fire sale price," as he writes in his book), Rainforest Cafe was sold to Landry's Restaurants Inc., a company that also owns over 500 restaurant, hotel, casino and entertainment destinations, including Bubba Gump Shrimp Company and McCormick & Schmick's. (They would also eventually buy Schussler's follow-up theme restaurant concept, T-Rex Cafe. Yes, it's Rainforest Cafe, but with dinosaurs.)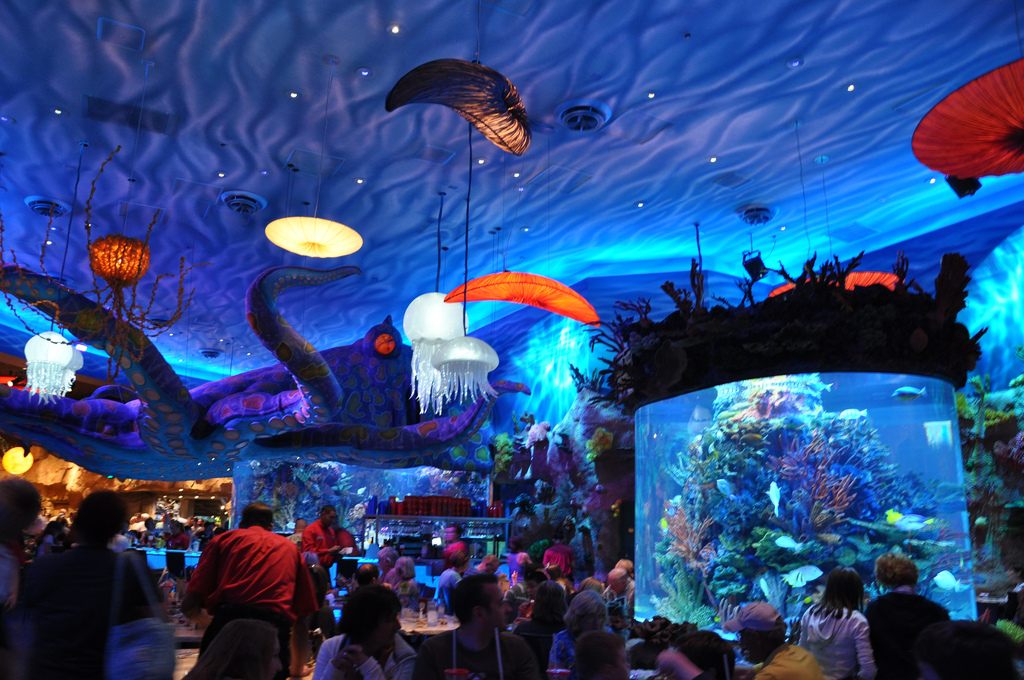 Inside the "hands-on prehistoric experience" of the T-Rex Cafe. (Photo: Serena/CC BY 2.0)
After the Landry sale, things changed: menu items, decor but most importantly, Schussler's live birds, which cost each location $100,00 a year, were scrapped. His original vision had been killed—along with the jobs of many of the animal care specialist and curators. "Of course, I didn't agree with Landry's decision," he writes. "I felt the marketing value of the birds alone justified their cost, but I was overruled."
Goodrich also remembers when the birds left the Rainforest Cafe: "To me, it's dead [now]. It's no longer Rainforest Cafe the way Steve saw it. Landry's is great as far as their restaurant management and streamlining, [but] when they approached Rainforest Café with their animal element, they absolutely obliterated it in a very bad way. [The animals] were really what set Rainforest Café apart from [being] 'just a theme restaurant'."
(The only remaining Rainforest Cafe with live parrots is located in Downtown Disney in Anaheim, CA thanks to a contractual requirement in place before the Landry's sale.)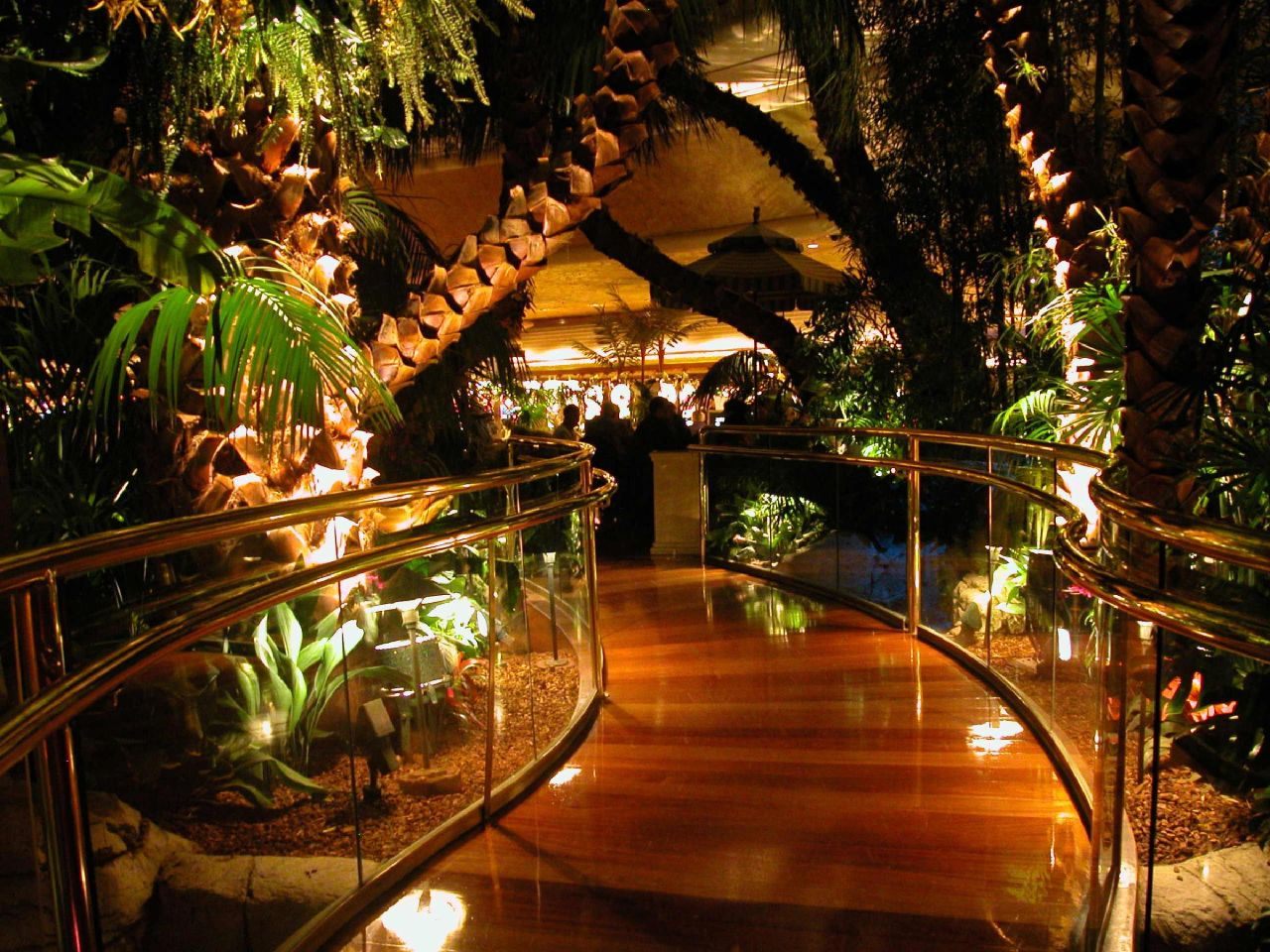 A walkway in the Rainforest Cafe Las Vegas. (Photo: Rob Young/CC BY 2.0)
Rainforest Cafes now pepper the globe—from Atlantic City to Dubai—and a new location just opened in Jakarta. They all feature the "The Wild Bunch", Rainforest-themed mascots including Cha! Cha! the red eye tree frog and Bamba the Gorilla. They will all feature an Earth-shattering thunderstorm every 17 minutes or so. They will all serve the signature Rainforest-themed dishes including "Rasta Pasta" (sautéed chicken, cavatappi pasta, walnut pesto, broccoli, red peppers, spinach, garlic Alfredo sauce) and the "Sparkling Volcano" (three wedge-shaped brownies propped up by vanilla ice cream and whipped topping on top, drizzled with chocolate and caramel sauce).
While the infamous Sparkling Volcano used to come with a lit sparkler on top, these days the sparkler has been replaced by a wooden rod with an attached shiny ornament. Much like the robotic animals standing in for the real thing, it's just not quite the same.
*Correction: This post previously stated that Animal Kingdom is part of Epcot. It is not.
Gastro Obscura covers the world's most wondrous food and drink.
Sign up for our email, delivered twice a week.