The Urban Legend of the Government's Mind-Controlling Arcade Game
The twisted tale of Polybius, the world's most dangerous video game.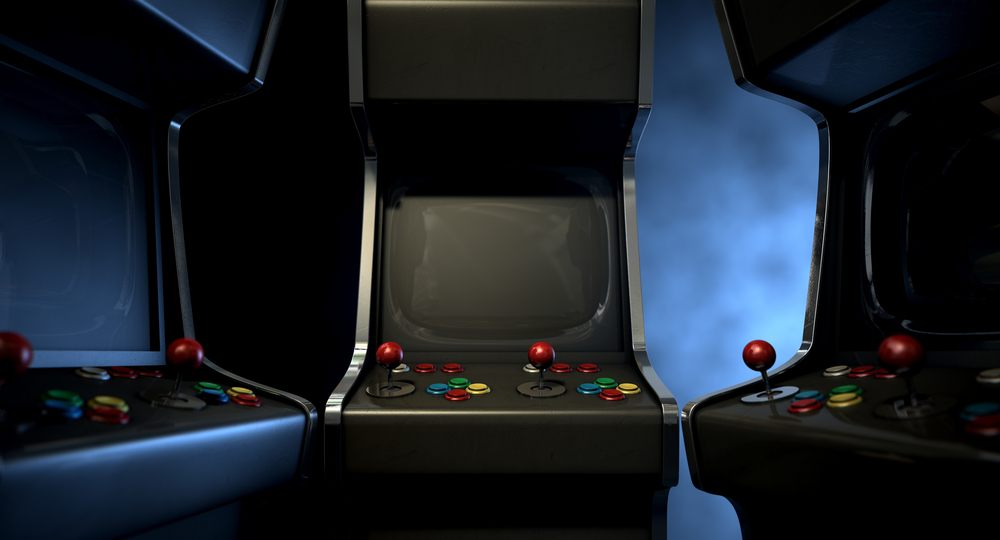 What was Polybius, and did it ever exist? (Photo: albund/shutterstock.com)
In a suburban arcade near Portland, Oregon, in 1981, a dull, digital glow bounced off the faces of teenagers who clutched joysticks, immersed in the game. Tiny lines and dots danced or exploded with high-pitched beeps across them all, but one game cabinet, Polybius, drew the longest lines.
Gamers who tried it couldn't stop playing, and began acting oddly: they were nauseous, stressed, had horrific nightmares. Others had seizures or attempted suicide, many felt unable to control their own thoughts. It was only later that they recalled how Polybius was serviced more often than other games. Men in black suits opened the machine every week, recorded its data, and left, with no interest in its coins. Soon after it appeared, the mysterious arcade game vanished without warning—taken by the men in black suits, leaving no record of its existence.
That's the story, at least. This legend is one of the big unsolved mysteries of the gaming world, though most concede that the game never existed. It's since become an urban legend on gaming and conspiracy websites and the internet horror wiki Creepypasta, and like all good stories, it is kept alive by its fans.  
It's uncertain just how far back the Polybius tale goes, but the earliest known discussion of it is thought to be from 1998, when a mysterious description appeared on the vintage gaming website coinop.org. The current entry for Polybius states that the game "had a very limited release, one or two backwater arcades in a suburb of Portland," and according to rumors it was "developed by some kind of weird military tech offshoot group" and "used some kind of proprietary behavior modification algorithms developed for the CIA."  
The 1998 post was shared with others in 2000 on a precursor to internet forums called Usenet, and seemingly sparked further lore about the game; by 2003 it appeared in a list of urban legends in GamePro magazine. In coinop.org's comment section in 2006, someone by the name of Steven Roach added to the story: it was created by a company he and a few other naive programmers began, called Sinneslöschen, he explained. They were hired by a separate "South American company" to do the work, he claimed; they were merely in over their heads with their advanced, accidentally dangerous graphics.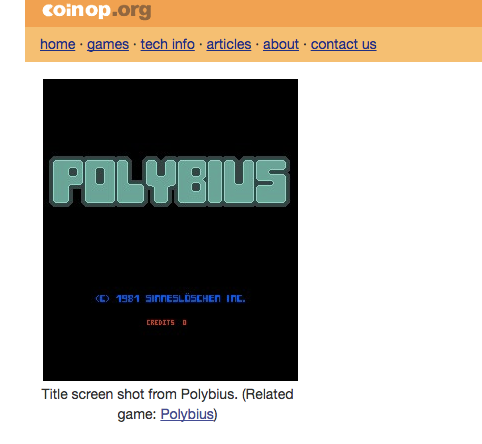 The possible title shot from Polybius, as featured on the website coinop.org. (Photo: Courtesy coinop.org)
In response, coinop.org amended its entry in 2009 with a rebuttal, saying "Steven Roach is full of himself, and knows nothing about this game." The response claimed staff was planning to sort it all out by flying to the Ukraine; "Stay tuned."
As with most legends, the details are evasive. No one even has a copy of the original Polybius game file (which are often found and shared by vintage game lovers), so no one can agree on what the game was actually like: was it a puzzle game, or a shooter game? What kind of graphics did it use?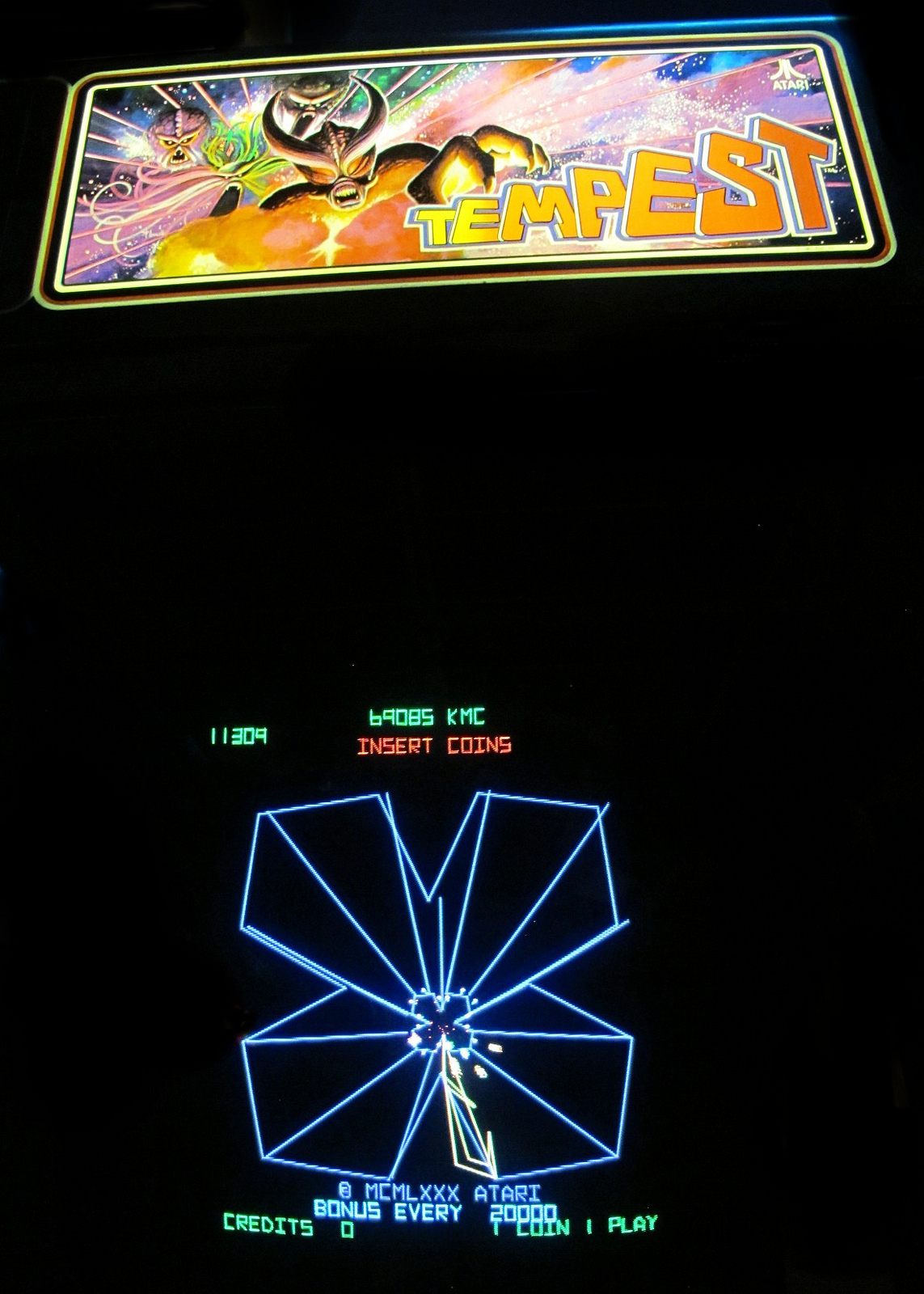 Atari's Tempest, the arcade game that Polybius is compared to. (Photo: frankieleon/CC BY 2.0)
Polybius, or at least the simulations fans have made of the legendary game, was disorienting and confusing. In it colorful geometric shapes bend and fold from a center portal like some sort of digital acid trip. If you're prone to seizures, the simulation may actually trigger them. According to legend, the intense combination of vector and raster graphics in Polybius—which was supposed to be impossible, at least back in 1981—made the mind susceptible to subliminal messages from the U.S. government. 
While details about the game are ambiguous, its story has roots in truth. Just a few decades before Polybius supposedly terrorized Oregon gamers, the government really was secretly testing unwitting subjects. MKUltra, an unethical government-led experimental program of the 1950s involving LSD, was uncovered in 1975 by the Church Committee of U.S. Congress and an investigation of the CIA, whose predecessor controlled the program.  
Many of MKUltra's subjects did not know they were part of the tests—all designed to explore brainwashing and confession techniques. Despite an attempted cover up, a cache of 20,000 documents were revealed in 1977, and more information was declassified in 2001—showing over 185 researchers and 80 institutions participating in experiments with mind control, resulting in terrible effects on the research subjects.

Reports of injuries from video games actually happened too, though from entirely different (and real) arcade games. A newspaper from the Portland area at the time reports that a 12-year-old boy named Brian Mauro got sick after drinking coca-cola and playing Asteroids for 28 hours (an arcade representative said they were "massaging his hands" to keep the kid going.) Another boy at the same arcade on the same day experienced a seizure from Atari's game Tempest—a puzzle game with fast-paced, disorienting graphics that Polybius is frequently compared to.
Even the government-video game connection is real; the army and the marines have and still use video games to train soldiers. What's more, shady arcade owners sometimes dabbled in illegal gambling, so the FBI may have actually been walking around arcades and checking machines for evidence.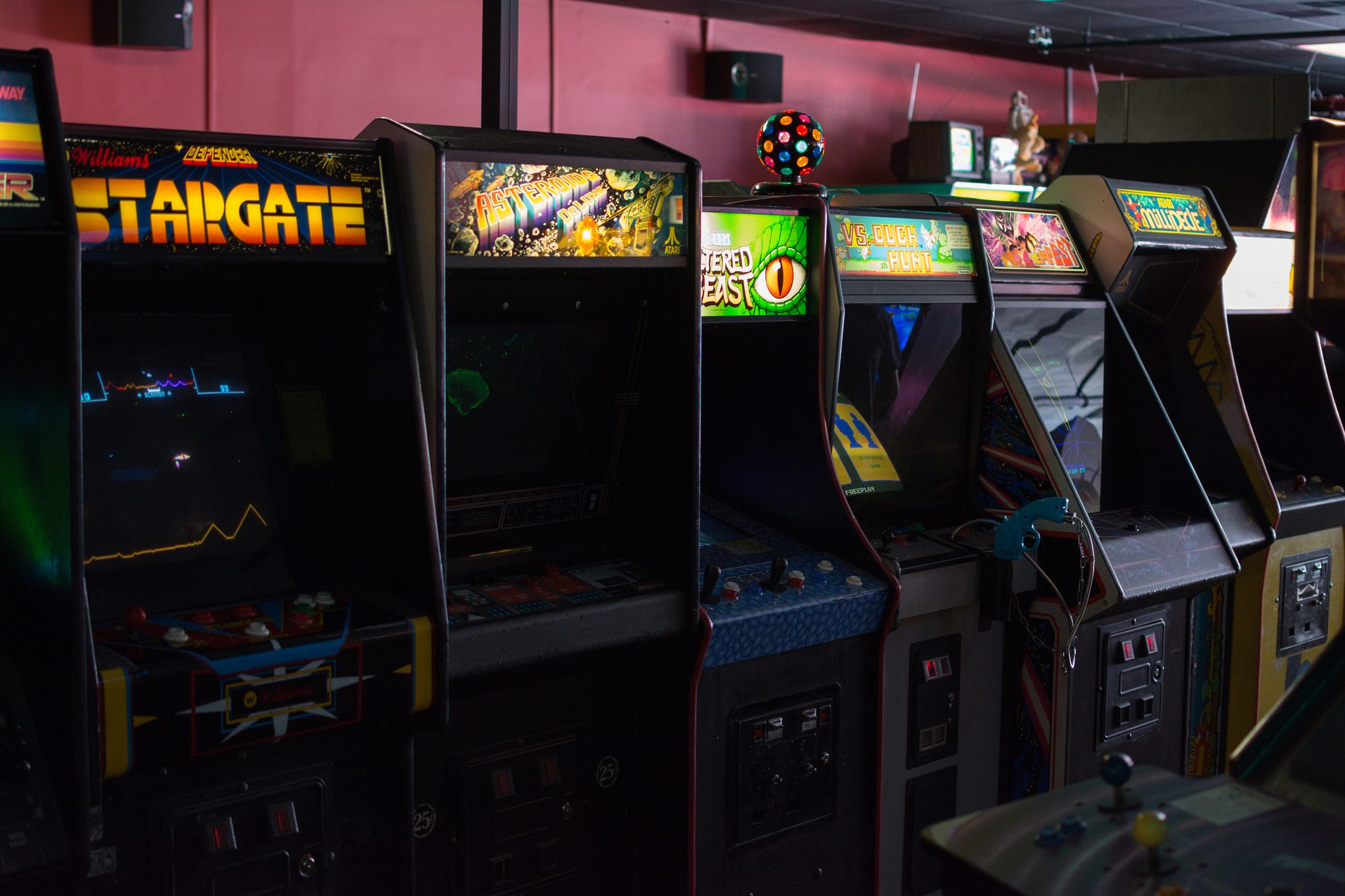 1980s arcarde games on display in New Jersey. (Photo: Rob DiCaterino/CC BY 2.0)
Combine all of that with the existence of the short-lived 1985 game Polly Play, an eight-game arcade cabinet that was recalled (possibly, according to Skeptoid, for copyright concerns), and you have a pretty solid foundation for a massive urban legend. The name Polybius could have been a misconstrued version of Polly Play, or an intentional reference to the cyphering system of a Greek historian named Polybius, born around 200 BCE.
Polybius itself may not exist, but that hasn't stopped its story from capturing the imaginations of gamers, writers and artists. The Last Starfighter, a 1984 movie in which a man in black recruits a teen for his epic video game skills, might have been influenced by (or influenced) the legend. A 2006 Simpsons episode called "Please Homer, Don't Hammer 'Em" shows Bart next to a Polybius cabinet, with "Property of the U.S. Government" stamped on the front.
A series called Doomsday Arcade by Escapist Magazine is based on it. Blister Declassified, a three-part series that was supposedly focused on Polybius was canceled before the third installment could be released. There's even a T-shirt, and in 2015 a Kickstarter campaign for a Polybius documentary was in the works, but it unfortunately didn't get the necessary funding.  
Polybius never seems to completely go away. Some online members of the Vintage Arcade Preservation Society claim to own it; one lists the serial number as "666". Photos of unknown origin of its screen and cabinet bounce around the internet as "proof" that it exists, and every now and then a supposed sighting of the cabinet shows up.  
A bar in Brooklyn called Barcade created a Polybius cabinet for Halloween in 2012, and it was so convincing that an Instagram post of it attracted believers and instigators; user broyomofo wrote a comment saying: "…please tell me that you didn't activate that machine and it was simply a gag decoration for some sort of party," and added that they'd played the original game, suffered a seizure, and "became addicted to the point that I kept playing and, for reasons I can't remember, I attempted to commit suicide." 

A few days ago, a Craigslist ad in Los Angeles advertised a Polybius cabinet for sale—this time, though, the culprit was a prop house for Sony Pictures, which made the cabinets for a movie that was never made. The cabinet has an engraved plaque labeling it "Property of the U.S. Government." In an email, Andreas Kratky, who is listing the prop, told me that the "Polybius machine was dressed up to resemble all aspects of the myth….They clearly took care to satisfy the nerdism of the gamer community regarding the myth of the game."
Since posting, the listing has gotten multiple emails commenting on its worth and rarity. "The post has become something like a crystallization point for the imaginations about the game," Kratky adds.

While many believe it to be an urban legend or hoax, the story of Polybus still has people searching for the one thing that keeps it just out of arm's reach from fact: hard evidence. It is likely they'll keep looking for years to come.