There's a Secret VIP Club in Penn Station
Its online reviews are terrible, so we went to investigate.
The Seaboard Railroad Sun Lounge in the 1960s. (Image: Public domain)
I'm standing outside the door of a place in Penn Station that I never knew existed. I have spent 15 years of my life passing through this station. I have waited for the late night's last departure, I have sat on the dirty floors, I have feared being crushed in the press to board a delayed train.  
And yet I have never wandered to this corner of the main Amtrak terminal, where here, behind the west entrance to tracks 7 and 8, there is a lounge reserved for Amtrak's most prized customers. While the color palatte of this part of Penn Station is drab gray and blue, the doors are lined metallic gold. Through their glass, I can see a mahogany wall. Inside, there are well-dressed people whose faces are calm, compared to the cross, stressed, and sweaty faces of the people out here, in the pit of populism.
I ring the doorbell. 
Amtrak lounge car, circa 1974. (Photo: Hunter Desportes/CC BY 2.0)
The best way to get through famously terrible Penn Station is to become familiar enough with its layout that you don't have to rely on the signs. You want to internalize the best route from train to the exit and vice versa, so that you can reach your destination without making a wrong turn. Fail, and you may accidentally stumble into the hellpit of LIRR land or the salmon-pink abyss of New Jersey Transit. (Unless of course, that's where you're headed, in which case you want to get there as efficiently as possible, while dodging the slow-moving Amtrak-bound tourists with their excessive luggage.) 
Perhaps that is why I never explored this corner. There is a sign pointing the way to ClubAcela, but it never registered before as important. There are very few hidden wonders in Penn Station—one of the station's best features is that you can easily buy a single beer for cheap and take it on the train with you. Beyond the cheap tallboys, there are only badly lit corners, uninspiring pastries, a few traces of the station's previous glory, and a Maya Lin sculpture that very few people notice is there.
And, apparently, the ClubAcela lounge.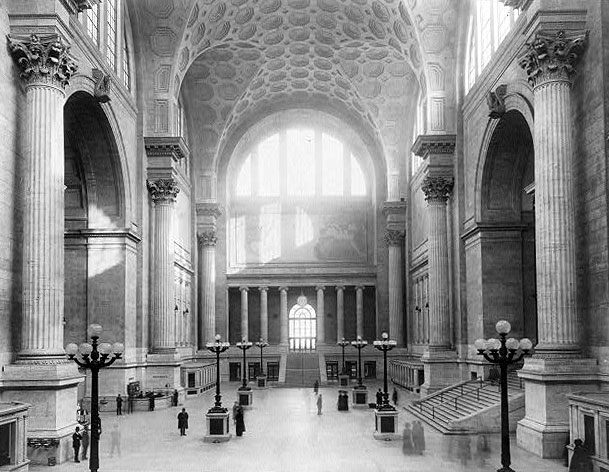 No part of today's Penn Station is as nice as the original waiting room. (Photo: Public domain)
On many modes of mass transit, people have long been divided into classes based on how much they can afford to pay. Atlantic-crossing ships had first-class cabins and bilious steerage. In America, trains had started dividing passengers into class-specific cars by the 1840s. Airlines first started offering passengers the option of first class in the 1950s, created business class in 1978, and more recently have introduced "last class" for people willing to give up what were once considered basic amenities. 
Among airlines, the first luxury lounge for select passengers was opened even before planes were divided into classes. In 1939, American Airlines started renting a space in LaGuardia Airport and opened the "Admirals Club" for passengers selected for their importance or loyalty. These chosen few could isolate themselves from the other people rich enough to fly in the 1940s and enjoy the club's bar. At the second Admirals Club location, at Washington's National Airport, American couldn't serve alcohol—the airport was built in a dry county—but the club did let members leave behind bottles of alcohol to consume whenever they happened by.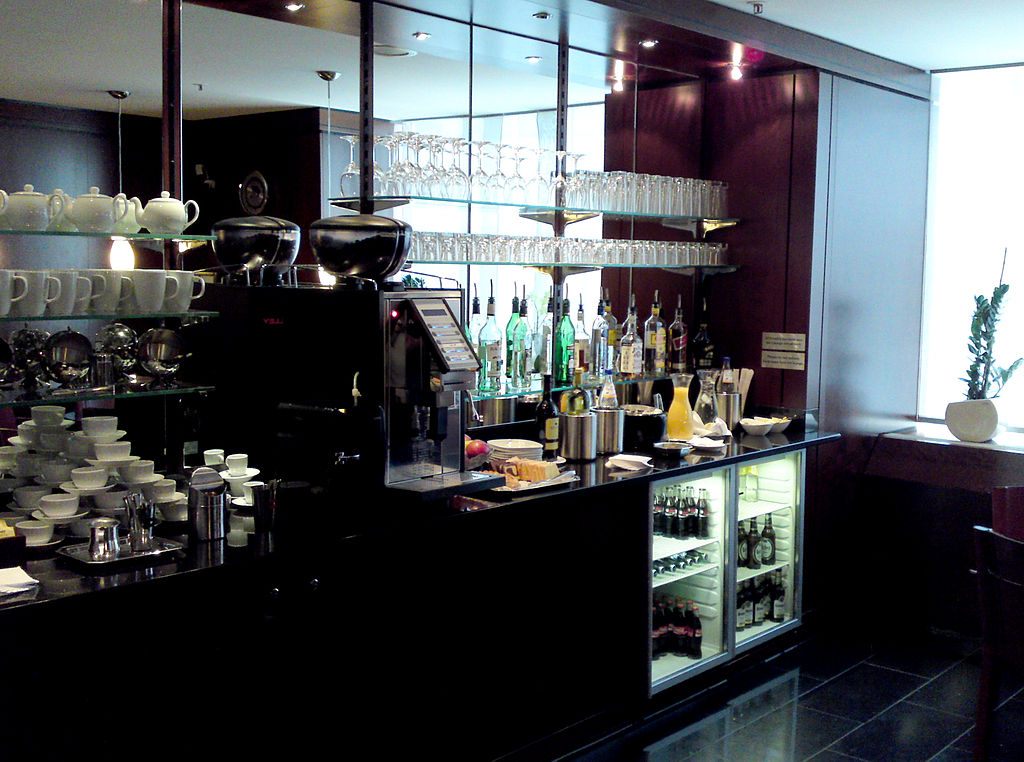 Admirals Club today. There is still booze. (Photo: Karl Baron/CC BY 2.0)
Today, luxury lounges for loyal passengers are a staple of airline rewards systems. If anything, lounges for train passengers are an older amenity. Amtrak's Metropolitan Lounge, in Chicago, which re-opened just this week after an extensive remodeling, is in a station that had separate men and ladies' lounges back in 1925.
The new lounge, which tripled the capacity of the most recent design, has space for more than 300 people and comes with shower facilities, for people who don't want to bathe on overnight trains. The "ClubAcela" lounges like the one in Penn Station were remodeled and rebranded from older Metropolitan Lounges when Amtrak started Acela service in 2000.
Today, "Select Plus" and "Select Executive" Amtrak Guest Rewards members—people who've ridden Amtrak so much they've acquired the requisite reward points—can access special lounges up and down the Acela line, in Boston, New York, Philadelphia, and D.C. In these restricted spaces, there is free coffee. And Wifi. And snacks.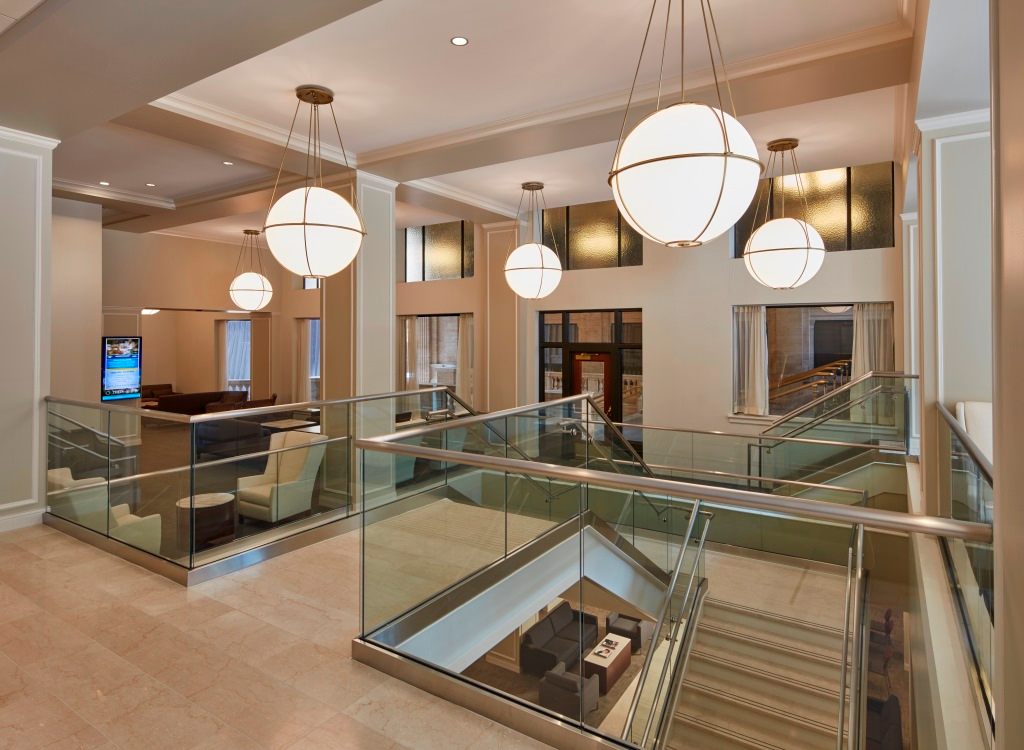 The new Amtrak Metropolitan Lounge in Chicago. (Photo: Amtrak)
With a piercing buzz, the door to the New York lounge opens.
To be honest, I'm not expecting much from the ClubAcela in Penn Station. Its online reviews are terrible. Visitors claim that the chairs are "old and worn" and that there's a "foul stench of mildew and damp mixed with something else I just couldn't place." The VIPs who are allowed into this place claim that it's cramped. It's compared to a speakeasy, and I imagine that it's dark. Supposedly, the best feature of the entire set-up is the bathroom.
When I walk inside, I am pleasantly surprised. There's a broad desk topped with heavy black stone where three attendants greet people. There is no foul smell. This place is popular: just before I found the doors, a group of three people were waiting for admittance.  
But where just outside, in the main terminal, a sea of people cluster below the board, waiting to see what track their trains will be on, here everyone is calm. One of Penn Station's annoyances is the constant crackling announcements that you must strain to hear but never seem to be about your train. Another is the acoustic set-up that magnifies the muttering of the crowd. Here, it is quiet.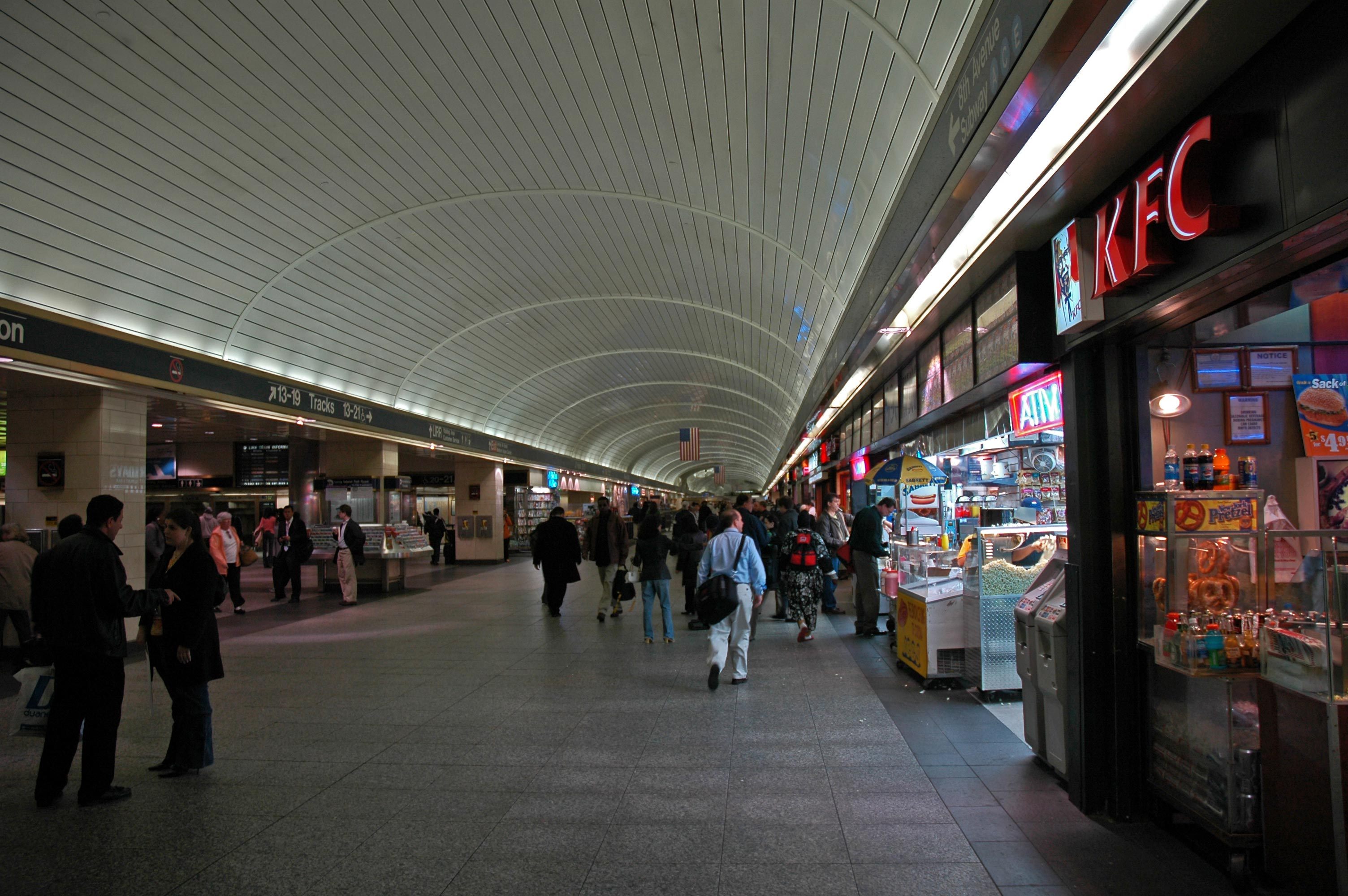 Penn Station for the rest of us. (Photo: Leif Knutson/CC BY-SA 3.0)
In the room beyond the desk, many of the stuffed blue chairs are filled. Most of the people inside are dressed in business clothes, but nice ones. The D.C.-NYC Amtrak trains are known for encounters with nerd celebrities—this is the route that Joe Biden took for years, the line where you are likely to spot Alan Greenspan, or overhear the former head of the NSA giving reporters negative quotes on background.
Before I can spot any famous-from-CSPAN faces, though, it's my turn at the desk. I tell the attendant that I'm supposed to be meeting someone here in just a few minutes. He suggests that I call them, and when I ask if I can't just wait until they arrive, he shakes his head. He looks apologetic, and tells me that "they're very strict."
It's unclear who "they" are, but given that I'm not supposed to be meeting anyone at all, they are right to deny me entry. In a minute, I'm back on the other side of the golden doors, with the rest of the plebes.
It's gratifying, in a way, to think that no matter how nice your seat on the train is, no matter how special you are in the eyes of Amtrak, Penn Station is unpleasant for all. But after my peek inside the calm-looking lounge, I was confused by the negative reviews I had seen. This 2012 video review is representative of what travelers seem to think of Amtrak's ClubAcela lounge: 
Perhaps the lighting has improved since then—it was bright enough when I was there. Or maybe my expectations just aren't as refined as that of an elite traveler.
To be fair to Amtrak, the reviews of all other ClubAcela lounges are relatively positive. The word "oasis" is often used. In Boston, "the chairs are nice and everything is so much cleaner than the station," says one Yelp reviewer. In D.C. the room might look like it came straight from the 1990s, but there's a special exit to the train platforms that lets Select members jump the long lines to board the trains.
For New York travelers unhappy with the crowded conditions in the secret lounge, may I suggest using the normal waiting area, with its bright lights and rows of airport terminal-style seating? It's almost never full: on the afternoon when I tried to talk my way into ClubAcela, there were many empty seats there, while the cushier ClubAcela lounge was full enough to make it a bit claustrophobic.
The other main complaint about ClubAcela Penn Station seems to be the lack of alcoholic beverages served in the lounge (even though Amtrak clearly states on its ClubAcela page that the complimentary drinks are non-alcoholic.) But why not buy a cheap beer with the rest of us? There are plenty on offer at the delis out there in the rest of the stations. They'll even give you a paper bag to keep it in.