This Small Texas Museum Celebrates the Art of the Wild West
The Museum of Western Art in Kerrville, Texas, began as a home for a group of "Cowboy Artists"—and has since expanded its purview to represent a more inclusive catalog of Western Art.
Opening the thick, towering wooden doors of the Museum of Western Art in Kerrville, Texas, doesn't feel like walking into a traditional museum. The stucco walls housing this collection of western and cowboy-adjacent art make the building look more like a friend's beautiful home than an imposing cultural institution. When you open the doors on a summer day, a burst of cool air welcomes you, accompanied by the unmistakable aroma of leather.
This unassuming appearance is by design, according to Darrell Beauchamp, the museum's Executive Director. "You walk up to the building from the outside and you see huge stucco walls, very few windows, and low ceilings," he says. "Then, you walk into these huge doors, and you go, 'wow, where did all that come from?' It's basically designed to hide wealth."
The building was constructed by O'Neil Ford, a famous Texas architect who preferred the hacienda style on display here. The museum's location also contributes to its comfortable feel: Perched on a hill in Kerrville, population roughly 23,000, the museum feels squarely off the beaten path—and celebrates many artists who often shunned that path completely.
Kerrville is quintessential hill country, located about 60 miles north of San Antonio and the home of the Guadalupe River. "In Kerrville, everything is either on the river or up in the hills," Beauchamp explains.
The museum's location is no accident. In 1981, a group of Kerrville entrepreneurs came together with the idea to donate 10 acres of land and build a museum that would provide a home for the Cowboy Artists of America. "They said, 'if we build it, maybe they will come,'" Beauchamp says. The museum opened its doors in 1983 as the Cowboy Artists of America Museum, housing works from a group of 20-25 men who painted and sculpted the American West.
The CAA was founded in the 1960s by a handful of artists who wanted to capture and preserve the American West and its culture. "Many are working cowboys and ranchers, and also wonderful artists—and I know some who are fine artists but couldn't set a horse if it was a matter of life or death," Beauchamp says. One thing they all have in common, though, is that "they are artists first." Their art has skewed towards Western Realism, representational art that uses oils, pastels, and watercolors; bronze sculptures are also common, and the museum holds a large collection of them.
The museum's relationship with the CAA held strong for 20 years. However, as the museum staged exhibitions every 90 to 100 days, there was a high quantity of art needed and, Beauchamp explains, in 2003 it became clear that it was time for the CAA to break free from their obligations to the museum. The formal relationship dissolved, and the Museum of Western Art was born.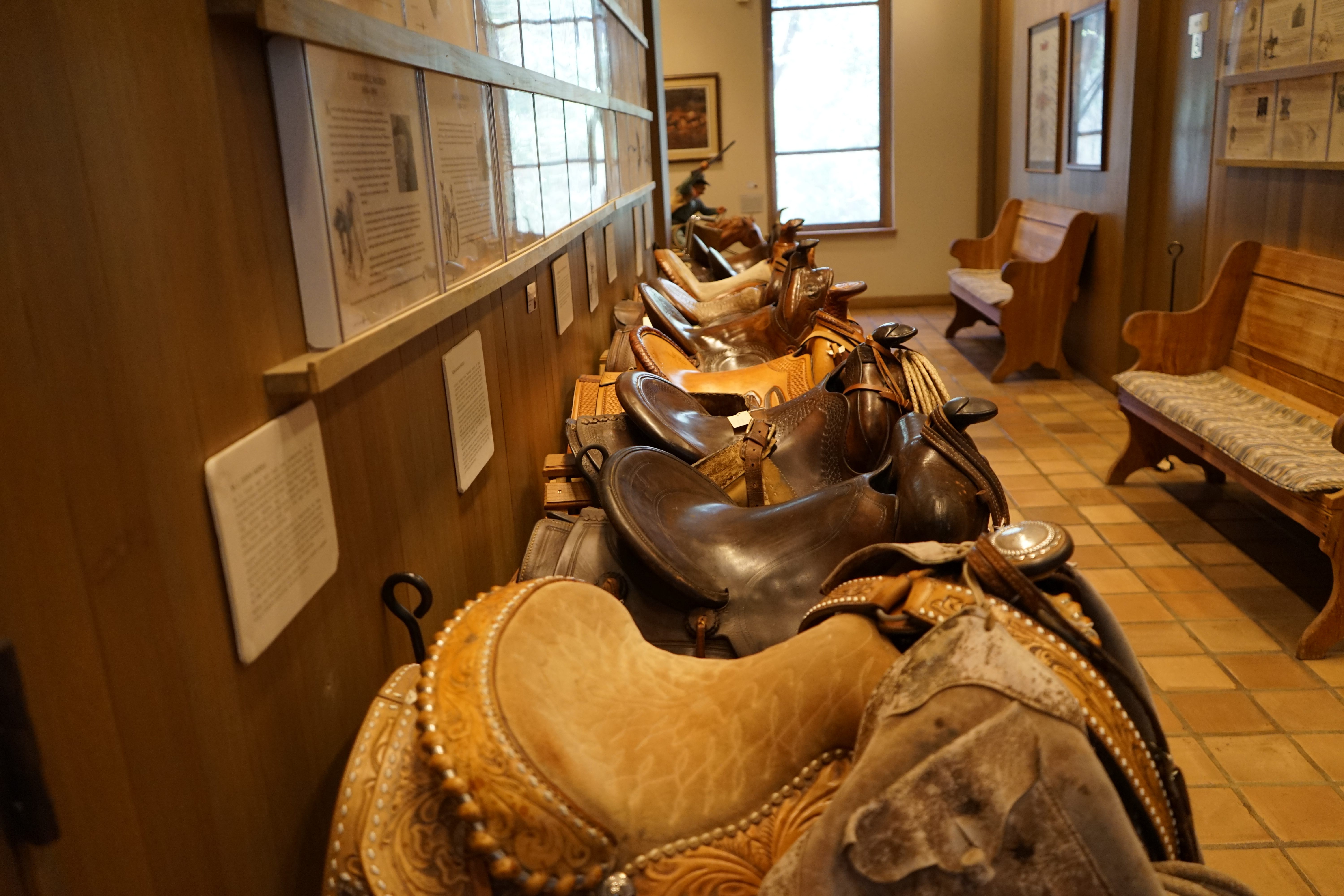 This also meant that the museum could now celebrate a more diverse selection of artists. The CAA "were a group of men who paint and sculpt the American West, which means we were probably excluding women, people of color, people of other nationalities," Beauchamp says. "It was time to expand our mission." They've also sought to expand their understanding of what Western Art is, as it's a relatively niche genre.
The museum houses three main galleries, one of which currently features an exhibition called "The Heavens Declare," which focuses on skyscapes. Over 120 works interpret the story of a greater power, which is a first for the museum. "A concept of creation that goes across all faiths, they all have a greater power story," Beauchamp says. "It's kind of a departure for us because we do a lot of cowboys and Native Americans and buffaloes, but we have never featured skyscapes."
If you came looking for a specific painting but only found glorious skyscapes, fear not: Unlike many other museums, the Museum of Western Art allows guests to view the museum's vault, by request. Past the main gallery and through a dense set of metal doors, and past motion detectors, camera security, and heat sensor systems hang 16 original works of art by G. (Gerald) Harvey, an American traditional artist, among other precious works of art. The reason is simple: Beauchamp says he wants to take the mystery out of his museum.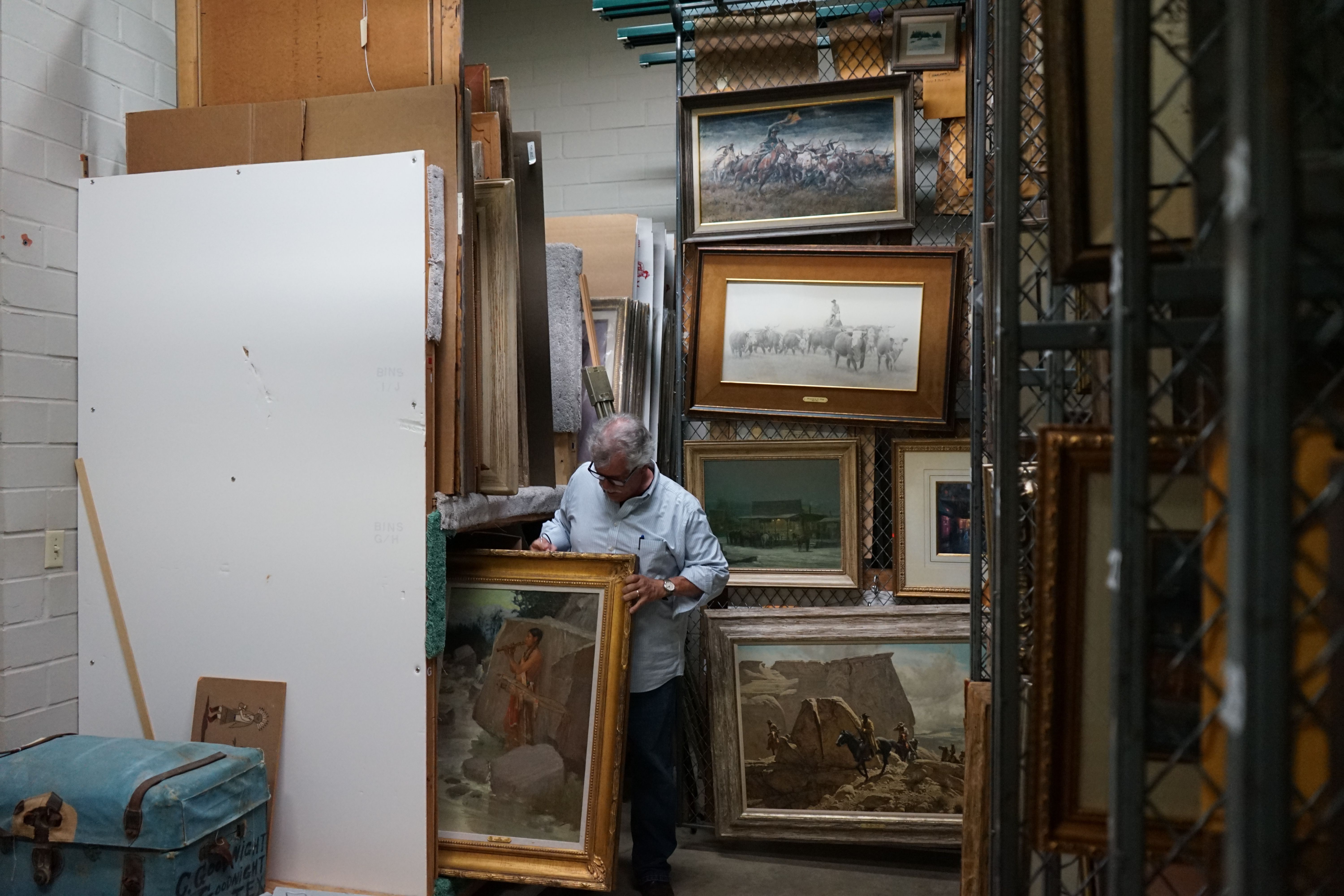 "Our job is to put art out in front of people. Sometimes people want to come and see a particular piece," he says. "Why should we deny them the art they came to see?" A separate vault houses the museum's bronze sculptures.
Exit through the back doors of the museum and you'll find a life-size sculpture of a cowboy riding the rough edges off a bucking horse. Around him are a collection of cement squares, called the Cowboy Artists of America Garden, with each square holding the hand and boot prints of a CAA member along with their signature.
A few feet away from Jason Scull's square in the garden is his small yet captivating studio, another gem of the museum. Scull is currently the museum's sculptor in residence, and visitors can mosey over to the studio to see him at work. He'll likely invite you in for a cup of coffee and let you get up close and personal with the many clay pieces he works on simultaneously. He's been a sculptor for over 36 years, before which he studied animal and human anatomy. This knowledge has helped him to create impeccably detailed sculptures of livestock and the people that handled them. "You can take exaggeration to a point and have it believable to the viewer and you can stretch it a little bit further," Scull says of his process. "I'm at a point in my life where my concept and my ideas end up looking like I want them to."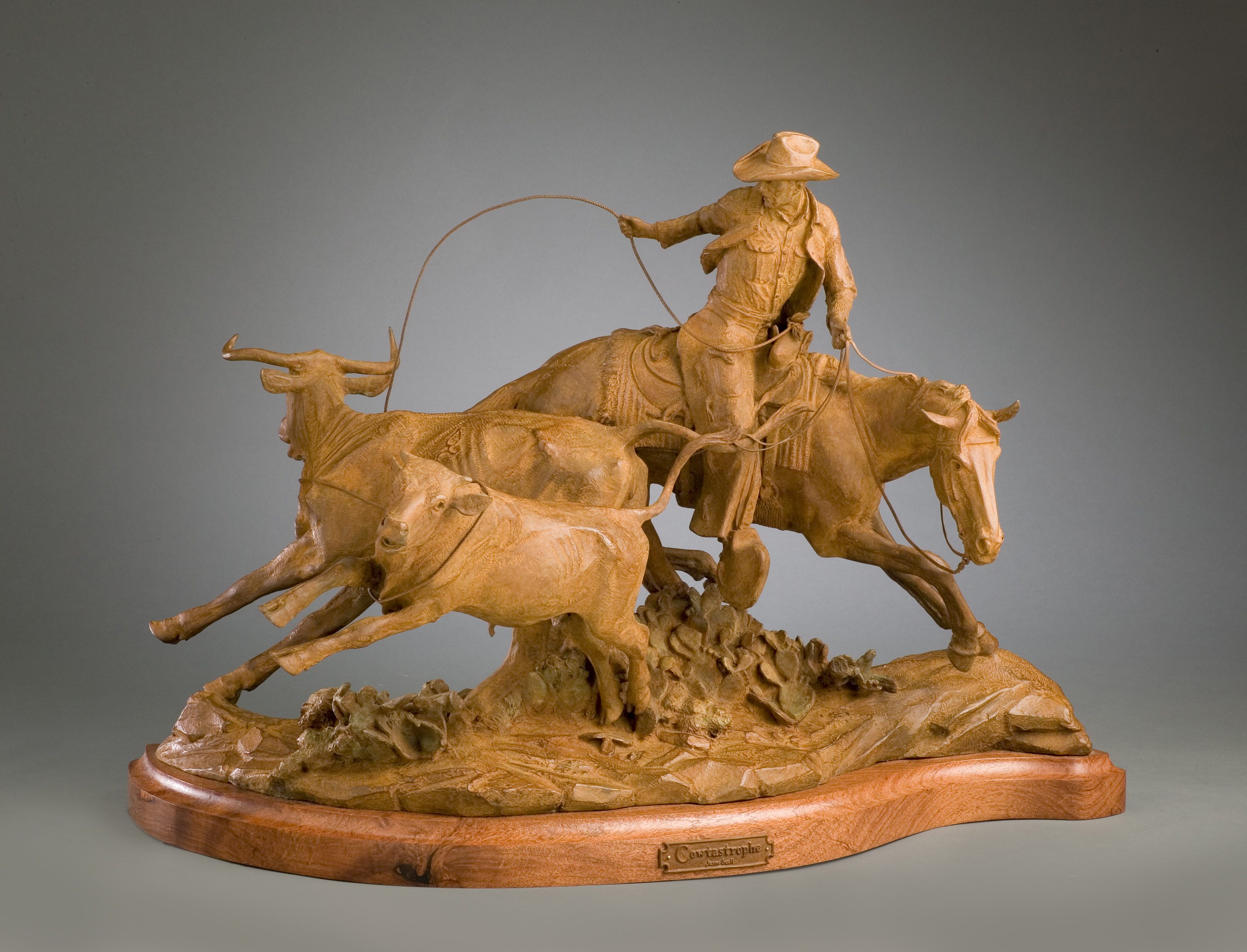 Growing up in a family that was involved in raising cattle and horses, his love and interest was always in livestock and the people that handled them. "My dad and granddad grew up in deep south Texas and they would tell me stories of the old Mexican cowboys," Scull says. Between memories from his childhood, an image or a scene from a ranch, Scull creates bronze sculptures that are intricately detailed and intensely laden with emotions.
One benefit to recreating the American West and the terrain is that not a lot has changed, he says. "You can tell where someone is from by the clothes they wear," Scull says. "The creases in their hats…the saddles from the Northern planes will be much different than the ones they ride here." While the museum has made important strides to expand its scope, the life of the cowboy is still very much a part of its heart (they even have a 6,000-volume western art and culture research library). The pieces of the permanent collection are accurate in educating and feeding the imagination of people who have a love for the west.
Despite the museum's location, Beauchamp says the past few years have seen an increased number of visitors from around the U.S., and even around the world. "I don't know if it's hidden. I know it's a gem. We are on people's bucket lists."