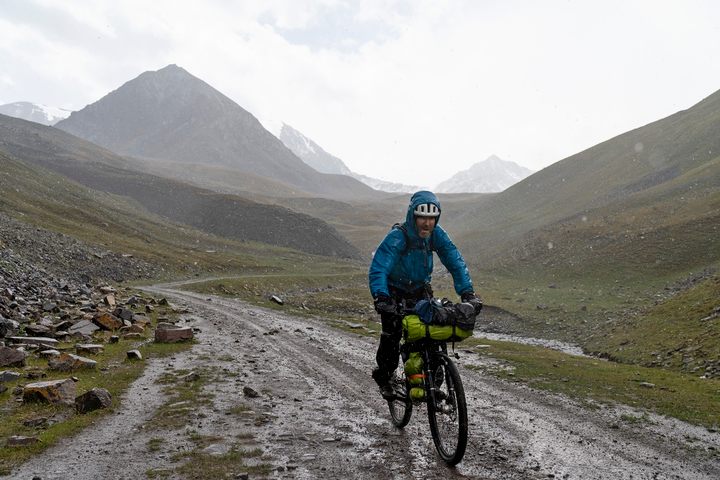 The Toughest Mountain Bike Race in the World
In Kyrgyzstan, determined riders persevere through blizzards, lack of sleep, and disintegrating shoes.
Sleeping as little as possible was the French racer Sofiane Sehili's strategy. In 2020, he won Morocco's grueling Atlas Mountain Race by sleeping a total of two hours over four days. The ability to remove sleep from the equation meant that he was able to ride further than his rivals, adding six to 12 miles more than other riders each day. But that was a different race. Now, a year later, alone in the unforgiving mountains of Kyrgyzstan, the difficulty of the route left Sehili exhausted as never before, and he had to sleep three or four hours a day just to be able to get back on his mountain bike and continue.
Eight days, 14 hours and 35 minutes after he began the 2021 Silk Road Mountain Bike Race, Sehili was the first to the finish line. Only a handful of people—the race's organizers—were there to congratulate him. There was no prize money or even a shiny trophy. Instead, without much fanfare, Sehili was given an Ak-kalpak—a traditional Kyrgyz hat of embroidered white felt—and a few cans of beer as his reward.

Nearly half the field had already dropped out by the time he crossed the finish line. But behind Sehili, there were 51 riders somewhere in the mountains, fighting grueling ascents and dangerous descents, unpredictable extreme weather, and their own limits to complete what's widely known among bikepackers as the toughest mountain bike race in the world.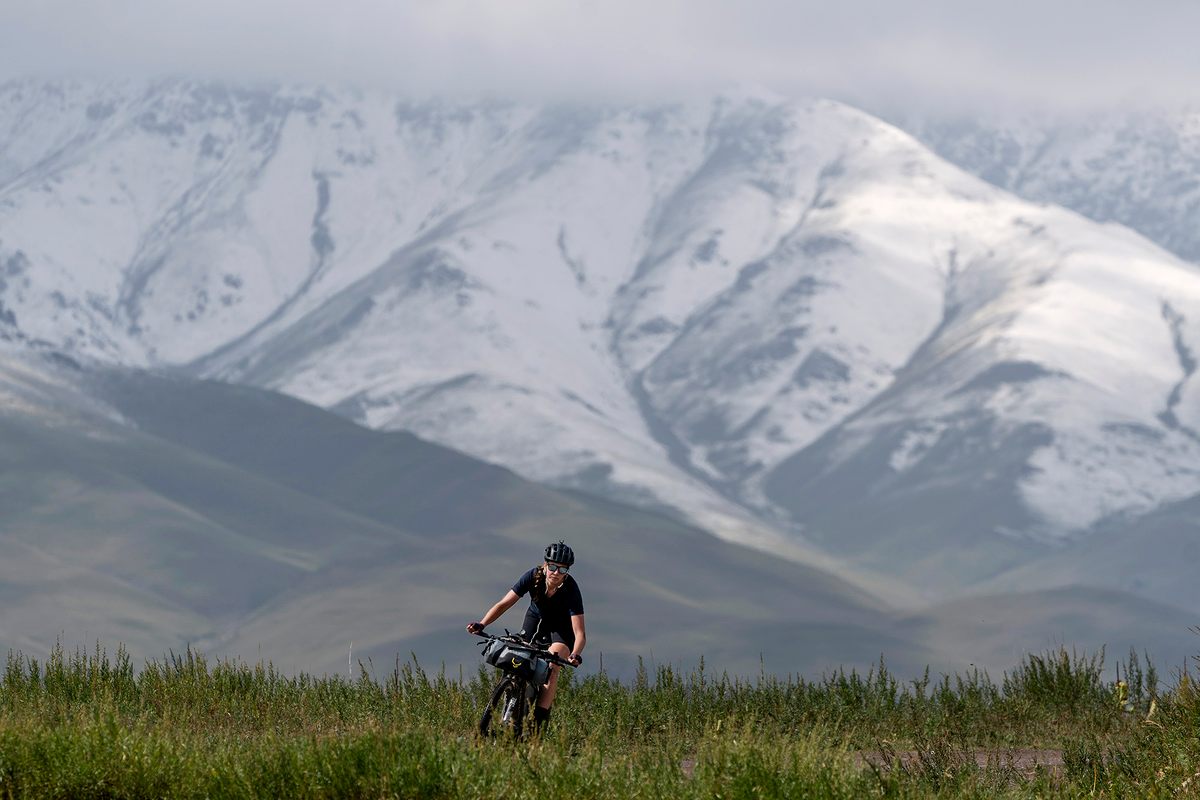 The Silk Road race stretches about 1,155 miles across Kyrgyzstan's mountains, from frigid, treeless alpine tundra down to green, sweltering valleys, and back up again. Riders who finish will log over 101,200 total feet of ascent over the week-plus race. The annual event, held in August, requires participants to be self-supporting. There are no friends or family to cheer them on. There is no hospital or mechanic to mend bodies or bikes. Much like the traditional nomads of Kyrgyzstan, every cyclist's bike is their horse, their tent is their yurt, and the only food and water they have is what they carry through wind, rain, snow, and heat until the next resupply point, scattered along the route.
The event was created by current race director Nelson Trees, a towering athletic Englishman who first encountered Kyrgyzstan's scenic extremes—endless steppes and imposing mountains— during his bikepacking tour from Shanghai to Paris in 2013. The wild, natural landscape was etched into his consciousness. "I took a mental note to come back here," says Trees. In 2018, he returned to start the first Silk Road Mountain Race.
"Fitness and athletic prowess alone won't win you the race," says Trees. In fact, it's perhaps the mentally challenging nature of the event that draws riders from around the world. Locals along the route may cheer as racers pass by their villages, but beyond the rural settlements and towns of old, Soviet-built concrete, the route snakes through an inhospitable environment of limited resources and no human contact. Riders often find themselves alone in tough situations.
More than a week before Sehili crossed the finish line, the race began at 4:23 a.m. in the small town of Talas, with a light but chilly breeze. The path illuminated by their headlamps, 95 riders took off into the dark. Their first challenge was Terek Pass, with an elevation of 12,172 feet. For centuries, the pass was on the main route of the Silk Road. Marco Polo crossed it on his way to China, and Genghis Khan and his Mongol army used it in their relentless advance westward across Central Asia.
The path descending from Terek Pass is littered with sharp rocks. One rock slashed open the rear tire of Levente Bagoly, a slight Romanian with the muscular legs of a seasoned mountain biker. Without the equipment he needed to make a permanent repair, Bagoly patched it up and kept going. But he had to stop every six miles to pump air back into the tire. He had spent a great deal of energy in the beginning of the race chasing and passing other competitors. Now, every time he stopped, those riders would zoom past him. Slowly, keeping score in his head, Bagoly started to lose more than his position. In the inaugural 2018 race, he had finished second, and being in the top five again meant a great deal to him.
"I am a competitive person by nature, but I had lost all motivation to compete. I felt hopeless," says Bagoly, looking back on what happened after Terek Pass. His frustration soon manifested itself physically. He experienced severe headaches and an irregular heartbeat. On the third day he vomited and collapsed. He left the race, promising to be back another year.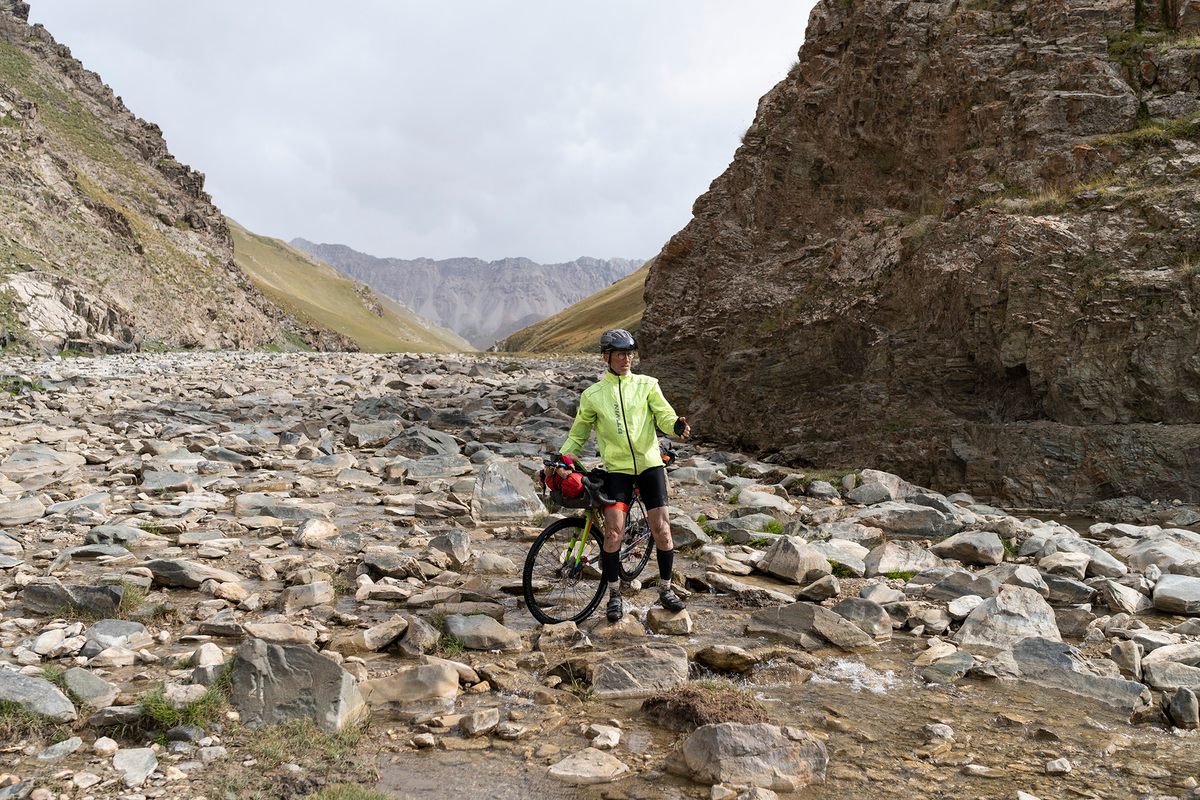 A few days later, it was not exhaustion but blindness—snow blindness—that nearly ended the race for riders Axel Brenner and Adrien Liechti. They were at the top of Arabel Pass, at 12,467 feet, when a storm hit and deposited several feet of snow. The gray mountain turned white, like everything else around them, and the two riders were forced to navigate the rocky, treacherous terrain with few visual cues. Hours later, the sun returned and melted all evidence of the blizzard conditions. Brenner and Liechti not only made it safely down from the pass, but would finish in second and third place, respectively.

In fact, changeable and often fierce mountain weather is the biggest wild card of the race. Dark clouds can quickly shut out the warmth of the mid-morning sun, dumping rain and hail on the course. Minutes—or hours—later, the sun may reappear and bake the steep mountain valleys, forcing riders to shed their winter layers. In addition to dangerous terrain and temperature extremes, they also experience some geopolitical reality.
To reach the rest stop of Tash Rabat, an idyllic, well-preserved caravanserai that has welcomed passing travelers since the 15th century, riders must first cross an empty land of 18 miles. Here, a long, straight fence marks the border between Kyrgyzstan and China. No one lives in this zone, and race participants must check in with border guards to gain access to this stretch of the route. Although mostly flat, the uneven gravel road takes a toll on the rider's body; non-stop vibrations can leave their hands numb for hours or days.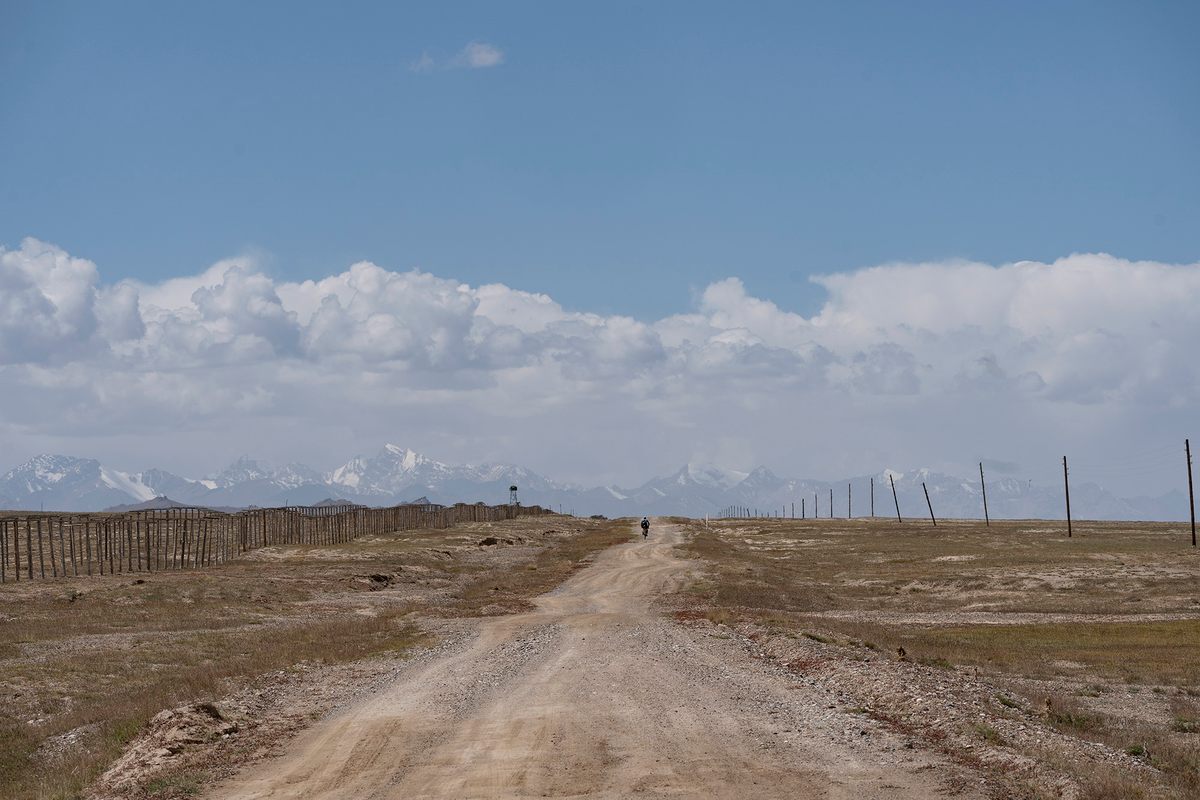 From the no-man's-land near the border, the route returns to the mountains, rising 984 feet in a little over a mile. Some riders end up carrying their bikes over their shoulders and hiking up; bikepackers call it a "hike-a-bike." The descent is equally as steep, requiring finesse: Heavy braking could lift the rear wheel up and send the rider tumbling downhill. A few river crossings, the water's course littered with massive boulders, signal the end of the descent. Only then do riders catch sight of Tash Rabat, where modern yurts skirt the old stone caravanserai, opposite a small stream. Many riders pause here for shelter and sustenance, just as Silk Road traders did for centuries before them.
"The yurts are like a mini oasis. Shelter, warmth, comfort, and food. All the things that soften you," said Steven Moatt, a cheerful, middle-aged Englishman. "A danger zone as far as time is concerned! So it's best not to get too comfortable."
For Moatt, the ancient rest stop was more than a brief but welcome break; just making it there was a victory. The day before, he had fallen off his bike, dislocating his shoulder. "That morning, the sun was out and it was warm sitting on the grass just outside the yurt," he says of his time at the site. "It was a relief getting to Tash Rabat as this proved to myself that I was still physically able to continue."
The sheer determination to keep going may be the most universal quality of the race's riders. Canada's Jenny Tough was caught in a rainstorm mid-race. Exhausted and sick, she forced herself to keep going to reach the next resupply town, Baetov. Tough arrived just in time for dinner—and then set off the next morning at 3 a.m., while the other riders were still asleep. She would be the only female contestant who rode solo to finish the race.

Another rider, Martin Písačka from Czech Republic, gave new meaning to the phrase "by any means necessary." About 125 miles from the finish—a day's ride in good conditions—Písačka's bike gears and pedal dislocated from the rear wheel at the top of 12,572 foot Kegety Pass. It could not be fixed.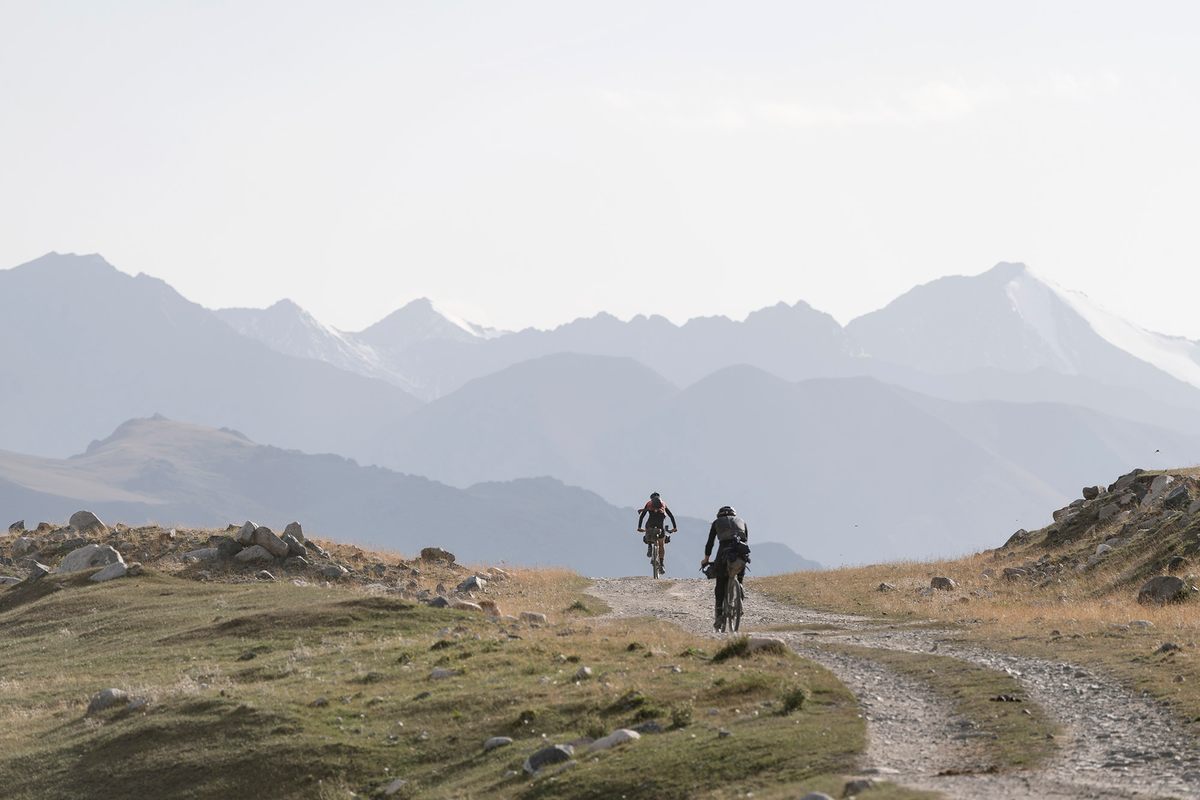 Rather than giving up, Písačka decided to walk to the finish line. It took him three days, including one of the most challenging passes in the entire race and a 2,296-foot hike-a-bike. He later said that his shoes disintegrated, and locals gave him two replacement pairs but neither fit well. He crossed the finish line barefoot, with a grin.
"I know that this sport is a selfish endeavor," Písačka says, looking back at the moment. "However, when in the mountains, my mind is at ease. I do not think about anything else but the race, food and shelter. Life becomes much simpler. In those moments, the views are perfect, the people I meet are perfect, and every day is the best day."