How Do You Win a Silent Town Crier Competition?
Participants honored Britain's long and loud tradition without a single shout.
"It's an extreme sport," says Alistair Chisholm. "The secret is to read the weather forecast, and to wait for that moment when the wind is behind you and your lungs are filled with air, and then off you go!"
The extreme sport is competitive town crying, and Chisholm knows a thing or two about winning: A town crier for a quarter-century in Dorchester, in the southern English county of Dorset, he's shouted his way to victory at national championships on 10 occasions. But this year, things are very different.
"Oyez! Oyez! Oyez!" The ancient call to attention that starts every cry—derived from the Norman-French word 'to listen'—was imported during Norman rule, beginning in the 11th century, though town crying likely has much older roots. But the competitive side of the tradition fell silent in 2020. For the first time since the Loyal Company of Town Criers began holding competitions in 1995, all contests were cancelled thanks to the pandemic. This May, the members of the group—one of the largest and most prestigious crier organizations—decided to shout the only way they could: in silence.
Putting pen to paper at the world's first-ever silent town crier competition, Britain's loudest citizens would be judged not on the volume and clarity of their shouted cries, but on the content of their written words. And it was anyone's game to win.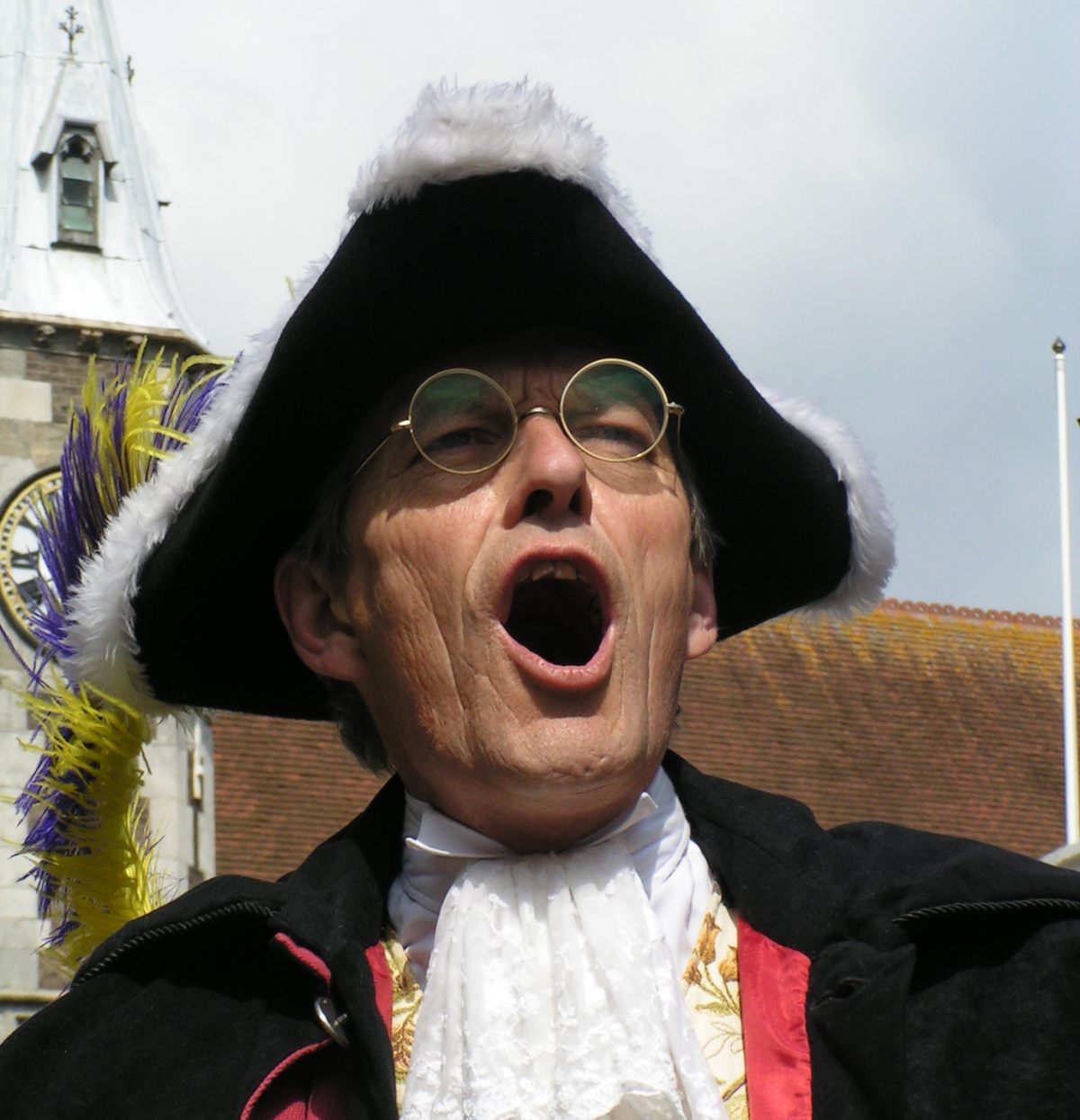 Town crying is obviously no longer the most efficient way for authorities to broadcast news to the masses. The historic tradition has evolved into marching at the head of parades and greeting guests at civic functions, dressed in regalia evocative of times past. But as "Oyez! Oyez! Oyez!" continued to be heard in town squares across the country, criers became curiously competitive. What Chisholm calls an "extreme sport" now sees international events taking place as far afield as Belgium and Bermuda.
Carole Williams, who since 1996 has been town crier for Bishop's Stortford, a historic market town northeast of London, says that, ordinarily, participants in the competitions are scored on "sustained volume and clarity, and diction and inflection." Entrants write a cry on a theme that's provided in advance, then perform it in front of a large crowd (usually made up of other competitors and bemused locals). The cries are generally limited to a count of 140 words, which must include three "Oyez!" at the beginning and "God Save the Queen!" at the end. Some competitions might award marks for accuracy—does the spoken cry match the written submission or has the crier gone freestyle?—and there's always a prize for best-dressed town crier up for grabs.
"Town criers love the aura of an audience," Williams says, recalling the thrill of past events. "They love the excitement, anything to get the adrenaline going. But you also have to get your message across in a flowing, rhythmic way. If your audience is asleep before you've got to the end of the first sentence, then you've lost."
Frustrated at the lack of competition since the world locked down, but wary of organizing a virtual event via Zoom, it was Williams who posed the idea of a silent competition to the Loyal Company of Town Criers. Rather than shouting at each other through patchy internet connections and glitchy computer screens, the entrants would submit a single written cry via email and based on the theme of nature and the environment.
Written cries were whittled down to 10 finalists that were then scored by a panel of celebrity judges, including poet Ian McMillan, better known as "The Bard of Barnsley," and representatives from Shout, the mental health charity for which competitors fundraised.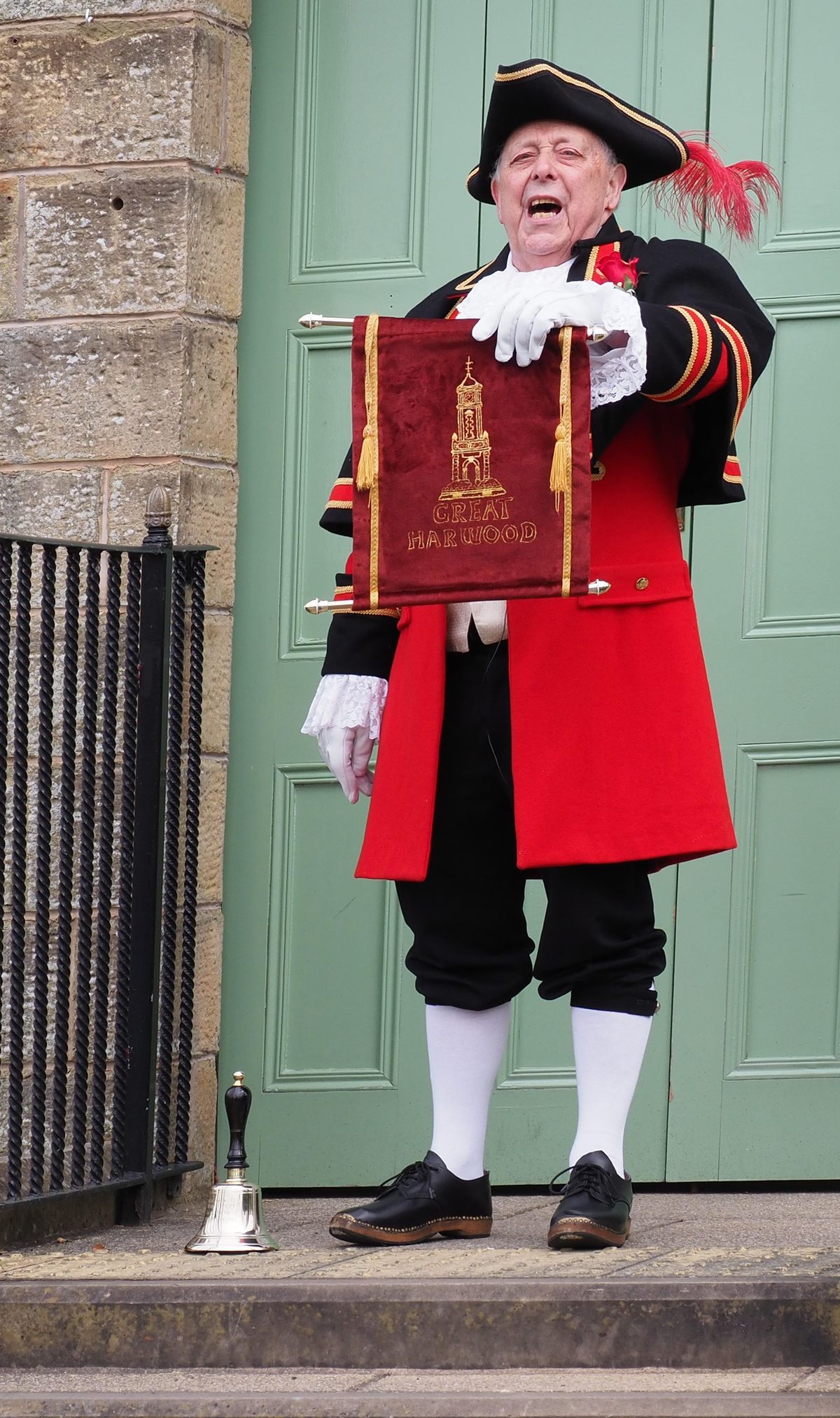 Williams and Chisholm made it to the final round, as did Rawden Kerr, town crier for Great Harwood, in the northwestern county of Lancashire. A decade ago, Kerr was unexpectedly thrown into the role of town crier when he signed up at a local meeting to be a deputy, intending to learn from a seasoned senior. "At the next meeting the town crier said 'I'll resign, measure Rawden up for the new suit,'" says Kerr. "I was bulldozed into it, but I'm glad it happened."
Kerr had never won a competition before, but was optimistic that his distinctive style could help him triumph in silence. "I'm not a loud crier," says Kerr. "But my cries do tend to be of the rhyming sort and I always get the wording right."
Ahead of the mid-May results announcement, Williams was excited. "I'll be wearing my best regalia," she said, adding, "A girl's got to look good whatever the occasion. And I have an outfit for all occasions." A town crier's uniform is designed not only to stand out in a crowd, but to add a sense of history and tradition—and quintessentially British eccentricity—to the proceedings. Williams' regalia of choice is often a "black topcoat, a big embroidered badge, gold braiding, and a red top hat."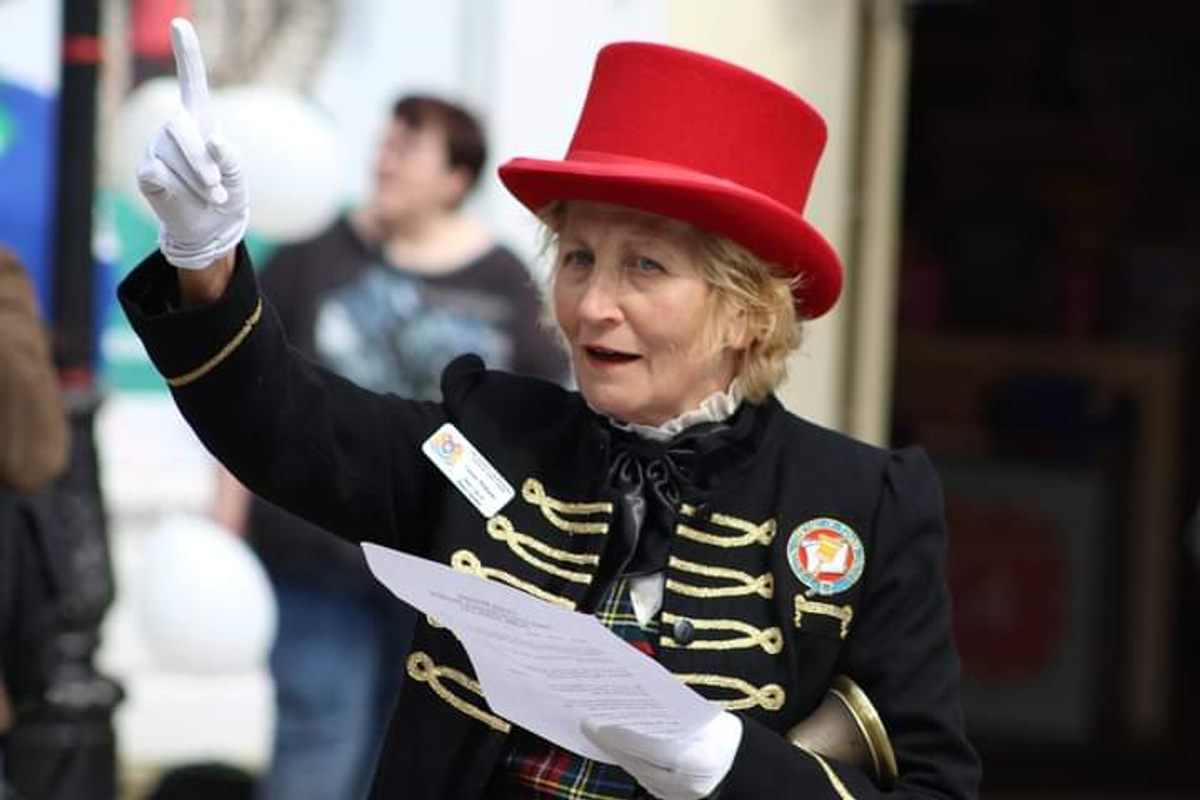 There were no splashy ceremonies this year on results day: Contestants simply were sent an email listing the top three entries, and naming Kerr as the crier who had raised the most money for Shout. Kerr's cry also came in second place. "I went down the line of, 'let's hang back a bit, let's not burn these fossil fuels,'" Kerr says humbly of his rhyming ode to the world's environmental troubles. "A good friend of mine will be setting my cry to music, so that's a bonus," he adds. "Mind you, I'll stick to crying it, not singing!"
Third place went to Les Cutts, a town crier in the northeastern county of Yorkshire, the traditional rival of Kerr's home county of Lancashire. Chisholm took the top prize. The results were announced to coincide with mental health awareness week in the U.K., and Chisholm's very personal depiction of nature's potential to help during times of personal crisis ("Sunshine almost always makes me happy, but sometimes I'm depressed/And I am not the only one, it happens to the best.") seemed to strike a chord with the judges.
A few days later, Chisholm found himself shouting his winning cry for the first time at a rain-soaked environmental protest in Dorchester. The event, taking place as the United Kingdom emerges from the pandemic, was one of Chisholm's first public cries of the year. As for whether competitive town crier competitions will ever be "normal" again, he says, "The words 'normality' and 'town criers' should never be uttered in the same sentence. Maintaining that fine British tradition of being eccentric: Let's have a bit more of that, please!"