30 Years On, the 'Worst Car Ever Built' Has a Fervent Fan Club
Made in the former East Germany, Trabants have inspired many a mean joke—and a devoted community.
In the 1991 German comedy film, Go Trabi Go, a family from the former German Democratic Republic (GDR) goes on a road trip to Italy in their beloved Trabant 601—the most popular car in East Germany before the collapse of the Iron Curtain. At one point their vehicle's head gasket blows, and the father makes an emergency phone call. When he tells a mechanic over the line that he's driving a Trabant 601, the mechanic chuckles and says, "I hope you've got some sticky tape."
Over the years, the "Trabi" (as it's affectionately known) has been the butt of endless jokes associated with East Germany. With its bare interior, oddly-designed stick shifter, and an exterior made of Duroplast—a rust-resistant, cotton-reinforced resin plastic that's lighter and stronger than steel (and more importantly, could be manufactured in the GDR)—the standard four-seater Trabi sedan has been referred to as one of the "worst cars ever built," and "East Germany's terrible car that will never die." Add to this its two-stroke engine, the same kind used in lawnmowers and Asia's tuk-tuks, and it's understandable why there are quips like "Why does a Trabi have a heated rear window? To keep your hands warm while you push."
Produced from 1957 until 1991, the Trabi has earned the nicknames "spark plug with a roof" and "cardboard racer" because of its seemingly shoddy design. To many Westerners, Trabis remain a prime example of East German repression and the governing Socialist United Party's archaic ways. Trabis had no fuel gauge, air conditioning, no indicator for turn signals or brake lights, and could only reach a maximum speed of 62 miles per hour. Once the Wall came down, Trabis just couldn't compete with Western vehicles, and seemingly overnight East Germany's most coveted car became almost obsolete.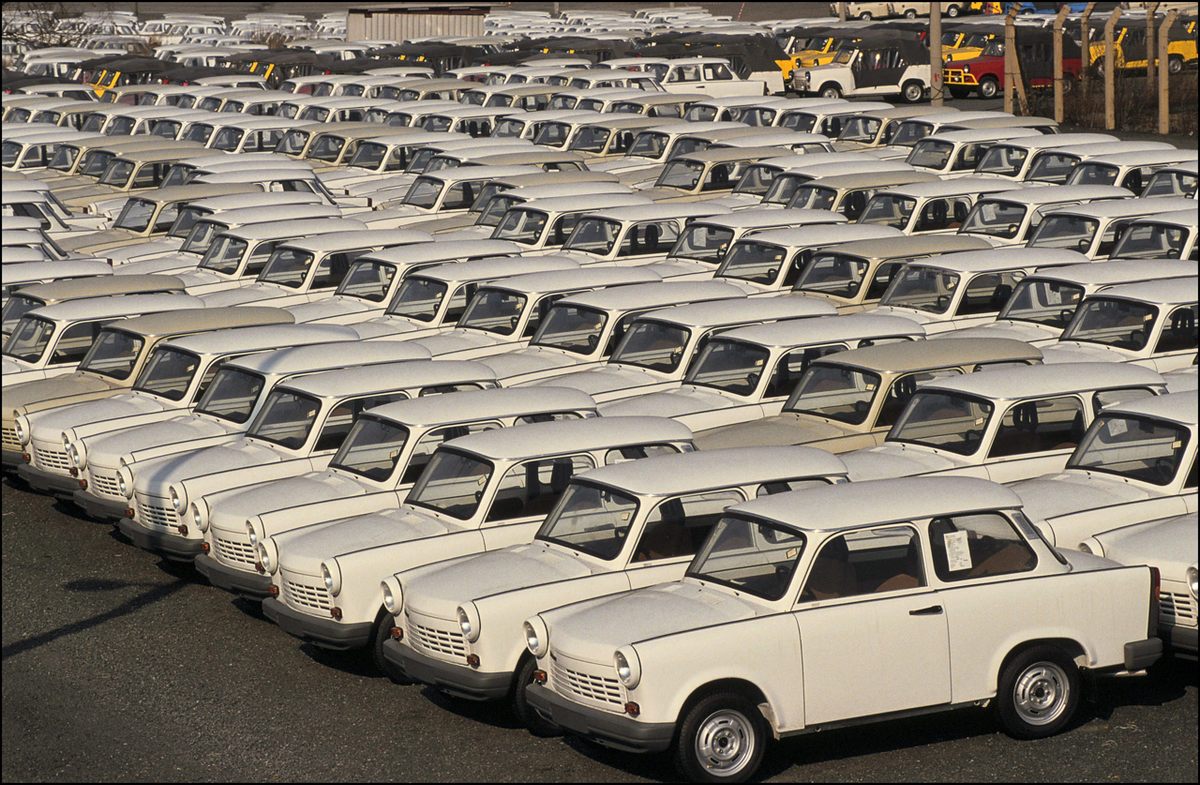 Europe's advanced emission standards mean you'll see few original Trabis on the road today, though there are believed to be around 34,000 still registered in Germany. For collectors of this smoke-spewing, motor-sputtering vehicle, the Trabi is their pride and joy. It's a car that calls to mind memories of Cold War-era holiday road trips into Germany's Thuringian Forest and nude beaches along the Baltic Sea; one that some GDR families waited up to 16 years to receive, and that could be fixed using household tools. Trabis provided some independence in a country where independence was almost nil.
"Trabis have a soul, I think," says 42-year-old Romy Löbel, a Trabi enthusiast and German native who first started collecting Trabants in 1996 (she now has two). "[When you're driving one], it's only the street, the little two-stroke engine, and the world around you. "Löbel grew up in the former East Germany in a town called Chemnitz, then known as "Karl-Marx-Stadt." For her, Trabis were a part of everyday life. "They provide a special kind of freedom," she says.
"I really love the smell and sound of Trabis," says Florian Vogel, a 28-year-old from Kaiserslautern, Germany, who also says its simplicity of upkeep is a major selling point. "It's so easy to maintain," he says. The Trabi has an especially potent exhaust smell that's a 50:1 mix of gasoline and two-stroke oil, and its engine makes a vroom vroom noise. Vogel currently owns four of the cars—a 1984 white and a 1989 blue sedan, each with the original two-stroke engine, and two 1991 station wagons with four-stroke VW Polo engines (these were part of the final Trabant production models released in 1990-1991). At 18, "I wanted to have an old car that I could repair mostly by myself and that also had a sort of 'cult' status," he says, "and there were four [brands] I was considering: the Citroen 2CV, Austin Mini Cooper, original VW Beetle, and Trabant. Then I thought about it. I decided I will never drive a French car, the Austin Mini Cooper is too expensive and rusts easily—same as the VW Beetle—so I chose the Trabant."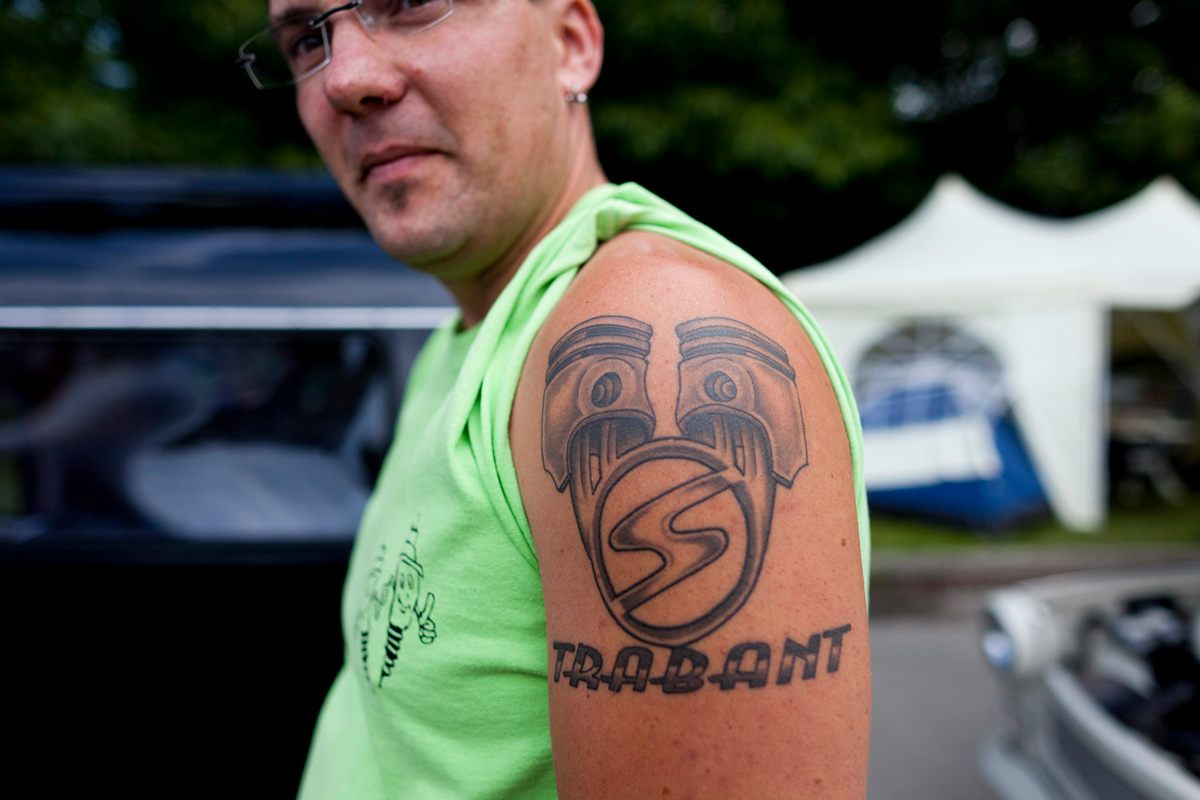 Vogel and his wife Kate recently spent nearly 1.5 years driving across Europe in their blue Trabant with a small trailer, a journey he chronicled (in German) on his blog, www.traveltrabi.com. "I saw Trabis in places where I'd never expect them," he says, "in countries like Spain and Scotland."
Ronny Heim, 44, got his first Trabi in 1996 in exchange for a box of beer. "Trabis weren't worth anything [after the Wall fell]," he says. "[Because] everyone wanted a 'Western car.'" That same year he served in the Bundeswehr, or unified armed forces of Germany, and brought his Trabi with him to the country's northwest. "Half the team wanted to take the Trabi for a round in the barracks," he says, "They'd never experienced anything like it before." Since then the Heringsdorf resident had three other Trabis—including one equipped with a VW engine "that went up to 165 km (102 miles) an hour," says Heim.
There's also Sebastian Sonntag, 37, a Dresden native whose family left East Germany for Felsberg immediately after the Wall fell. It was there that Sonntag and his twin brother had an opportunity to tinker with their first Trabi—the same kind of car their grandmother drove. "The community center where we were staying acquired a Trabi for local youth to work on, in part because it was so inexpensive," says Sonntag. "We painted ours yellow, orange, and green—like a rainbow."
Today he and his brother have five Trabants between them, including a silver '89 Trabant that Sonntag has named Foxe, and which he has completely rebuilt and refinished.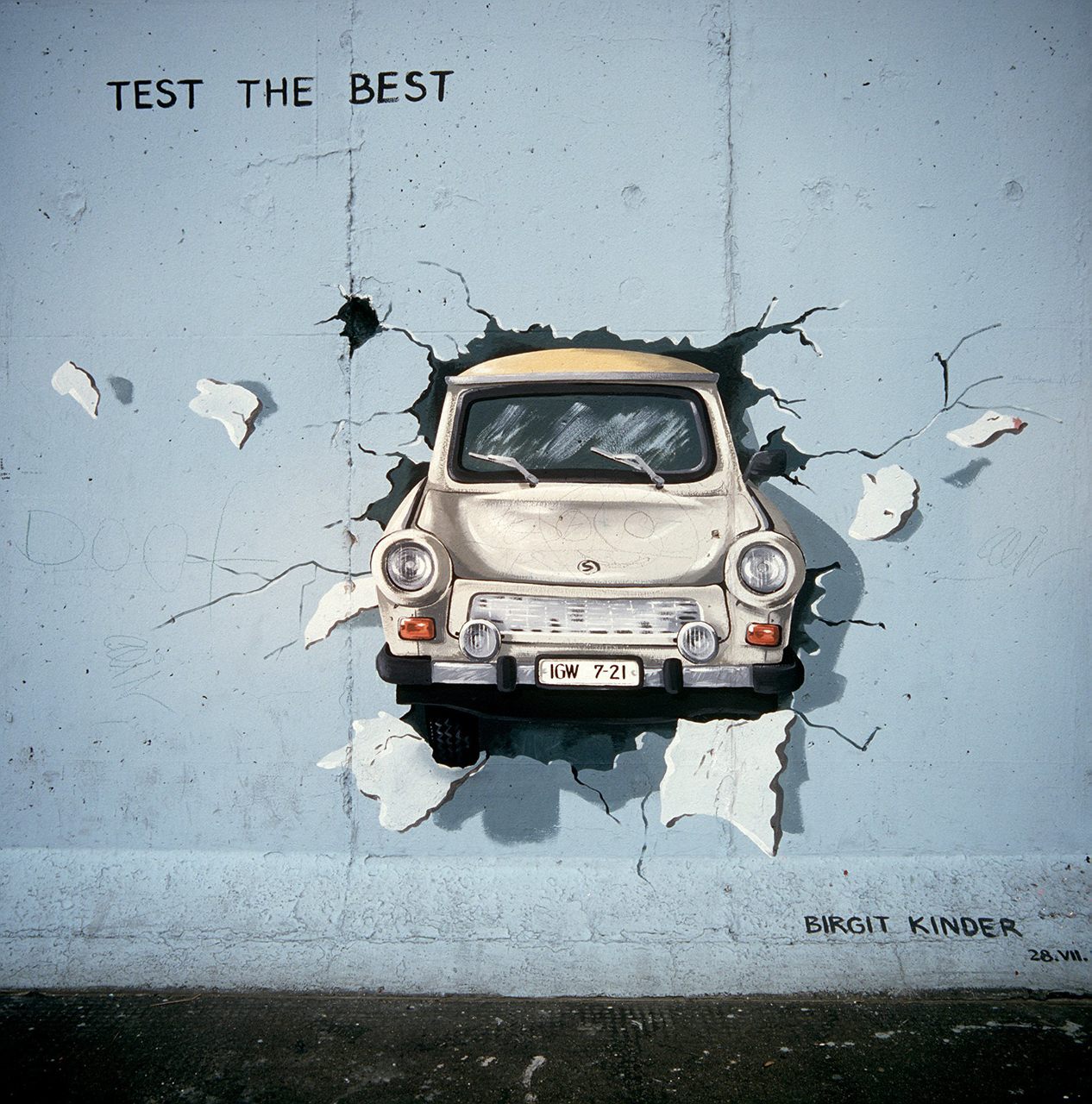 Trabi fans aren't found exclusively in Europe. Professional race car team crew member, Gus Jackson, who's in his late 50s and lives just outside of Nashville, Tennessee, absolutely adores his baby-blue Trabant. "I actually got it as a joke," he says, "it was surely cheap enough and came with a whole trunk of parts. But now I love the thing. It's zero maintenance, and its cute and quirky appearance is off the charts. People in the U.S. flock around it like they were seeing an alien or something."
Another thing Trabi collectors can't get enough of: the strong community that's devoted to the cars. In May 2019, the International Trabant Meeting celebrated its 25th anniversary, with hundreds of Trabi enthusiasts coming together in the German town of Anklam from countries such as Italy, Hungary, and Norway. They swapped stories, sipped beers, and participated in Trabi-related events like seeing who can toss a Trabi engine the furthest. Today there are Trabi clubs throughout Germany, greater Europe, and even in the United States. In fact, Washington D.C.'s Spy Museum hosts its own Parade of Trabants every November.
Löbel was Germany's Chemnitz Trabi Club chief officer when she met her future husband, then the chief of Erzgebirge's Trabi club, through Europe's Trabi community. "It was love for the rest of our lives," she says. "We even married at a Trabi meeting."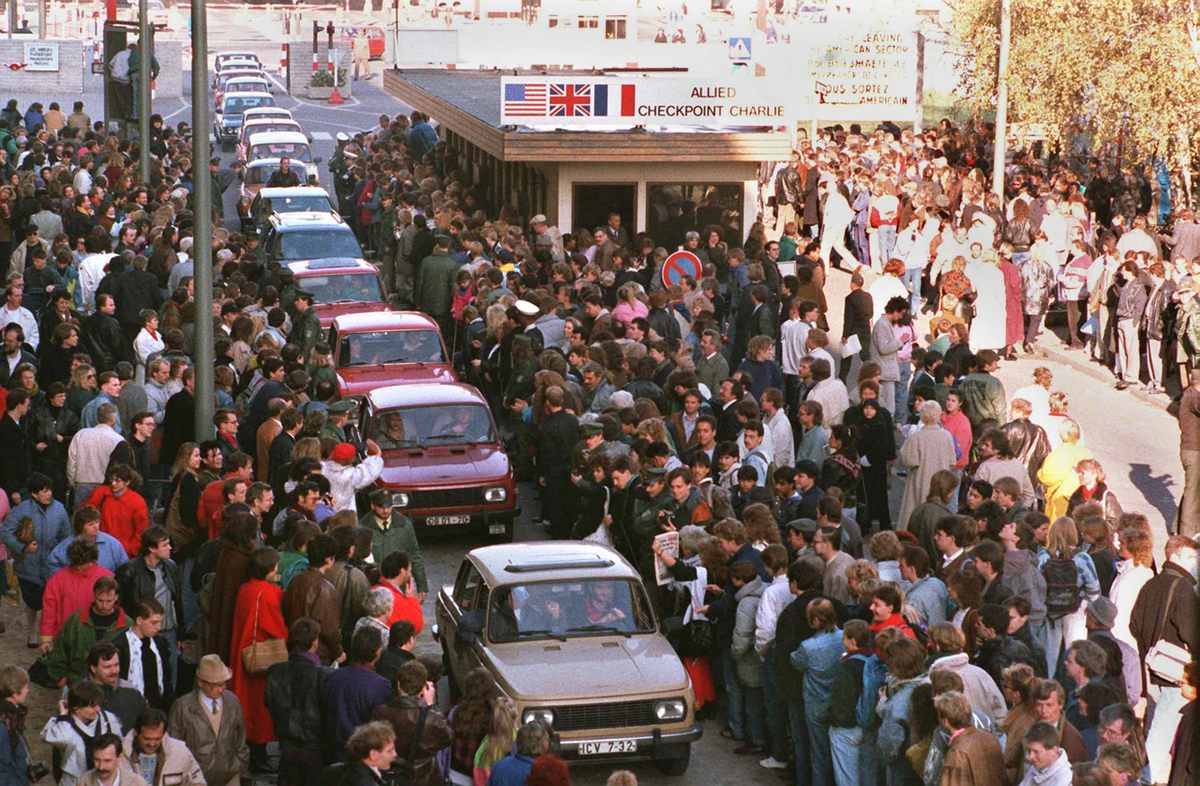 Sonntag met his girlfriend, Manuela Pester, at a Trabi event seven years ago. "She lives in the former East Germany, so I also pick up spare Trabi parts when I visit."
For Vogel, engine troubles led him and his wife to a new friendship. "Last year we were driving through the Netherlands on holiday when our Trabi broke down," he says. "We slept in the car for a night, then a family arrived and asked what happened. It turns out the father worked as a mechanic on large containerships, so they towed us to their home and [we] stayed there for four days, while he helped us get a new engine and start the car running. We're still in contact."
Heim says Trabifangemeinde, or Trabi get-togethers, in places like Zwickau, Germany, attracted upwards of 10,000 Trabi owners in the late '90s, though they have since shrunken to a small core group. "We're all about the same age and bring our kids, who look forward to seeing each other because they're become friends over the years."
While an electric, four-door Trabant was unveiled at the 2009 Frankfurt Motor Show with hopes of bringing back the former GDR's most infamous vehicle, its makers never acquired the necessary funding to get it off the ground. But that's okay with the Trabi's cult-like fan-base.
"It's rare to see another Trabi on the road," says Sonntag, "but when we do it's really something special. We're all one big family."
* Correction: The original caption provided with this image states that the cars pictured are Trabants, but some readers have pointed out that they may be Wartburgs, another variety of East German car.