Inside the Muddy Wrestling Rings of Varanasi
In these gyms, known as akhadas, men of all ages practice a traditional form of wrestling known as kushti or pehlwani.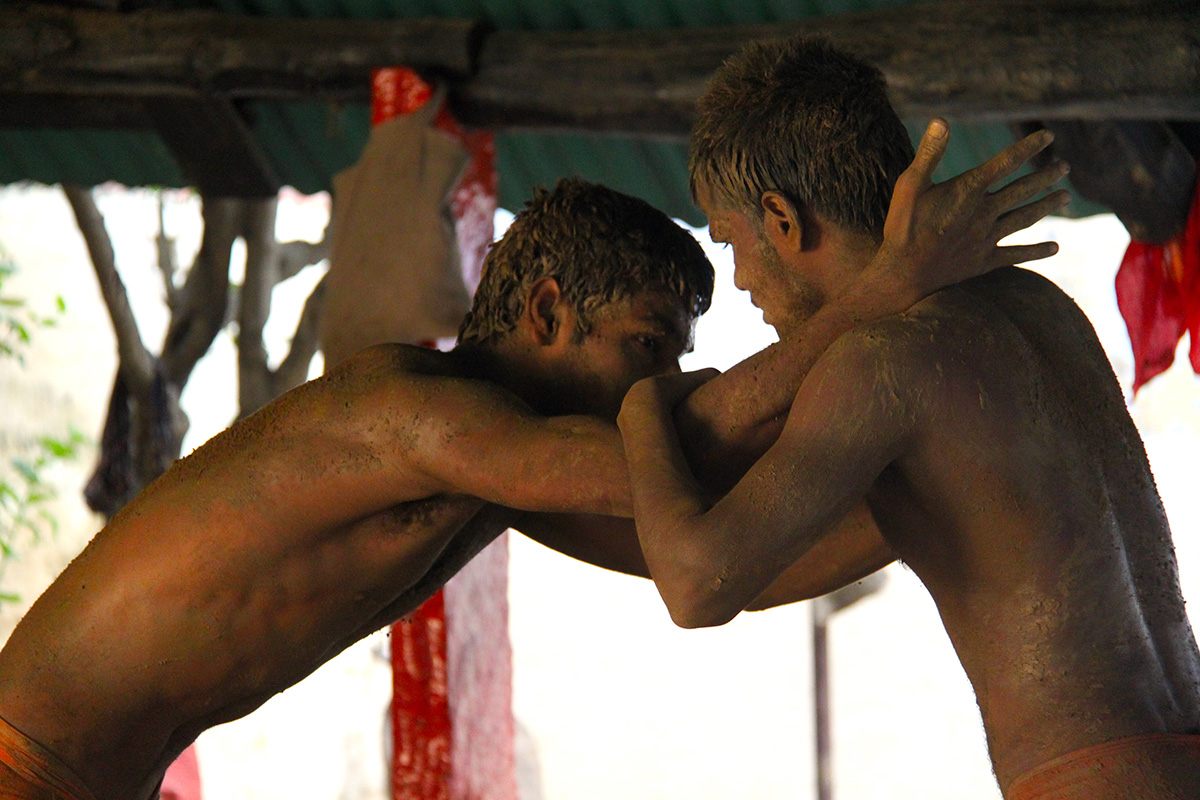 It is just after 7 in the morning, but Tulsi Akhada, deep in the heart of Varanasi in north India, has been open for over an hour already. The 20 or so young men there are training under the experienced master Pehlwan Siyaramji, who is closely watching the proceedings. Siyaramji is in his sixties but looks fitter than any of his pupils, having followed a strict exercise routine since he was a boy.
An akhada, also known as akhara, is a traditional Indian gymnasium-meets-wrestling-ring. These spaces are part of the cultural canvas of Varanasi, the city described by Mark Twain in 1897—when it was known as Benares—as "older than history, older than tradition, older even than legend and looks twice as old as all of them put together." This particular akhada, one of the oldest and most popular in Varanasi, is believed to have been established by the writer-poet Goswami Tulsidas, best known for his version of the beloved epic Ramayana, sometime in the mid-16th century. Some say that Tulsidas himself exercised at here every day.
At akhadas across India, particularly in the north and west, men of all ages practice a traditional form of wrestling known as kushti or pehlwani. The modern form of this practice draws from later day Mughal and Persian wrestling cultures, when these dynasties ruled over India, as well as malla yuddha, a form of wrestling mentioned in ancient Indian texts like the Ramayana and Mahabharata. Some of the heroes of those texts, including Hanuman and Bhima, were great wrestlers themselves.
Although it is a Sunday morning when I visit Tulsi Akhada, most of the young men present are college students or have a day job to attend after their daily morning practice. They are not here in the hope of becoming professional wrestlers or pehlwans; for them, kushti is an earthy way of staying fit. In fact, these akhadas are patronized by those who subscribe to the idea that physical exercise is almost a form of worship; all sessions begin with a prayer and incense stick ritual dedicated to Lord Rama.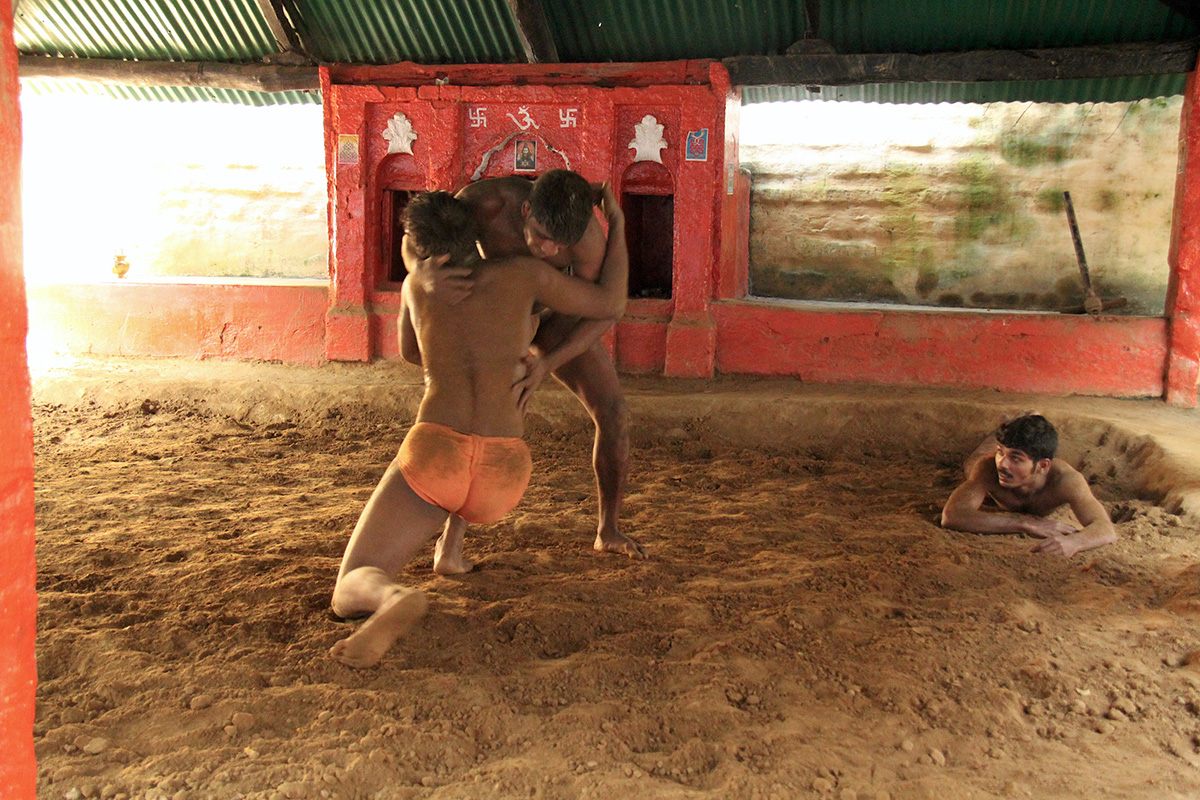 The young men are working out on their own or in pairs. They jump up and down, lift two-foot-long, cylindrical indigenous clubs as well as dumbbells made of wood and stone, hang upside down from parallel bars, or stretch on horizontal benches. Occasionally, they walk with heavy wooden rings around their necks, or while carrying their partner on their shoulders, pushing the limits of weight-training techniques.
Those who have adequately warmed up head on to the mud ring in the center of the akhada to begin their wrestling sessions. In kushti, there is a lot of pushing and heaving, maneuvering of opponents, and rolling in the mud for the next few hours. But there are no clumsy movements or overt suggestions of violence—it seems instead like a graceful tableau.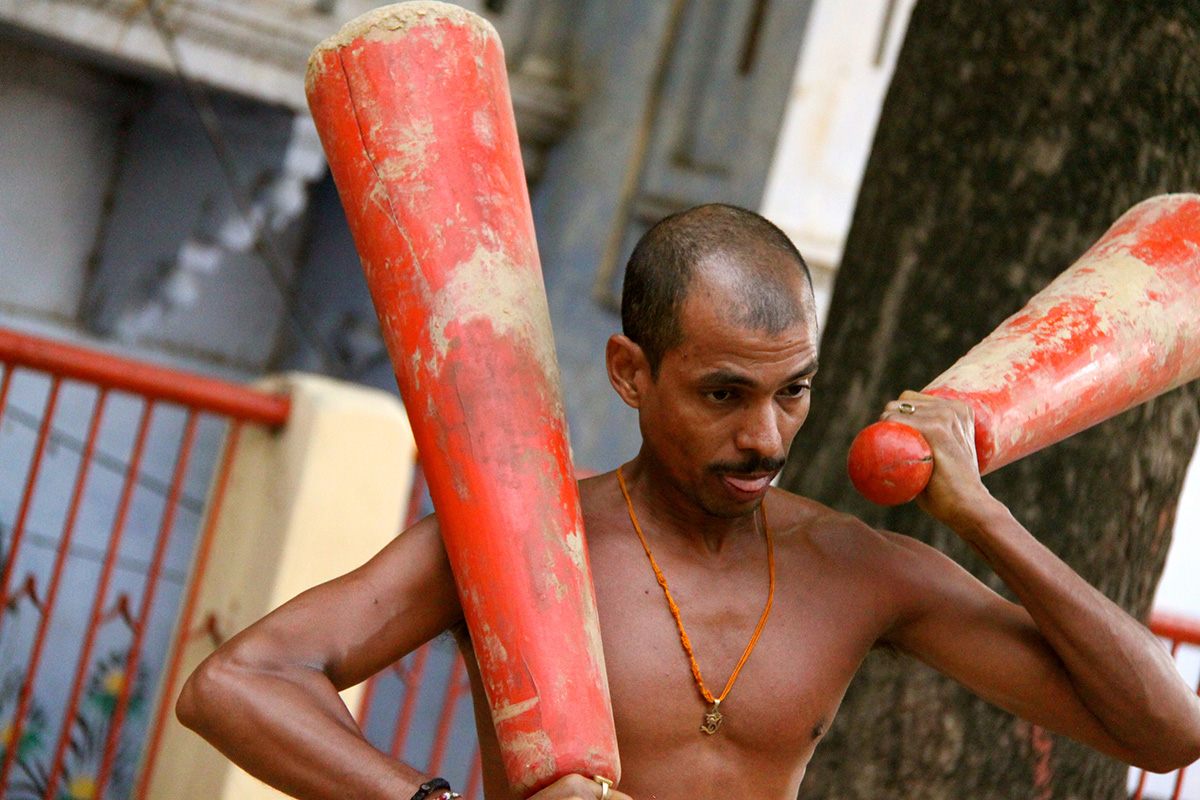 All the men are clad in what is locally known as a langot, or a loincloth, as they go about their wrestling bouts. The akhada has become a tourist attraction, so they've learned to ignore curious visitors. Before the exercise routine commences, they have also oiled their bodies thoroughly, to make sure there are no creaky bones or joints. In between matches, they also apply mud on their bodies to provide some much-needed friction.
To my inexperienced eyes, the exercise routine of these young men at Tulsi Akhada seems rigorous, but training to become a professional pehlwan is a different game altogether, involving a strenuous exercise and diet regimen. The day of a fledgling wrestler can begin as early as 3 a.m., with thousands of squats and stretches, miles of running and swimming, and several rounds of wrestling practice under the supervision of the teacher.
Trainee wrestlers are also regularly given oil massages to keep their bodies supple and to remove any residual aches. Along with a protein-rich diet, there is also a huge emphasis on the doodh-badam (milk and almonds) combination as part of their food.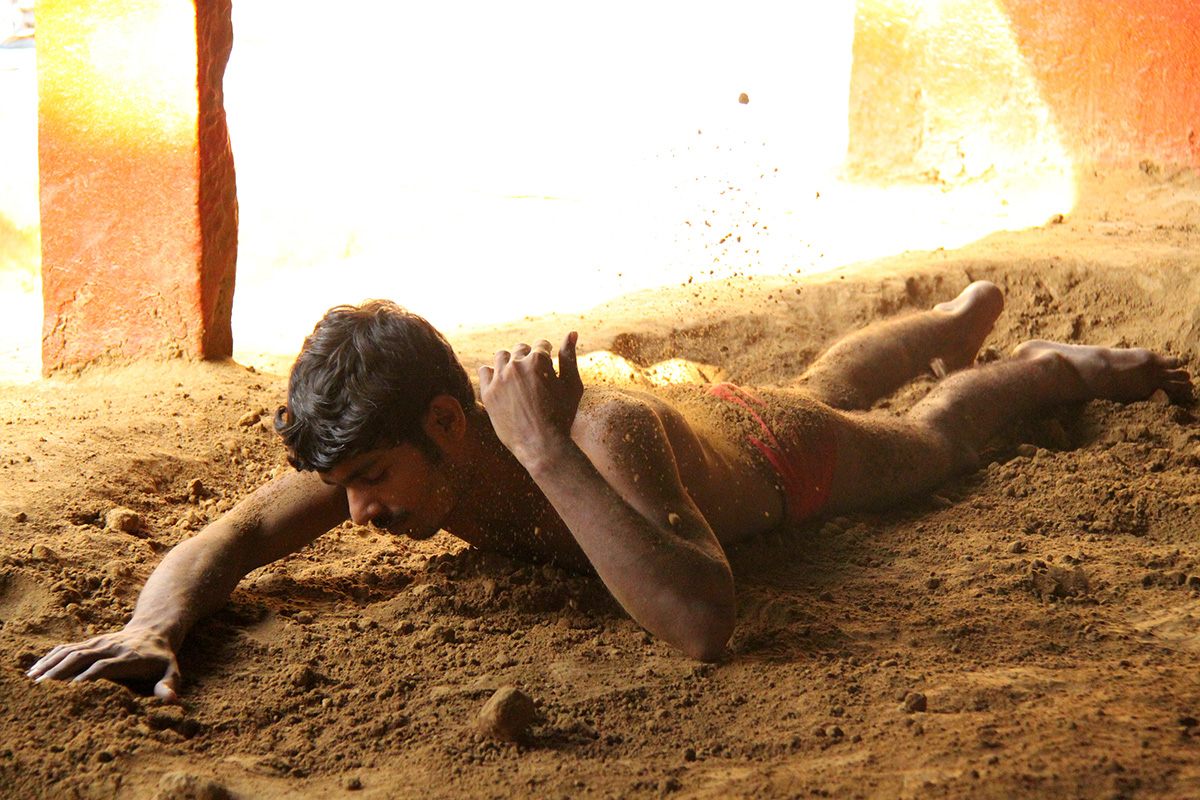 Modern India has seen a lot of popular wrestling champions, the first of them being Ghulam Muhammad, in the early 20th century. Legend has it that the training regimen of Great Gama, as he was known, was 5,000 knee squats, 3,000 push-ups, and a mile-long run with a 120-pound stone ring around his neck. His diet included 20 liters (5.3 gallons) of milk, four kilograms (nearly nine pounds) of fruit, and half a liter (two cups) of ghee.
Other illustrious wrestlers include Dara Singh, born in 1928, a superstar who became a movie actor in his later years, and Sakshi Malik, born in 1992, who was India's first female wrestler to win a medal at the Olympics.
Despite the successes of these and other prominent athletes, akhadas are slowly losing popularity among young people in Varanasi and elsewhere in the country. Kushti is being replaced by more contemporary forms of wrestling and modern gymnasiums. From over 50 akhadas a few decades ago, there are now barely a dozen scattered across the city. However, with recent wins at the Olympics and Commonwealth Games by Indian wrestlers, combined with the popularity of movies like Dangal that have paid tribute to this traditional sport, there's hope yet that a revival is in the air.