The Incredible Swimming Pools of Vintage Las Vegas
What happens in Vegas quite often stays in the UNLV Archives.
(All Photos: UNLV Libraries Special Collections)
With summer temperatures in Las Vegas averaging over 100 degrees, swimming pools are integral to the history of the city as much as neon lights and showgirls. So for this past month, Su Kim Chung, the head of public services at the University of Nevada Las Vegas Libraries Special Collections, took this as an opportunity to showcase some of the collection's best pools on their Instagram account."Let's face it, July is a hot month, and swimming pools seemed a way to evoke virtual refreshment in the face of heat and humidity," Chung explains over email.
Along with her assistant, Nancy Hardy, one of Chung's key roles is outreach. The UNLV Special Collections Instagram account is full of Vegas curiosities, from 1960s pulp fiction to trains in the desert. "Each post is designed to highlight a different aspect of our collections—oral histories, manuscripts, rare books, periodicals, a specific collecting area or one of our digital collections," she notes.
It's also part of the group of libraries and archives that together form the hashtag #librariesofinstagram, who support and challenge each other to post images around a theme. "Recent challenges have included #hatsinthelibrary, #libraryfeast, #bicyclesinthelibrary and #trainsinthelibrary. As the group was discussing potential July challenges, I suggested swimming pools because we have so many unique images of hotel swimming pools created to promote Las Vegas hotels/casinos."
Much of the photographic materials are donated. "We spend a lot of time working in the community making individuals, groups, organizations, and businesses aware of our mission to document Las Vegas, Southern Nevada, and gaming," says Chung. "For instance, right now we are in the middle of a collecting initiative focusing on builders and developers in Las Vegas and we're gathering both manuscript materials and oral histories. Other recent initiatives have focused on the African-American and Jewish communities in Las Vegas."
As befits the city known as the "entertainment capital of the world", several collections are devoted to the razzle-dazzle of Las Vegas nightlife and form some of Chung's favorites. "The papers of show producers, individual performers, hotel entertainment departments, entertainment magazines, collections of show programs, oral histories of dancers and showgirls - all of these are part of our rich entertainment history legacy."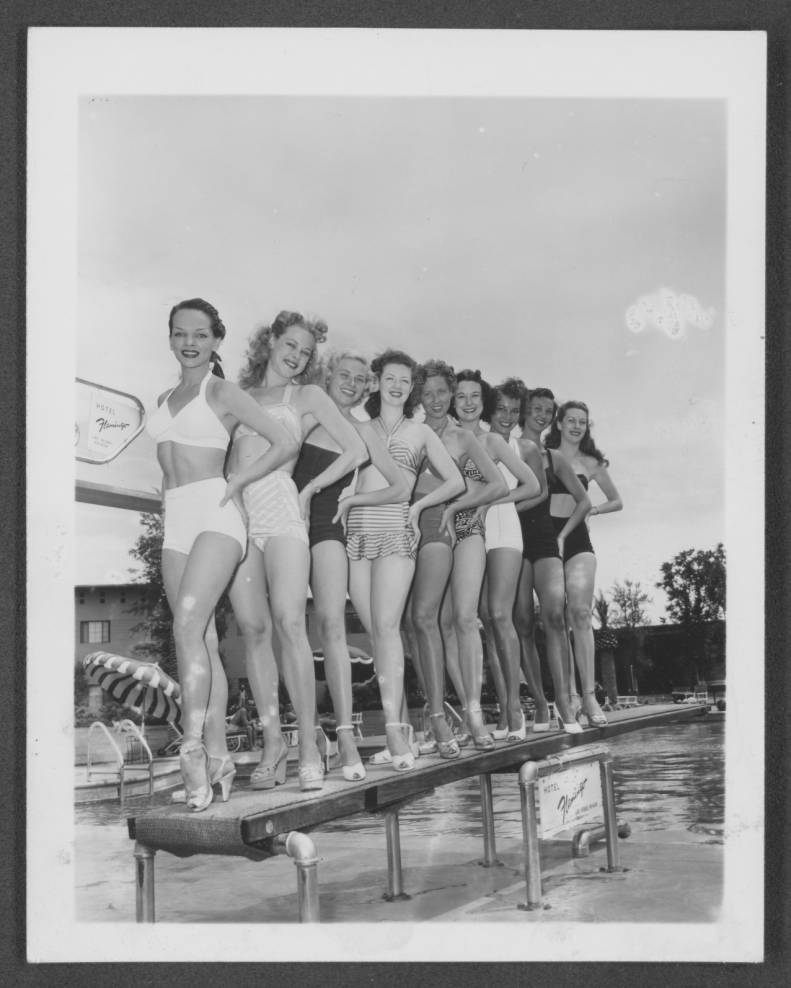 When it comes to sharing their images, Chung and Hardy work together to highlight Vegas histories or celebrations, and collaborate with their #librariesofinstagram group. "We were recently honored to be a part of the "#libraryloveisloveislove," a challenge which honored Pride Month by highlighting publishers bindings in our collections that matched the rainbow flag. Nancy is very talented at finding whimsical items to post that showcase lesser-known areas of our collections."
Of the swimming pool prompt— found via #librarypoolparty, a hashtag created by fellow library instagrammer Rutgers University Special Collecions – Chung says it was successful. This month challenge looks like it will be related to books – but for now, dive into this selection of vintage Vegas pools from the deep archives of UNLV Special Collections.
You can follow the UNLV Libraries Special Collections on instagram @unlvspeccoll
A group of men suited up for a swim at the Las Vegas Ranch, c. 1916. Notes Chung "Swimmers could rent bathing suits at the resort - not necessarily an appealing selling point by today's standards!" (Jacob Von Tobel Collection, PH: 0204-0005)

Men swimming at the "Big Spring" sometime between 1905-1910, with their "ride" waiting nearby. (Elbert Edwards Photo Collection, PH: 0214-0160)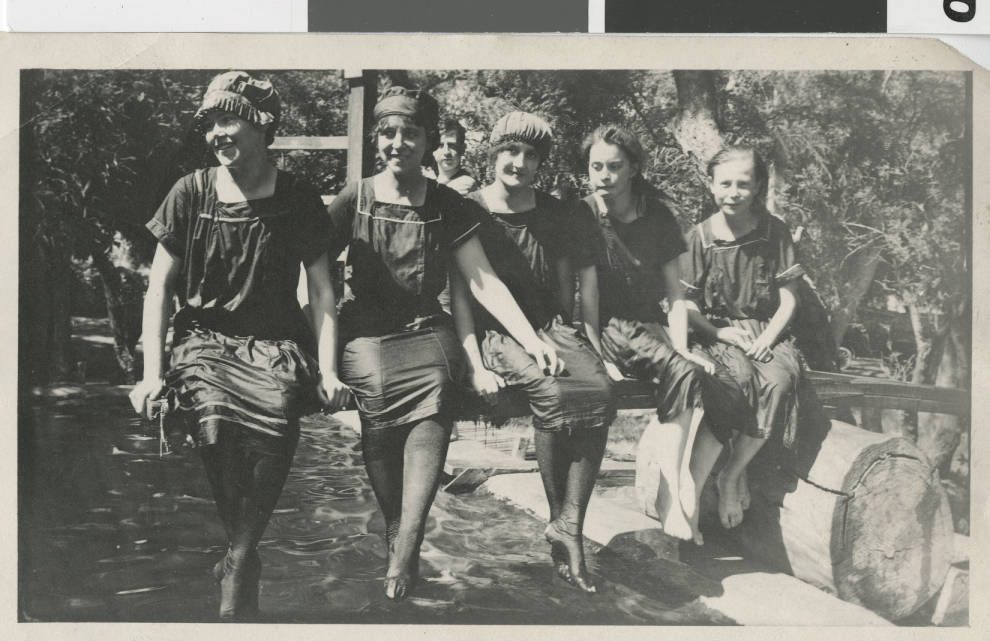 Five young bathers at the swimming hole at Ladd's Resort Las Vegas, c. 1920s. (E. W. Cragin Photo Collection, PH: 0017-0022)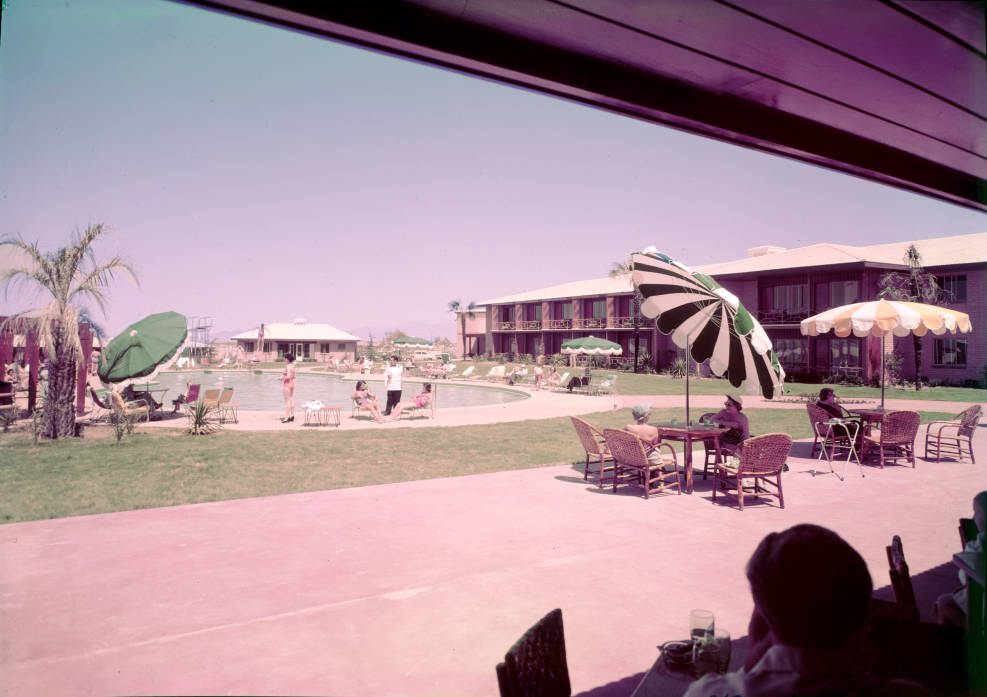 A color film transparency of the patio area and swimming pool at Wilbur Clark's Desert Inn Las Vegas, c. 1950s. Chung points out that this "shows the pre-highrise look of hotels on the mid-century Las Vegas Strip." (Manis Collection)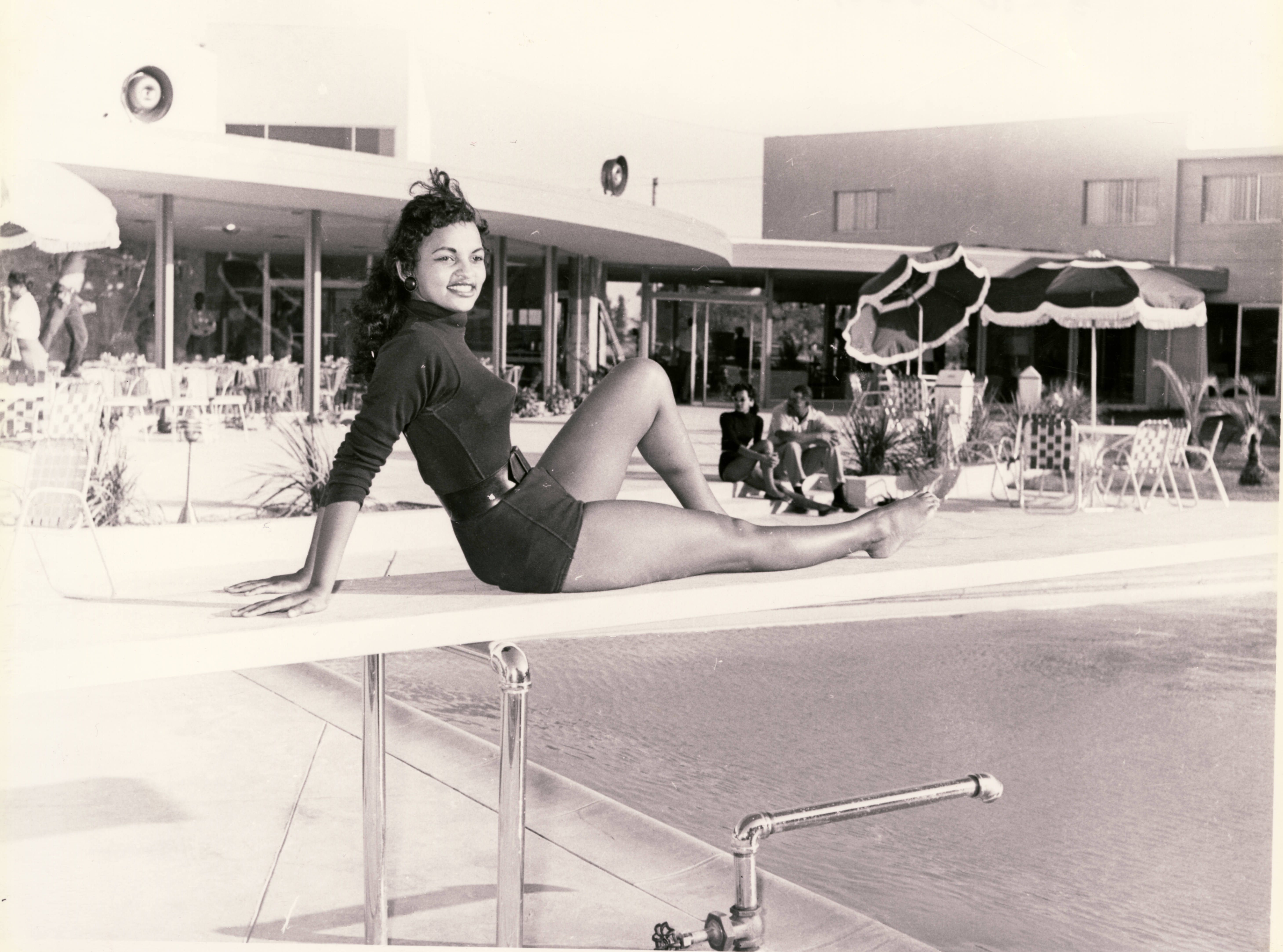 Photograph of a showgirl posed at the swimming pool of Moulin Rouge Hotel and Casino, May 22, 1955. Says Chung, "The Moulin Rouge was the first integrated hotel/casino in Las Vegas and had its own line of black dancers and showgirls." (Don T. Walker Collection)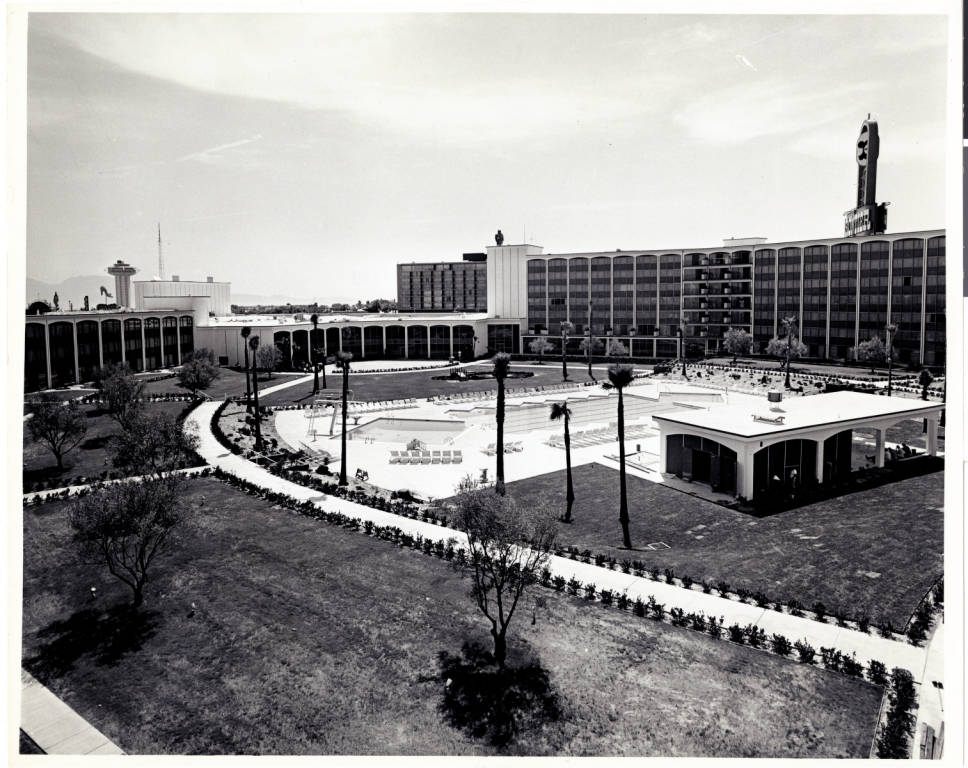 The Hotel Frontier swimming pool and courtyard area, 1967. Chung pointed out what's behind the hotel: "Visible in the background are the Silver Slipper neon sign (now part of the Neon Museum collection) and the Landmark Hotel Tower whose demolition was filmed in 1995 and used in the film Mars Attacks! the following year." (Frontier Hotel Collection)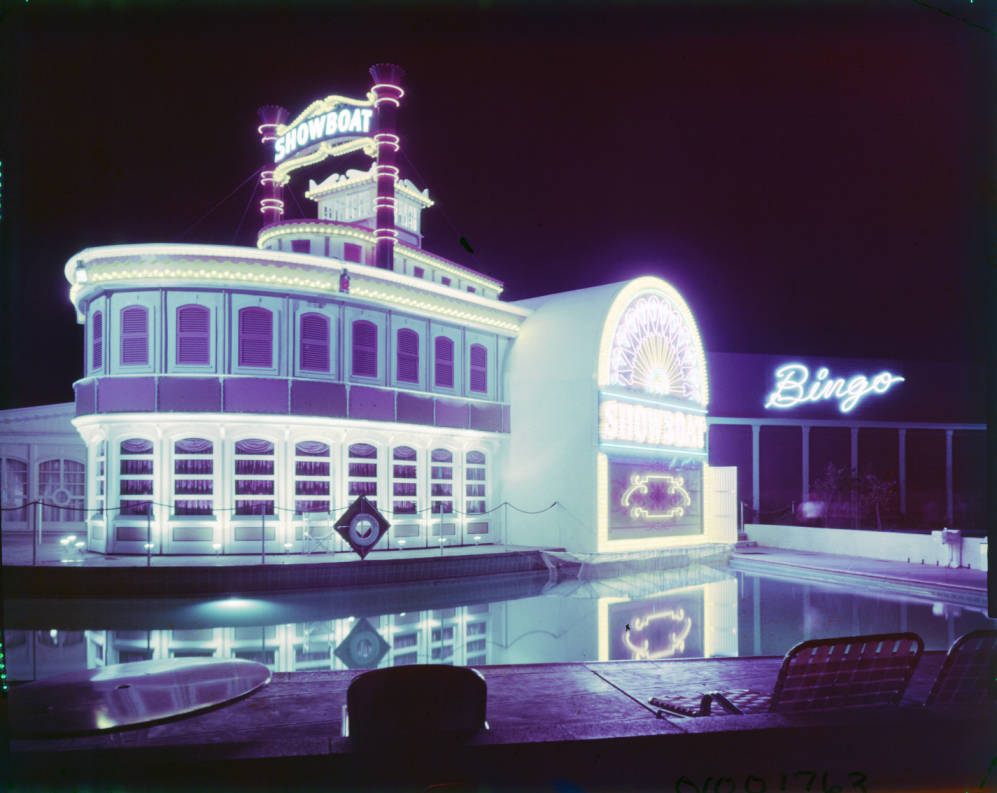 An evening shot of the Showboat Hotel/Casino on Boulder Highway in the 1950s (Manis Collection).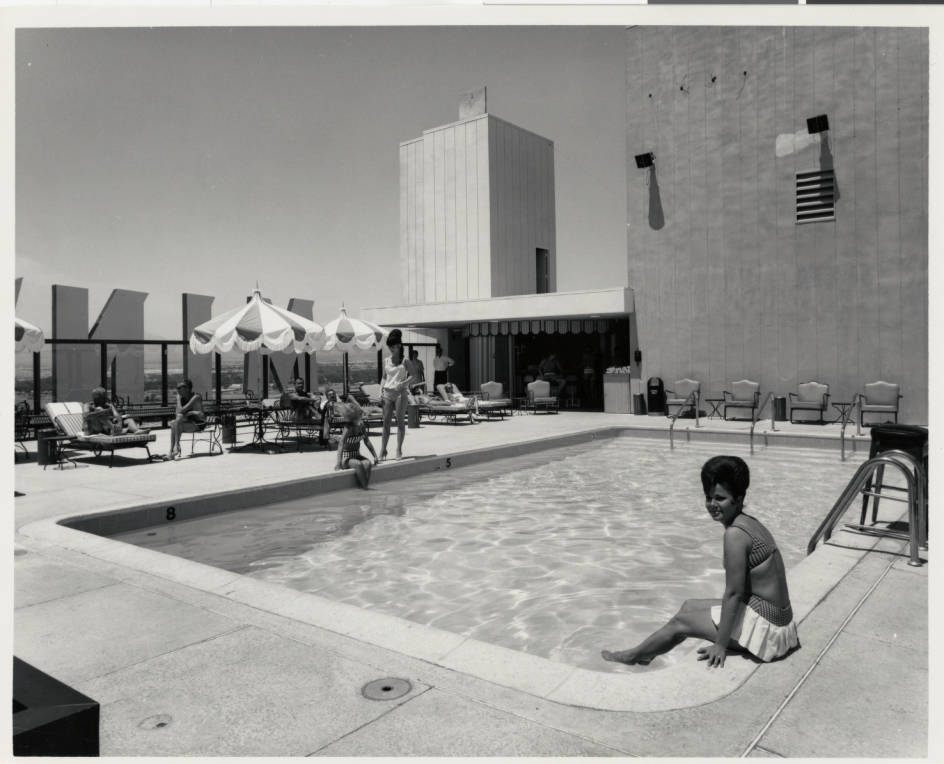 "Bouffant hairdos are the centerpiece in this photograph of guests relaxing at the swimming pool at the Mint Las Vegas", says Chung, of this image from the late 1960s. (Mint Hotel Collection).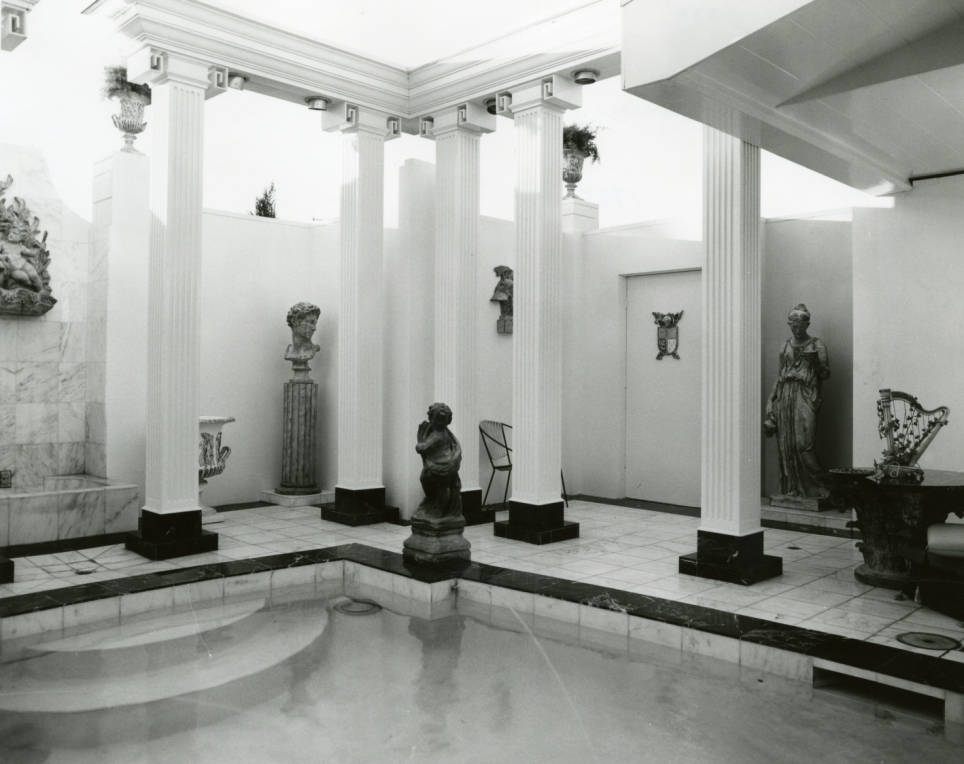 Wilbur Clark of Desert Inn fame had a spectacular pool at his own home on the Desert Inn golf course, as shown here. (Wilbur & Toni Clark Collection)