How to Stream the Animal Kingdom From Your Sofa
Your world might have shrunk—but you can still meet manatees, jellies, bears, and more.
At Atlas Obscura, we're all about wonder and exploration—and since many of our readers are spending time at home to stay safe and healthy, we're highlighting ways you can be awestruck no matter where you are. Read more.
If a tree topples in a forest that has no people in it, the animals that live there will still hear the thud. And though many zoos, aquariums, and parks have temporarily closed their grounds to visitors in response to the COVID-19 pandemic, lots of big and little creatures are still going about their business.
You might not be venturing far beyond your bedroom or kitchen right now, and the world may feel a little small. But thanks to the livestreams below, you can check in on animals from afar.
Baby Osprey Cam
Maybe much like you, this osprey family is hunkering down—but they're focused on nesting and breeding. The Virginia Institute of Marine Science trained a camera on the birds' platform in the York River in Gloucester Point, Virginia. Click for rippling waves, ruffling feathers, and many, many twigs.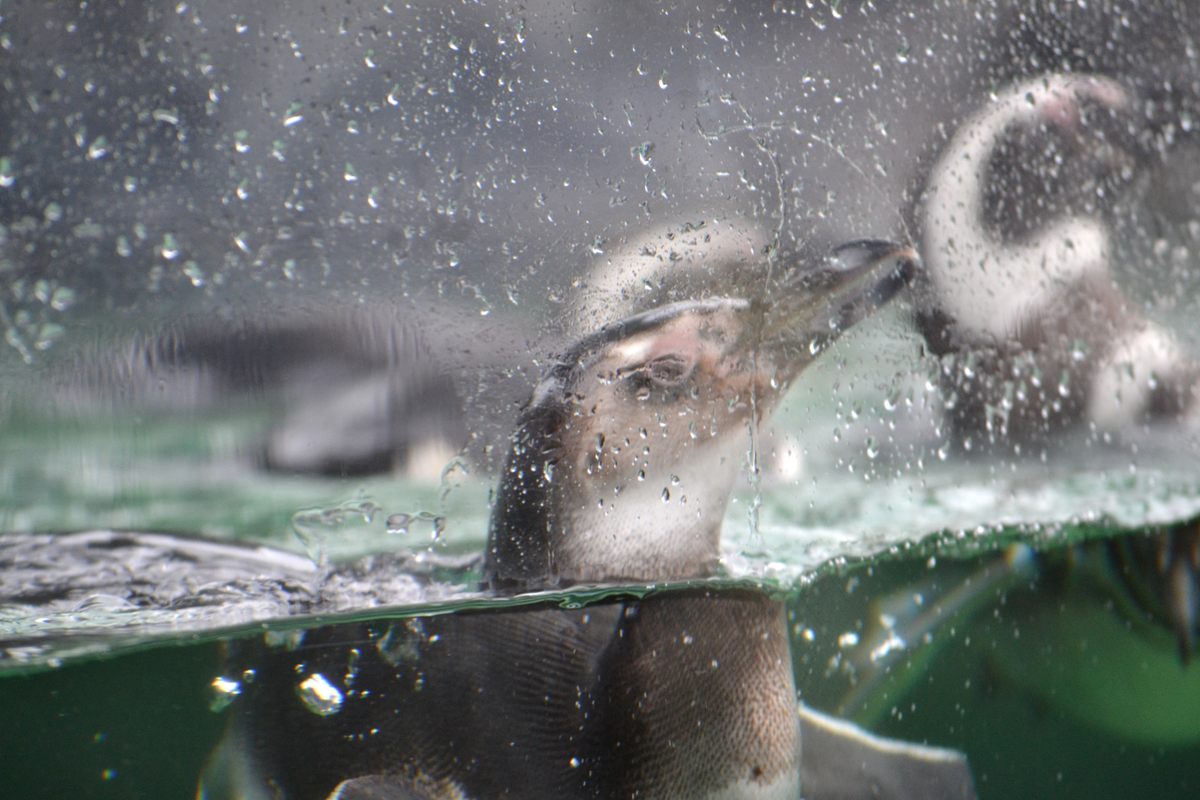 Penguin Cams
The Aquarium of the Pacific, in Long Beach, California, streams two views of its Magellanic penguins. One shows them wandering their rocky habitat—waddling, nuzzling, hanging around. Another showcases the underwater action—exciting dives, but also casually dangling flippers (or wings), adorable half-submerged bellies, and the calming gurgling of the tank. Each penguin sports an ID tag. Take note of the color pattern, and then get to know Shim, Skipper, Admiral Fancy Pants, and the rest of the gang online.
Elephant Watering Hole Cam
Cue up this Explore.org livestream of Tembe Elephant Park, a watering hole near the border of South Africa and Mozambique, and you might see elephants mucking around. Even when the largest visitors don't amble by, the stream is still worth a look—you might see tiny suni antelopes, or hear the chirping sounds of one of several hundred species of birds. (If you can't get enough, check out this other Explore.org stream—a broadcast of off-season highlights from the bison watering hole in Saskatchewan's Grasslands National Park.)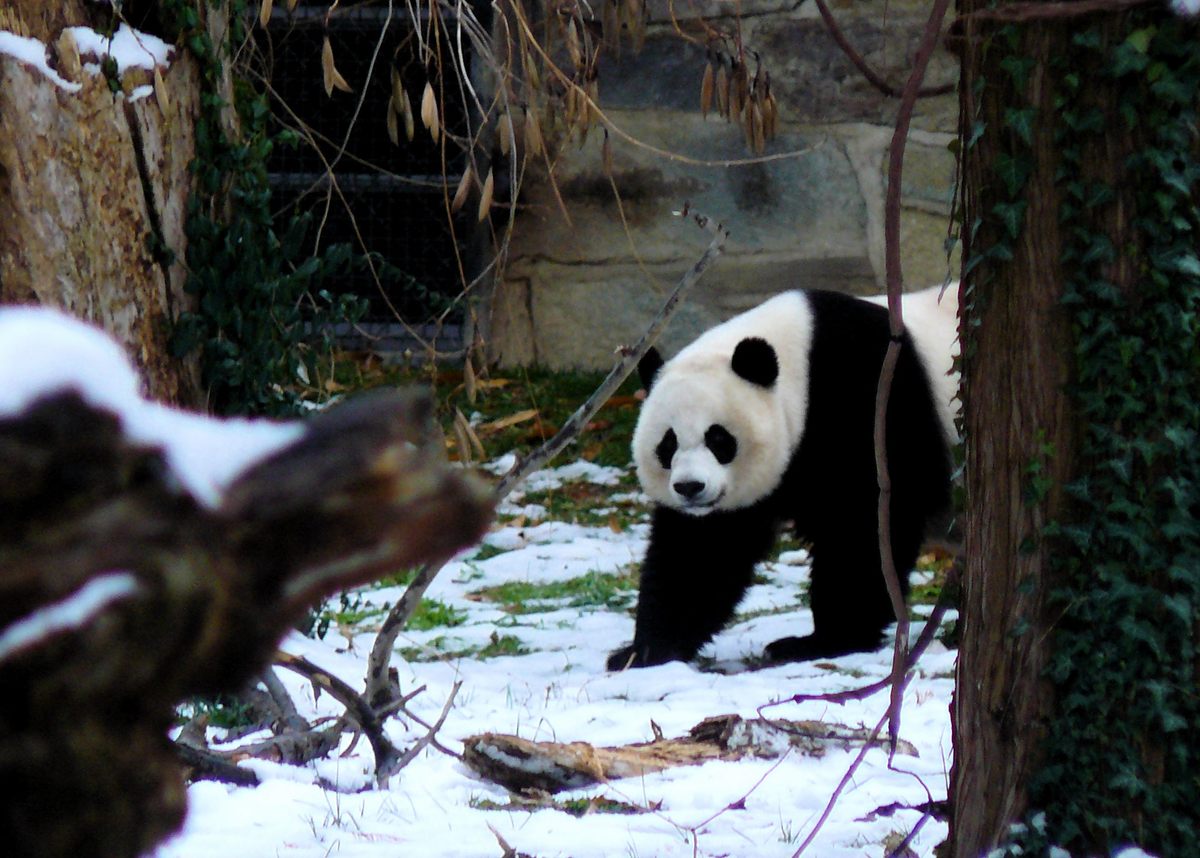 Giant Panda Cam
You've got to eat lunch, and you might as well do it with Tian Tian and Mei Xiang, the giant pandas at the Smithsonian National Zoo in Washington, D.C. The duo plays, wanders, and feasts on bamboo, and you can watch their adorably bumbling antics.
Manatee Cam
This camera, at Florida's Ellie Schiller Homosassa Springs Wildlife State Park, is superlatively soothing. The manatees, which congregate around a natural spring, are in no rush. They swim slowly and mesmerizingly; sometimes they just plop down on the bottom for a bit, before drifting peacefully to the surface. Occasionally, they get close to the camera and boop it with their noses. When the manatees aren't in-frame, enjoy schools of fish or an equally tranquil view of the blue-green water.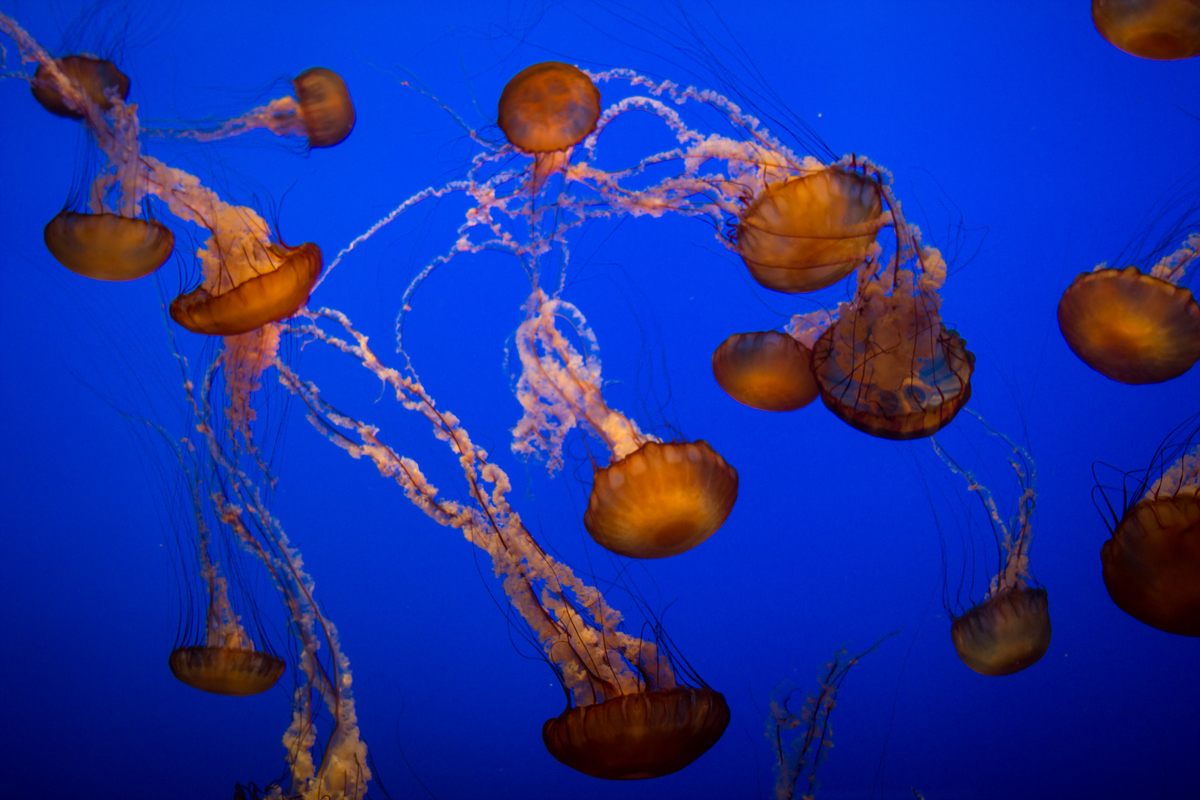 Jelly Cam
The Monterey Bay Aquarium's immersive livestream, which runs from 10 a.m. to 9 p.m. Pacific time, is wildly transportive. It's full of beautiful, gossamer, ethereal jellies, doing what they do, and backed by a calming, synth-classical score.
Brown Bear Cams
If you like brown bears, you need to know about Katmai National Park and Preserve. The vast Alaskan landscape has scores of them, and the park lovingly celebrates the bears bulking up for hibernation with a popular online bracket challenge known as Fat Bear Week.
These cameras aren't streaming live right now—they're on in the summer, into the early fall—but you can log on to watch some especially charming moments from the previous year. Check out bands of bears fishing for jumping salmon in the frothy water of Brooks Falls, or cubs wrestling near the river.
Do you know of any other animal livestreams? You can join the conversation about this and other stories in the Atlas Obscura Community Forums.