The Culinary Legacy of Brooklyn's First Free Black Community
Weeksville residents set a precedent of self-determination that is still visible at Brooklyn restaurants.
Sometimes, we can only understand history from above. That, anyway, seemed to be the outlook of historian James Hurley and pilot Joseph Hays when, in 1968, they flew a plane over Brooklyn. They were looking for the remnants of a village founded 130 years earlier, the free Black community of Weeksville.
Established by abolitionists and Black landowners in the 1830s, with a peak population of 500 residents, Weeksville was one of the largest free African-American communities of the 1800s. It was founded just a few years after New York State abolished slavery, in 1827, and named after an early Black landowner, James Weeks. Weeksville residents ran their own schools and printed their own newspaper, The Freedman's Torchlight; with a 93 percent literacy rate, they were more educated than white Americans of the time.
Residents also built their own economy, practicing self-determination through food. According to Judith Wellman's Brooklyn's Promised Land, in 1850, 9.5 percent of Weeksville residents were property owners, double the rate of greater Brooklyn's population. Many of these holdings included small farms, where locals raised hogs and grew potatoes, corn, vegetables, and melons, some of which they likely sold in the bustling markets of far-off Manhattan. Residents supplemented their diets with foraged nuts and berries, and supplies from local grocery stores, several of which were Black-owned.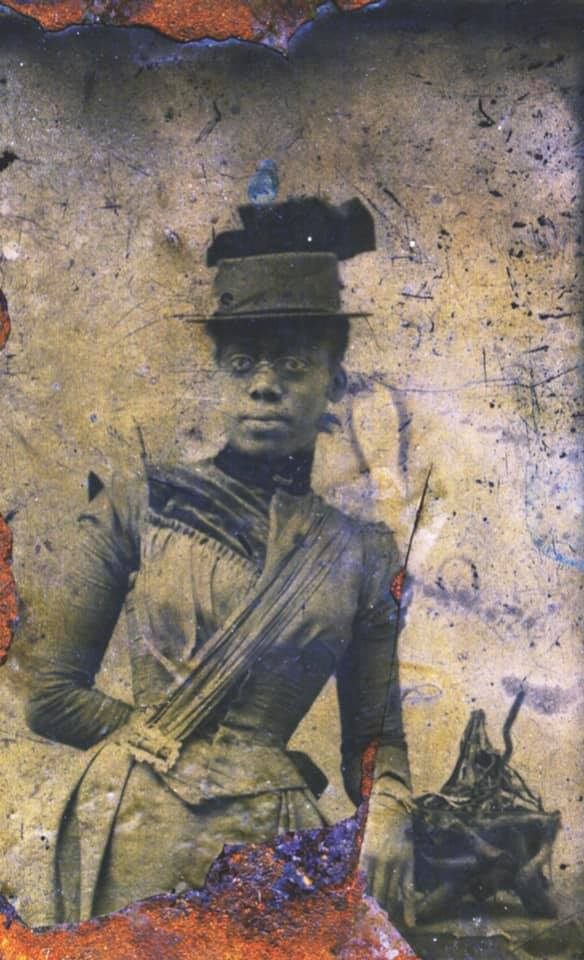 While Weeksville thrived, it couldn't resist the exploding city. By the 1930s, an influx of European immigrants and Brooklyn's expanding city grid swallowed up the village like an urban Atlantis. So, 30 years later, Hays and Hurley took wing. Soaring over the sprawling city, they spotted a historic blip in the grid of brick and asphalt: four structures from the original Weeksville. Constructed between 1840 and 1880 as one- and two-story homes, they had originally faced Hunterfly Road, a Native American trail converted into a village lane. Archaeologists and activists immediately set to work excavating the structures, which they dubbed the Hunterfly Road Houses.
If you walk down Bergen Street in Central Brooklyn today, some 15-20 blocks from the Brooklyn Museum, you can still see them: a row of colonial-style wooden structures, washed white and tan. Nestled among a bodega, a brick public-housing unit, and the monumental, glass-and-metal Weeksville Heritage Center, which was built in the early 2000s to preserve the village's history, the houses seem like a poignant anachronism.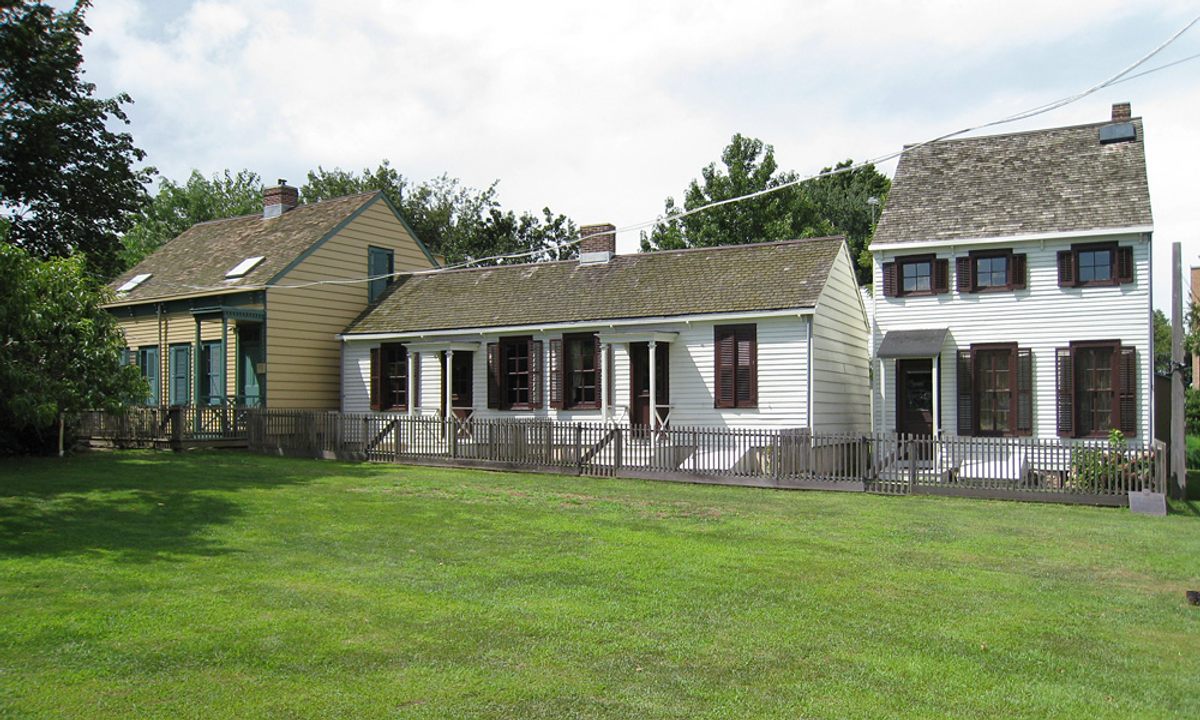 In some ways, they are. Fuelled by industrial employment, Black property ownership in Central Brooklyn increased throughout the 1900s. But in the past few years, rates of home and business ownership among Black Brooklynites have actually declined. The 2008 financial crisis, predatory real-estate practices, such as deed fraud, and the influx of richer, white and other non-Black newcomers have contributed to the displacement of many Black residents. That includes people who have owned property since Weeksville's heyday.
In the midst of these shifts, the Weeksville Heritage Center has remained a hub of Black cultural life. Now, in keeping with Weeksville's legacy of culinary self-determination, Heritage Center staff have turned their attention toward Central Brooklyn's contemporary food scene. As part of a project called "Meals as Collective Memory," Weeksville staff and consultants, including Stephanye Watts and project co-creator Maya Meredith, have interviewed dozens of local Black restaurant owners, with the aim of creating a "living archive" of food in a changing Brooklyn. The idea is that local, Black-owned restaurants are the heirs of Weeksville's legacy, and their efforts deserve documentation and support.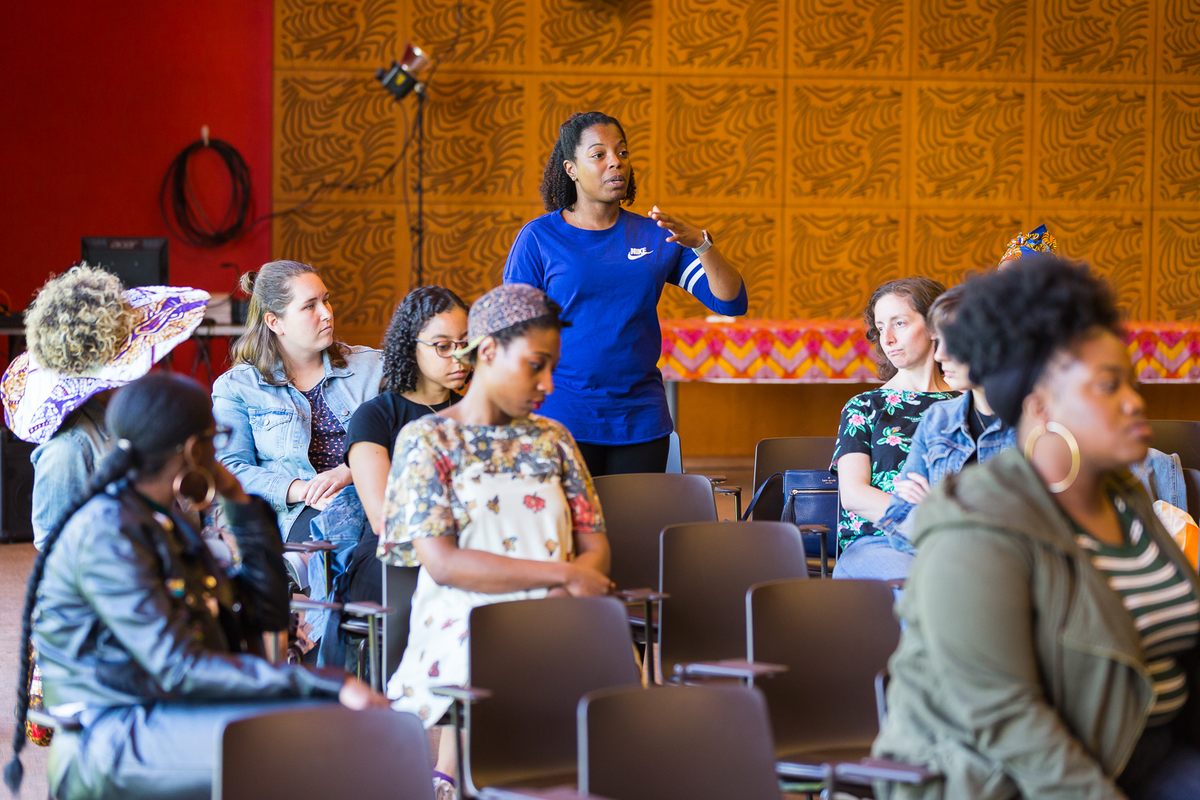 Underlying the restaurateurs' experiences are the seismic changes wrought by gentrification. Over the past decade, an influx of capital into nearby neighborhoods such as Bedford-Stuyvesant and Crown Heights has led to an explosion of restaurant openings. The trend is so pronounced that The New York Times has used the number of new restaurants as a metric of gentrification. Many of these establishments are white-owned and frequented by newcomers. But many are created by and for Black Brooklynites, presenting a possible alternative to the erasure of local culture that often accompanies gentrification. To promote their efforts, Weeksville has hosted workshops for aspiring entrepreneurs and published a "Brooklyn guide of Black-owned eats."
The featured restaurants encompass the vast diversity of Black cuisine in Central Brooklyn, charting decades of migration, aspiration, and struggle for cultural and economic ownership. Their influences range from the Great Migration to Caribbean immigration; from the Nation of Islam to Instagram. But, says Obden Mondésir, Oral History Project Manager at the Weeksville Heritage Center, the Black-owned restaurants featured in the project share a legacy that stretches back to Weeksville itself: the pursuit of economic and culinary self-determination.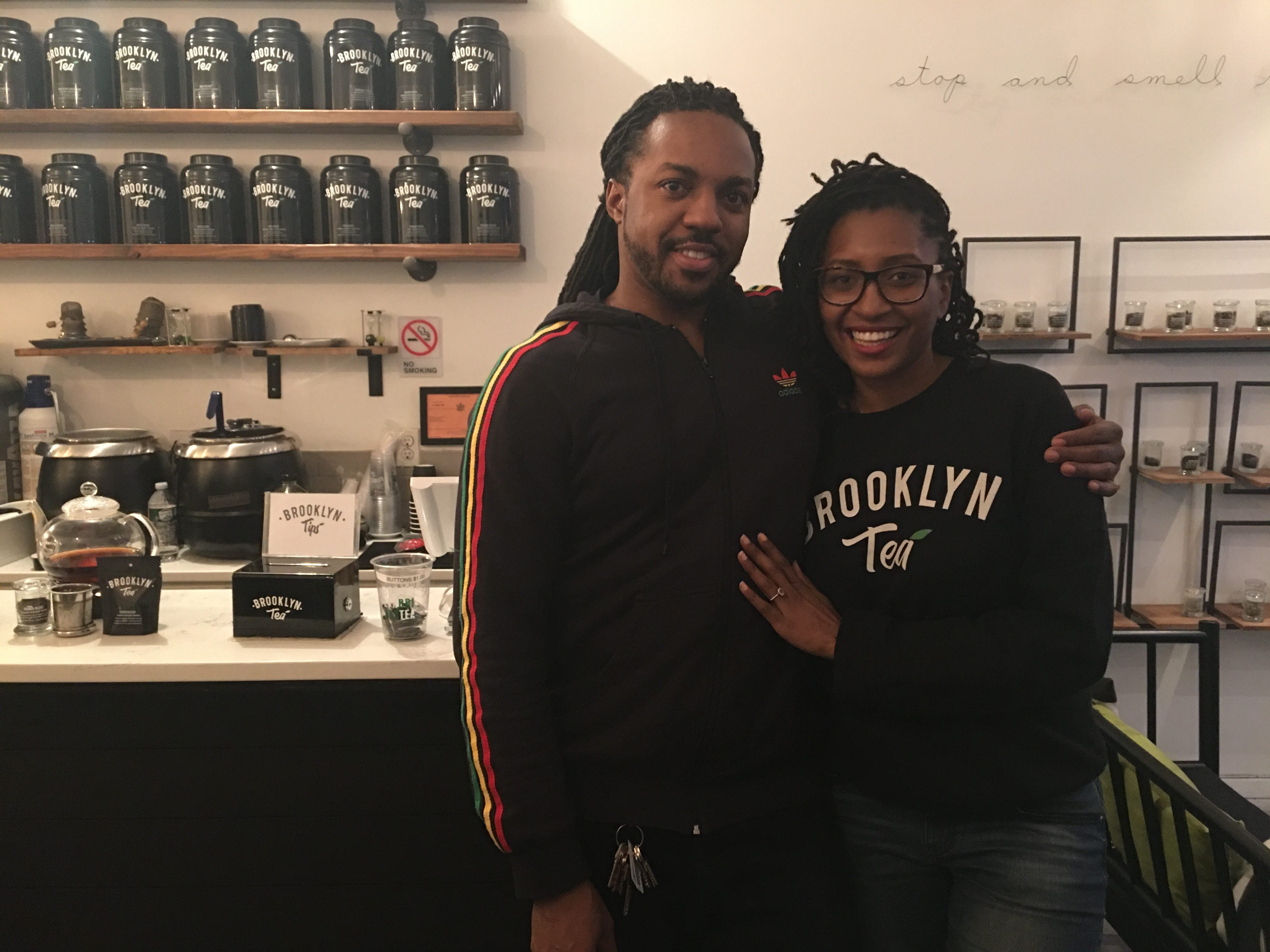 On a chilly January afternoon, mist drips from the windows of Brooklyn Tea, one of the restaurants featured in the Weeksville project. The small Bedford-Stuyvesant café is full of tea-sipping visitors deep in conversation; notices about an upcoming hip hop and jazz music club and a South African tea tasting are listed on the wall. In the past few years, gleaming new cafés have sprung up in Bed-Stuy as quick and thick as kudzu. "There weren't coffee shops in this area before, just because that wasn't a thing that middle-class Black families did," says Mondésir. But cafés have become so common in neighborhoods like Bed-Stuy that their minimalist aesthetics and six-dollar lattes are a gentrification cliché.
Unlike many cafés in the area, however, Brooklyn Tea is Black-owned. That often surprises first-time visitors, says Alfonso Wright, who, along with Jamila McGill, founded the business in 2019. Black-owned tea shops are rare; Wright can only think of one other in the city. But tea, which originated in China, and spread through centuries of often-brutal British colonialism, is a global beverage. "No matter what country you go to, there's either a tea shop or a café," Wright says. His love of tea began in his Jamaican-American household, where, at three years old, he learned to prepare the beverage for his mother. It's part of a tradition that emerged from the Caribbean's mixed indigenous, African, South Asian, and British colonial roots.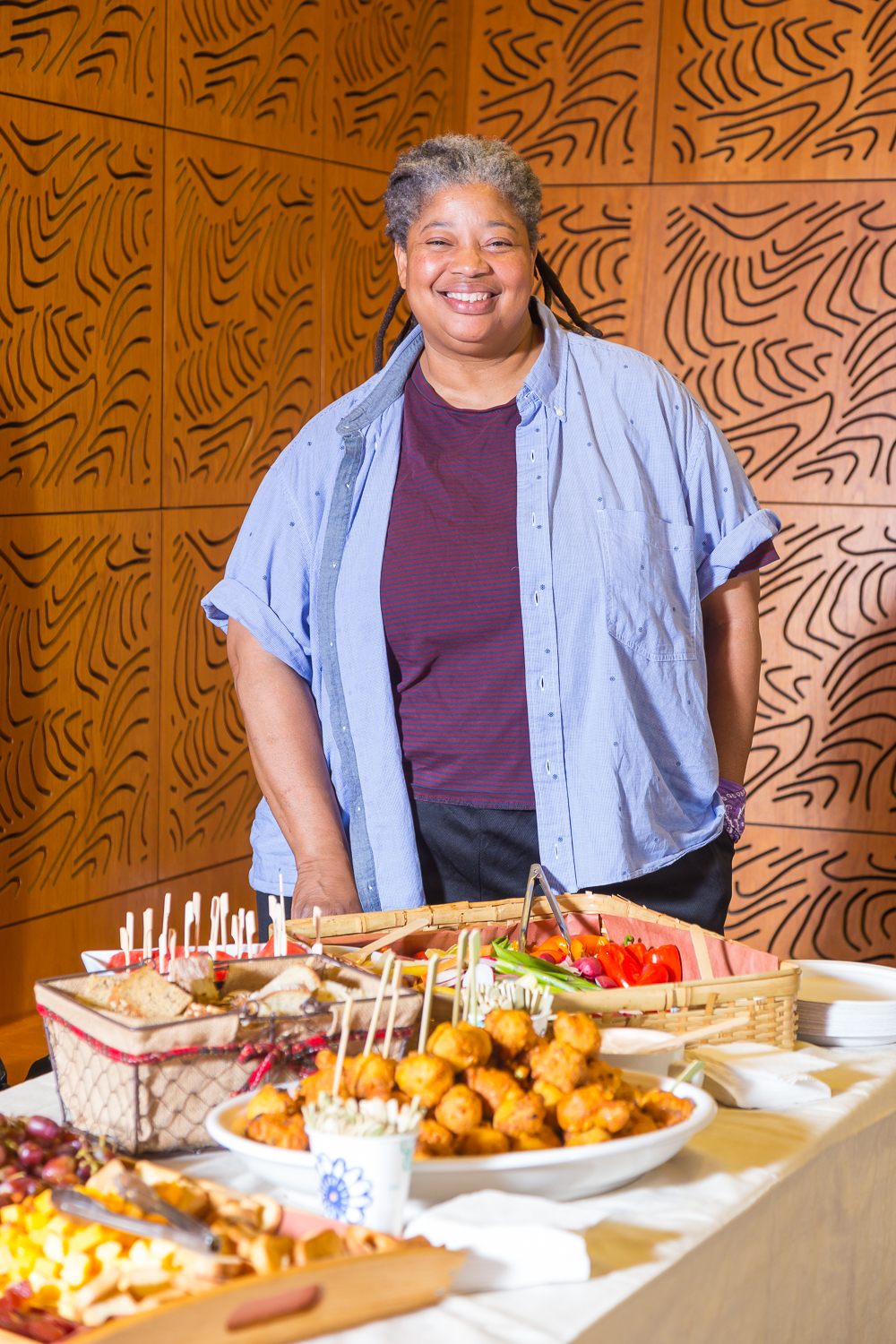 Cheryl Smith, another restaurateur featured in the Weeksville project, drew on family roots and Brooklyn's culinary diversity to craft the menu of her Prospect Heights restaurant, Cheryl's Global Soul. Smith grew up in a Jamaican-American family, on her mother's cooking and fresh produce from the family's Connecticut backyard. "I remember going out with a salt shaker and eating her cucumbers and tomatoes," Smith says. When she came to Brooklyn, the diversity of people and flavors "just felt right." She drew on her culinary training and the creativity of home cooks around her to craft a style of cuisine she calls "global soul."
In May 2019, Smith drew on this dual love of home cooking and mid-Atlantic produce to recreate a turn-of-the-century Weeksville menu for a community dinner at the Heritage Center. Weeksville residents, she says, would have grown backyard vegetables just like her mother, eating the plump, juicy summer produce and canning the rest for winter. "It was more like hearth cooking," she says. Smith's Weeksville menu included black eyed peas, cornbread, cabbage slaw, and tomato salad.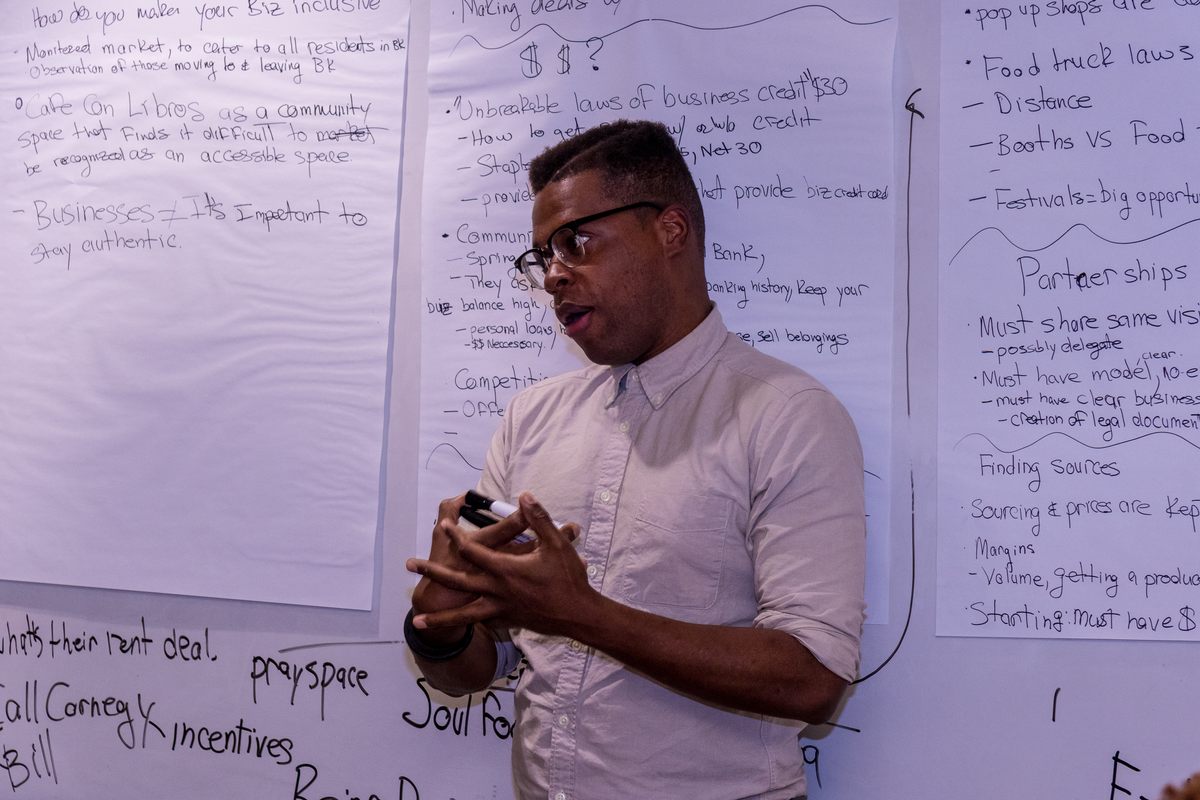 By documenting the connections between past and present, Weeksville staff hope to preserve the "collective memory" of rapidly gentrifying neighborhoods. Of course, restaurateurs in contemporary Central Brooklyn face different challenges than Weeksville residents. Rather than growing produce for their own consumption or to hawk at markets in Manhattan, they sell cuisine in mixed communities, including to higher-income, non-Black newcomers. The oral histories curated by Mondésir include mixed opinions about gentrification. Some restaurateurs appreciate the influx of new potential customers. Others worry that by catering to a higher-income clientele, they are contributing to the problem of displacement.
For Mondésir, the debate is best captured in an unlikely medium: Instagram. Establishments in Brooklyn's gentrified neighborhoods tend to have an aesthetic of generic hipness, including Edison lights, exposed brick, and coffee machines ornate as steam engines. For some restaurateurs, an Instagram-friendly look helps ensure much-needed, community-generated buzz. "It's democratic," said Wright in an interview with Mondésir. But a sleek aesthetic can also indicate the commodification of local foods to the exclusion of the people who created them. After all, most working-class Brooklynites can hardly afford rent, let alone a $25 brunch. And a neighborhood of $25 brunches can quickly become too expensive for longtime establishments.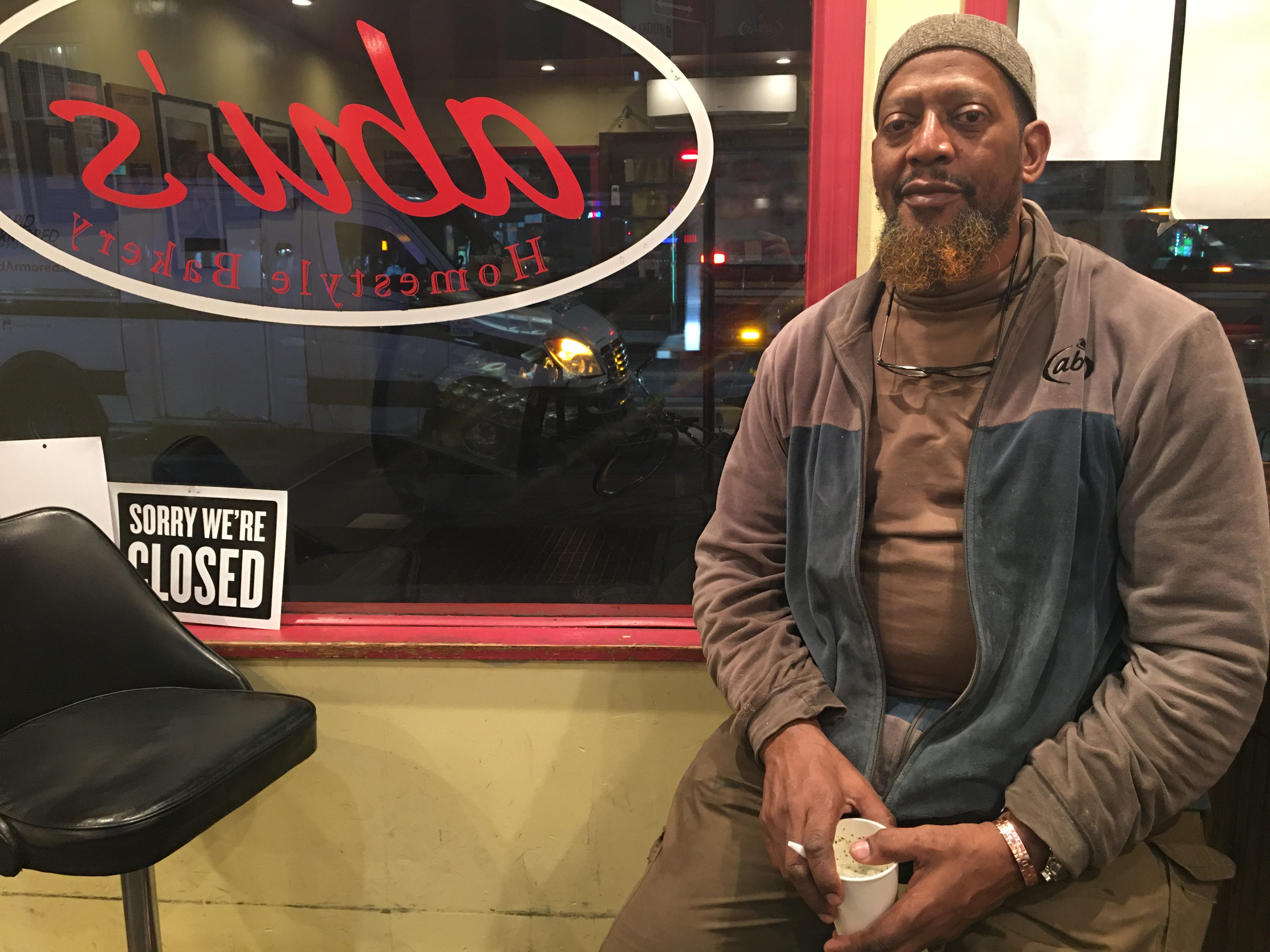 Abu's Bakery in Bedford-Stuyvesant is one eatery that has stayed put. It's occupied a small storefront on Fulton Street, owned by the At-Taqwa Mosque, for 20 years. On a cold Monday afternoon, gusts of icy air stab through the sugar-scented shop as visitors enter from the mosque next door. Idris Conry, the bakery's founder, greets them.
Conry was born in 1952, on Greene Avenue in Bedford-Stuyvesant. He opened the Bakery, which is now owned by his son, in 2000. As a teenager, one of the first things he baked was an apple cake recipe included in the program of the 1974 Muhammad Ali-Joe Frazier boxing match. "Apple cake à la Ali," Conry says with a smile.
Today, Abu's Bakery is famous for another Nation of Islam creation: the navy bean pie. Custardy on the bottom with a burnt-sugar top, the bean pie emerged from the Nation of Islam's drive to craft a Black cuisine that wasn't associated with the American South and slavery. It's been dubbed the only Muslim food invented in the United States. For years, bowtie-clad Nation members hawked bean pies on the street in Brooklyn and Harlem.
Now, Abu's is one of the last and best to carry the pie. A neighborhood institution, it's been featured everywhere from The New York Times to Slate. But early on, says Conry, he found himself falling behind on rent. The bakery survived those lean periods in part because the mosque, which Conry has attended for decades, was their landlord. "Otherwise we wouldn't have made it this far," says Conry.
Conry's relationship with the mosque demonstrates something that Weeksville residents already knew: Property is power. Weeksville's story began in 1832, when William Thomas, a Black chimney sweep, purchased 30 acres of land in the rolling hills of what is now Crown Heights. While 27 percent of today's Black New York households own property, this remains well below the rate of white families. Meanwhile, gentrification continues to dispossess many property-owning Black Brooklynites. In this context, community support can mean the difference between a business thriving and closing up shop. Mondésir says that, like Conry, several of the restaurant owners he interviewed were able to start businesses because they had a personal connection to a landlord.
We tend to think of self-determination as the right to not be tethered to others. But the stories of restaurateurs in the project, and that of Weeksville itself, show us that self-determination can also come from interdependence, from community, from what theorists of gentrification, including Weeksville staff, call "the cultural right to stay put." Historians rediscovered Weeksville from the air. But the village's legacy is best seen on the ground. Nearly 200 years after Weeksville residents planted their first seeds, their vision of a Black community built by and for its people has stayed rooted in Brooklyn soil.
You can join the conversation about this and other stories in the Atlas Obscura Community Forums.
Gastro Obscura covers the world's most wondrous food and drink.
Sign up for our email, delivered twice a week.