The 'Six O'Clock Swill' Was an Hour of Drunken Anarchy
How Australia and New Zealand's restrictive alcohol laws fostered a culture of binge drinking.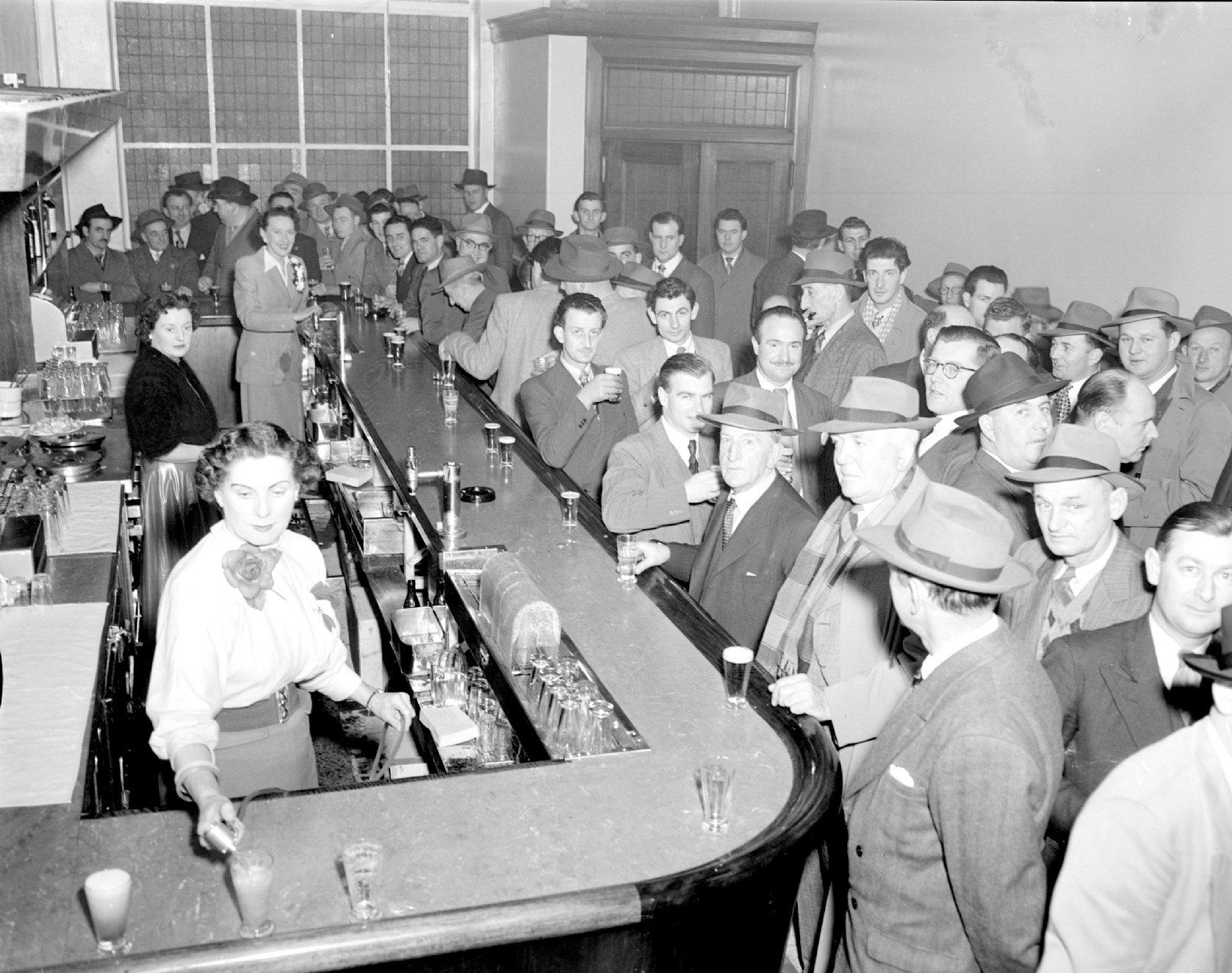 On Thursday, March 26, 1916, you could get a beer in a South Australian bar after dinner. You could get a second, a third, or even a fourth, and sit, nursing your beverage. At 11 p.m. or perhaps half past, the bar would close, and you'd bumble tipsily home. But the next day, South Australians voted in a referendum to force pubs to close each day at six—closing time for the late-night tipple.
By the end of the next year, New Zealand and almost every region in Australia had followed suit. "Six o'clock closing" was intended as a temporary restriction, partly to improve public morality and partly as a wartime austerity measure. Instead, this "interim" legislation lasted for 50 years, through both World Wars, New Zealand's independence from Britain, multiple governments, and even the invention of Vegemite. Attempts to curtail it were met with pearl-clutching gasps—despite the policy actually encouraging a culture of heavy drinking.
It's likely no one anticipated how long the regulations would endure when they were first introduced. In November 1917, New Zealand's Wairarapa Age described the forthcoming law with evident irritation as "farcical"; the following month, the Auckland Star called it "certainly the most drastic and far-reaching of the war regulations here." It had only been in place three days, but "the tendency of the worker is already apparent," the paper reported. "This tends to create a great rush hour between five and six." This rush was the "six o'clock swill."
Every day, workers rushed to the nearest bar at 5 p.m. Instead of lingering over their beers, as they had once done, they spent an hour crushed up against the bar, spiralling swiftly into crapulence. After 60 minutes of fast-paced, empty-stomach drinking, the ringing of a six o'clock bell announced a "supping-up" time of 15 minutes. Instead of remaining at the pub, people would head home, pickled as newts, and drink beer from "riggers" that they kept in their houses.
One onlooker, then "a small barefoot boy passing on his bike," remembers looking through the windows of pubs in Rotorua, New Zealand, at about 5:45 p.m. "It was like a glimpse into Hades," he says. "A great chaotic crush within, a huge babble of sound through open windows, a heaving roiling of male bodies. A glimpse of lawless chaos."
Other regulations contributed to this atmosphere of all-male debauchery. Until 1961, in an ostensible attempt to reduce prostitution and venereal disease among servicemen, women were restricted from public drinking in many New Zealand bars. Some felt that they would not have enjoyed the crush: In a 1965 episode of the New Zealand current affairs program Compass, men were interviewed about the presence of women in bars. They said they liked women being in lounge bars, where people could sit down. But as one put it: "As far as the public bars go, I think they should be left to the men."
If six o'clock closing sought to limit alcohol consumption in Australia and New Zealand, it failed dramatically. In the first three years after its introduction in New Zealand, annual beer consumption per capita rose by over 40 percent. Over the 47 years that followed, it ballooned by around 300 percent. There was another, more deadly consequence: New Zealanders were legally allowed to drive home drunk, without breath-testing procedures or blood alcohol laws. In 1960, with a national population of barely 2.4 million, 374 New Zealanders lost their lives in road accidents. (In the same year, the United Kingdom experienced 1,647 road deaths, across a population of 52 million people.)
But though the laws did not achieve their stated aims, two powerful lobbies continued to protect them: morality-based groups and trade unions.
Australian temperance groups had been advocating for early closing since 1900, but the wartime effort, and a related interest in displays of patriotic austerity, gave them a new angle: protecting young soldiers from the devastations of drink. The most zealous temperance groups seemed to believe that the First World War had been divine intervention meant to tackle moral decline. In January 1915, the Australian Christian World suggested that "the Almighty" had permitted the war "in order that the conscience of the community might wake up to the state of affairs and that Australia might realise the necessity for cleaning up the moral hearthstone." Within two years, the measure had been introduced. That it made pubs thoroughly unpleasant was considered a positive outcome: People, they reasoned, would be less inclined to go to them, and drinking reduced.
Another effective temperance tactic focused on the preservation of the family unit. In 1916, the Sydney Morning Herald published a poem, entitled Six O'Clock, which read:
Tis after six and he's not in!
The children hear her voice grow sad,
And wonder if they should begin
Their tea or — wait for dad!

'Tis pay-day; but despair's not yet!
She'll keep the good meal warm awhile;
But seven strikes, her eyes grow wet.
And all have ceased to smile.

The children settled safe in bed,
She sits alone, with fear to start,
And ev'ry hour, with tones of lead,
Seems striking at her heart.

Then on her knees, distraught in mind
She prays, while words and sobs e'er mix,
"Oh, God, grant laws of any kind
That send men home at six."
According to the Temperance Alliance, based out of New South Wales, drinking wasn't necessarily the problem: It was "night drinking" that was the scourge of "happy homes." As a response, drinkers seem to have simply started earlier. When a whisky shortage hit New Zealand in April 1939, the Northern Advocate reported that: "To their horror and dismay, the many men in the city who are accustomed to stroll into a hotel and enjoy a morning whisky found that they were unable to buy one."
It might seem perverse that bar owners and trade unions alike would support pubs having to close early. But limited hours seem to have been financially advantageous for both. People were drinking just as much, but over fewer hours, which meant reduced costs. And bars were no longer required to provide a pleasant atmosphere, either: The six o'clock swill was necessarily horrible, so investing in a high-quality drinking experience didn't make sense. Owners destroyed billiards rooms; threw out tables and chairs in favor of long bars that facilitated quick ordering; and introduced tiled walls for easy cleaning. For workers and trade unions, the legislation was also a boon. Bar and hotel employees were paid a salary, rather than by the hour. As long as pubs shut at six, workers behind the bar earned the same remuneration for fewer hours.
In 1949, New Zealand offered a referendum on the trading laws, which gave voters two options: keeping the current system; or closing at ten p.m. Campaigns from lobby groups such as the New Zealand Alliance focused on the effect on home life: One 1949 poster claimed that six o'clock closing "means fewer bad debts … more money for family comforts … happier home life." In the end, people voted against changing the law, attributed by some to misinformation about whether a later closing would mean a period of the day when pubs were forced to close.
That doesn't mean that drinkers preferred the swill. In February 1947, for example, the Bay of Plenty Times called the swill a "five to six pig trough rush," and described how "returned servicemen hanker nostalgically for the ease and comfort of drinking conditions in certain countries overseas … where the open hours are longer and patrons sit down to it cafe style." After 1937, advocates of a return to the old system pointed jealousy to Tasmania, which had reintroduced 10 p.m. closing. There, they said, bars and hotels had become more pleasant, with a "village inn atmosphere" and fewer convictions for drunkenness or illicit liquor sales.
"The smell of liquor, the smell of human bodies, the warm smell of wine, and on one early occasion even a worse smell, as a man, rather than give up his place at the counter, urinated against the bar."
Gradually, however, public support for six o'clock closing dried up. In 1947, New South Wales followed Tasmania's example; Victoria and South Australia did the same in 1966 and 1967. Finally, across the ditch of the Tasman Sea, bar closing times were extended to 10 p.m. in New Zealand on October 9, 1967, after a referendum returned a three-to-one majority. Temperance groups had accepted that the law encouraged drunkenness, and all but the New Zealand Alliance backed the legislative change.
In 1962, Caddie Edmonds published an embellished autobiography, Caddie: A Sydney Barmaid, in which she describes the six o'clock swill: "It was a revolting sight and one it took a long time for me to take for granted. The smell of liquor, the smell of human bodies, the warm smell of wine, and on one early occasion even a worse smell, as a man, rather than give up his place at the counter, urinated against the bar." The end of early closing supposedly signaled the end of this degeneracy.
But 50 years of enforced binge drinking took its toll. Today, Australia and New Zealand have a well-documented culture of alcohol abuse, and remain among the most well-lubricated countries in the western world. In the end, the regulations did exactly the opposite of what they had intended, with consequences that stretched well beyond last call.
Gastro Obscura covers the world's most wondrous food and drink.
Sign up for our email, delivered twice a week.