Why Portland-Themed Businesses Are Big in Japan
Tokyo trendsetters are putting a bird on it.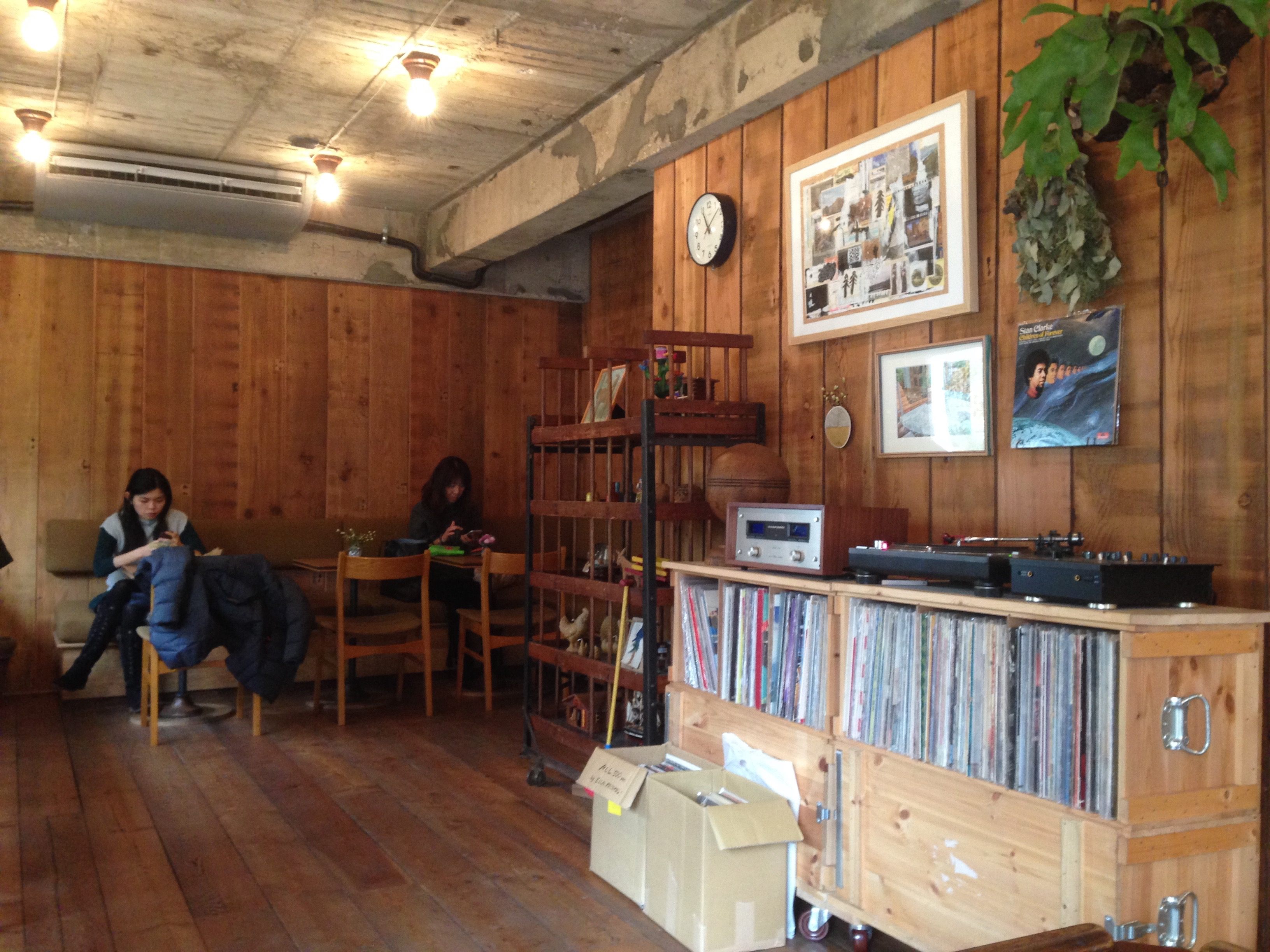 A large record collection and vintage knickknacks grace the wood-paneled interior of Paddlers Coffee. (All Photos: Amelia Ayrelan Iuvino) 
Tokyo is the most populous metropolitan area in the world, with 37 million residents. Portland, Oregon is the 26th largest city in the United States. Population: 600,000. But in Tokyo, I passed more than a few people wearing PDX sweatshirts, and even someone with a Portland Timbers hat on.
Voodoo Doughnuts, Portland's original weird and whimsical doughnut shop, is opening an outpost in Tokyo. The Japanese men's lifestyle magazine Popeye (the "Magazine for City Boys") recently produced an issue devoted to the Pacific Northwest city.
It's clear: Tokyo hipsters have a big crush on Portland.
"'Portland' is a magic word," says Yasunori Fujikawa, a graphic design student living in Tokyo. "Using the word 'Portland' anywhere adds sophistication."
A promoter handing out flyers near Tokyo's Shibuya Station wears a Portland Timbers cap and a jacket from Adidas (whose North American headquarters are in Portland).
Much of the effort to bring Portland to life in Tokyo is being led by a handful of small business owners who have a personal connection to the West Coast city known for its quirkiness and creativity. Americans may be sick of those pretentious, self-involved Portlanders, but over in Japan, Portland's image carries a more profound meaning, and the Portland-style cafes and bars that are cropping up have personal significance to their owners. Many of them studied abroad years ago in Portland or in the state of Oregon, and are now capitalizing on their insider knowledge of a region with quickly rising cache.
PDX Taproom, a beer bar in Shibuya, offers a funhouse version of Portland that seems eerily familiar to Pacific Northwesterners. The walls are covered in Portland paraphernalia, including a drawing of Portland's tiny transit system, which looks laughably quaint in comparison to Tokyo's myriad subway lines. All of the beers on tap are from Oregon, and they proudly display a copy of Willamette Week's newest Beer Guide—which had only just been published when I visited in spring 2016. On the menu is a dish of tater tots with blue cheese and bacon (a very popular snack at Portland Timbers matches, it assures me).
PDX Taproom, on the second floor of a commercial building in a busy part of Tokyo, advertises craft beer from Portland, Oregon with a backdrop of Japanese high-rises.
There are a number of bars almost exactly like this one in Portland—not the coolest ones, the kind more likely to be geared toward tourists—that play off a crystallized and somewhat stereotypical vision of the city's identity. The owner of PDX Taproom, Miyuki Hiramatsu, studied abroad in Portland in the early nineties and then worked for Columbia Sportswear Japan (which is headquartered in Portland) as an adult, noting the city's growing craft beer trend.
"I thought, what if I proposed Portlanders' lifestyle through craft beer in Japan?" she says. Her customer base is about 70 percent Japanese and 30 percent foreigners.
Beer from Rogue Ales, brewed in Oregon, is easy to find in Japan if you know where to look.
Daisuke Matsushima, who studied in Oregon in college, owns a Portland-themed coffee shop in Tokyo called Paddlers. Located in the middle of a quiet residential neighborhood west of Shibuya, Paddlers features wood paneling, vintage-modern decor, and a large collection of records. It serves only Stumptown Coffee, the pride of Portland.
Matsushima traces the origin of the Portland-in-Japan trend back to 2011, when a 9.0 magnitude earthquake caused a huge tsunami that killed almost 16,000 people in Japan.
"It made people here start questioning how they're spending their time and what they're doing with their lives," he says. "People in Japan are usually really career-oriented, but now some young people think, maybe we should do whatever we want with our lives too, like people in Portland."
Several other Portland-themed business owners that I talked to echoed similar sentiments — Portland seemed to symbolize a place of freedom in their minds, where everyone was either an artist or an artisan, pursuing only their passions and living only the kind of life they want.
Kohei Hareru, the owner of a small and quirky cafe/bar not far from Paddlers called ME ME ME, wants his business to reflect this aspect of self-determination.
At ME ME ME, a tiny Tokyo breakfast cafe and bar, visitors revel in vintage Americana decor.
Hareru, who also studied in Portland as a teenager and now visits the city a few times a year, says that because of Japan's manufacturing history, "we have been expected to conduct ourselves organizationally, which produced negligence of our individuality for a long time."
As a result, Hareru also believes that Japanese culture has become obsessed with consumerism, preventing people from experiencing real happiness. He's hopeful that people are realizing "that there might be some potential for what we've been looking for in Portlanders' weird and sustainable lifestyle."
"ME ME ME stands for, 'the answer is not anywhere outside of you,'" he says. "I believe everything is all up to you—your curiosity, your interest, your eyes—to find the positive side of life."
It's not a very common sentiment in Japan, which has a culture famed for its communally oriented behavior and ways of thinking, but perhaps it reflects a change in Japanese society embodied by the younger generation.