Wolves Have Returned to Denmark After Two Centuries of Absence
A breeding pair has been spotted in west Jutland.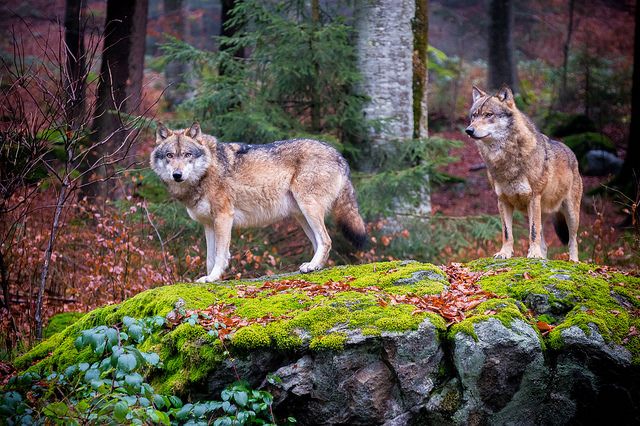 Something is lupine in the state of Denmark. After two largely wolf-free centuries, researchers say that a pair of the animals has moved into west Jutland, and that cubs are almost certainly on the way.
Over the past few years, four solitary male wolves have been sighted roaming the area's woods and farmland. CCTV footage from last autumn suggested that at least one of them had been joined by a companion, and DNA evidence from wolf scat now confirms it, the Copenhagen Post reports.
The female left a pack in Eastern Germany and traveled about 300 miles before hooking up with her current mate. "We expect that they will have cubs this year or the next," researcher Peter Sunde told the outlet.
Denmark has its first wolf pack (first in 200 years that is)https://t.co/EG3OFmEjh4 pic.twitter.com/NTIHLVnjHI

— Rewilding News (@NewsRewilding) May 4, 2017
Wolves, which once roamed all over Europe, were extirpated from the Western part of the continent thanks to centuries of hunting, much of it state-sanctioned. Over the past few decades, though, they have slowly returned, reclaiming their old territory country by country. In the mid-1990s, they spread out into France and Germany, and over the course of this decade, they've moved to Belgium and the Netherlands.
This newest foray both excites and worries wolf fans. "The question has to be asked: are people going to accept the wolves?" researcher Guillaume Chapron asked, in the Guardian. "When they realize that Danish sheep don't taste too bad, that may be a little problematic." In preparation, the Danish government has begun setting up a wildlife management plan, funding wolf-proof fences and compensating farmers for lost animals.
"It's just a matter of few years before we begin to see new wolf packs in Denmark," says Sunde.
Every day, we track down a fleeting wonder—something amazing that's only happening right now. Have a tip for us? Tell us about it! Send your temporary miracles to cara@atlasobscura.com.