Meet the Man Recreating Ancient Musical Instruments Lost to Time
Tharun Sekar's creations include the yazh, a harp-like instrument played in India 2,000 years ago.
In a small, sparse workshop in Chennai, Tharun Sekar spends hours building and perfecting the yazh. A distant cousin of the harp, the 2,000-year-old instrument was once a mainstay in royal courts, and produced "the sweetest sound." Then, it disappeared, preserved only in historical texts—until now.
The yazh is one of a handful of lost or obscure folk instruments that Sekar, 24, has been recreating in a studio he began in 2019. It takes Sekar five to six months to build a yazh. Each handcrafted instrument is made from a solid block of wood, and, when finished, is about two feet tall, with seven or 14 strings, a distinctively carved peacock head, slender neck, and a bowl-like resonator. Customers from as far away as Norway, Dubai, and the U.S. have been drawn to its ethereal sound.
Atlas Obscura spoke to Sekar about his mission to bring back forgotten instruments and how he learned his craft.
How did you get interested in building musical instruments?
I was in 10th grade when I saw the Hawaiian lap steel guitar and wanted to play it. However, at that time, this guitar wasn't available in India. The only option I had was to build it. I watched YouTube videos and tried making the guitar.
The process of working with wood became addictive; I was fascinated by it. I thought about its texture, how it felt in my hands. Finally, when I made the instrument and heard its sound, it felt wonderful. Later, I decided to pursue architecture in college, because I wanted to study design. During my summer vacations, I built a string instrument each year, including a banjo and a ukulele.
I went for an architectural internship to Auroville. It was there that I met a well-known luthier, Erisa Neogy, to whom I showed my instruments. He was kind and was willing to teach me more about instrument-making, which led me to train under him for six months. Since the process fascinated me, after graduating from college, I decided to devote all my time to making instruments.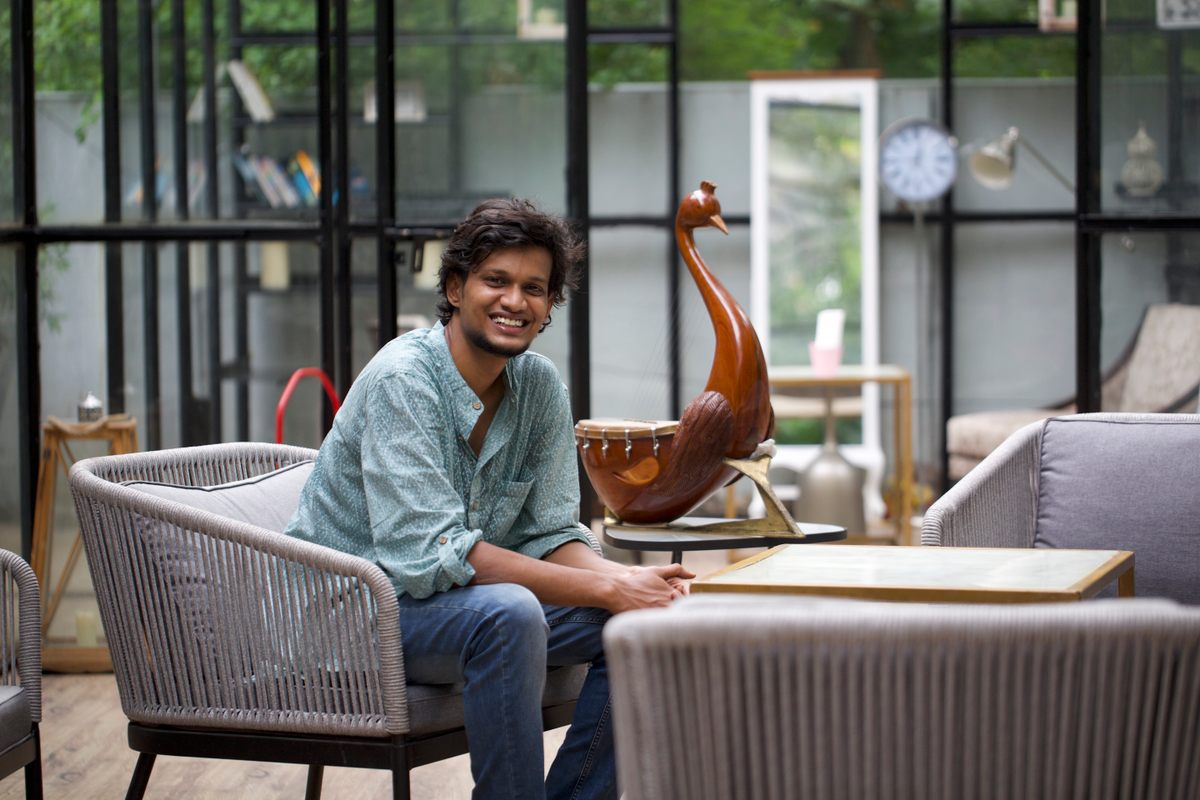 How did you transition from building guitars to crafting ancient Indian instruments?
During my time in Auroville, I wondered why I was only making Western instruments. I realized that Western instruments, like the guitar, were everywhere. If students wanted to learn music, the first thought they'd have was to pick up a guitar or play the drums. They wouldn't even think of playing an Indian instrument. This was something that bothered me.
The guitar, which only has a history of 500 years, continues to remain popular due to gradual design changes made to it every decade. Hundreds of luthiers work on the instrument, trying out something new to keep the form modern for younger generations. I thought I should do the same with Indian instruments. This is why I started Uru, a company where we redesign folk instruments.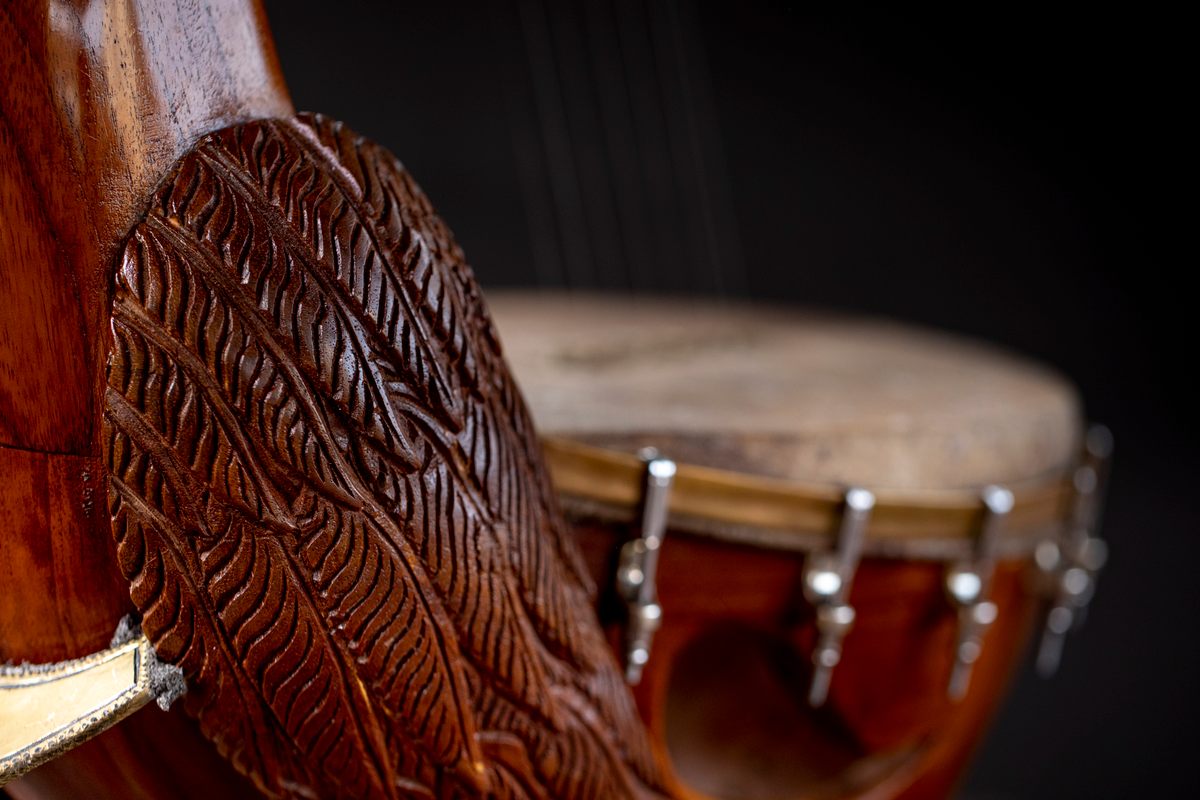 The first instrument you designed was the yazh. What fascinated you about it?
The beauty about this instrument is that it was once played in temples and in royal courts, as well as among panars, who were an ancient community of musicians. There are Tamil scriptures and literary works written during the Sangam period, sixth century B.C. to the third century, that mention the yazh. Yet, it disappeared. Today, while there are replicas of the yazh available in museums, they are neither original nor playable. I wasn't also able to find any recorded sound samples or videos of the instrument. So, this created a curiosity in me.
What was your research process?
The first thing I did was collect research documents about the instrument. If you read the Sangam era literature, they exaggerate about it. For instance, it was said that the yazh produced the sweetest sound mankind had ever heard. However, I could not find any factual information, in terms of the length of the strings, or the structure's accurate dimensions. There were no illustrations accompanying the text either.
Eventually, I found the Yazh Nool, written by Swami Vipulananda in 1947, which is the only proper research book available on the instrument. The book has detailed information on music theory, how the strings were aligned and musical notations that helped to recreate the sound accurately.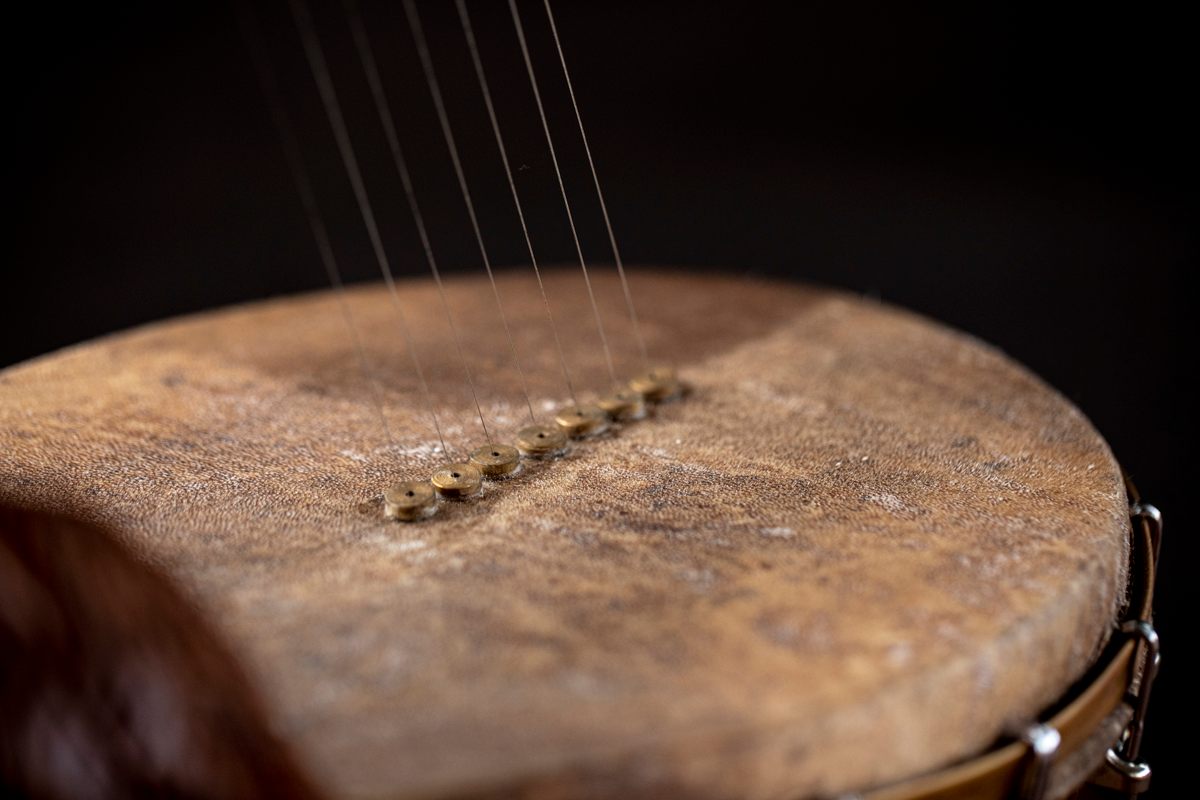 What challenges did you face when recreating the yazh?
Traditionally, the yazh makers used jackfruit wood. Goat skin would be tightly placed over the instrument's bowl-shaped resonator. They would use crushed turmeric paste to glue the hide onto it. However, there was a problem in this. If you wanted to change the tone of the instrument by tightening the skin, you would have to open the entire piece and expose it to heat each time.
So, I decided to introduce the hook-and-bracket system to compensate for this. I also used red cedar, which is lighter than jackfruit wood, to ensure ease in mobility. While carving the resonator, its thickness is determined by tapping the body of the wood and listening. At the point where it starts to ring well, I stop.
What other ancient instruments are you bringing back?
The panchamukha vadyam, or the five-faced drum, which belonged to the Chola dynasty period, from the ninth through 13th centuries. It's a percussion instrument that has five hollow tunnels with skin attached to it. The body was made of bronze and weighed around 200 kilos (440 pounds). Today, the only original piece exists in a temple in Tiruvarur.
Traditionally, the makers used deer skin. However, since that is not possible now, I'll be using goat hide instead, and the body will be made using clay to reduce the weight. Right now, I have only built a prototype. However, I'm thinking of going to Tiruvarur and studying the instrument properly, before I begin redesigning it.
I'm interested in making different instruments from around the world, because I want to study different sounds. I recently made the cajón (a Peruvian percussion instrument), which took two months to build. I also want to craft the Mongolian morin khurr (also known as a horsehead fiddle) and have started researching it. However, part of my process includes hearing stories from local people, which gives me a better understanding of the instrument. Due to the pandemic, this is not currently possible. So, I thought that it might be better to focus on the instruments we have in my part of the world at the moment.