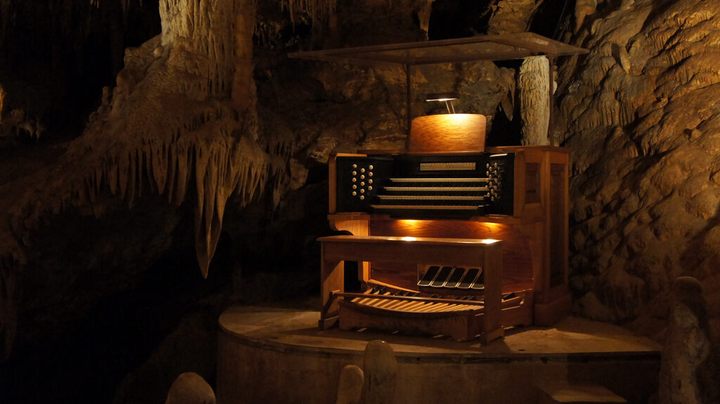 On the Atlas Obscura Podcast, Deserts Boom, Names Are Sung, and Silence Rules
We're celebrating the first year of our daily podcast with some episodes that really just sound amazing.
On March 15, 2021, Atlas Obscura launched its first, long-awaited podcast: a daily celebration of the world's most wondrous, unexpected, even strange places. Now, more than 150 episodes and seven million downloads later, we're remembering why we embarked on this project in the first place—some stories you just need to hear. It's one thing to read about an organ created by striking stalactites in a massive cave. It's something else entirely to listen to a composition played on it.
Each episode of the podcast features great audio storytelling and fascinating people, but a few stood out to us for what they did to our ears—natural atmosphere, haunting music, even a total absence of any sound at all. Here are some of our favorites that make the most of the podcast format. Headphones recommended!
---
China's Badain Jaran Desert holds is home to the tallest stationary dunes in the world, but they have a secret. Under the right conditions, they sing. Or, more accurately, they boom. For this episode, we used audio from Myths of Origin: Sonic Ephemera of East Asia, recorded by Isobel Clouter and Rob Mullender. We paired that natural soundscape with the remarkable voice of Mongolian throat singer Tamir Hargana, who offers an improvisation that responds to the dunes, in addition to a few verses from a traditional folk song.
---
Kongthong, India, is an inherently musical place. There, every person's name is a unique song, composed by their mothers within a week of birth as part of a centuries-old tradition. This episode was adapted from a story by journalist Zinara Rathnayake, who appears in the episode with host Dylan Thuras. She also recorded the haunting melodies that mothers in Kongthong use to call their children home to supper.
---
What we might think of as quiet isn't really quiet. For true silence, look no further than the Orfield Labs Anechoic Chamber, a room in a concrete bunker in Minneapolis that is one of the quietest places on Earth. The acoustic wedges that cover the room's interior absorb 99.99 percent of all sound made inside. Here, host Dylan Thuras goes into the chamber and narrates … well … utter and total silence.
---
For centuries, herdswomen in Northern Sweden have lured cows home with song, a practice known as kulning. In this episode, host Abbey Perreault interviews Susanne Rosenberg, head of the folk music department at the Royal College of Music in Stockholm, who provided recordings of her own haunting melodies. And our intrepid host offers her own take.
---
Finally, we visit the Luray Caverns in the Blue Ridge Mountains of Virginia, home to a unique musical instrument that spans more than three acres and was thousands of years in the making. It's the Great Stalacpipe Organ, brainchild of mathematician and electronic scientist Leland Sprinkle, and a true sonic wonder.