You Can Become a U.S. Citizen at Mount Rushmore or Yosemite
To understand the naturalization process, our reporter attended three ceremonies—one at Ellis Island.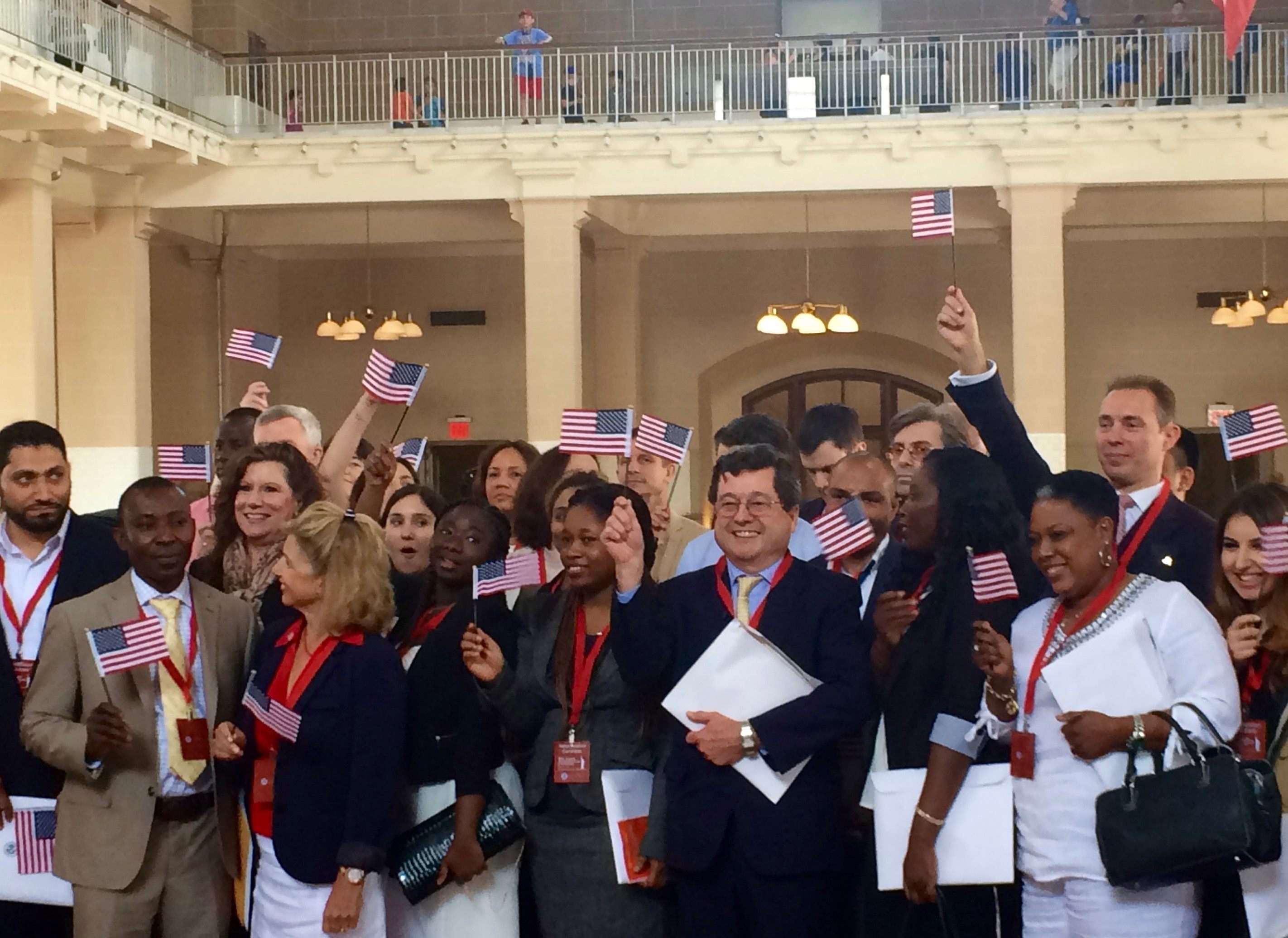 New citizens waving their American flags in the Great Hall at Ellis Island. (All photos: Tao Tao Holmes/Atlas Obscura)
"Are you ready to become U.S. citizens?"
"Yes."
"It doesn't sound like it. Family and friends in the back, are they ready to become U.S. citizens?"
"Yes!"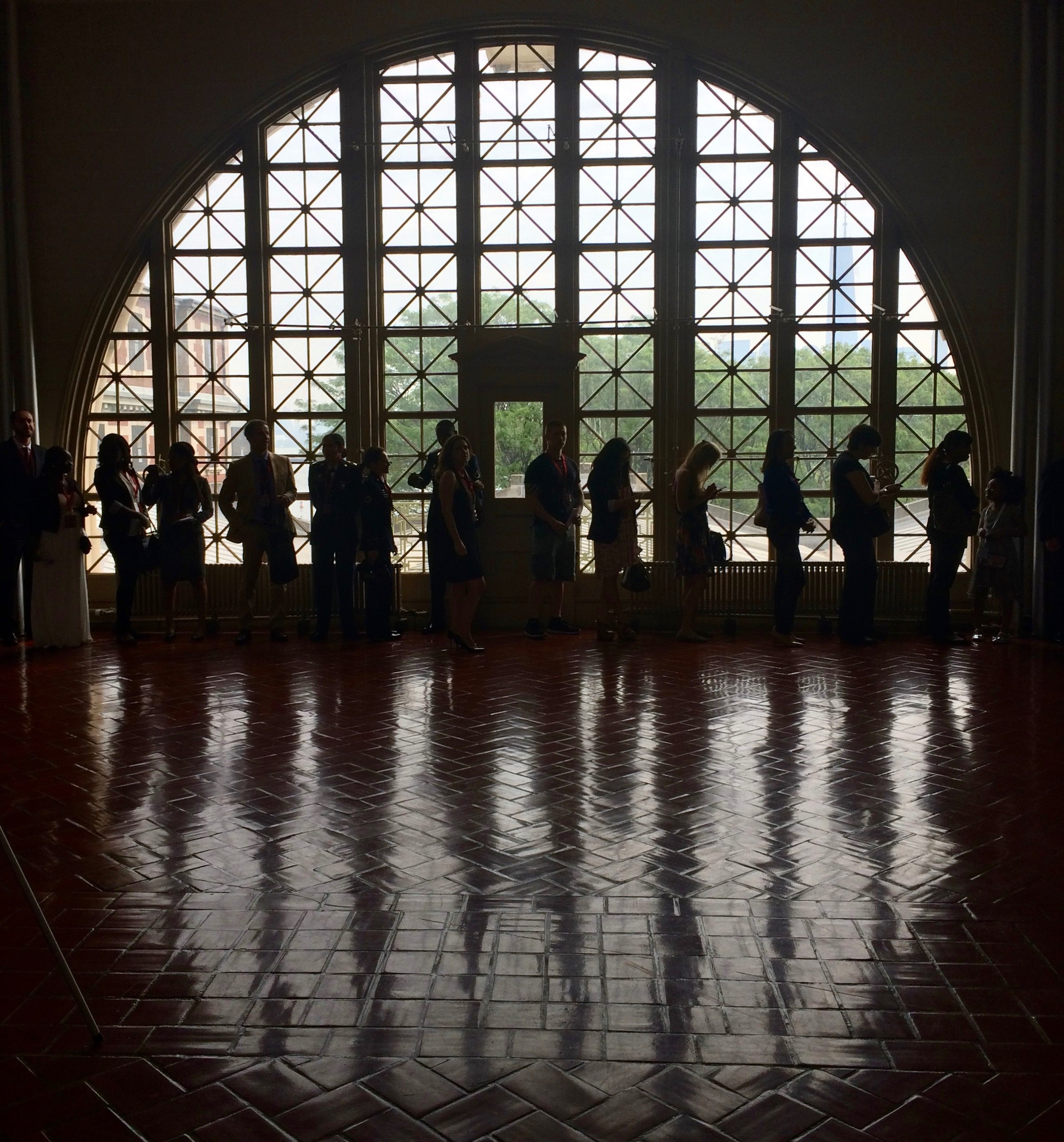 Waiting in line in the Great Hall to become citizens.
Jeh Johnson doesn't seem convinced. As Secretary of the Department of Homeland Security, he deals with counterterrorism, cybersecurity, and the Secret Service, among other things. He's not about to let a roomful of 61 citizenship candidates off so easily, especially on Ellis Island, on the Friday of Memorial Day Weekend.
"One more time," he says. "Are you ready to become U.S. citizens?"
A chorus of "YESSSSSSS" fills the air.
The group is assembled on the warm May day because, to mark 100 years of the National Parks Service, the United States Citizenship and Immigration Services (USCIS) is holding 100 ceremonies at 100 different national parks over the course of the year. These venues range from tiny neighborhood green spaces like Paterson Great Falls in suburban New Jersey to grandiose feats of protected nature like Yosemite.
But perhaps no location is as meaningful as Ellis Island, as the landing pad for millions of new Americans at the start the 20th century, as well as a prison for less-fortunate later immigrants.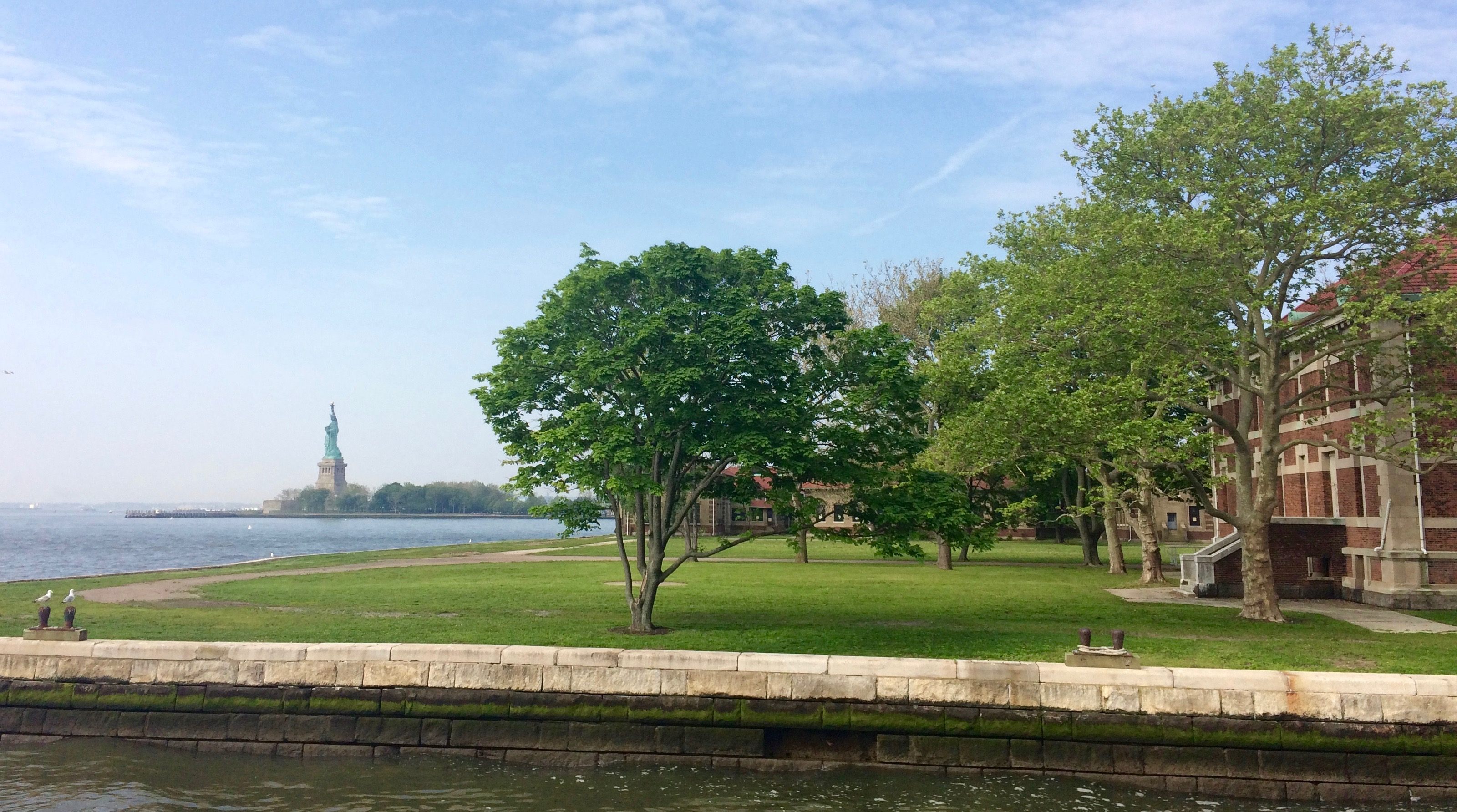 Ellis Island, with the Statue of Liberty standing tall in the background.
It's not that the ceremonies have always taken place in courthouses. People have become citizens on islands, in parks, on boats, and in museums. USCIS naturalization ceremonies have taken place at Gettysburg, the New York Public Library, Acadia National Park in Maine, Mt. Rushmore, and at Manzanar, a former Japanese internment camp in California. People have become citizens at Miami Beach, Boston's Faneuil Hall, on the Intrepid, the USS Baltimore submarine, live on the Today Show at Rockefeller Plaza, and at Mt. Vernon, where George and Martha Washington even showed up in costume for the occasion. Special guests have included city mayors, like New York's Michael Bloomberg, government secretaries, and Judge Judy—who Katherine Tichacek, the USCIS Public Affairs Officer for the New York City and New Jersey Districts, says was the most popular guest by far. "And she was tough on them, just as you expected her to be, 'Congratulations, but here's what you gotta do!' "
Today's ceremony (number 30 out of 100) is part high school graduation, part pep rally, but with no pom-poms or mortar boards and a much heavier, more multilingual media presence. Johnson is saying something inspirational about how special it is to become an American, and how new citizens remind us of that. He mentions Obama's initiative to resettle 10,000 Syrian refugees this fiscal year. Then he brings up the Oath.
New citizens posing in front of a flag at the USCIS ceremony room.
If you were born a U.S. citizen, you have actually and interestingly never taken, or even encountered, the oath. It is an oath to our great country that is recited, with one's right hand in the air ("You can use an iPhone in your left hand" assures Johnson), taken by an average of 680,000 people each year, with the New York-Newark-Jersey City area making up a whopping 15 percent of that. Every week, Zimbabweans and Montenegrins, Norwegians and Antiguans, Togolese and Armenians stand up across the nation and recite words that have now been recited since 1929 by millions of new citizen that came before them.
The 140 word-long speech starts up very strong. That doesn't last.
The voices begin to drop off halfway into the recitation, when we get to the part about bearing arms and performing noncombatant service "when required by law". Then, the language darkens: "Taking an "obligation freely without any mental reservation or purpose of evasion; so help me God," is somewhat intimidating. Most new citizens are just trying to get themselves a passport and new driver's license. The entire ceremony lasted 40 minutes.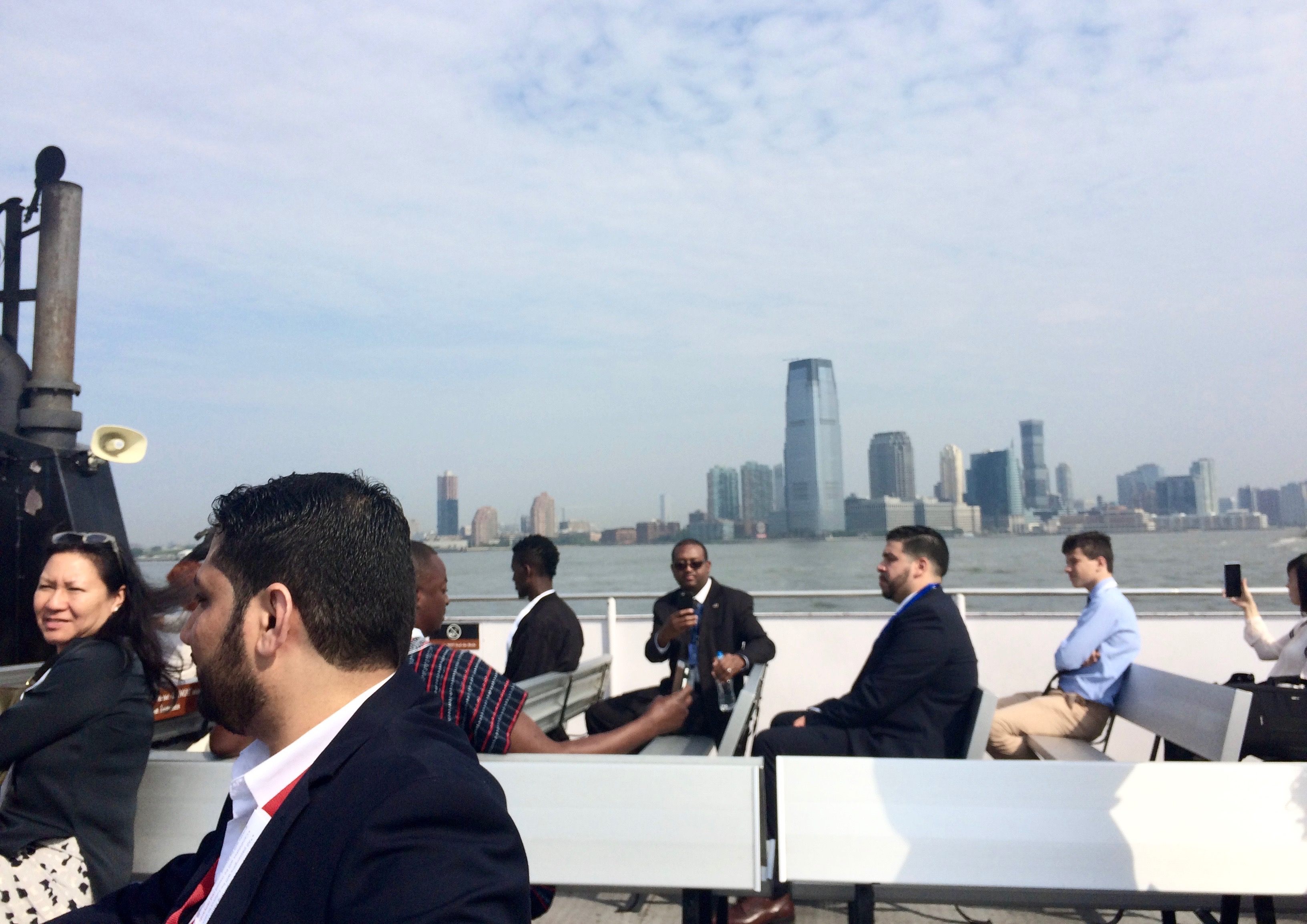 Citizenship candidates on the ferry between Battery Park and Ellis Island, a U.S. national park.
On the ferry from Ellis Island back to Battery Park, two (formerly) Ghanaian women, Belinda Abanga and Promise Mensah, still wearing their "citizenship candidate" lanyards around their necks, are reveling in their new citizenship and the broiling late May sunshine. They've both lived in New York for over 10 years, and though the two of them are friends, they didn't realize they'd be naturalizing at the same ceremony.
"Does it feel different, being a citizen now?" I ask as the ferry pulls into Manhattan.
"Oh yes, definitely," says Abanga.
"How so?"
"Applying for jobs," she says.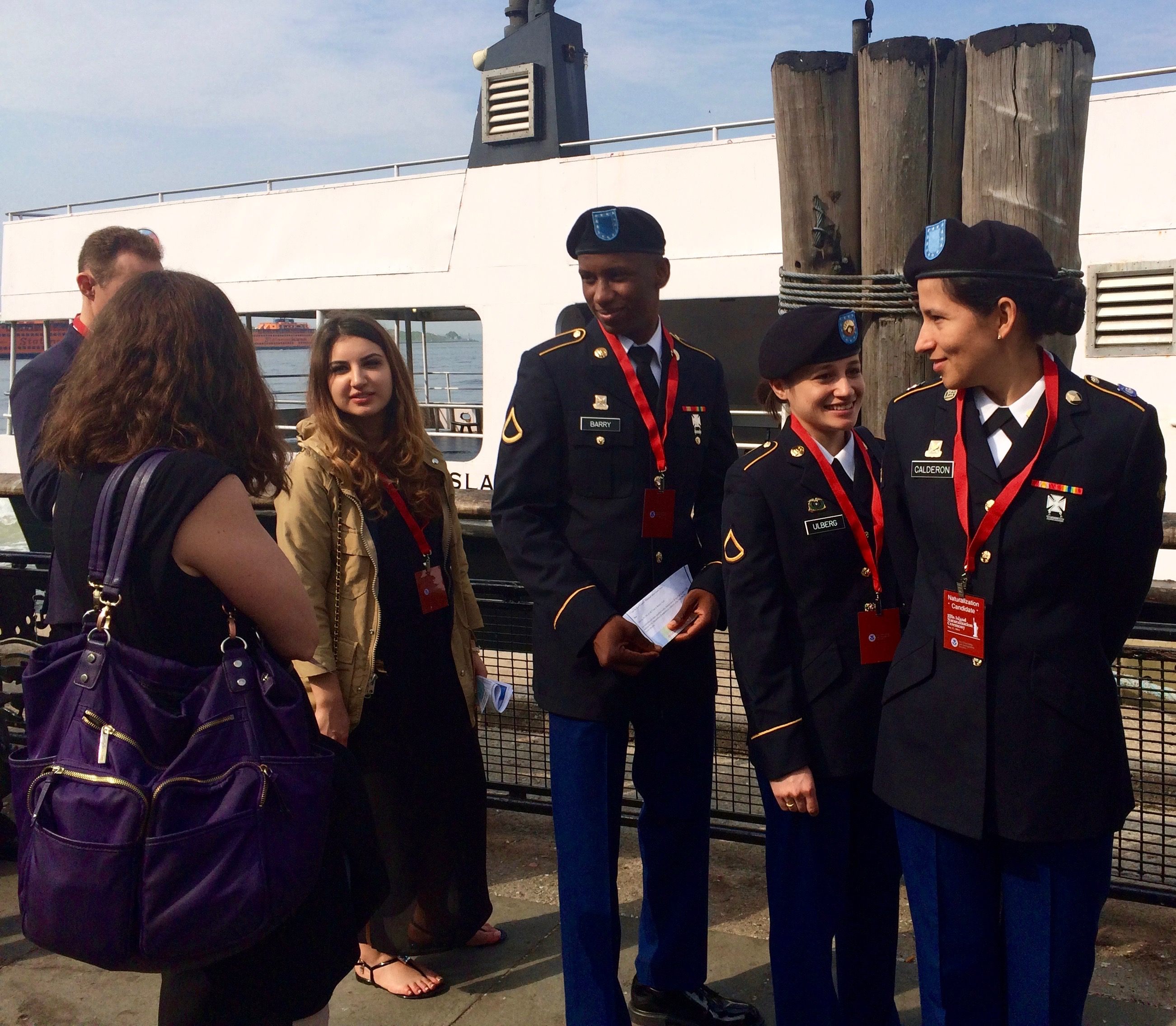 Katherine Tichacek chats with some of the members of the military naturalizing at Ellis Island.
People become U.S. citizens for a whole cornucopia of reasons, says Tichacek. It's hard to generalize—and at the ceremonies, it's also hard to tell who is already a citizen, and who isn't. At New York ceremonies, it's a complete blend of ages and skin colors. I wonder if things look different at a ceremony in a place like Tokyo or Nairobi, whether the candidates stand out more from the crowd.
"I feel like immigration is in the news, but so many people don't get this part of it," says Tichacek. "If you're born here, you just don't get it. I never, ever would if I didn't work here."
Tichacek explains that USCIS can't solicit for ceremony locations, but rather must be formally asked by a venue, and for any non-government entity, there's a lot of paperwork. Her pipe dream is a ceremony involving the hit musical Hamilton, perhaps at Hamilton Range. She's waiting for a way to rope in Lin-Manuel Miranda. (She and I take a moment to recognize that Miranda is the coolest human alive.)
"I'm from Romania. No, I'm from America." #NewCitizen pic.twitter.com/hFRrwckfIE

— Rep. Ted Deutch (@RepTedDeutch) April 22, 2016
Voting, of course, is one of the primary benefits that citizenship confers. And on a recent Friday in New York's 26 Federal Plaza, the normal venue for citizenship ceremonies, a 30-something fellow catches my eye and declares, "I can vote, ah-ha!"
Tichacek says that the media is always asking whether citizenship applications go up during election years, especially one like this. Typically, yes, but it fluctuates for a lot of reasons, she says, adding that there's a stronger correlation with tax season, when people get their returns and use them for the application fees, a hefty $680.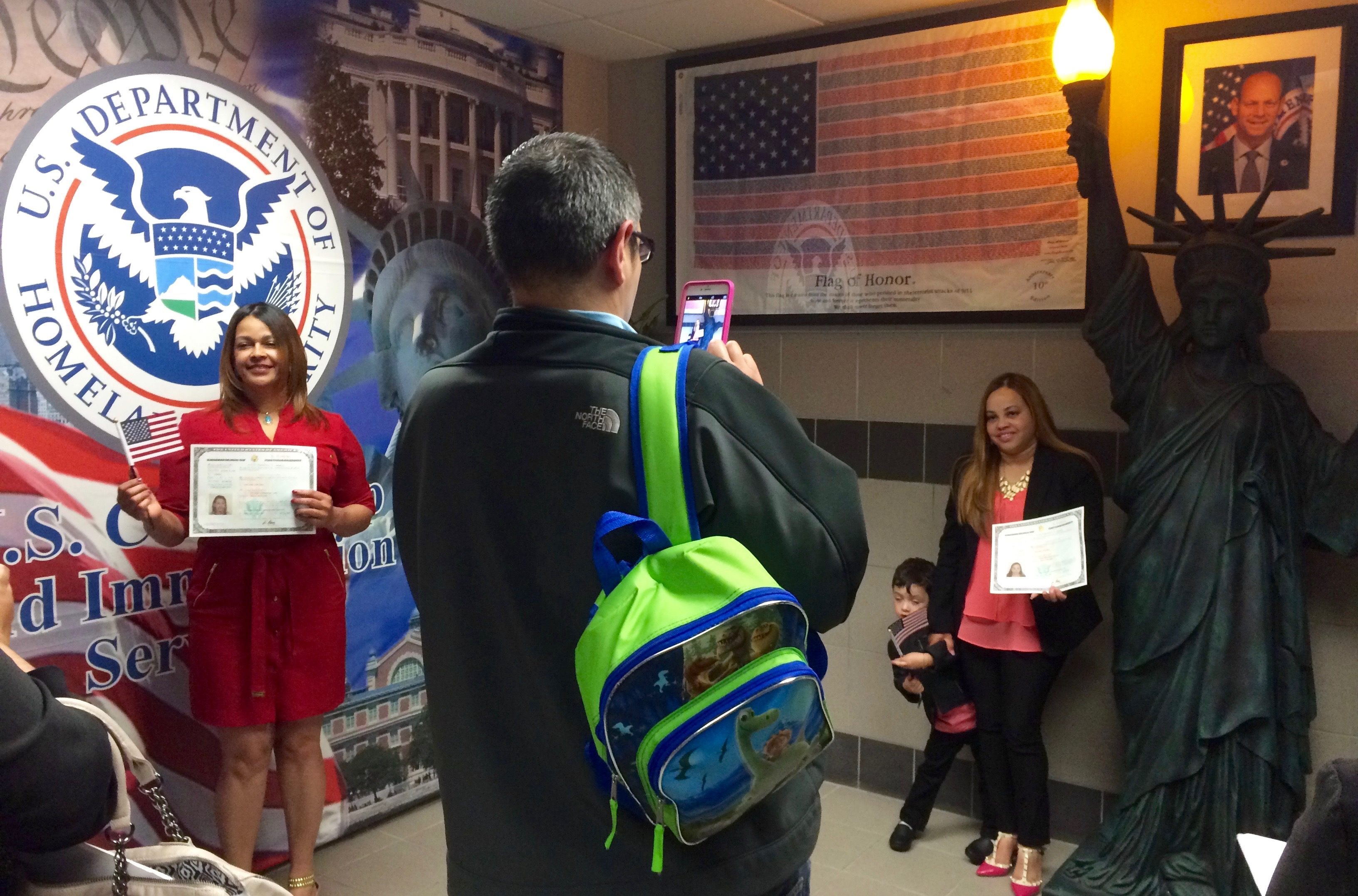 New citizen photo shoots.
On this particular Friday, at 92 Federal Plaza, there are 172 candidates, hailing from 52 countries, meaning that more than a quarter of the world is represented in the room. There is usually an average of 150 people from 40 countries at each ceremony, with a section for family and friends in the back—once, Tichacek spotted Steve (actor David Eigenberg) from Sex and the City, who was there with his wife and kid to cheer on his former landlady, who had supported him throughout his early days.
Introductory remarks are followed by the national anthem, the call of countries, the administration of oath (which can only be performed by a federal judge or USCIS employee), a congratulatory message from the president, a video montage of America the Beautiful, and the Pledge of Allegiance. (Before getting to this point, of course, candidates must fill plentiful forms, attend a biometrics appointment, complete an interview, and take a 10-question naturalization test.) Upon a parent's naturalization, children under 18 become automatic citizens, and it becomes easier to petition to bring family to the U.S.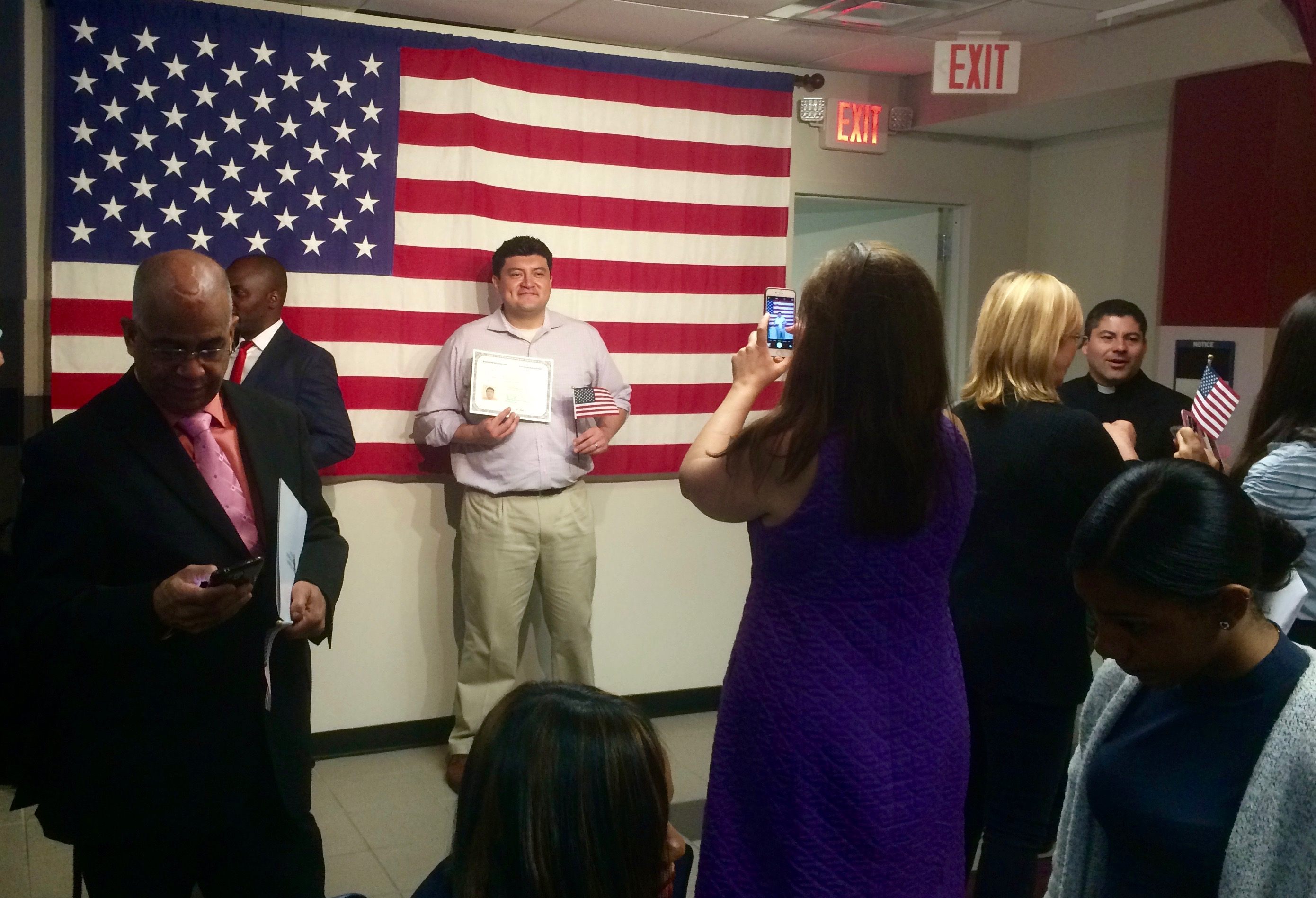 Proud new citizen.
Federal employee David Scott Velez is running today's ceremonies (there are three, each a half-hour long). Velez, whose parents are Puerto Rican, worked for five years as an asylum officer, which he admits was depressing. Those were sad stories, and these are happy ones, he says. Tichacek says some of her favorite ceremonies are those held for adopted kids who have arrived in America for the first time. Sometimes, too, they do ceremonies in the hospital or at people's houses for those who are too old or disabled to travel.
People tend to especially enjoy Obama's video message, says Tichacek, and I notice a number of folks recording it on their smartphones. Soon after, miniature American flags are being waved in the air, and then, of course, it's photo time. Tichacek is taking photos for new citizens left and right, and soon young women, married couples, and older folks are asking me to snap shots of them holding up their certificates and flags and posing in front of the Statue of Liberty or the DHS plaque on the wall. USCIS encourages them to share their experience with the hashtag #newcitizen.
.@Lakers Mychal Thompson @RobSchneider and Fabio. What a crew! Two #newUScitizen s & a supporting player! pic.twitter.com/PTYwXGHpuC

— Claire Nicholson (@USCISMediaLA) March 16, 2016
A young woman from the Dominican Republic asks me to take her photo.
"Does it feel different?" I ask.
She nods and smiles, and I notice a few tears welling up in the corners of her eyes. A few others ask me to take their photo—a taxi driver from Bangladesh, a Salvation Army Corps Officer from Zimbabwe. I look up and spot Tichacek chatting with a tall redhead and his girlfriend. She likes to try to collect stories at the ceremonies, a sort of "New" Humans of New York. She comes over a few minutes later and tells me that usually Brits are not very enthusiastic about becoming U.S. citizens, but that this guy was a rare exception.
Some of the Friday ceremonies have a special element, if not a special location. On May 20, the ceremony commemorated Asian American and Pacific Islanders month, with Shin Inouye and Manar Waheed, a government press secretary and deputy policy director, appearing as guests. I spotted two tall monks outfitted in thick red and yellow robes (and red Reeboks), one a candidate and one an observer. Inouye mentioned a number of famous APIs—the CEO of PepsiCo, the founder of YouTube—and encouraged everyone to be active and engaged citizens. "I am so very honored to be the first person to call you my fellow Americans," he said.
At this ceremony, a wizened Asian fellow is sitting in the front row. I start talking to him in English; he looks up but doesn't respond.
"Do you speak Chinese?" I ask in Chinese. His face lights up. "English, I don't understand one word!" he responds. He came over from Fujian, China in 2011 to join his eldest son, he tells me. His name is Yun Feiwang, and he's 76. He says that in America people are very cultured, very polite. "Nihao! Thank you! Bye bye!" Yun says, citing evidence.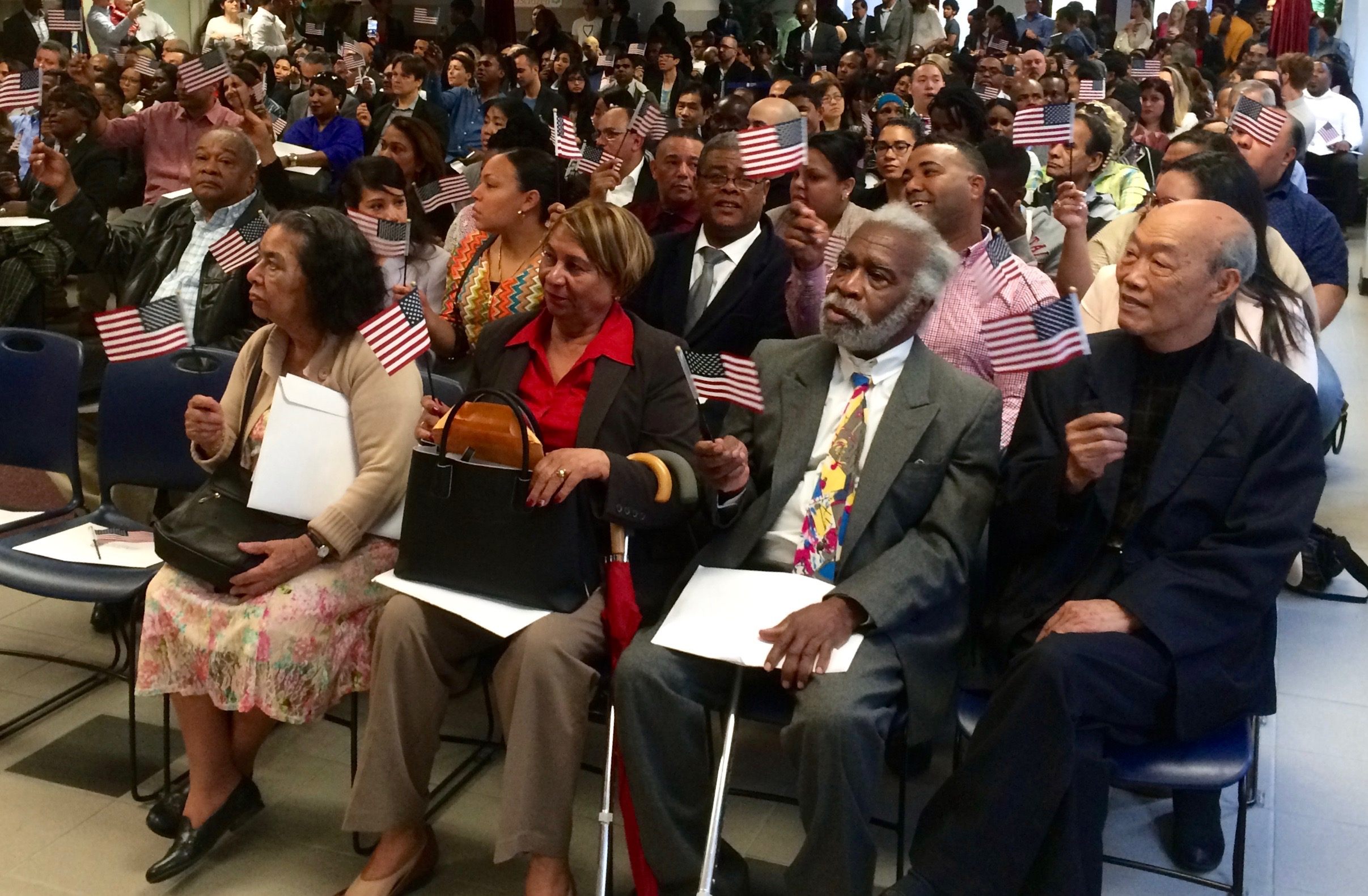 76 year old Yun Feiwang waves his new flag.
Next to him is a Jamaican man of similar age, with his hair tied into a tight gray bun. He tells me he's been in the U.S. for 46 years, though spent most of his time at sea as a merchant marine working the engine rooms of chartered ships.
Yun cuts in to ask me something that I don't quite understand, so I just nod and say yes, and then the ceremony begins.
Waheed, the guest speaker, talks about her parents, who immigrated from Pakistan, and how learning their story changed what she saw for herself and others, how it allowed her to dream bigger.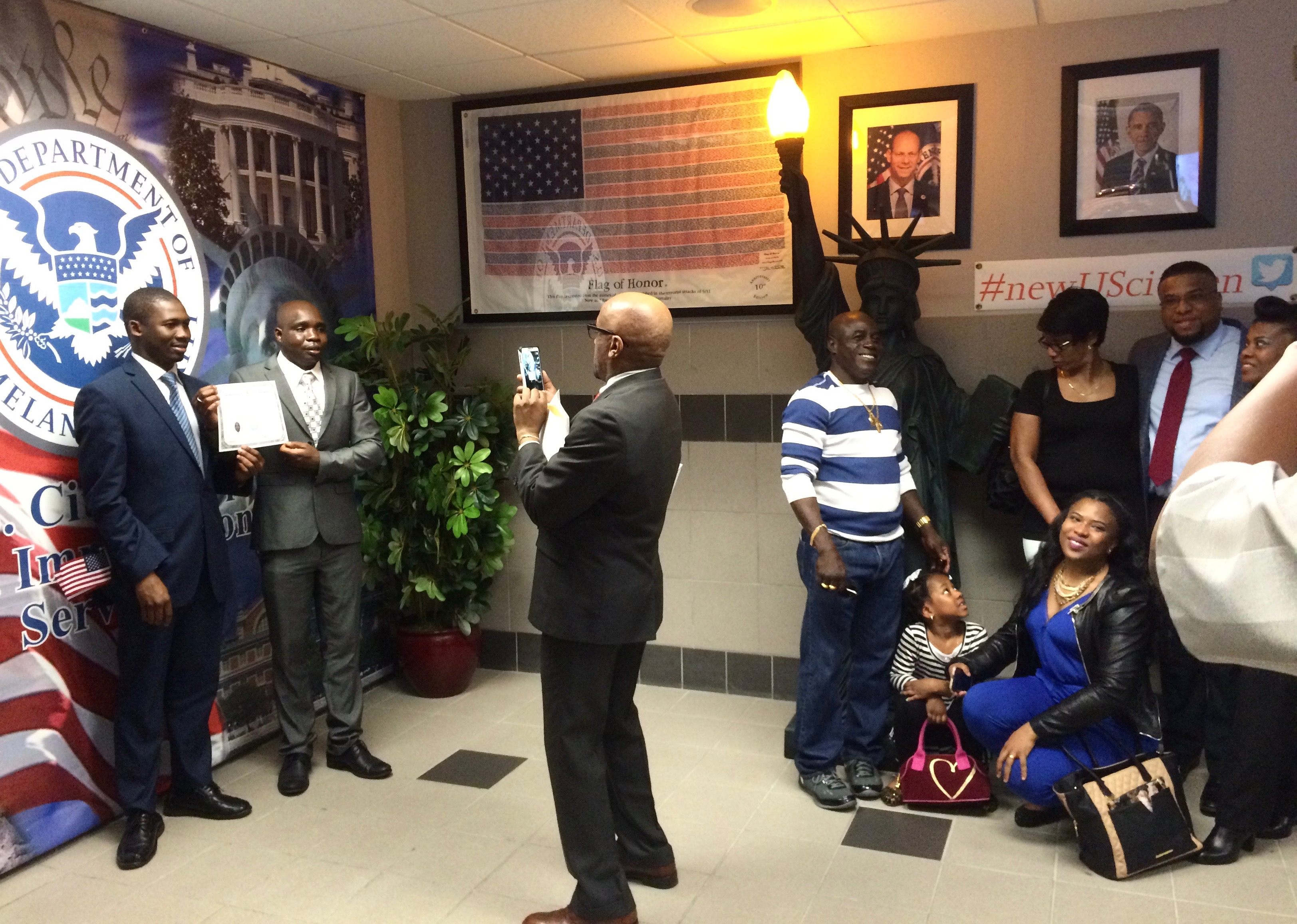 New day, new country.
"There are similarities in our differences—and strength and power in our ability to relate to each other, to understand each other, and to unite in having each other's backs and moving forward," says Waheed. She emphasizes the importance of documenting our histories by continuing to tell stories, lest they get lost.
Afterwards, the certificates are passed out, each new citizen getting his or her photo taken with Inouye and Waheed before sitting back down for Obama's message and the Pledge of Allegiance.
Yun lifts his arm and holds up his new piece of paper. "Is this the certificate?" he asks me. "Yes!" I confirm. Even in an age of technology, it is a critical possession. Presentation of the physical certificate is required to open those doors to liberty and justice for all.
Photos are once again taken, and new citizens file out of the room, and into their country.