3D Paper Art: Pop-Ups and Paper Engineering With Yoojin Kim
Thu, Oct 27, 2022
4 sessions
$245 per person
Up to 25 people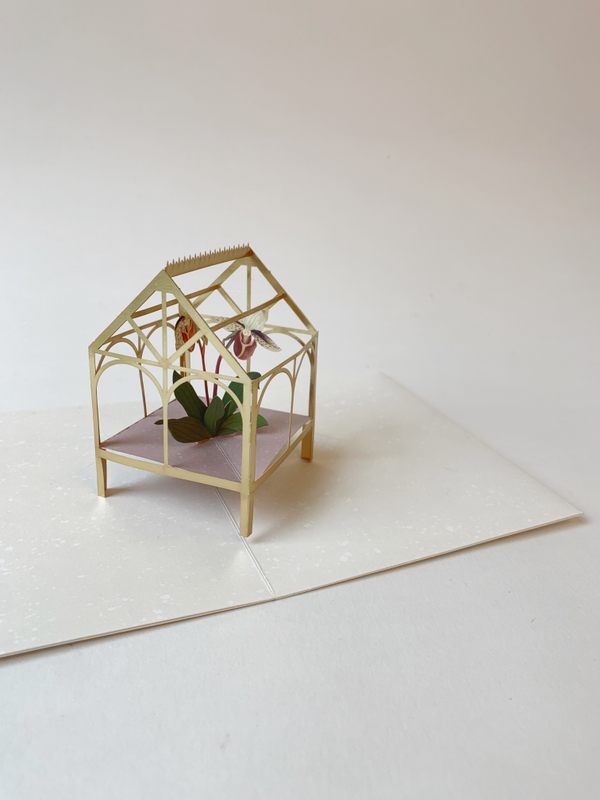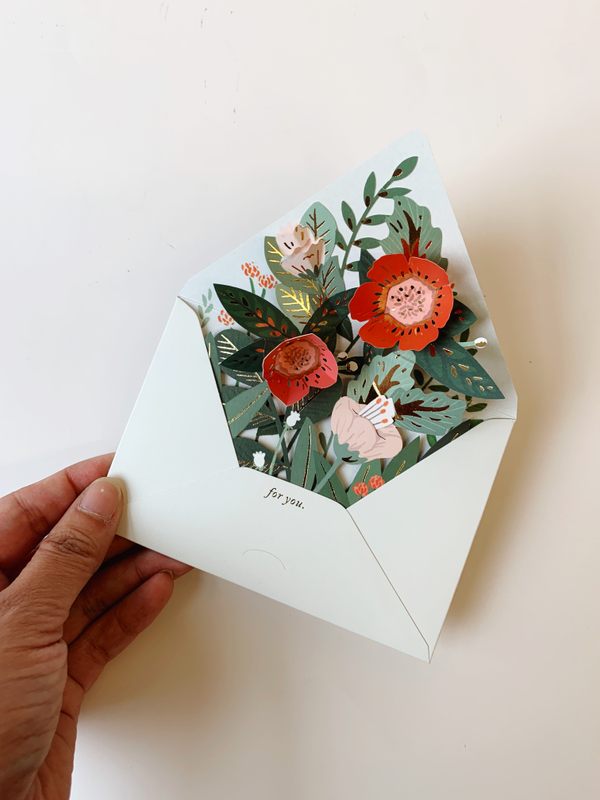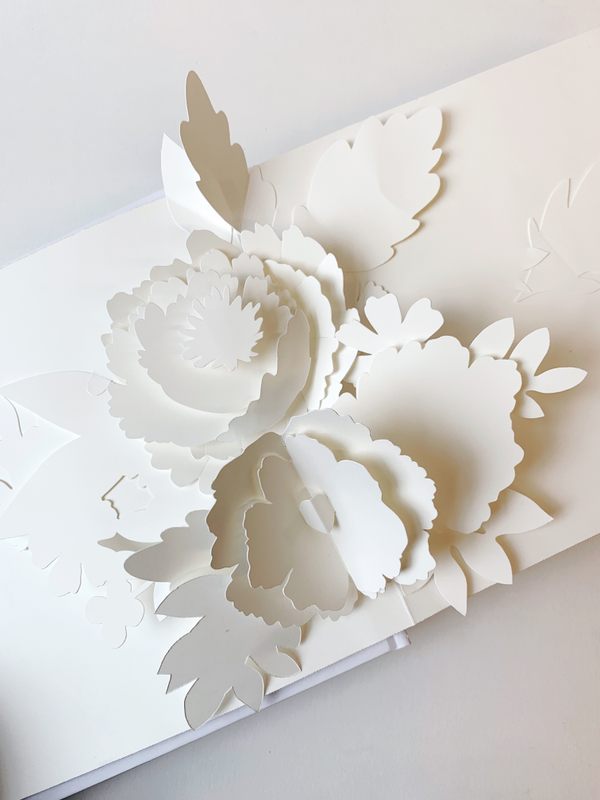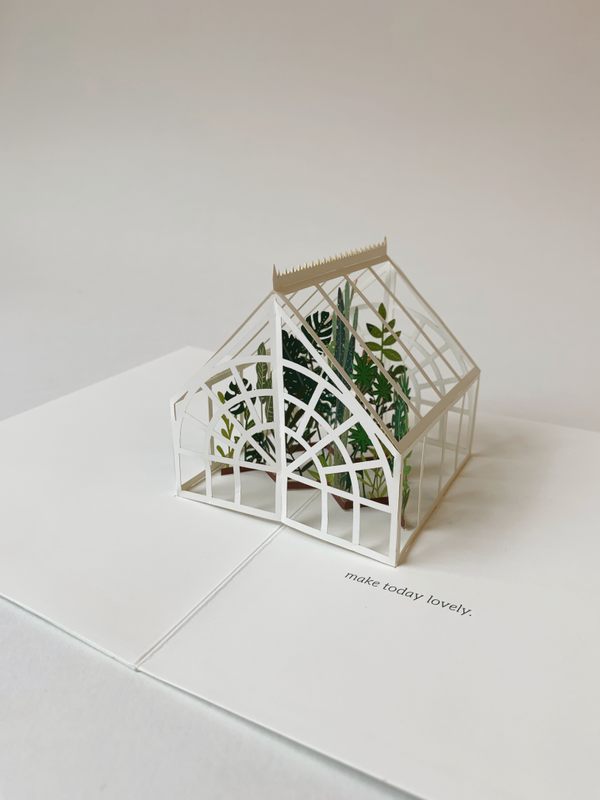 What We'll Do
In this four-part seminar, learn how to craft a variety of pop-ups and 3D paper structures.
Course Description
Paper may seem like a humble medium, but each sheet holds the potential to transform into something fascinating, complex, and three-dimensional. In this digital era, paper art and pop-ups can add an element of tactility and human interaction to the written word. In this course, we'll explore the many movements and dimensions you can create with pop-up structures—within books, cards, or on their own. We'll learn to build and modify basic paper engineering models, starting with simple one-sheet box pop-ups and working our way up to layered 180-degree self-standing constructions. Templates will be provided so everyone can understand and explore a wide range of complexities, and examples of how mechanisms are applied to published pop-up books will be shared throughout. At the end of the course, we'll bind all of the pop-up models into a book.
Syllabus At A Glance
This course includes four total sessions each lasting for 2 hours. 
Summer Section A: Meets Wednesdays starting September 14.
Session 1 (Wednesday, 9/14, 7–9:00 PM ET): Intro to Paper Engineering: Tools, templates, and 1-sheet pop-ups
Session 2 (Wednesday, 9/21, 7–9:00 PM ET): Building Multi-Piece Pop-Ups: Complex structures
Session 3 (Wednesday, 9/28, 7–9:00 PM ET): Modifying Your Pop-ups: Adding variation
Session 4 (Wednesday, 10/5, 7–9:00 PM ET): Creating a Book: Binding your work together
Fall Section A: Meets Thursdays starting October 27.
Session 1 (Thursday, 10/27, 7–9:00 PM ET): Intro to Paper Engineering: Tools, templates, and 1-sheet pop-ups
Session 2 (Thursday, 11/3, 7–9:00 PM ET): Building Multi-Piece Pop-Ups: Complex structures
Session 3 (Thursday, 11/10, 7–9:00 PM ET): Modifying Your Pop-ups: Adding variation
Session 4 (Thursday, 11/17, 7–9:00 PM ET): Creating a Book: Binding your work together
Between Sessions
Between sessions, students will be expected to pre-cut and score their pop-up templates so we can focus on construction and theory during class. Depending on experience and the template chosen, this can take anywhere from a few minutes to a few hours.
Course Materials
Scissors
X-acto knife with extra blades
Self-healing cutting mat (8.5 x 11 or larger)
Ruler
Bone folder
Scoring tool (can be an old pen without ink or a knitting needle)
Glue (acid-free tacky glue)
Letter-sized card stock paper (any color)
Collage materials and coloring supplies (optional)
Pricing Options
In addition to full-price tickets, a limited number of no-pay spots are available for this course. Please note that these tickets are reserved for those who would not otherwise be able to take this course and who expect to attend all sessions. No-pay spots are distributed via a randomized drawing two weeks before each course begins. For more information and to apply for a no-pay spot, please click here. To learn more about our pricing model and randomized selection process for no-pay spots, please visit our FAQ page. 
Community Guidelines for Students
Please take a moment to review our community guidelines for students, which aim to share our classroom ethos and help set the stage for the best possible learning experience.
Atlas Obscura Online Courses
Atlas Obscura Courses offer opportunities for participants to emerge with new skills, knowledge, connections, and perspectives through multi-session classes designed and taught by expert instructors. To learn more about our current course offerings, please visit www.atlasobscura.com/online-courses. For answers to commonly asked questions, check out our FAQ page here.
Founded in 2009, Atlas Obscura created the definitive community-driven guide to incredible places across the planet and is now an award-winning company that shares the world's hidden wonders in person and online.
Where We'll Be
Once registered, you'll receive a confirmation email from Eventbrite that will provide access to each class meeting. Please save the confirmation email as you'll use it to access all sessions of your course via Zoom.
About Your Instructor
Yoojin Kim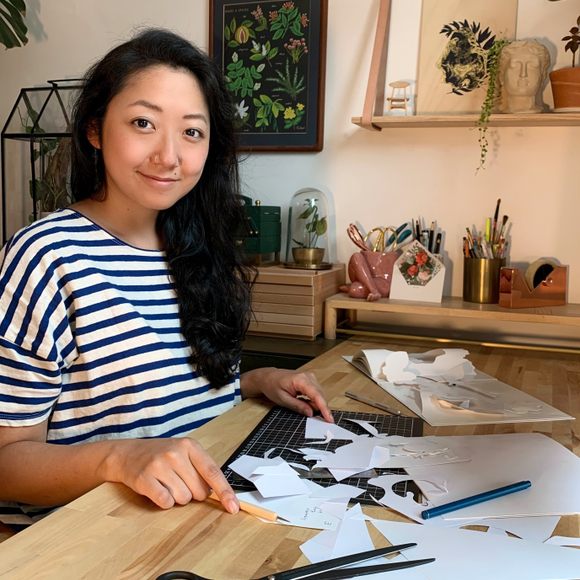 Yoojin Kim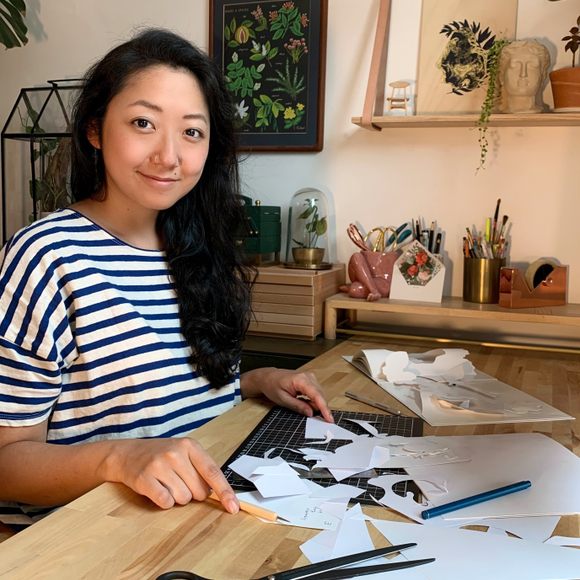 Yoojin Kim is a paper engineer, designer, and world traveler. Her wanderlust and fascination with flora and fauna is evident in her work, which is heavily influenced by both the geometric and organic structures found in nature. She holds a BFA in Printmaking from Maryland Institute College of Art and spends her time designing dimensional products for personal and commercial clients. She currently works as a paper engineer and art director at UWP Luxe & Up With Paper. She resides in a cozy New Haven apartment with her curious hedgehogs.
What Else You Should Know
This is an interactive, small-group seminar that meets over Zoom. Students may be encouraged to participate in discussions, work on assignments outside of class, and workshop projects with their instructor or classmates. Due to the interactive nature of this course, we strongly recommend students attend as many live sessions as possible. Within 72 hours after each session meets, students will receive access to a recording of the live session, which they can watch for up to two weeks after the course concludes.
Instructors may use Google Classroom to communicate with students outside of class. While students aren't required to use Google Classroom, instructors may use this platform to post resources, discussion questions, or assignments. This platform also offers a space for students to connect with one another about course material between sessions. 
We provide closed captioning for all of our courses and can share transcripts upon request. Please reach out to us at experiences@atlasobscura.com if you have any questions, requests, or accessibility needs.
Group Size
There are 25 spots available on this experience.