All the Small Things: Crafting a Miniature Abandoned Room With Amanda Kelly
Tue, Jun 27, 2023
5 sessions
$225 per person
Up to 28 people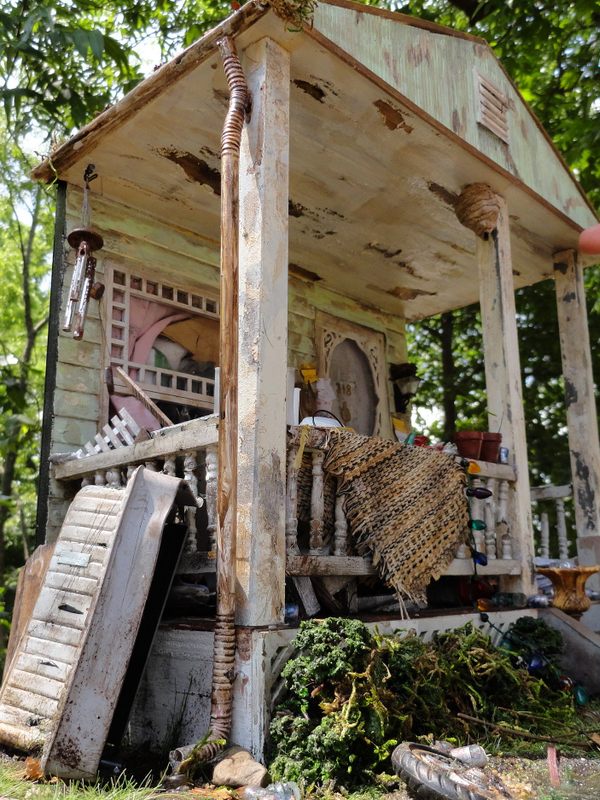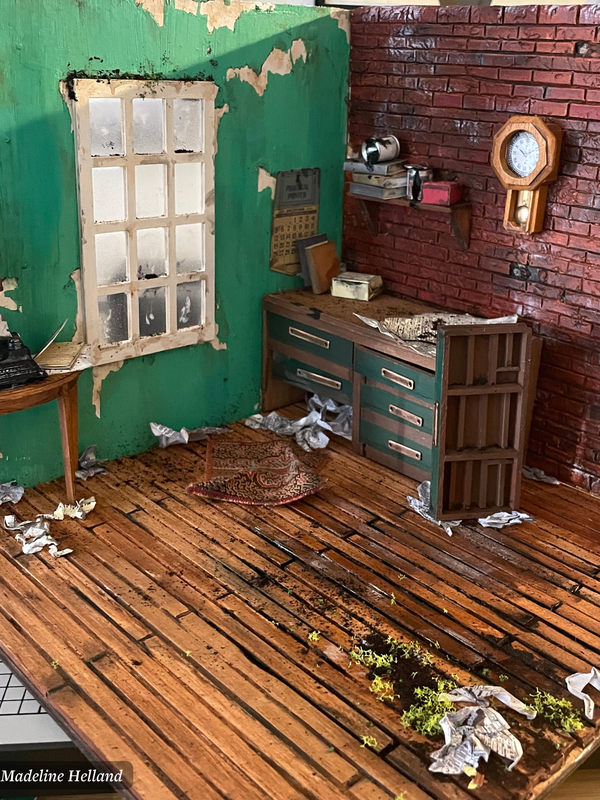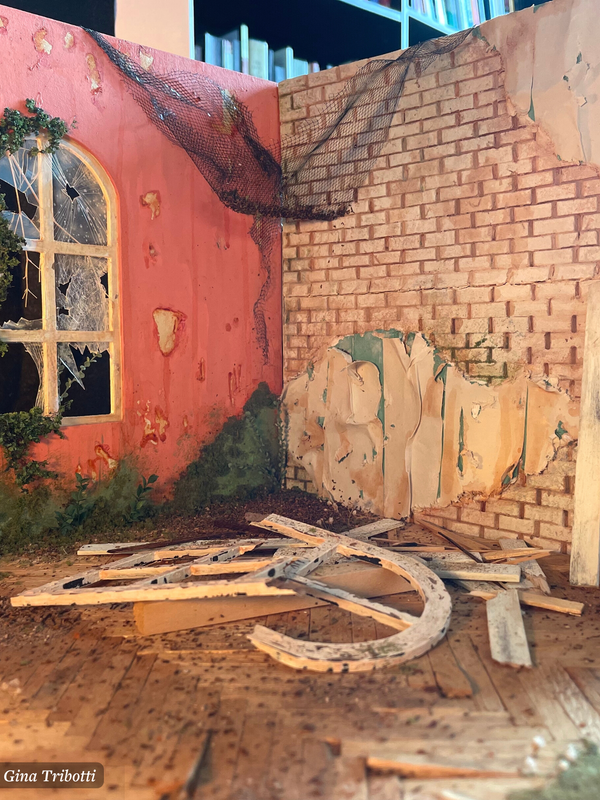 What We'll Do
In this 5-part seminar, learn the basic techniques of miniature-making while crafting a tiny, abandoned room of your own.
Course Description
The craft of making miniatures is a centuries-old art form that stretches far beyond the realm of pastimes and hobbies. Miniatures have been used across mediums and fields from film and advertising to fine art and even forensics. In this workshop led by artist and miniaturist Amanda Kelly of Panda Miniatures, we'll learn the basic techniques of crafting miniatures while building a tiny replica of an abandoned site—a small stage upon which some morsel of history or imagined narrative has taken place. Drawing on a variety of distressing techniques, we'll learn how to create realistic impressions of textures like brick, peeling paint, and wood on an old plank floorboard. Along the way, you'll have the opportunity to include your own personal touch by adding tiny trash, clutter, and leaves. Whether you're a complete beginner or have some experience building miniatures, you'll leave this course with a tiny, abandoned room for you to furnish, and in a way, narrate, as you like.  
Syllabus at a Glance
This course includes five total sessions, each lasting two hours.
Spring Section A: Meets Tuesdays starting June 27, skipping July 4.
Session 1 (Tuesday, 6/27, 7-9:00 PM ET)| Introduction to Miniatures: Scale, supplies, and laying a floor
-week off-
Session 2 (Tuesday, 7/11, 7-9:00 PM ET)| Liquid Latex & Toothpicks: Creating a brick wall and peeling paint
Session 3 (Tuesday, 7/18, 7-9:00 PM ET)| Bricks & Planks: Painting and distressing techniques
Session 4 (Tuesday, 7/25, 7-9:00 PM ET)| Making a Mess: Creating clutter and leaves
Session 5 (Tuesday, 8/1, 7-9:00 PM ET)| Abandoned) House Warming: A celebratory show-and-tell of our finished rooms and final discussion
Between Sessions
Students will be expected to wrap up anything that wasn't completed during class and prepare materials for the next session. 
Course Materials
Students are required to purchase a room box ($35), available here. A 20% discount code for the room box will be provided for registered students. A list of additional materials (around $50-75 total) will be sent out to enrolled students closer to the start of this course. 
Pricing Options
In addition to full-price tickets, a limited number of no-pay spots are available for this course. Please note that these tickets are reserved for those who would not otherwise be able to take this course and who expect to attend all sessions. No-pay spots are distributed via a randomized drawing two weeks before each course begins. For more information and to apply for a no-pay spot, please click here. To learn more about our pricing model and randomized selection process for no-pay spots, please visit our FAQ page.
Community Guidelines for Students
Please take a moment to review our community guidelines for students, which aim to share our classroom ethos and help set the stage for the best possible learning experience.
Atlas Obscura Online Courses
Atlas Obscura Courses offer opportunities for participants to emerge with new skills, knowledge, connections, and perspectives through multi-session classes designed and taught by expert instructors. To learn more about our current course offerings, please visit www.atlasobscura.com/online-courses. For answers to commonly asked questions, check out our FAQ page here.
Founded in 2009, Atlas Obscura created the definitive community-driven guide to incredible places across the planet and is now an award-winning company that shares the world's hidden wonders in person and online.
Where We'll Be
Once registered, you'll receive a confirmation email from Eventbrite that will provide access to each class meeting. Please save the confirmation email as you'll use it to access all sessions of your course via Zoom.
About Your Instructor
Amanda Kelly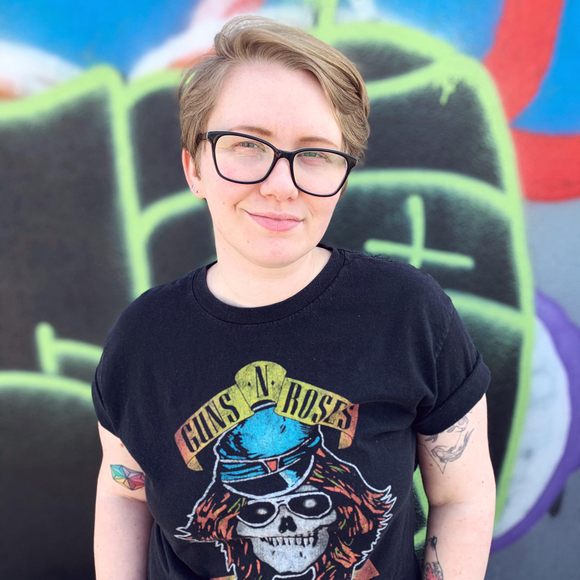 Amanda Kelly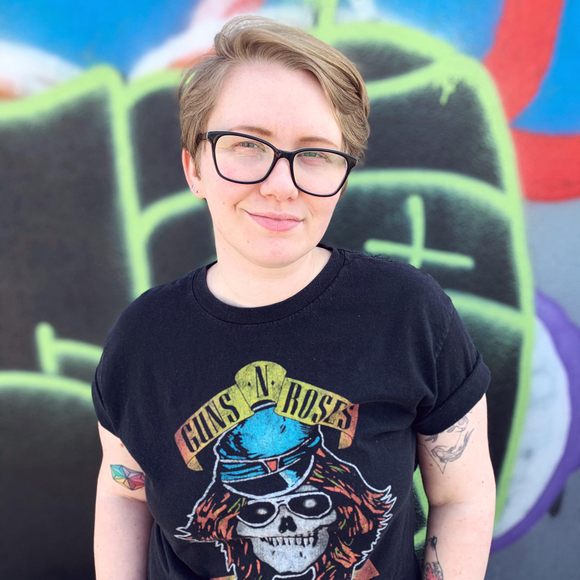 Amanda is currently pursuing her Master's in Fine Arts with a focus on Sculpture at Radford University where she is also a Graduate Teaching Assistant. She has built miniatures for various clients including Coca-Cola, Disney, and Netflix. Her work has been featured in art galleries and museums including The Museum of Museums in Seattle, the Greenpoint Gallery in Brooklyn, and the Floyd Center for the Arts in Floyd, VA. In 2020, she was a finalist on the HGTV show Biggest Little Christmas Showdown. Originally from New York, Amanda now lives in Virginia with her fiancée and 3 cats.
What Else You Should Know
This is an interactive, small-group seminar that meets over Zoom. Students may be encouraged to participate in discussions, work on assignments outside of class, and workshop projects with their instructor or classmates. Due to the interactive nature of this course, we strongly recommend students attend as many live sessions as possible. Within 72 hours after each session meets, students will receive access to a recording of the live session, which they can watch for up to two weeks after the course concludes.
Instructors may use Google Classroom to communicate with students outside of class. While students aren't required to use Google Classroom, instructors may use this platform to post resources, discussion questions, or assignments. This platform also offers a space for students to connect with one another about course material between sessions. 
We provide closed captioning for all of our courses and can share transcripts upon request. Please reach out to us at experiences@atlasobscura.com if you have any questions, requests, or accessibility needs.
Group Size
There are 28 spots available on this experience.