What We'll Do
In this five-part seminar, learn to craft plants, fungi, and entire woodland scenes out of paper.
Course Description
In this course, learn to give shape to gilled mushrooms, sprawling moss, and clusters of lichen using crepe paper and wire. Join master paper florist Kate Alarcón for a step-by-step overview of building a small woodland scene, learning techniques used for paper botanicals as we go. We'll craft a piece of downed wood, cover it in moss and lichen, nestle a colony of small mycena mushrooms beside it, and plant a gilled mushroom at its base. You'll learn about crepe paper crafting, the basic construction of natural forms, advanced techniques to create naturalistic plants, fungi, and algae, and finishing details to elevate your projects.
This class is intended to be relaxed and designed to be manageable for new crafters, as well as experienced flower-makers looking to learn new techniques.
Please note that in order to ensure students receive their materials in time to participate fully in the course, we close registration a week prior to the course start date and are only able to ship to addresses within the United States at this time. 
Syllabus at a Glance
This course includes five total sessions, each lasting two hours on five consecutive Saturdays beginning March 4. Students must enroll by Sunday, February 26 to receive their materials kit in advance of the first session.
Session 1 (Saturday, 3/4, 4–6:00 PM ET)| Pink Mushroom Colony: An introduction to crepe paper and assembling mushrooms
Session 2 (Saturday, 3/11, 4–6:00 PM ET)| Fallen Wood: Building the wood form and creating fine bark details
Session 3 (Saturday, 3/18, 4–6:00 PM ET)| Moss, Lichen, and Fallen Leaves: Crafting and placing clusters along our log base
Session 4 (Saturday, 3/25, 4–6:00 PM ET)| Gilled Mushrooms: Crafting our protagonist-fungus and giving it a luxuriant set of gills
Session 5 (Saturday, 4/1, 4–6:00 PM ET)| Final Touches: Assembling our pieces into a single arrangement
Between Sessions
While there won't be any required homework, those looking to do some extra crafting between sessions can expand on projects begun during any given class (for example, creating additional mushrooms and moss). Regardless, you should be able to complete a finished arrangement without attending every session and without completing any homework. 
Course Materials
This cost of this course includes a kit, which will be shipped to you prior to the first day of class. The kit will include paper, paper straws, cosmetic sponges, an orange stick, a foam craft brush, a small paint brush, and wire. Please note we're only able to ship materials to students living in the U.S. at this time. Students must enroll by Sunday, February 26.
In addition to the materials included in your kit, you may want to make sure you have the following supplies:
Optional: 
Pin frogs for styling (optional)
Pricing Options
In addition to full-price tickets, a limited number of no-pay spots are available for this course. Please note that these tickets are reserved for those who would not otherwise be able to take this course and who expect to attend all sessions. No-pay spots are distributed via a randomized drawing two weeks before each course begins. For more information and to apply for a no-pay spot, please click here. To learn more about our pricing model and randomized selection process for no-pay spots, please visit our FAQ page. 
Community Guidelines for Students
Please take a moment to review our community guidelines for students, which aim to share our classroom ethos and help set the stage for the best possible learning experience.
Atlas Obscura Online Courses
Atlas Obscura Courses offer opportunities for participants to emerge with new skills, knowledge, connections, and perspectives through multi-session classes designed and taught by expert instructors. To learn more about our current course offerings, please visit www.atlasobscura.com/online-courses. For answers to commonly asked questions, check out our FAQ page here.
Founded in 2009, Atlas Obscura created the definitive community-driven guide to incredible places across the planet and is now an award-winning company that shares the world's hidden wonders in person and online.
Where We'll Be
Once registered, you'll receive a confirmation email from Eventbrite that will provide access to each class meeting. Please save the confirmation email as you'll use it to access all sessions of your course via Zoom.
About Your Instructor
Kate Croghan Alarcón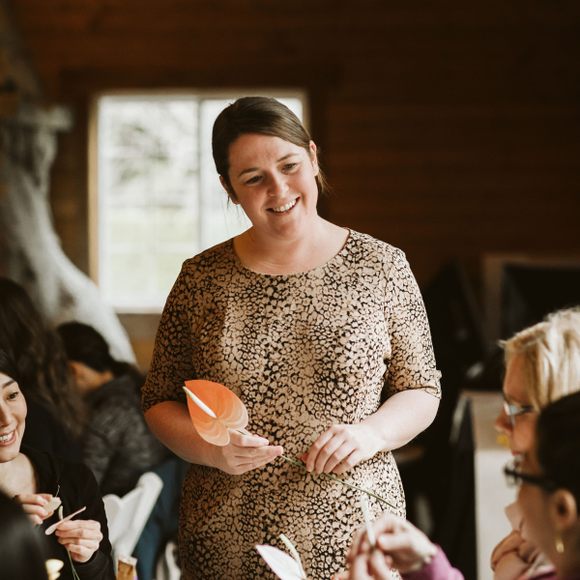 Kate Croghan Alarcón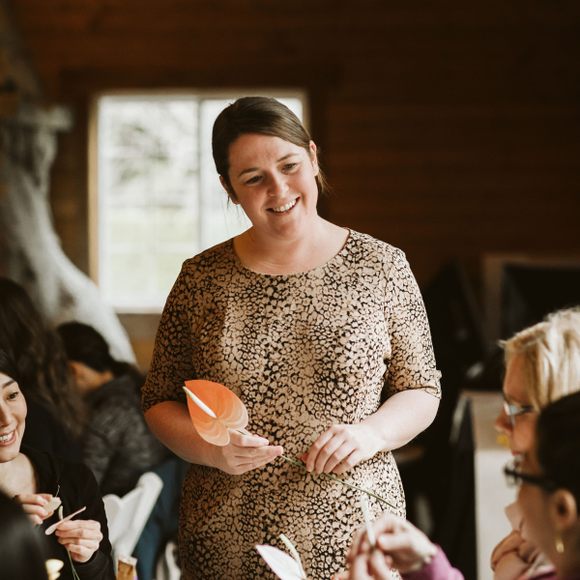 Kate Alarcón is a master paper florist, specializing in unusual paper botanicals. She is the author of the book, Uncommon Paper Flowers with Chronicle Books. Through her business, The Cobra Lily, she teaches flower crafting in virtual and in-person workshops. Her work has appeared in the New York Times, Martha Stewart Living, Seattle Met Bride and Groom, and Design*Sponge. She lives just outside Seattle, surrounded by woodland inspiration.
What Else You Should Know
This is an interactive, small-group seminar that meets over Zoom. Students may be encouraged to participate in discussions, work on assignments outside of class, and workshop projects with their instructor or classmates. Due to the interactive nature of this course, we strongly recommend students attend as many live sessions as possible. Within 72 hours after each session meets, students will receive access to a recording of the live session, which they can watch for up to two weeks after the course concludes.

Instructors may use Google Classroom to communicate with students outside of class. While students aren't required to use Google Classroom, instructors may use this platform to post resources, discussion questions, or assignments. This platform also offers a space for students to connect with one another about course material between sessions. 
We provide closed captioning for all of our courses and can share transcripts upon request. Please reach out to us at experiences@atlasobscura.com if you have any questions, requests, or accessibility needs.
Group Size
There are 25 spots available on this experience.