A Brief History of Rock Stars Destroying Guitars
From Pete Townshend to Caleb Followill.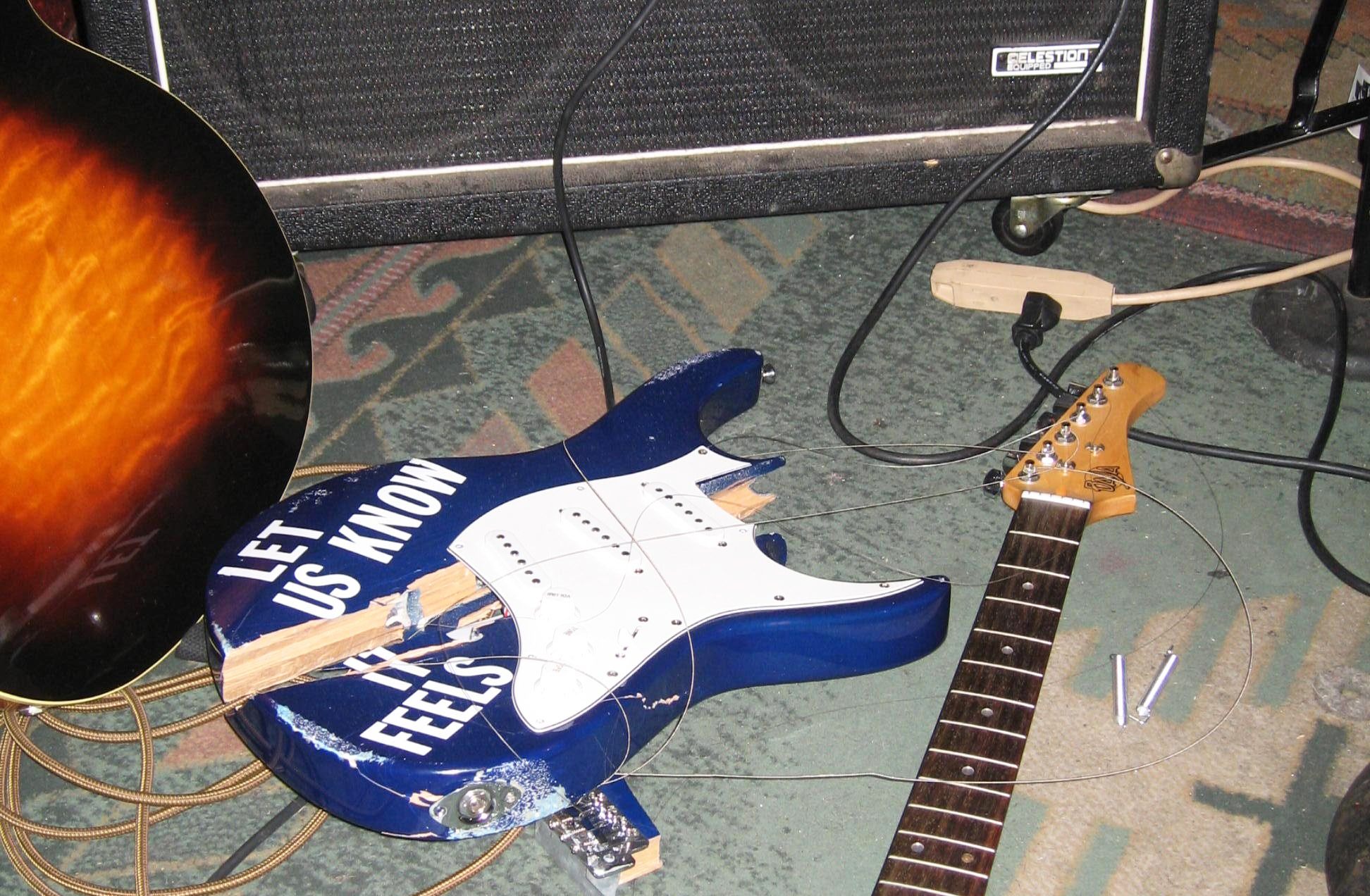 A damaged guitar. (Photo: Jmann7702/Public Domain)
A version of this post originally appeared on the Tedium newsletter.  
It's not often that we get to say, "Poor Bryan Adams," but a recent experience he dealt with at an Egyptian airport was definitely worthy of that phrase.
Adams, the artist behind most of our important schmaltz-rock, had most of his instruments tagged by Egyptian customs officials who couldn't care less whether they were handling a 1957 Martin guitar or a guitar promoted by the guy from Maroon 5.
Adams was heartbroken, but in his honor, we're gonna cut him off a little slice of heaven.
Adams is far from the first artist to have a damaged guitar, and he's certainly not the first to get it damaged at the airport. Herein: A history of broken guitars, from the accidental to the stage-smashing intentional.
The Who performing in Toronto, 1980. (Photo: Jean-Luc Ourlin/CC BY-SA 2.0)
The story of guitar damage, of course, starts with Pete Townshend, The Who's world-smashing guitarist.
The first time he broke a guitar on stage, it was basically an accident—working on a stage with a low ceiling, he cracked the headstock on his Rickenbacker, then decided to follow through with the destruction. But the crowd's response to his guitar-smashing capabilities led him to eventually start cracking six-strings at almost every show.
According to an analysis by TheWho.net, Townshend broke more than 35 guitars in 1967 alone. (In case Bryan Adams is reading this, one other factoid: During the summer of '69, Pete broke just three guitars.)
Townshend learned not to throw a lot of sentimental value into his rock machines, but every axe-grinder has their own approach to the guitar-destruction process. And yes, they do get their broken guitars repaired, generally.
Some, like Kurt Cobain, made an artform out of guitar destruction. Cobain was a notable user of cheap guitars of all sorts, and he left a trail of busted amps that went back for miles.
Perhaps the most famous guitar the Nirvana frontman destroyed was a Fender Stratocaster built in Japan, which he smashed while in the studio recording "Endless, Nameless" on Nevermind.
The guitar was eventually repaired, but around the time Nevermind was released, he smashed the guitar again during a live performance of "Endless, Nameless" in Chicago. The smashed guitar is currently on display at the EMP Museum in Seattle.
Others, meanwhile, destroy a guitar they love in a moment of anger.
After a frustrating bout with busted sound, Caleb Followill tore apart his vintage Gibson guitar on stage.
Caleb Followill on stage with his band Kings of Leon. (Photo: Julio Enriquez/CC BY 2.0)
Problem was, it was a Gibson ES-325, a guitar with massive sentimental value that he frequently plays at shows.
Fortunately, Gibson helped him out and repaired it for him, ensuring he'd be able to play "Sex On Fire" for another day.
Muse's Matthew Bellamy, in the meantime, smashed 140 six-strings druing a 2004 tour, setting a Guinness record.
Occasionally, though, he breaks a guitar he really likes. That guitar, the Manson Red Glitter, was heavily used by Bellamy, in part because it had a built-in MIDI touch pad. After repeated abuse, the six-string was eventually damaged beyond repair on tour because of a stage malfunction.
His solution? He's a rock star; he just bought a new one.
Slash performing with his band Velvet Revolver. (Photo: Freedom to Marry/CC BY 2.0)
Guns 'n' Roses and Velvet Revolver axeman Slash (who has a whole Facebook page dedicated to his guitars, complete with 100,000 fans) would never have this problem, because of a smart decision he made in 1988.
Deciding that the expensive replica Les Paul guitars that he used on Appetite for Destruction wouldn't be safe on the road, he bought two "factory second" six-strings that he could beat up on tour.
One of them has pretty much lived as hard as Slash has—its neck has been broken numerous times and it has a number of cigar burns right on the body. But he still plays it all the time. (He can't play the other; it was stolen from his apartment in 1995.)
Perhaps the saddest tale of guitar damage comes from The Black Crowes. When Hurricane Sandy hit the East Coast in 2012, the band's storage facility in New Jersey faced a direct hit. A huge number of the band's guitars, amps, and other instruments—60 in all—were damaged and nearly destroyed.
That led the band to reach out to a few luthiers who could salvage their treasured instruments. RS Guitarworks played a key role in saving Rich Robinson's Gibson ES-335.
A Gibson Les Paul. (Photo: Chris Combe/CC BY 2.0)
"They had to put it in a dry room, get rid of all the mold, take everything apart and refinish—basically rebuild the guitar. It came back all original," Robinson told Music Radar in 2014.
One thing to remember: If you're going to destroy a guitar, make sure it's not valuable.
During the shooting of The Hateful Eight last year, Kurt Russell failed to heed this advice, and as a result, he smashed an 1870s-era Martin guitar.
He assumed it was an inexpensive prop. It wasn't, and Russell destroyed the guitar before anyone had the chance to replace it with a cheap equivalent. (Jennifer Jason Leigh, who was playing the guitar seconds before it was smashed, was aware of its value. She was horrified.)
When the Martin company, who loaned the guitar to the Quentin Tarantino film, found out about the situation, they decided to ban any other movie from borrowing its guitars for any reason.
"We can't believe that it happened. I don't think anything can really remedy this. We've been remunerated for the insurance value, but it's not about the money," said Dick Boak, the director of the Martin Guitar Museum, in an interview with The Independent. "It's about the preservation of American musical history and heritage."  
Another company with a bad run-in with guitar breaking? United Airlines, who met their match in 2009 after mishandling a $3,500 Taylor guitar belonging to Dave Carroll, a Canadian singer-songwriter. Carroll fought back, of course, with music:
That song created a PR nightmare for the airline, even affecting its stock price; it eventually scored over 15 million views on YouTube.
"My God, they're throwing guitars out there," a lyric from the song goes. "The band and I exchanged a look, best described as terror."