A Devilishly Detailed Map of the Most Hellish Places in America
Or, more specifically, 63 locations named "Hell's Half Acre".
In 1846, a brief item in the New Orleans Daily Picayune entitled "A Hot Quarter" told readers of an unusual neighborhood in Mississippi. "There is a section of the town of Holly Springs, Miss., known as 'Hell's Half Acre,'" the newspaper reported. "We learn this fact from the Guard, published there, although we do not find it upon any map."
This is a familiar refrain, as Hell's Half Acre is one of the most consistent place nicknames in American history. For roughly the next 100 years, the name Hell's Half Acre was applied to scores of places across the United States, from Bangor, Maine, to Honolulu, Hawaii. It spread through war, through westward expansion, through simple word-of-mouth. And yet, as the Daily Picayune noted, it was not often found on the map. What's its story? 
The first instance of its use is unknown but the label was generally attached to areas known for heavy drinking, gambling and prostitution—like a notorious red-light district frequented by cattlemen in late-1800s Fort Worth, a rough-and-tumble corner of rural Kentucky where Harland "Colonel" Sanders got his start as a restaurateur or a corner of Honolulu's Chinatown that gave its name to a 1954 film noir.
"Matters have come to such a pass that a resident of Hell's Half Acre would as soon think of leaving off his pantaloons as neglecting to carry his revolver or razor, and he entertains no fear that he will be caught or punished," according to an 1887 article in the Nashville Daily American about the Hell's Half Acre in that city. "The fear of law has passed away from them."
In other cases, the name was given to forbidding natural landscapes that were difficult to farm or traverse.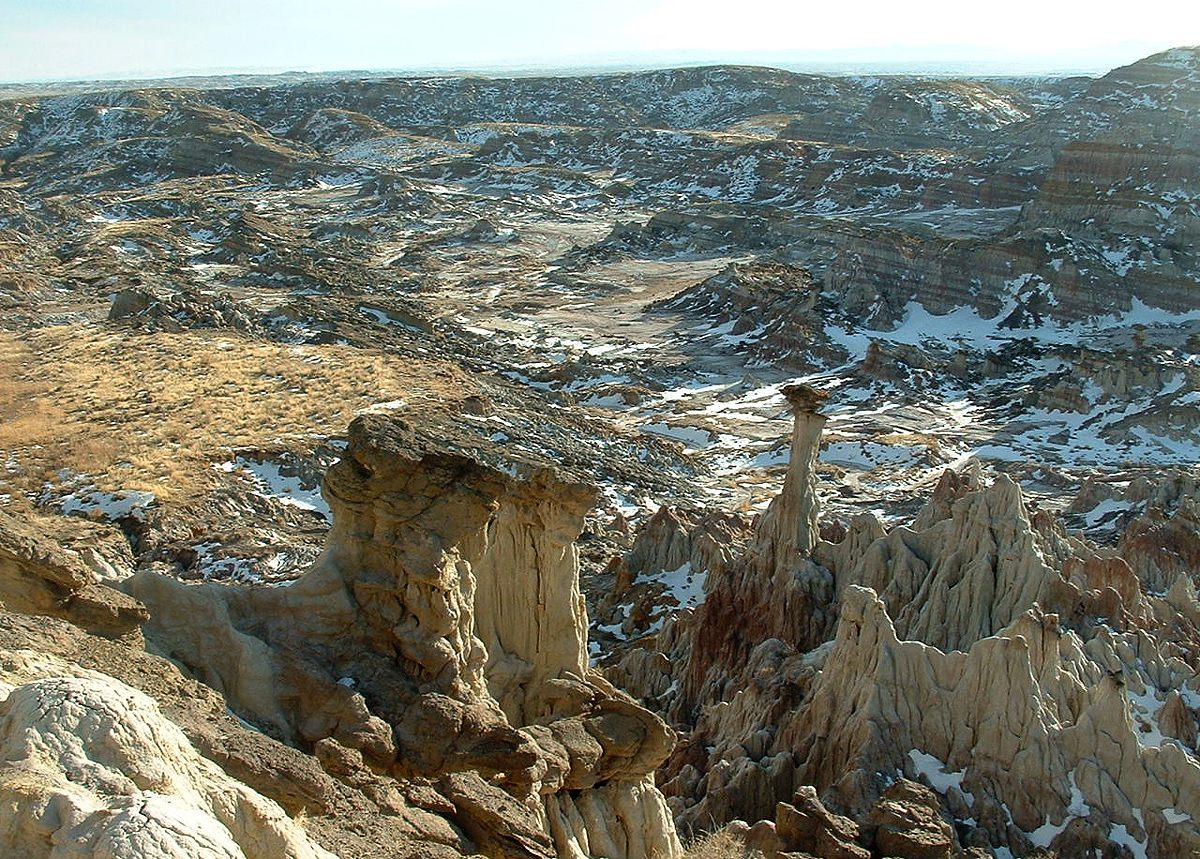 Welcome to Hell's Half Acre, Wyoming. (Photo: Jeff Goetz/CC by 3.0)
"The name has been applied to those vice areas of those communities but also to physical geographical terrain that is also deadly, or very dangerous, or very arduous to try to cross: lava fields and basalt fields and things like that," said Marilyn Hudson, author of Tales of Hell's Half Acre: Murder, Mayhem, and Mysteries of Early Oklahoma and Oklahoma City.
But mostly, newspapers titillated readers while condemning drunkenness and debauchery in Hell's Half Acres that ranged from Wild West-era saloon districts in Texas, Oklahoma and Colorado to poor urban slums, including struggling African-American neighborhoods in the Southeast and white working-class enclaves in Chicago, Philadelphia, Brooklyn and Minneapolis.
The name came to particular prominence after 1863, when soldiers at the brutal Civil War Battle of Stones River near Murfreesboro, Tennessee, dubbed one bitterly contested section of the battlefield "Hell's Half Acre". Both sides saw about a 30 percent casualty rate in the battle overall, but the fighting at that area, more formally known as Round Forest, was particularly devastating for the Confederates, who failed at four attempts to break through Union lines. 
"It was about as vicious a fight on the battlefield as you'll see," says Jim Lewis, a park ranger for the National Park Service at Stones River National Battlefield. "There's a tendency when soldiers survive something that…they start searching out a way to make that fight or that area stand out above the rest."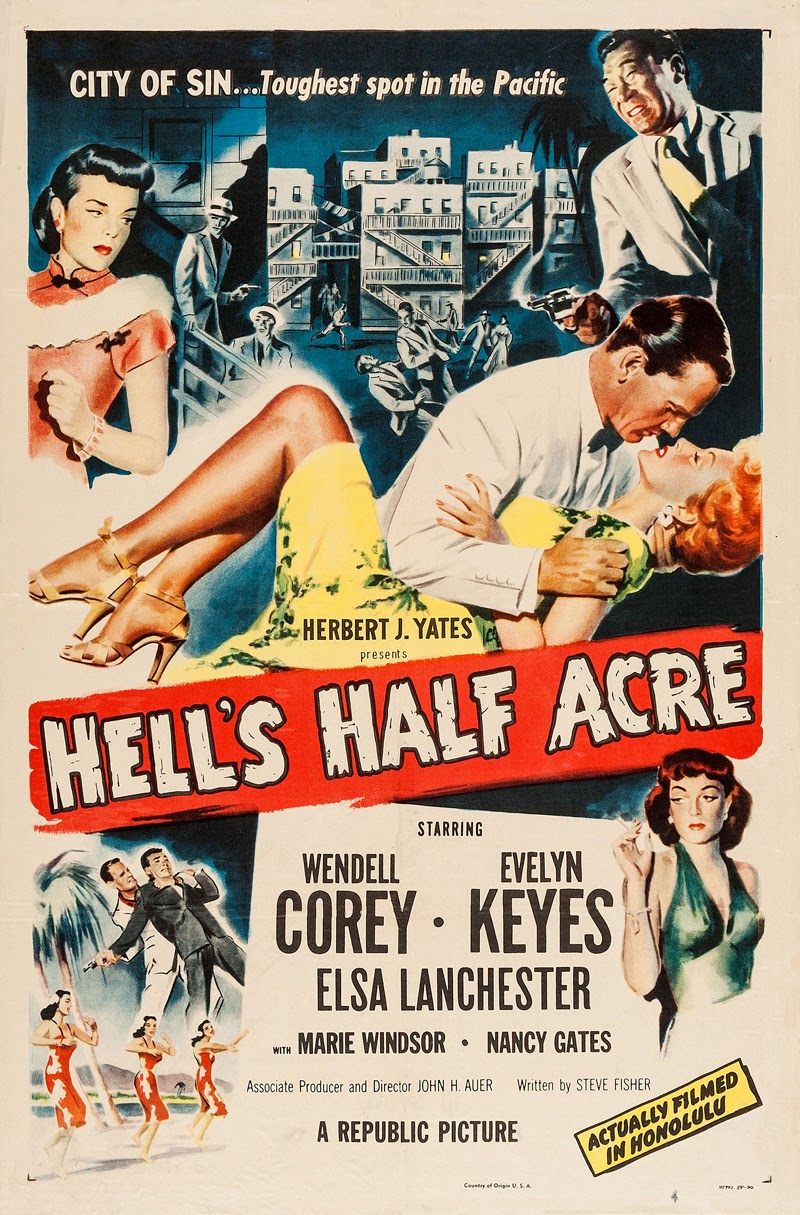 From the 1954 movie. (Photo: Republic Pictures)
After the war, says Texas historian Richard Selcer, Confederate soldiers returning to Texas may have been instrumental in passing the name to the Fort Worth neighborhood offering liquor, prostitution and other entertainment to cowboys driving cattle through the growing city.
"I just think it's a name that kind of rolls of the tongue, and the veterans took it with them," says Selcer, who is the author of Hell's Half Acre: The Life and Legend of a Red-Light District. "A place like Hell's Half Acre in Fort Worth, which was the red-light district, had its share of bloodshed, excitement, uproar, death and destruction."
The name first appeared in a local paper in 1874, Selcer wrote in an article for the Texas State Historical Association, and the neighborhood quickly expanded with the arrival of railroad service in Fort Worth. By 1881, it actually spread over multiple acres convenient to the city's Union Station train depot.
"At that time, it's a playground, amusement center, whatever for cowboys and buffalo hunters and gamblers who liked to call themselves sporting men," he said. "And that kind of people found a convenient place to operate and set up shop."
The name soon came to refer to similar areas throughout the West, Selcer said, just as cemeteries across the region were given the moniker Boot Hill.
Traveling cowboys could arrive in a new town and ask for directions to "The Acre," and even the names of individual saloons were often deliberately copied from place to place to make them feel at home, Hudson said.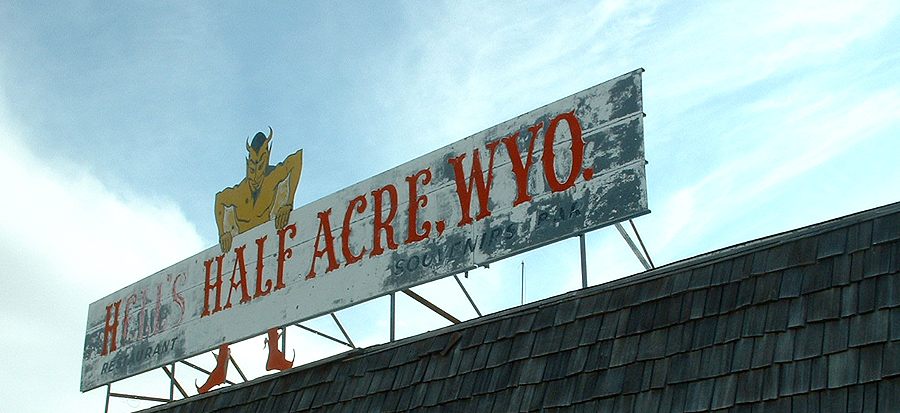 More from the Wyoming branch. (Photo: Jeff Goetz/CC BY-SA 3.0)
"I think it really came into its own in the Old West, because it kind of was just very picturesque and very descriptive of [that] kind of rough and tumble rowdy existence," she says. "Their own existence—they lived in Hell, so when they got some free time and they got the opportunity to have a drink and take their boots off and see a pretty woman, they wanted to raise Hell too."
Later on, during Prohibition, a community on the outskirts of East Liverpool, Ohio, earned the name Hell's Half Acre from its reputation for bootlegging, gambling and prostitution. Its spot along the Pennsylvania border reputedly made it a headache for law enforcement officials from both states.
And in Oklahoma City and other Oklahoma land rush boomtowns created after the federal government opened the area to settlement in 1889, there just wasn't much in the way of law enforcement for the first few years, said Hudson, and settlers looking for alcohol, prostitution and gambling quickly formed a Hell's Half Acre of their own.
"In that first year, basically Oklahoma City operated without any official law," she said. "The only law were the few federal marshals that were also trying to cover the entire area and the military units that were temporarily stationed near the city."
In some more established areas, areas called Hell's Half Acre came under fire not just for vice but for violating social mores around interracial mixing or simply for housing large poor or minority populations. "From time immemorial, the predominating element of Hell's Half Acre has ignored social laws and morals," according to a sensationalist account of an 1896 Natchitoches Parish murder in the New Orleans Daily Picayune. "There has been a mixing of Spanish, Indian, French and negro blood, while intermarriage is extremely common."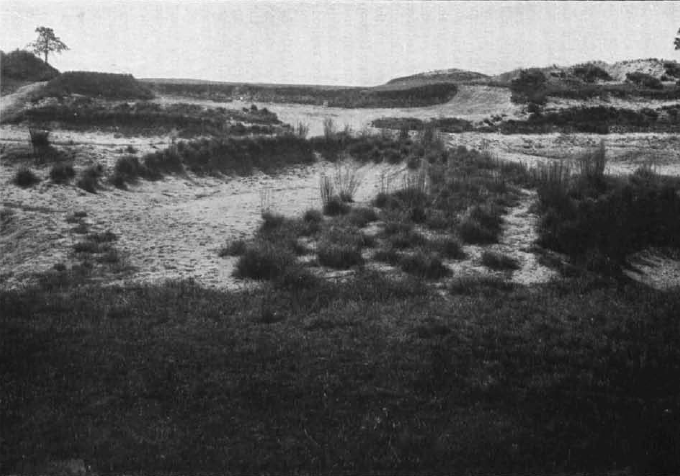 Hell's Half Acre was also name for the bunker on the seventh hole at Pine Valley Golf Club, pictured here in 1921. (Photo: Public domain)
And in Nashville, the Daily American article that claimed neighborhood denizens would as soon be caught pantsless as unarmed also luridly described residents congregating "regardless of sex and color," even within houses of ill repute. In Fort Worth, too, Hell's Half Acre fell under continued suspicion as it transitioned from providing entertainment for cowboys and other transients to catering to African-American and Mexican residents in need of housing and often excluded from other neighborhoods of the city, said Selcer. Ultimately, much of the area's most notorious activities came to a halt during World War I, when Army regulations forbade red-light districts near facilities like Camp Bowie outside of town.
But all around the West, civic leaders in the early 20th century were ready to crack down on their own Half Acres and, whenever possible, wipe the name from the city map, Hudson says.
"Hell's Half Acre is no more; now is law-abiding," read a 1913 headline in the St Louis Post-Dispatch after a licensing crackdown replaced rowdy bars with schools and churches. "Property owners now seek to sue those who in future apply the name."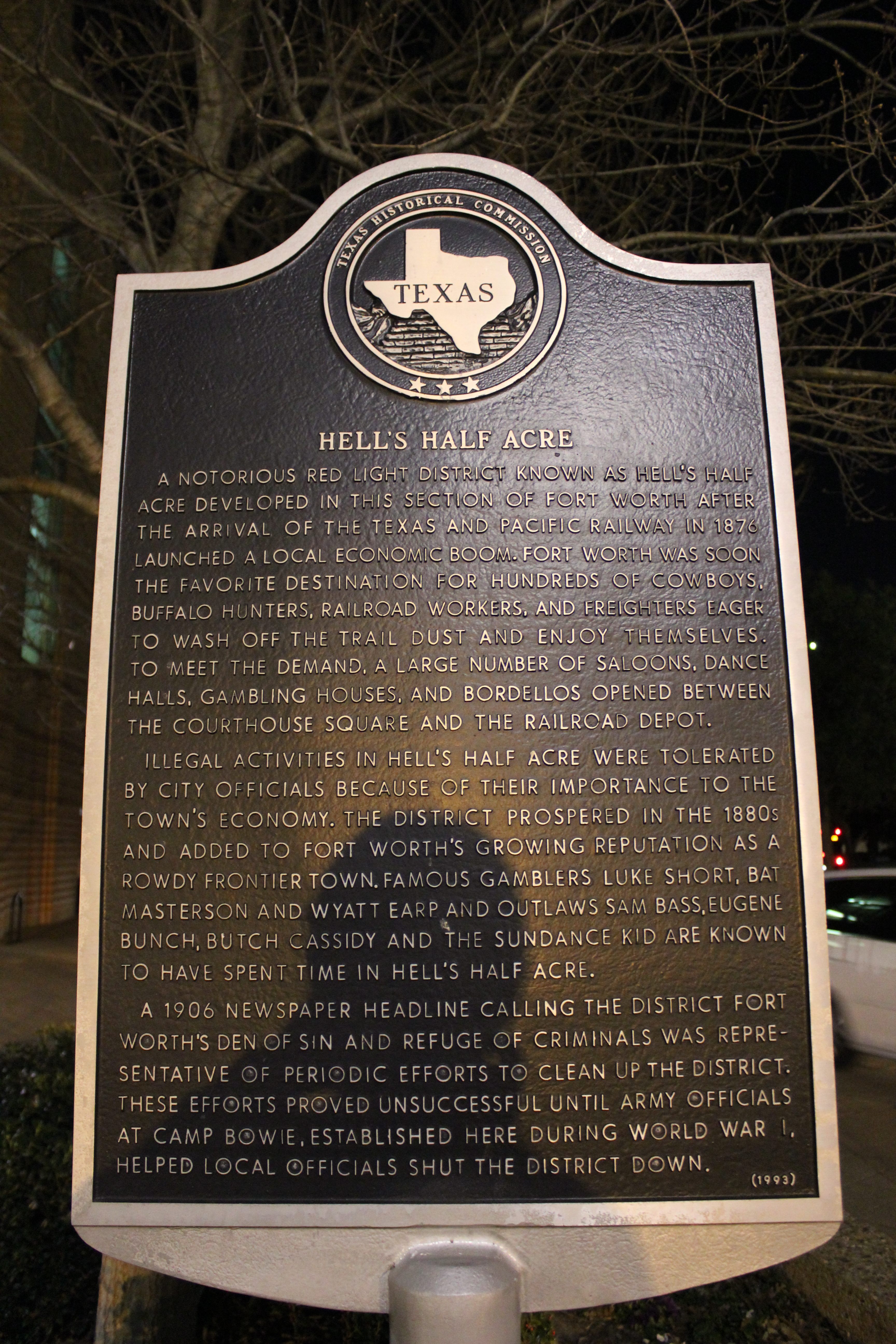 A sign for the Dallas/Ft. Worth half acre. (Photo: Nicolas Henderson/CC BY 2.0)
And even some purely geological features named Hell's Half Acre disappeared from atlases, says Hudson—"I think that just became a [name] that they did not want to associate with themselves or the community any longer." 
Within the next few decades, a fair number of the remaining Half Acres joined impoverished areas around the country in falling to the wrecking ball and bulldozer of urban renewal. Even Fort Worth's sprawling Half Acre was largely demolished to make way for the city's convention center, Selcer said. But in recent years, the name's been somewhat revived by businesses around the country looking to capture the mystique of the old Half Acres: Hell's Half Acre has been the name of at least two lines of craft beer, a handful of rock bands and a Glendale, Arizona, bar.
"After it's gone, all the romance gets attached to it, and people start using the name," says Selcer.