A 'Lost' Church, And a Blogger's Epic April Fool's Day Prank
Ian Mansfield's tools of the trade included a doctored map, a made up newspaper blurb, and photo "evidence."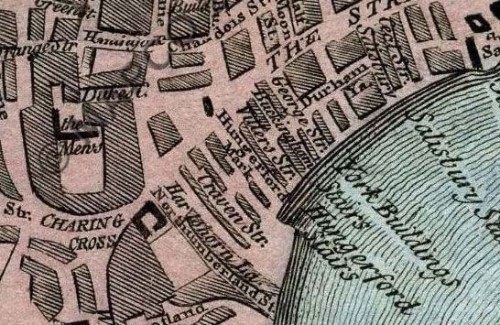 A map provided by Mansfield supposedly showing the "lost church." (Photo: Ian Mansfield)
One April day two years ago, about a dozen people traveled—sometimes for miles—to London's Charing Cross Station for a rare opportunity: the chance to visit a "lost church" buried under the station's parking lot. Ian Visits, a London events listing and local history blog, had published a tantalizing story about the church, known as St. Ēostre without Hungerford, which was open to the public only once per decade.
St. Ēostre without Hungerford, explained the blog's author Ian Mansfield, had been deliberately buried in the 1860s. Built in 1710, it was situated right outside Hungerford Market—in theory, a good location, since the church could benefit from the tithes of wealthy merchants. But Hungerford Market supplied no such thing: it suffered two fires and general financial failure, and the land was eventually sold to the railway company, which had no interest in keeping a church around.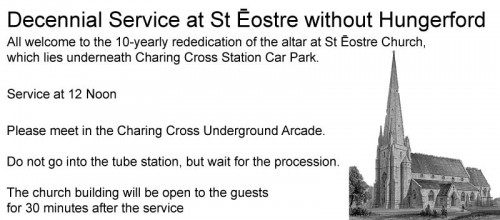 Mansfield's invitation. (Photo: Ian Mansfield)
The government, Mansfield wrote, required the railway company to preserve the historic building, and the company abided by this law—in spirit, anyway. In order to attain a spotless space for the new station without actually damaging St. Ēostre, it raised the land around the church, burying all but its pitched roof (and turning the first floor of many nearby stores into sudden basements). The roof was flattened, and today all that you can see above ground of St. Ēostre is the steeple, which now appears as a free-standing cross in the middle of the Charing Cross forecourt.
Though buried and abandoned, said Mansfield, St. Ēostre was never deconsecrated, and indeed holds rededication services once every ten years. He encouraged blog readers to gather for this unique opportunity, and gather they did—at least, the ones who didn't notice what day it was.
Many readers noted the fact that the article was published April 1. Of those who didn't, some realized that there is no St. Ēostre; Ēostre is cited only once in medieval literature, as the name of a pagan goddess. A few select smartypants might have noted that the church's purported motto, "Stulti vadunt eo quo angeli verentur ingredi," translates to "Fools rush in where angels fear to tread."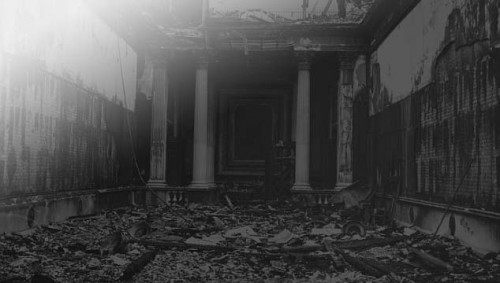 The "lost church." Mansfield said later this was just a random bombed-out building. (Photo: Ian Mansfield)
But not everybody caught on. "About a dozen people turned up—which was a bit unexpected," Mansfield told me by email. He hadn't planned to go to the imaginary service, but changed his mind when he realized that people had been taken in: "It would have been rude not to turn up at least stop people wasting even more time and worrying they were missing 'the event.'"
The media, too, was slow to figure it out. A local paper came calling, but so did the venerable BBC: in the comments to Mansfield's original post, there's a request, "I work for BBC London TV—we'd be really interested in talking to you about this and finding out who's best to contact about getting inside?"
Once they were alerted to their error, the majority of the gullible dozen found it funny, said Mansfield: "Apart from a few comments, generally, most attendees laughed it off." In the post comments, two game readers admit traveling to Charing Cross, though "John Horsman" insisted that he knew what was up all along: "I did come from not very far prepared for it to be an April Fool." "Guy" was taken in, but at least he made a day of it: "I… didn't twig the date and turned up, even [wandered] around beforehand." His comment concludes, "Bravo!"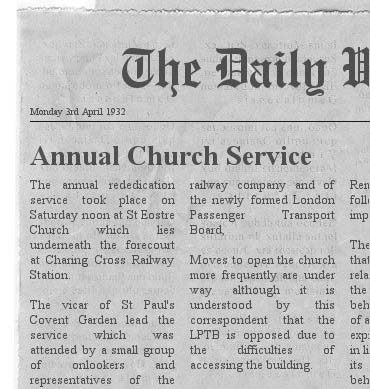 Mansfield even created a fake newspaper item. (Photo: Ian Mansfield)
But at least one commenter was pretty pissed. "Well, cheers," writes one "Stephen McCaig" in the comments section, sarcastically. "My wife contacted me about this great opportunity, and what with the travelling it's 3 hours of a working day wasted. It's one thing being taken in by a newspaper or radio thing and feeling a bit foolish that you believed it, another when it actually wastes your time. You run a great site, Ian, but this leaves a sour taste."
For his part, Mansfield says his motives were pure: he just wanted to bring a little craft and effort back into the art of the April Fool. "Overall, considering most April Fools tend to be silly jokes these days, I wanted to try and do something closer to the grand tradition of April Fools—such as the BBC's spaghetti harvest, or The Guardian's San-Serif holidays," he said. "Reporting it seriously, but with enough hints that most people should twig that something was wrong."
Mansfield's joke may have been a little too plausible; London is full of subterranean marvels and weird bits of history poking through to the surface. But his prank also brought April Fools' back to its roots; as early as 1698, a popular April 1 caper involved convincing your target to travel to the Tower of London "to see the lions washed." The tradition of sending gullible people to imaginary London tourist traps is even older than St. Ēostre without Hungerford—if the latter had ever existed.
(h/t Adrian Bott)