A Breakup Tip From Abraham Lincoln: Just Tell Her Your Town Is Terrible
In letters to his accidental fiancée, the future president painted Springfield, Illinois, as a bummer.
It's not that you should never hop from one state to another for a relationship. But if you happen to fall hard for someone in Illinois while visiting from Kentucky, you probably want to be very sure that the object of your affection reciprocates your feelings before you uproot your life. That's how things got messy for Abraham Lincoln's ex-girlfriend, Mary Owens.
Born in 1808, the daughter of a successful planter from Kentucky, Owens was 24 when she first met Lincoln in 1833. (Abe, still nearly 30 years away from the presidency, was 24, too.) Owens had traveled from Green County, Kentucky, to visit her married sister Elizabeth Abell in New Salem, Illinois, where Lincoln was living at the time and employed as a postmaster. Lincoln was a friend of Abell's, and she introduced him to her sister. Lincoln later remarked to Abell that, if Mary Owens ever returned to Illinois, he'd wed her. It seems Elizabeth told her sister as much.
If Lincoln did not fully expect to get hitched, he at least wrote to his friend Mrs. Eliza Browning that, if he and Mary did link up again, he "saw no good objection to plodding life through hand in hand with her." (How romantic?) Lincoln didn't have a reputation as a ladies' man: His New Salem neighbors recalled that "Lincoln didn't go see girls much…seemed as if he cared but little for them." So he was fairly surprised when Mary returned to town in 1836, seemingly at her sister's behest, fully prepared to marry him.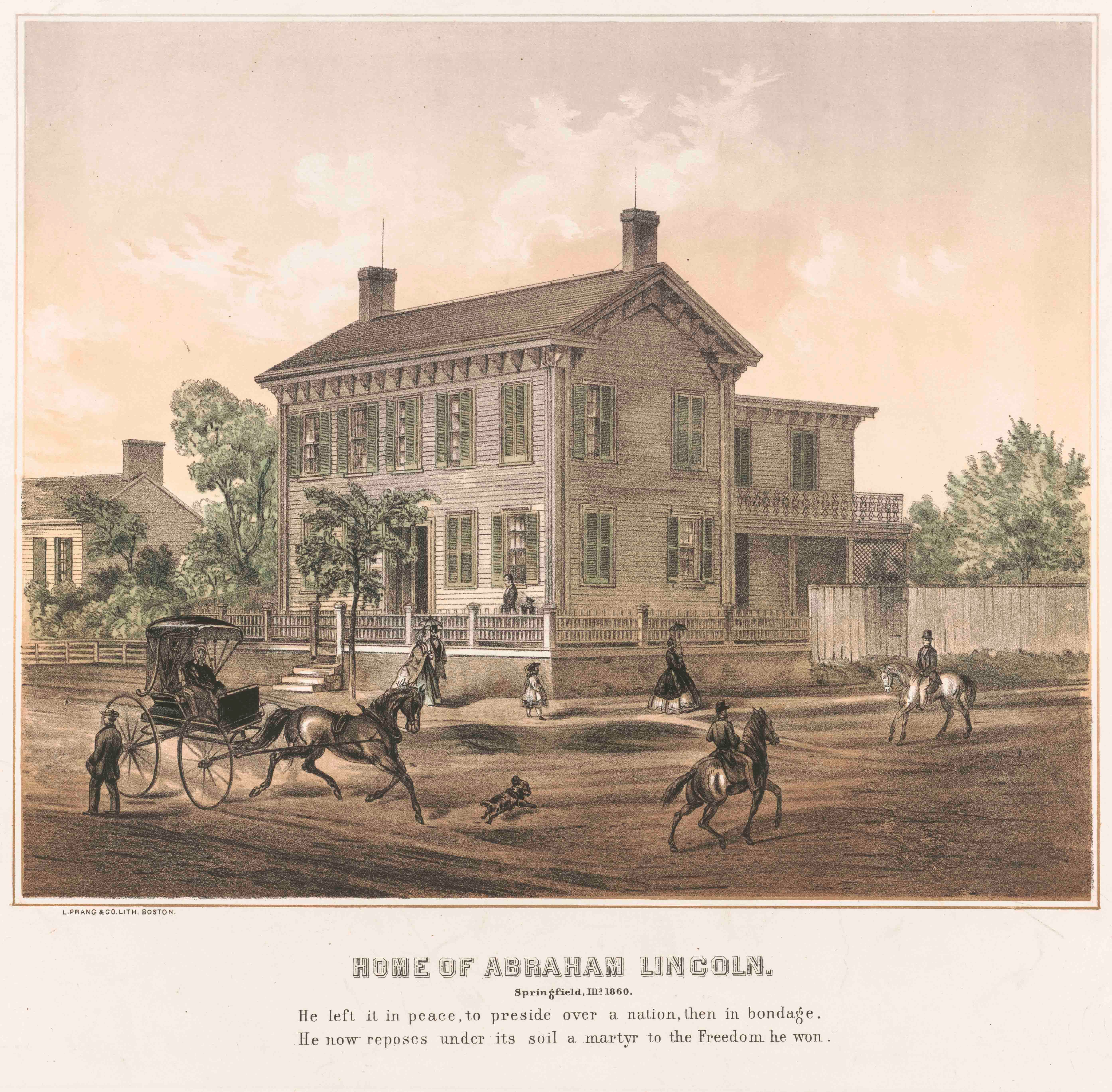 It's unclear whether Lincoln truly intended to make good on his promise. But if he ever did, he had certainly changed his mind when he and Mary Owens met again. After seeing her for the second time, he sent a scathing appraisal to Browning:
"I knew she was over-size, but she now appeared a fair match for Falstaff. I knew she was called an 'old maid,' and I felt no doubt of the truth of at least half of the appellation. But now, when I beheld her, I could not for my life avoid thinking of my mother. And this, not from withered features, for her skin was too full of fat to permit its contracting in to wrinkles; but from her want of teeth, weather-beaten appearance in general, and from a kind of notion that ran in my head, that nothing could have commenced at the size of infancy, and reached her present bulk in less than thirty-five or forty years; and, in short, I was not all pleased with her."
The anecdote about Lincoln writing to his female friend to talk trash—at length—about a woman he intended to marry gets left out of a lot of biographies.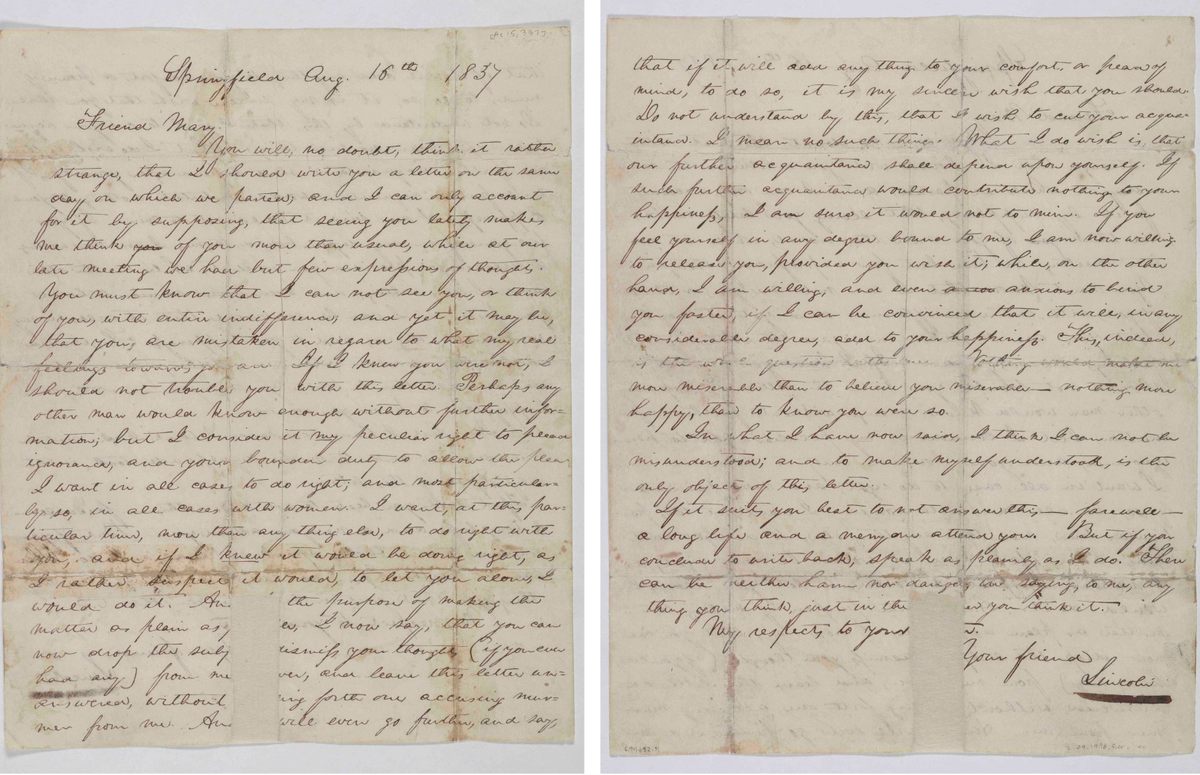 Rather than fessing up to his feelings and having a frank conversation with Mary, Lincoln fled New Salem altogether. He moved to Springfield, Illinois, in 1837 to work as a lawyer. From there, he proceeded to write Mary Owens a series of letters trying to convince her that, while he was perfectly happy to marry her, it would definitely be no fun to be married to him.
Lincoln often tried to couch his arguments in terms of Mary's own joy or misery. (He certainly didn't mention his syphilis, which he contracted "during a devilish passion," if one of his friends is to be believed.) "I am willing and even anxious to bind you faster, if I can be convinced that it will, in any considerable degree, add to your happiness," he wrote to Mary.
But he went to great lengths to paint Springfield as a bummer of a place, where he was lonely, scorned by his neighbors, and reluctant to even attend church as he "should not know how to behave myself." Though Springfield's population was still only around 1,500—Lincoln called it a "busy wilderness"—many of the citizens appeared better educated and more cultured than those in New Salem. Soon after he settled there, he wrote Mary a letter in which he noted that she'd be destined to look in on other people's exciting lives, without living one herself. "There is a great deal of flourishing about in carriages here, which it would be your doom to see without sharing it," he wrote. "You would have to be poor, without means of hiding your poverty. Do you think you could bear that patiently?"
Lincoln wasn't flat-out lying—he was in a financially precarious position when he first moved to Springfield. This is supposedly the reason that he shared a room with his "intimate friend," Joshua Speed, who owned a general store, during that time. When they first met, Lincoln talked about renting a room from Speed, who replied, "I think I can suggest a plan by which you will be able to attain your end, without incurring any debt. I have a very large room, and a very large double-bed in it; which you are perfectly welcome to share with me if you choose." (Eventually, Speed sold the store and moved to Kentucky the day Lincoln married a different woman.) Whether Lincoln's relationship with Speed might have also factored into his hesitation about Mary is a fun topic for historians to come to absolute blows over.
Finally, Lincoln sent Mary a letter in which he claimed, "I want at this particular time, more than anything else, to do right with you; and if I knew it would be doing right, as I rather suspect it would, to let you alone, I would do it." He was willing to marry her if she wanted—but he seemed to think it was a terrible idea. Apparently, Mary thought so, too.
In the end, Mary ghosted him. Lincoln concluded his last letter to her stating, "If it suits you best to not answer this, farewell. A long life and a merry one attend you." She never replied. This left Lincoln smarting. He later claimed, "My vanity was deeply wounded… that she whom I had taught myself to believe no body else would have, had actually rejected me with all my fancied greatness."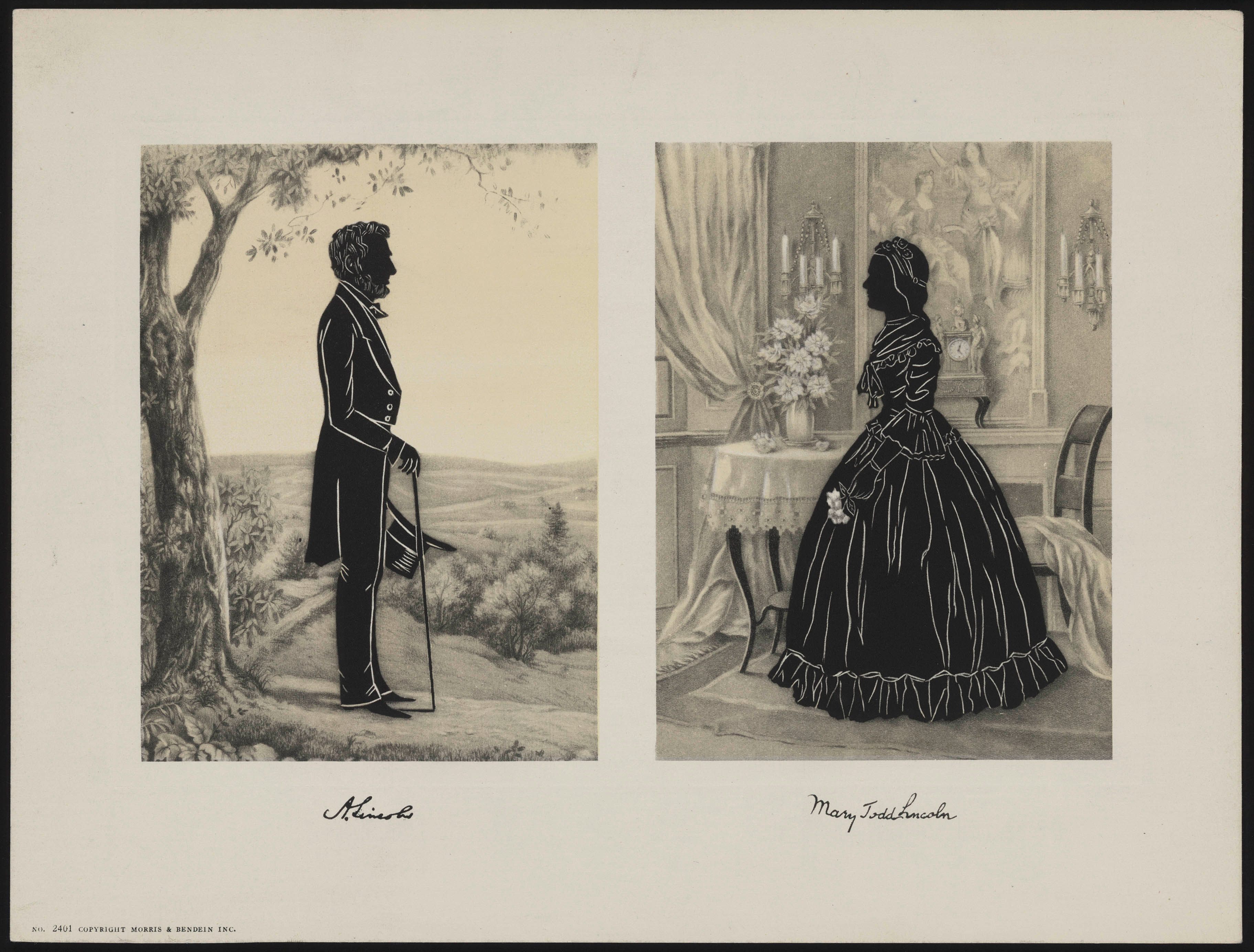 Mary returned to Kentucky, where she wed a man named Jesse Vineyard in 1841, when she was 33. The couple had two children. When the Civil War came, Kentucky initially declared itself a neutral territory—backing neither the Union nor the Confederacy. Owens's two sons enlisted, and didn't fight for Lincoln's side. There are likely all sorts of reasons for this—Owens, at least had grown up on a plantation—but you've got to imagine that her personal history didn't help, either. Mary would later claim that Lincoln "was deficient in those little links which make up the great chain of a woman's happiness."
Lincoln didn't recall the episode fondly, either, and his self-esteem seems to have taken a nosedive. In a letter to Browning, he moped, "Others have been made fools of by the girls; but this can never be with truth said of me. I most emphatically, in this instance, made a fool of myself. I have now come to the conclusion never again to think of marrying; and for this reason; I can never be satisfied with any one who would be block-head enough to have me."
He would meet Mary Todd a few years after, and marry her in 1842—but not before trying to break off that engagement, too. Turns out he was more skilled at navigating national unions than personal ones.