Once a Year, This Alaskan Town Is Home to More Pies Than People
For mushers in the Iditarod dog-sled race, stopping in Takotna is a treat.
Each March, Iditarod mushers call their 14 dogs to a halt in Takotna, Alaska. They know that stopping there means two things. First, they're just 623 miles from the Burled Arch in Nome, Alaska, which is the finish line of the highly competitive sled-dog race. Second: There will be pie. Lots of pie.
If it wasn't a checkpoint in The Last Great Race, as the Iditarod Trail Sled Dog Race is sometimes known, the bulk of Alaskans probably wouldn't know Takotna, a village of just 52 people that's inaccessible by road. To get there, Alaskans either book a spot on the four-seater mail plane from Anchorage, or take a commercial plane to McGrath and then travel another three hours or more via snowmobile or ATV.
Or, once a year, when there's enough snow for a 975-mile race, the best sled-dog teams in the world race through adverse weather conditions, over barren lands and frozen rivers, and through challenging mountain ranges and sparsely populated towns, all in an effort to be named Iditarod Champion.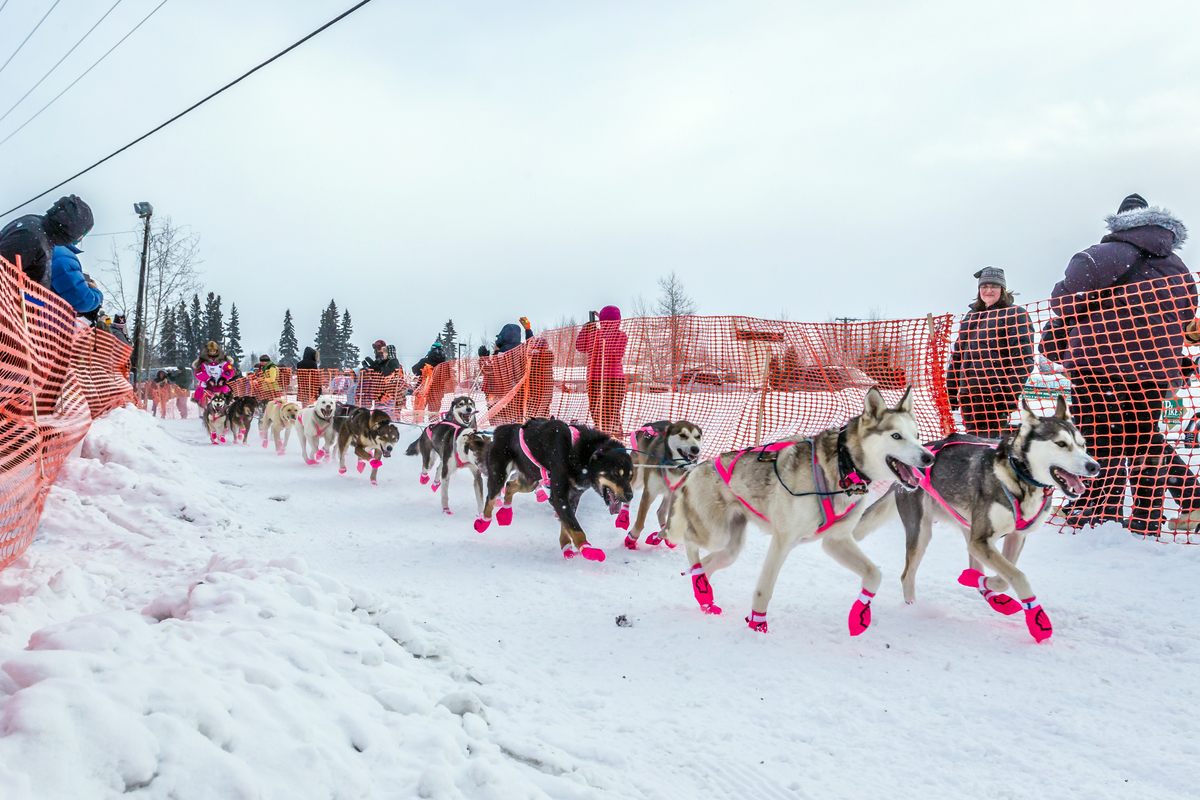 Despite its remote location and diminutive size, Takotna is known by mushers for its outsized generosity. Since the race started in 1973, locals have dished out turkey dinners, made-to-order breakfasts, and other free meals to the mushers. But Takotna is best known for the staggering number of pies available. This year, the village plans to make more than 100 pies (roughly two for each of the 57 racers). For the mushers, who mainly consume bland, lightweight trail meals, while traversing a landscape of muted white and brown, stepping into the community center in Takotna is akin to Dorothy appearing in Oz: The colors come on. But instead of plucky munchkins with oversize lollipops, it's gregarious locals with tables of riotously colorful pies spanning the fruit and cream spectrum.
The pie tradition started when Jan Newton and her husband, Dick, moved from Idaho to Takotna 50 years ago. The duo had previously run a café and hotel near an Idaho mining camp, but it wasn't until Jan moved to Alaska that she earned the moniker "The Pie Lady."
During their initial years, there wasn't pie, but only because Takotna wasn't a checkpoint on the trail yet. The course has 25 or 26 checkpoints where mushers must sign in with race officials and get a vet check. Some stops are lightning fast, like a Nascar pit crew at work; at others, mushers linger to replace their dogs' booties (they'll often go through hundreds), dole out meals (the pups eat about 10,000 calories a day), or sneak in a nap. Administrators also mandate that mushers take several rest breaks: one 24-hour rest and two eight-hour breaks.
Those pre-checkpoint years, Newton and a friend dished out moose stew and chili to any musher who stopped long enough for them to ladle it up. Word of Takotna's hospitality got out, and their efforts grew from there. In 1981, Takotna became a full-fledged stop. During the 2019 race, 22 of the 51 racers declared their 24-hours rest there.
Until her passing in 2012, the Iditarod Patron Saint of Pies made sure every musher felt at home in Takotna and that every local had a task, whether working in the kitchen or helping with dog care. Local kids even have the week off school so they can help.
"Jan made sure everyone in this village knew how they could help," says Nell Huffman, a Takotna resident. "She made this a community effort. She was a leader." Newton had each musher's favorite pie ready when they slid in, greeted them by asking how they liked their steak prepared, and handed out bags of to-go burgers as trail snacks.
Scott Janssen, famously known to Alaskans as "The Mushing Mortician" (he owns several funeral homes), first visited Takotna during his rookie Iditarod in 2011. After feeding his dogs and getting them comfortable, he trudged to the library to sleep. When he awoke a few hours later, he realized it was his 50th birthday.
"I was hit with loneliness at that moment," Janssen says.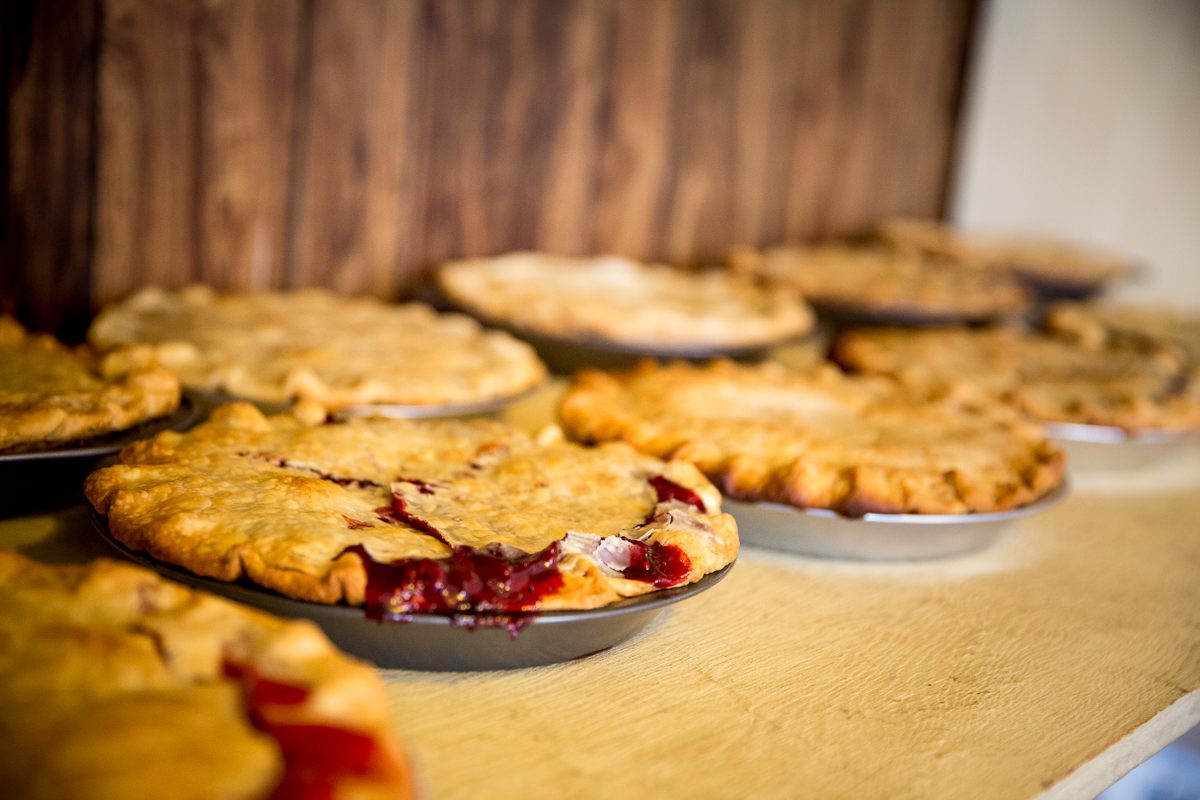 Soon after, he wandered into the community center, with a goal of getting a quick bite and warming up before putting his dogs' booties on.
"Jan comes up and says, 'Hey Scott, we have something for you,'" Janssen says.
Newton brought out a carrot cake (a race official had called Janssen's wife to ask about his favorite flavor) and started singing. Few of the candles matched—someone had run door-to-door to scrounge up all 50.
"Talk about feeling the love," Janssen says. "The way we mushers are taken care of there is amazing."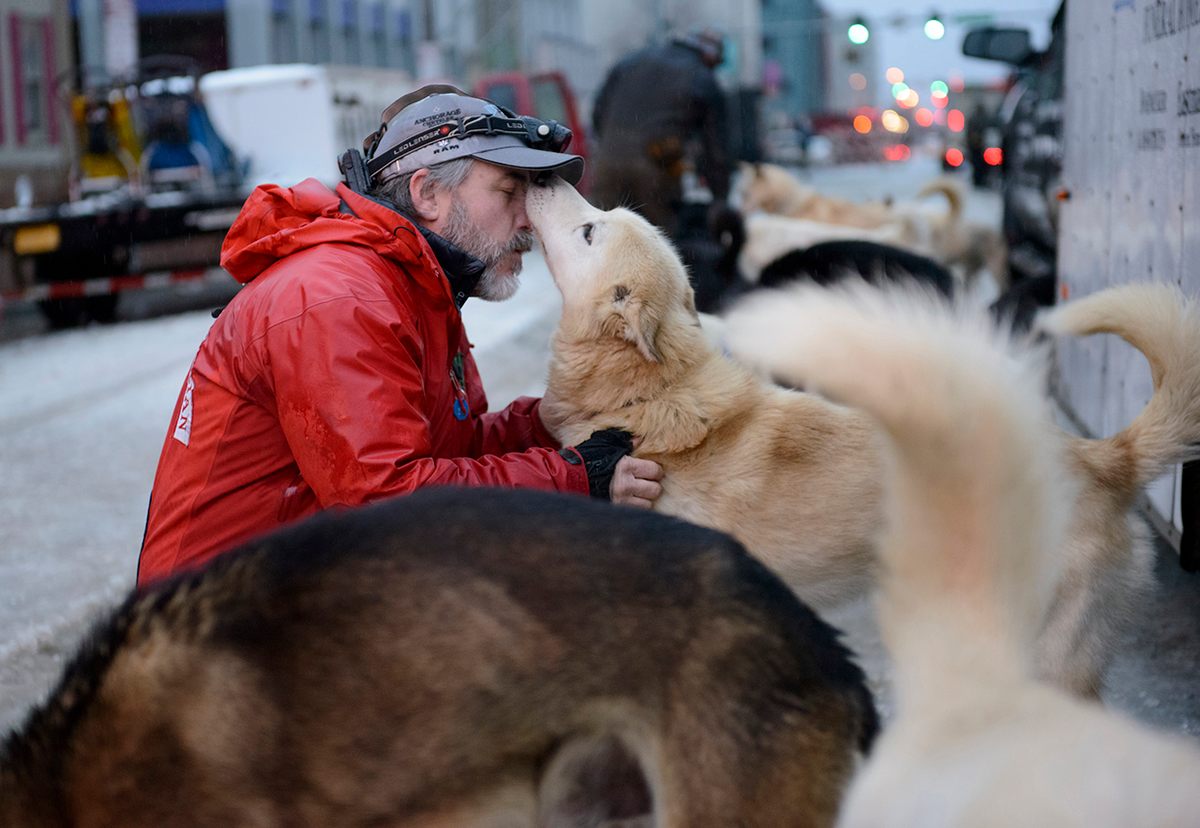 Newton's warmth and generosity was so revered that she and her husband were inducted into the Iditarod Hall of Fame in 2008. In 2013, the year following her passing, she was named the Iditarod's Honorary Musher. Her sled, driven by that year's Junior Iditarod champion, was the first to leave the Anchorage Ceremonial Start. In a press release that year, the Iditarod staff said of Newton: "Her contributions to the race are remarkable and have elevated her to a position of legendary prominence."
Huffman, one of Newton's longtime friends, has since picked up the pie mantle. Making future generations of mushers feel welcome in their village, residents felt, was how they'd honor Newton.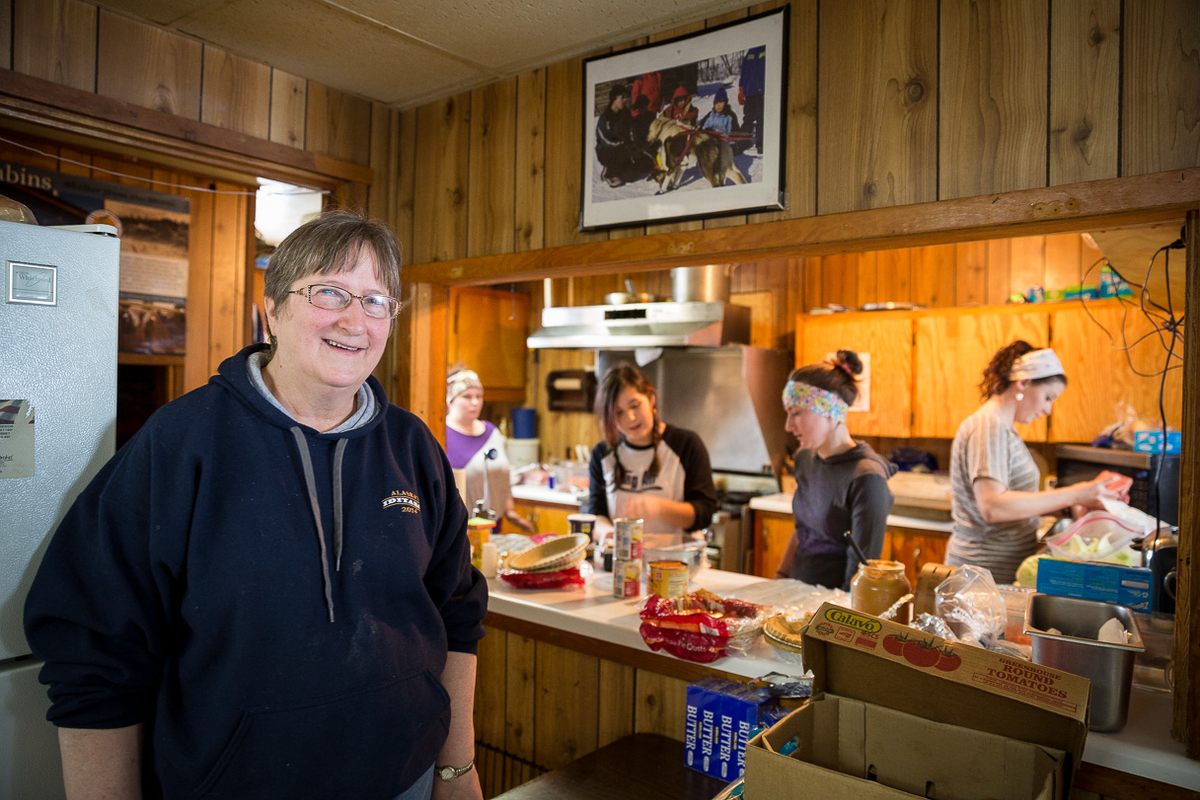 Because of Takotna's popularity as a rest stop amongst mushers, the village is clotted with visitors from Tuesday afternoon until early Friday. Making more than 100 pies and myriad meals in a remote Alaskan village is a huge logistical challenge. In January, Huffman and her team were already writing and rewriting shopping lists. The baking blitz starts a month before the race, with Takotna volunteers traveling to Anchorage to buy supplies they can't get at the local store. Huffman says she'll fly in several times a year to go store to store and buy all the pie crusts and fillings in each. Bakers make and freeze some pies in advance, but on race day, you can pick out the kitchen help by the berry juice staining their hands.
Huffman wants the meals to be free for mushers. But with a gallon of milk running $9.50 in rural Alaska, they do leave an empty coffee tin out for donations from race officials, itinerant journalists, pilots, and ardent spectators. Still, it doesn't come close to breaking even.
"That's fine, though. We do it because we love to do it," Huffman said. "This is the most fun week of the year for us."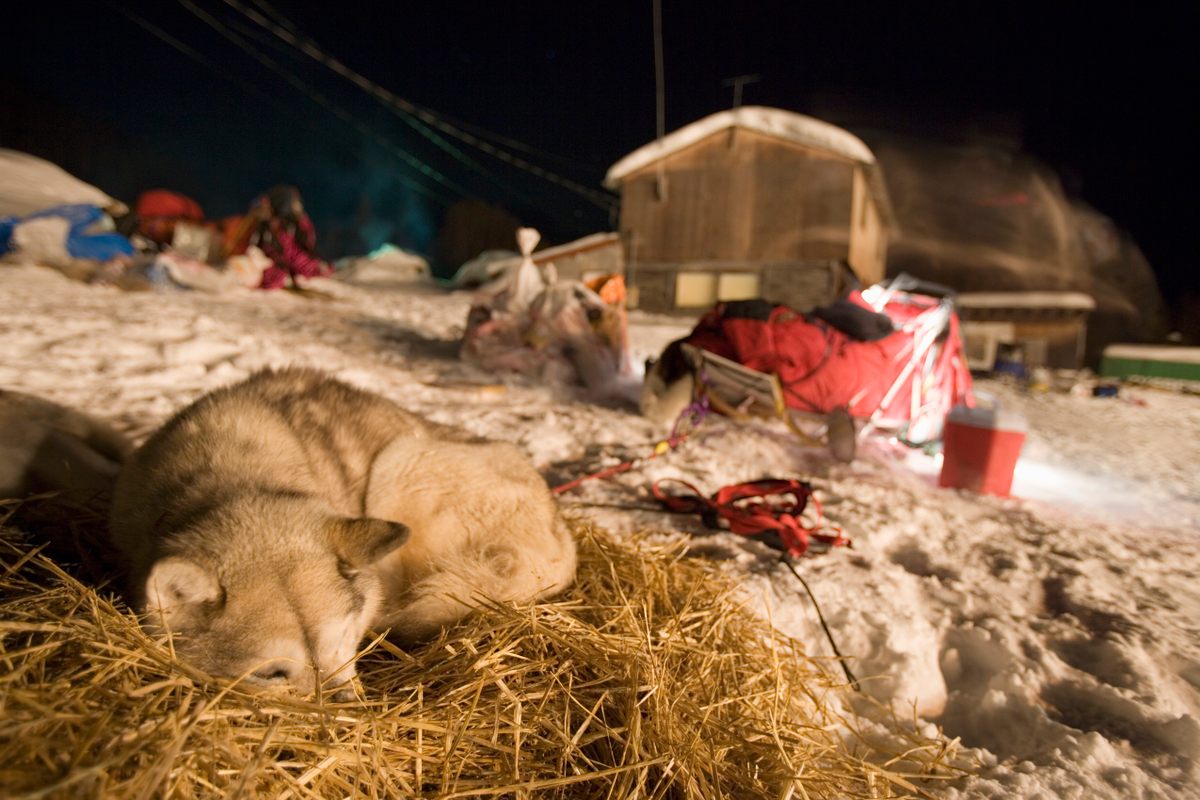 Janssen enjoys the company so much that he has stayed in Takotna longer than 24 hours, despite being mid race. On his 50th birthday, a group of Norwegian students volunteering in town helped him get his team ready when the cake was gone. As he followed a mining road up and out of town, he looked back and saw them on the road singing "Happy Birthday" in Norwegian, which echoed around the valley.
"I'm a tough bugger, but I cried the rest of the way up the mountain," he says.
The Mushing Mortician won't race this year, but he intends to return, and hopes to spend his 60th birthday in Takotna.
You can join the conversation about this and other stories in the Atlas Obscura Community Forums.
Gastro Obscura covers the world's most wondrous food and drink.
Sign up for our email, delivered twice a week.