America's First Medal at the Nazi Olympics Was For…Town Planning
Urban planning was once considered an Olympic sport, and Brooklyn's Marine Park won a medal.
Marine Park today. (Photo: Timothy Krause/CC SA: BY 2.0)
The design to redevelop Marine Park, in Brooklyn, had been beautifully sketched in oil onto a large rectangular canvas. The map showed a thin canal, almost perpendicular to the South Brooklyn shoreline, which ran into a circular pool. It lay ready for inspection in a spacious exhibition hall, just outside the monumental Olympic Stadium in Berlin.
The drawings, signed in a calligraphic style on the bottom righthand corner by their creator Charles Downing Lay, were the American entry into the 1936 Summer Olympics—also known as the Nazi Olympics—for a category that seems improbable today: Town Planning.
Yes, from 1928 until 1948, town planning was an actual Olympic sport. 
Town planning fell under an "architectural design" category at the Olympic art competition. The field that year was dominated by German entries. Yet the first U.S. medal of the Olympics went to Lay, a New York architect, for his ambitious blueprint to modernize Marine Park in Brooklyn.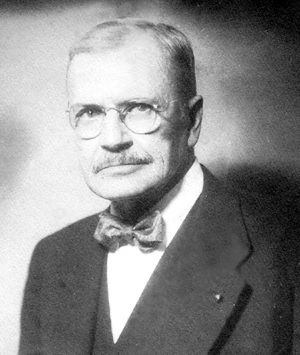 Charles Downing Lay, silver medal winner. (Photo: Heidi Forseth/Public Domain)
Lay received a silver medal, finishing between two German designers who competed under the Nazi crest. His design for Marine Park intended to make it larger than Central and Prospect Park combined, and the "greatest municipal recreation and sports center in the world," said the Brooklyn Eagle. At a projected cost of somewhere between $30 million to $50 million dollars, the elaborate plans included a golf course, swimming pools, a 125,000-seat stadium, tennis courts and mooring space for yachts.
The victorious Lay said he was very glad to win a silver medal at the Olympics. Clearly the success didn't go to his head. "But you understand. I did not win the Olympic medal in a contest," Lay told the Associated Press. "It was much more of an exhibition."
Eighty years later, the 1936 event is better known for others things, like the athletic brilliance of Jesse Owens and the ignominious presence of Hitler and high-ranking Nazis in the stands. 
Along with town planning, the lineup of events also included painting, sculpture, literature and music. Baron Pierre de Coubertin, the founder of the modern Games, believed art and architecture were a vital component for his vision of the Olympics. The first four decades of the modern Olympic Games saw runners and swimmers competing alongside authors and urban planners. 
Aside from Lay, the U.S. team was not well represented for art at the Berlin Games. German artists won the majority of other medals in the art competition. The German March brothers won the gold medal for the Reich Stadium, where the Games were held. An Austrian, Theodore Naussbaum, came in third for his town plan of Cologne. 
Aerial shot over Marine Park, Brooklyn. (Photo: Denver Gingerich/CC SA: BY 2.0)
Lay had actually finished his designs for Marine Park four years earlier, in 1932, and they were exhibited at the Brooklyn Museum a year after that. Lay disliked architectural competitions. They were "too hard to do." But the requirements for entry into the Olympic "architectural design" competition were easy, and so he went ahead and submitted his plans for consideration. 
Marine Park was a rugged, open parkland that backed onto the Rockaway inlet in South Brooklyn. Lay would transform the 1,500-acre spot into a recreational space geared towards sports and healthy living, with a design that "fused the formal splendor of the Renaissance with a progressive social agenda," writes Thomas Campanella.
Lay's proposal would reshape the shoreline and in doing so remove Plum Beach, Gerrison Inlet and Deadhorse Bay.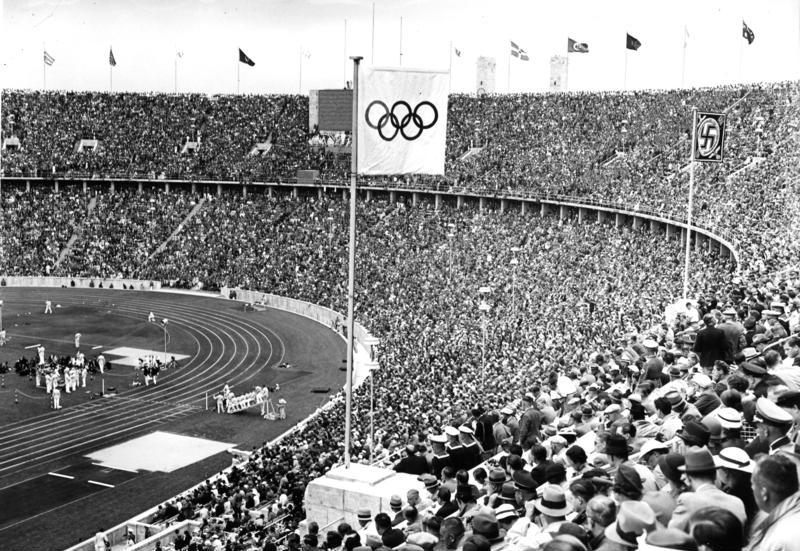 Inside the Olympic stadium. (Photo: A. Frankl/CC SA: BY 3.0)
But despite the fact that his visionary drawings earned him an Olympic medal, by 1936, New York City officials had all but shelved Lay's plans. 
Work on the park took years to progress and had many setbacks. Robert Moses, as head of the Parks Department, did not support Lay's grand plans. He thought they were too expensive, and so he hired two architects who favored a more modest redesign. Moses was well-known for his preference of roads over parks.
The stadium was quickly scrapped, as were most aspects of Lay's revolutionary blueprint. Eventually a golf course was built, and today there are facilities for kayaking, something akin to the original idea. 
Lay was already a prominent figure when he designed the park and founded Landscape Architect, an academic journal. He studied architecture at Columbia University and Harvard and spent most of his professional career in New York City, where he ran a landscape architecture practice.
Lay lived in Germany in 1934 after the Oberlaender Trust, a fund run by a German-American from Pennsylvania, paid for him to study landscape architectural practices there. He had moved back to the U.S. at the time of the Games, but was likely influenced by his time abroad.  
Lay's design for Marine Park was in keeping with German park design during the Weimar and Nazi periods, according to the Hidden Waters blog. This may have been a reason why the German judges awarded Lay, in a competition dominated by Germans, the silver medal. 
Update, 8/9: An earlier version of this story stated, incorrectly, that Robert Moses was once New York City's mayor. We regret the error.