Found: The Best-Preserved Armored Dinosaur Ever Discovered
You can look into the face of a dinosaur.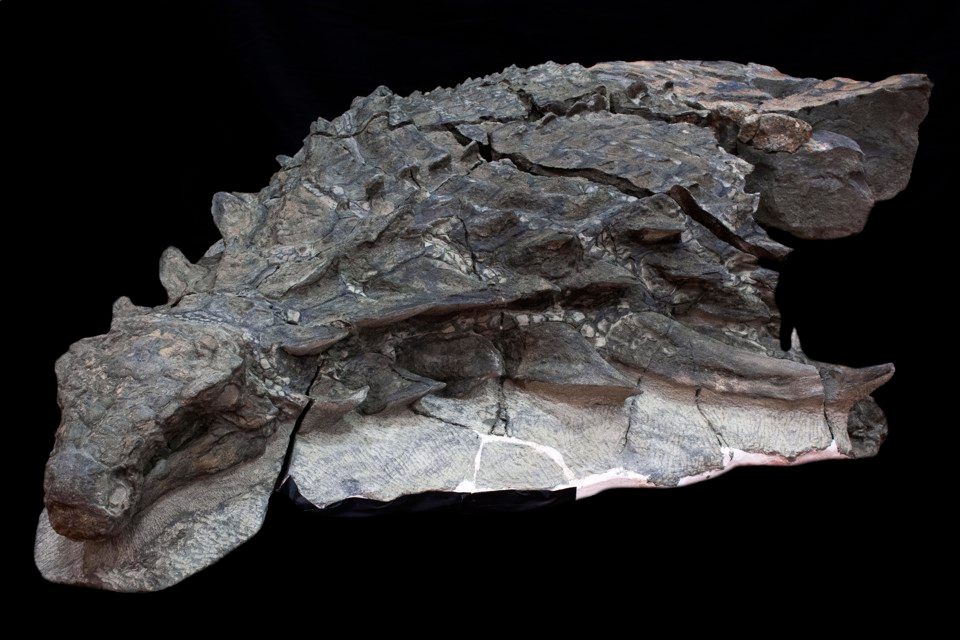 Borealopelta markmitchelli was discovered in a oil sands mine in Alberta, and before anyone realized what they had found, the dinosaur's tail and rear had been destroyed. Its head and body were still intact, though. The mine workers, along with a team from the Royal Tyrrell Museum, carved out a 15,000-pound block containing the remaining dinosaurs. But when they lifted it, as The Atlantic reports, the block broke. The fossil had broken into big chunks, though. It made it to the museum, where one man spent 7,000 hours working the clear the rock away from the fossil.
Even after all that, this nodosaur, which lived 110 million years ago, is one of the most incredible fossils ever found.
A type of armored dinosaur, this nodosaur would have been close to 20 feet long and weighed 2,800 pounds. Paleontologists think that as or after it died, it was swept by a river into the sea, where it was covered in sediment and preserved for millions of years. It still has patches of fossilized scales and skin on it, and it's possible to see almost exactly what it would have looked like in life.
The team that has studied the fossil reports in the journal Current Biology that they also found evidence that the dinosaur would have been a reddish-brown color, which could have helped it evade predators. But as National Geographic reports, there's some skepticism from other scientists about this particular claim. Regardless, B. markmitchelli, named after the technician who spent all those hours freeing it from the rock, is a marvel to behold.