At Sea Rim State Park, These Once-Endangered Birds Are the Star
The bright-pink roseate spoonbills are some of the most exciting—and easy to spot—birds in this gorgeous Gulf Coast park.
At Sea Rim State Park on the Gulf Coast of Texas, you can see a whole lot of wildlife in just a few small steps. You can stand on a sandy beach and look out over 4,000 acres of marshlands, then turn around and look out over the vast Gulf of Mexico. A handful of bird species will likely fly through view, their inky black or cotton candy-pink wings floating over kayakers or fishers gone angling. The park, just a half-hour drive from the nearby city or Port Arthur, is one of the state's most beautiful wildlife preserves, as well as an idyllic spot for hunting and camping.
This 4,141-acre park (which is currently in its 45th year of existence) took a hit in the aughts, closing for several years due to the damage brought on by Hurricanes Rita and Ike. Luckily, by 2014 all services at the park were restored. Considering what we've all been through these past couple years, Sea Rim is ready to welcome those who seriously need to be out of the house and into the world again. "I think that when people were stuck inside, they were looking for somewhere to go, where they could spread out," says Madeline Martin, the park's resident interpreter (read: She helps people understand the park and its resources). "So out here, especially at Sea Rim State Park, we have five miles of beach that people can spread out on. We've continued to be a pretty heavily frequented park, especially now that summer is here."
During the summer, the 5.2 miles of beachfront is what usually brings people to Sea Rim, and with its 15 campsites, campers often head there during the fall and winter months. But during the fall and spring season, you'll be more likely to see people out and about carrying binoculars and high-powered cameras. These birdwatchers flock to wildlife habitats around Port Arthur—like Sea Rim, which is located along the Greater Texas Coastal Birding Trail—, to check out the various winged creatures that migrate to the area.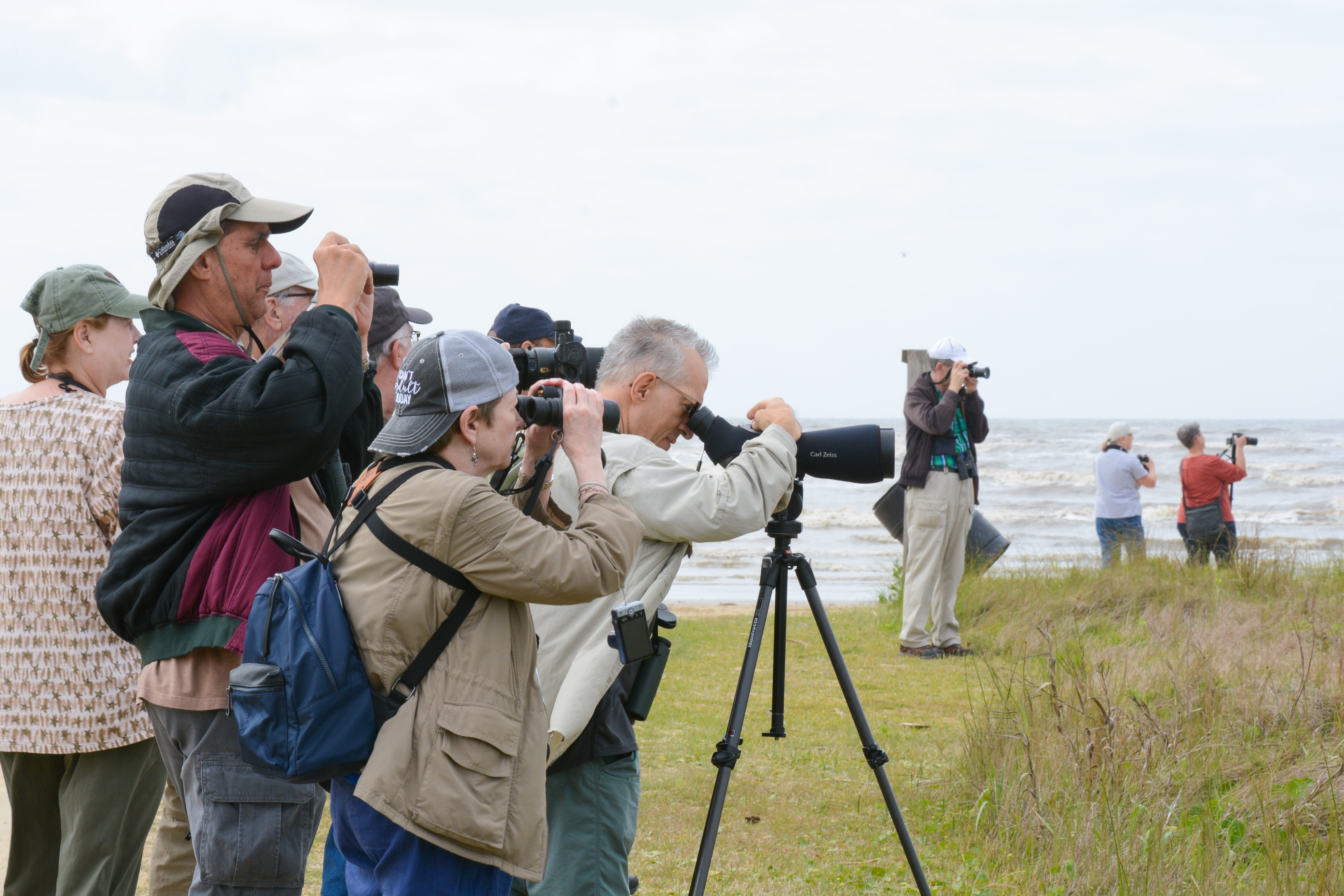 Birders regularly get to the park early in the morning, since birds tend to be more active when the day is dawning, and things are a bit cooler. It's usually a time to catch beautiful sights like black-necked stilts, sanderlings, brown pelicans, and western sandpipers. "They like to come out here to see what they can check off their life list," says Martin, referring to a list of species a birder can see over their lifetime. "So, people will say, 'Oh, I got a lifer today!'"
One of the more popular birds at Sea Rim is the roseate spoonbill (Platalea ajaja), a long-billed bird with striking, flamingo-pink feathers. These wading birds, who spend a lot of their time in shallow waters and have spoon-shaped bills, often come straight off the Yucatan Peninsula and make Sea Rim their first destination. While they're more abundant during fall and spring, they have been known to show up during the off seasons, too. "We don't have a resident population of spoonbills," says Martin, but "we get a lot of transient spoonbills coming through. At the moment, we'll see ten or so fly by." With long legs that can take them to shallow waters, they've been known to show up on the beach side of the park, resting in marsh pools. "We usually see roseate spoonbills along with ibises, egrets, herons. They all like to come up here and catch the fish, crabs, and crayfish."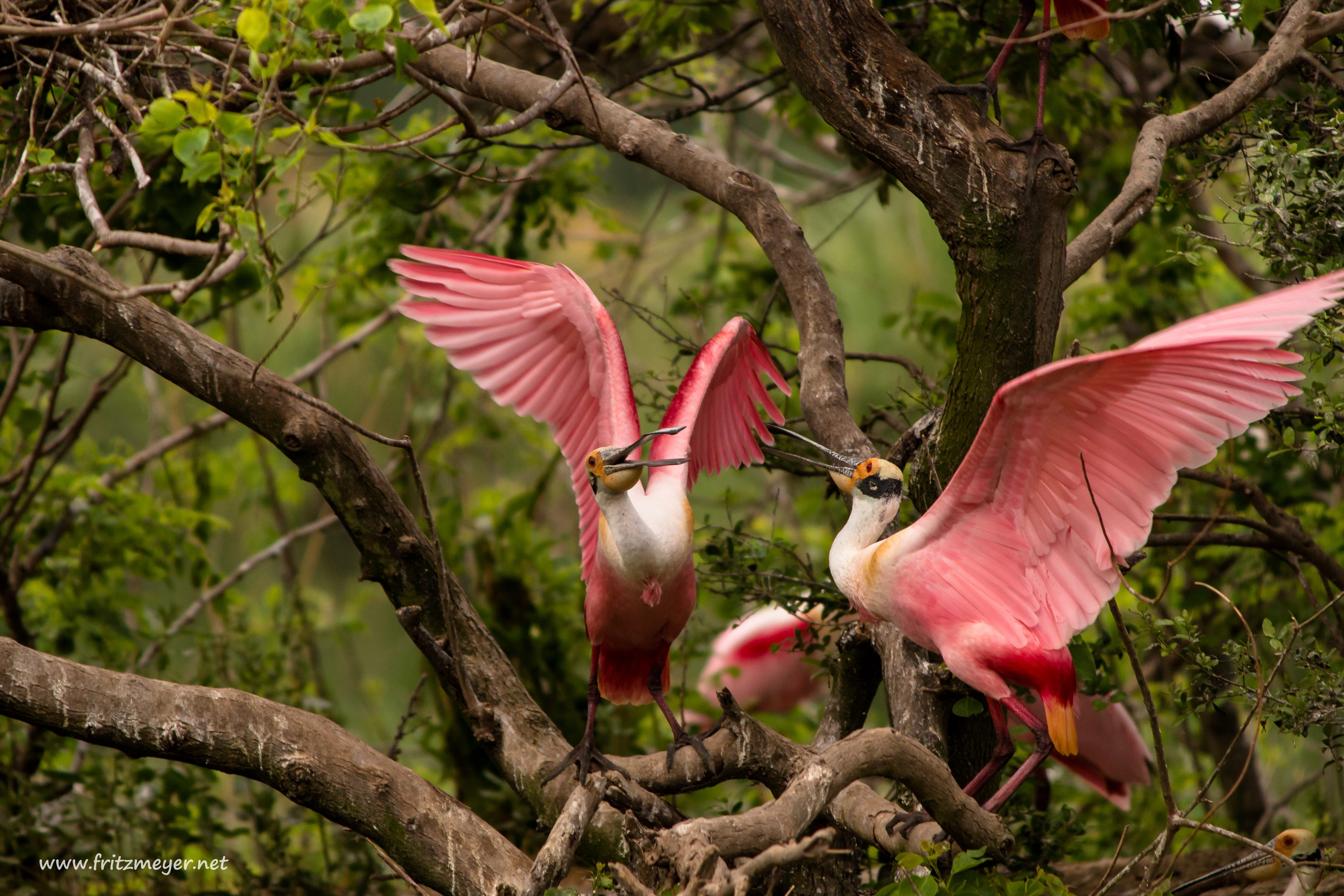 While they don't nest at the park, spoonbills do find ways to make themselves at home. "Roseate spoonbills form rookeries, which is a group of roseate spoonbills nesting together, usually on an island in the middle of a pond or in a lake," says Martin. "And they like to be up in the top of trees when they build their nest. And we don't have any trees here in the park, so we don't have any breeding spoonbills. But we do see a good bit of spoonbills, and we try to do what we can for them."
While the park doesn't provide a nesting ground for these birds, it has helped them avoid extinction, something that nearly happened in the early 1800s. Their pink feathers were must-haves for women's hats, and hunters from all around the country competed for spoonbill plumes.
Luckily, spoonbills began making a comeback in the early 1900s, slowly growing in number when they started re-colonizing along the Gulf Coast. While the spoonbill is currently doing better, it's still listed as a species of concern in Florida and Louisiana. Habitats like Sea Rim State Park have been especially important in helping them thrive.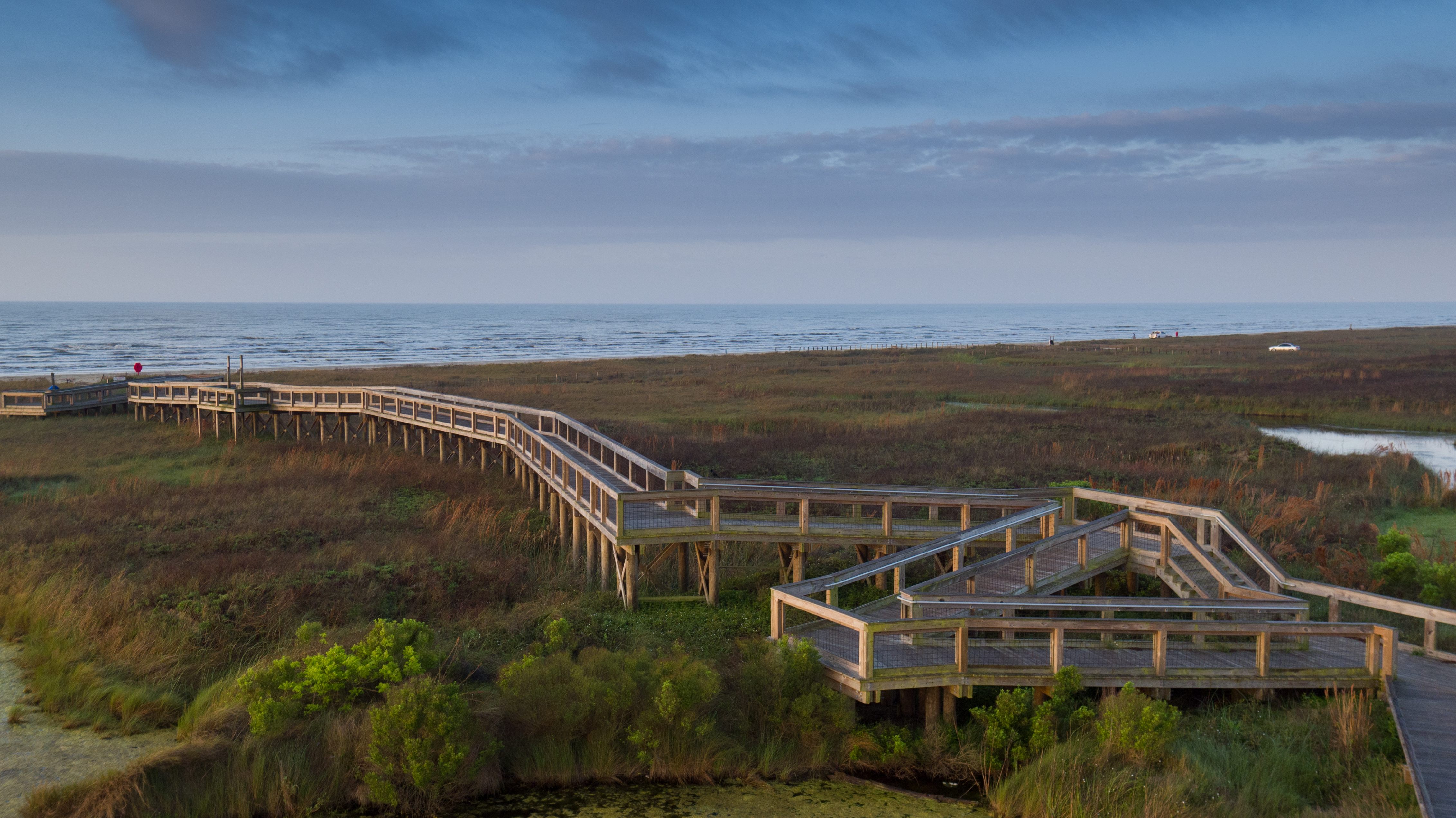 While population numbers are on the rise, it's still best to enjoy these colorful birds from afar. According to the Migratory Bird Treaty Act of 1918, it's illegal to disturb spoonbills in the park, or pick up any of their feathers. If you're feeling particularly altruistic while visiting, you can help by keeping an eye out for any errant litter that could harm the birds. Says Martin, "We pick up trash off the beach to make sure that there's a good environment for the spoonbills and for all the other birds that will call Sea Rim home."
According to Martin, Spoonbills can be an exciting entry point to the world of birding. Even if you don't know much about avian species, the bird's vibrant pink color and uniquely shaped bill make it easy to pick out of a crowd. "Even if people are just starting to get into birding," she says, "they can really easily recognize a roseate spoonbill."
Click here to request a free Port Arthur birding book by mail.