How Scientists Are Using Cake to Share Their Research
Transforming PhDs into pastries.
THIS ARTICLE IS ADAPTED FROM THE AUGUST 6, 2022, EDITION OF GASTRO OBSCURA'S FAVORITE THINGS NEWSLETTER. YOU CAN SIGN UP HERE.
I first noticed the #BakeYourResearch phenomenon when I saw a photo of an incredibly gorgeous bûche de Noël on Twitter. It wasn't posted by a professional baker, but a mycologist, who'd crafted hyper-realistic mushrooms growing out of the log-shaped cake.
This mycological masterpiece is not alone. Scientists, engineers, and researchers on social media are using flour and sugar to illustrate complex concepts. This can range from microbiologists demonstrating how mitosis works using peanut-butter cake, to pastries based on research about turning graveyards into protected environmental areas.
Some scientific sweets are expertly made, while others are casual weekend projects whipped up with cake mix. But they all have a remarkable power to attract attention. Nooshin Sheidaei, who made the peanut-butter mitosis cake, had less than 30 followers on Twitter when she posted her cake. It has now been retweeted more than 50,000 times.
University-wide competitions and hashtags such as #BakeYourResearch allow researchers to exercise their artistic muscles and share their creativity. With that in mind, enjoy this buffet of research-based, science-seasoned baked goods.
---
1) Bacterium Cupcakes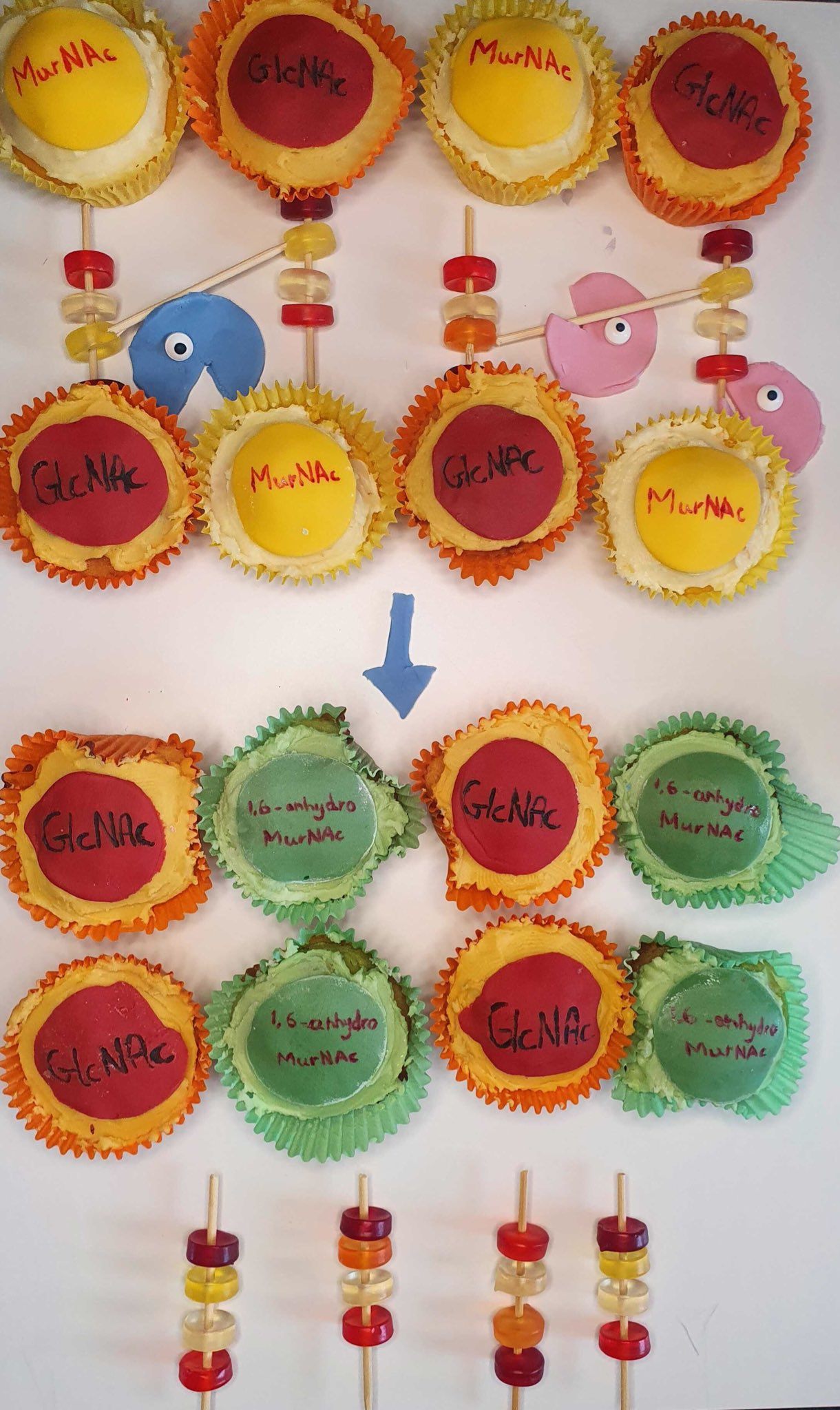 Charlotte Roughton, PhD Student, Microbiology, Newcastle University, England
Back in April, myself and my colleague Vic Burge arranged a Bake Your Research/Role event as part of the Biosciences Institute Social Committee. We saw a wide variety of creative entries, from a biscuit microscope to gingerbread zebrafish larvae to profiterole organoids.
[Burge and I] used cupcakes to represent a schematic of the activity of peptidoglycan digesting enzymes from the bacterium C. difficile. C. difficile is a superbug that spreads and causes infections by forming dormant cell forms called spores. To create these spores, C. difficile must use enzymes (the blue and pink Pacmans) to remodel its cell wall, which is formed of a mesh of sugars (the cupcakes) and amino acids (kebab skewer sweets) called peptidoglycan.

2) Mystery Cake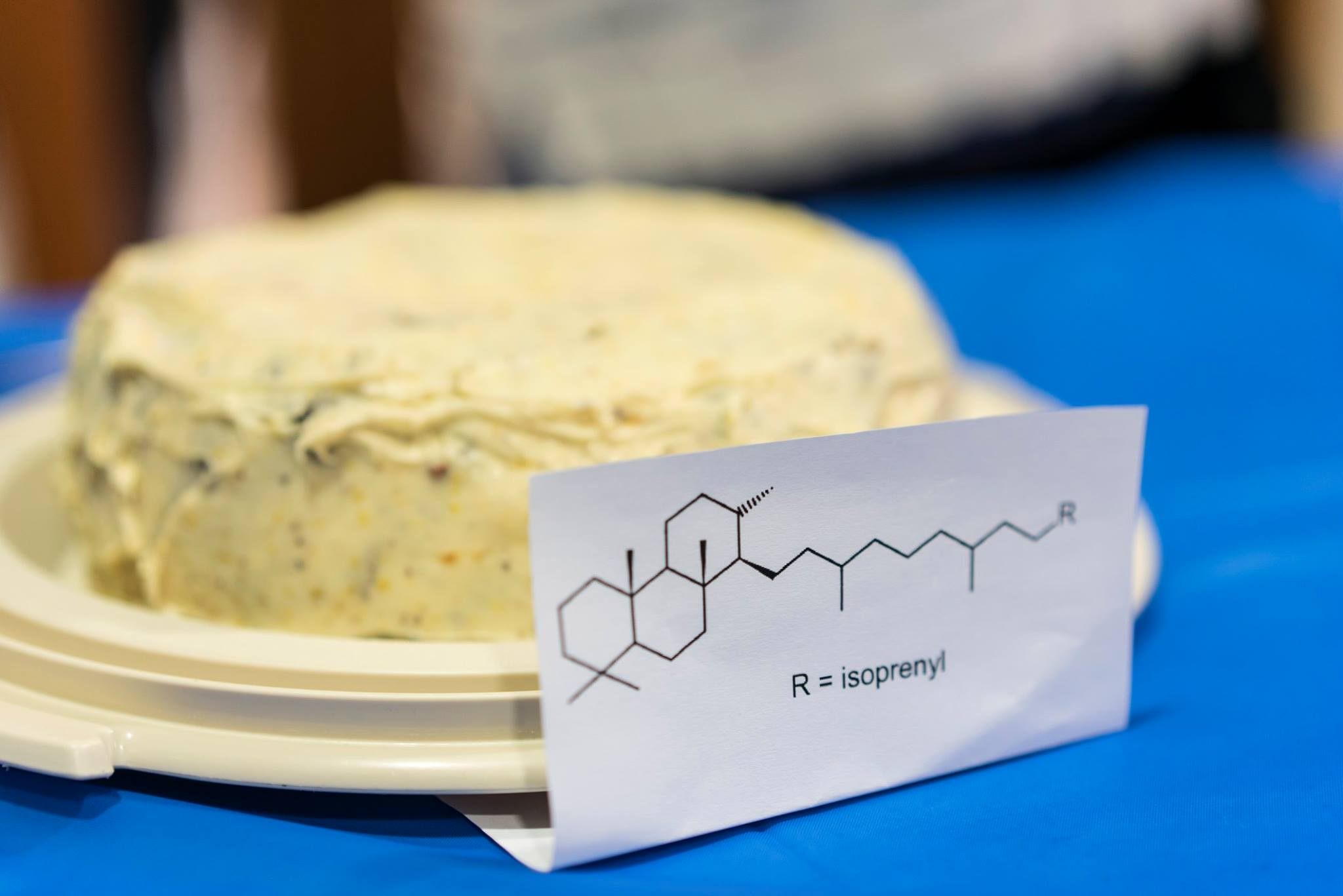 Tharika Liyanage, PhD Student, Earth Science, Australia National University
The earliest traces of single-celled life in the geological rock record are preserved as fossilized biomolecules, called biomarkers. Some biomarkers, such as cheilanthanes, are abundant and ubiquitous in Earth's rock record. But the original precursor biomolecules or microorganisms generating them are unknown.
The cheilanthanes are like my cake. We find the cooked, simple fossilized molecule in the rocks, but we have no idea what microbe makes the complex, biological molecule or what that biological molecule looks like. We have no idea what the ingredients are. We have no idea what the recipe is. We have no idea what microbes made the cheilanthanes.
I presented the cake to the judges [of ANU's #BakeYourPhD competition], and they had to figure out the ingredients and recipe using the taste, smell, texture, and look of the cake. They weren't able to pick the major ingredients, but it was a lot of fun. This approach is similar to how I have been figuring out the biological sources of cheilanthanes!
3) Sweet Separation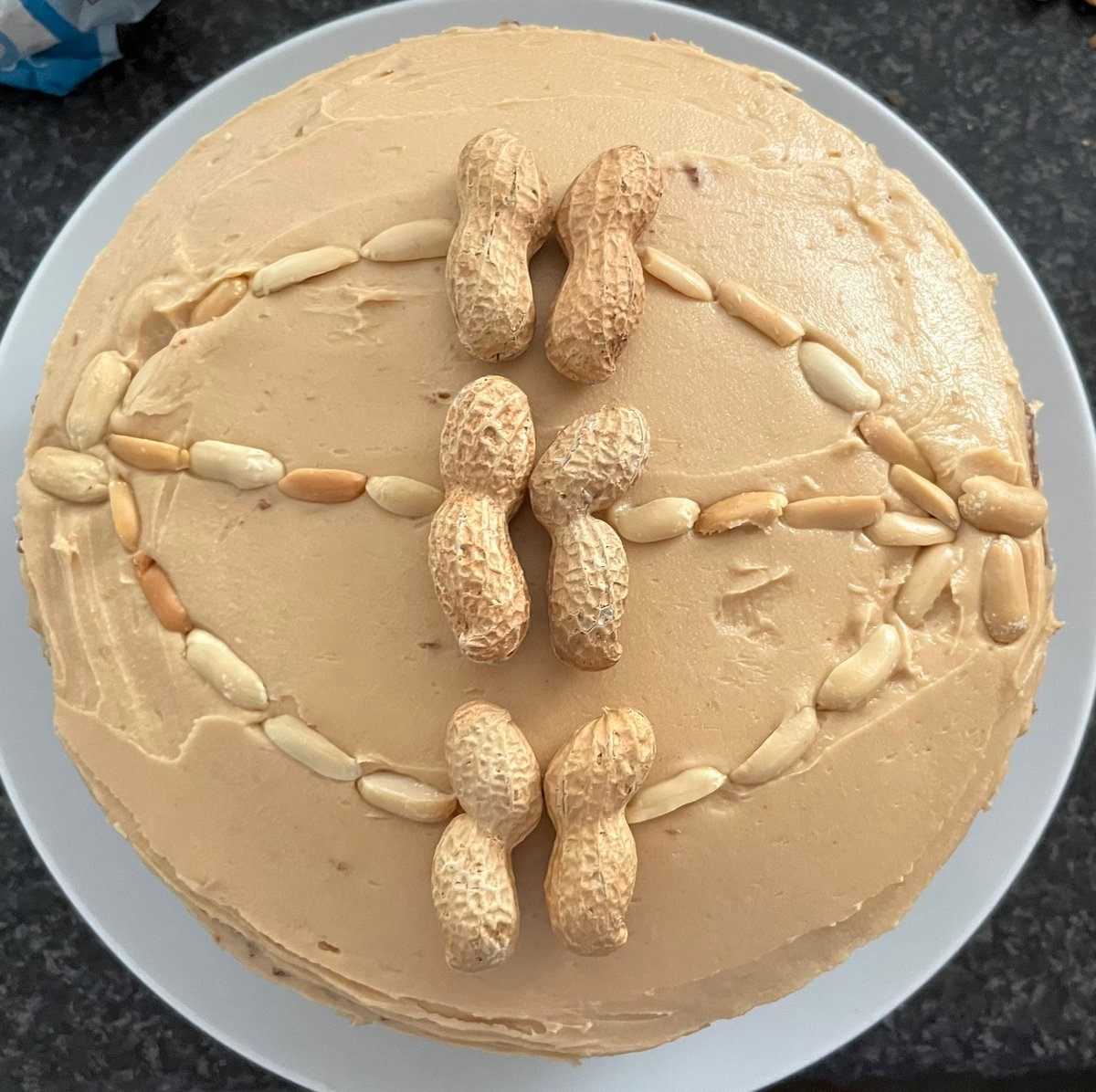 Nooshin Sheidaei, PhD Student, Cellular and Molecular Dynamics, University of Dundee, Scotland
I baked this cake a few weeks ago to celebrate our first in-person lab meeting since the pandemic. I had just found an interesting peanut butter-cake recipe online. While frosting the cake I remembered that I have some whole peanuts that could be used for a simple garnish. Then I noticed how much peanuts looked like chromosomes!
So, I thought it would be funny for my colleagues at the lab (our group's research is focused on cell division). Everyone at the meeting loved the cake and the joke. Later that day I shared it on Twitter with my friends and others working on cell division. I had a very small group of followers (perhaps less than 30) and never expected the cake to even be noticed.
The response was really heart-warming, and I received comments that made my life. I have been a nerd for science (especially biology) ever since I can remember and believe that one of the best things is to get others excited about science.
---
Cake Communication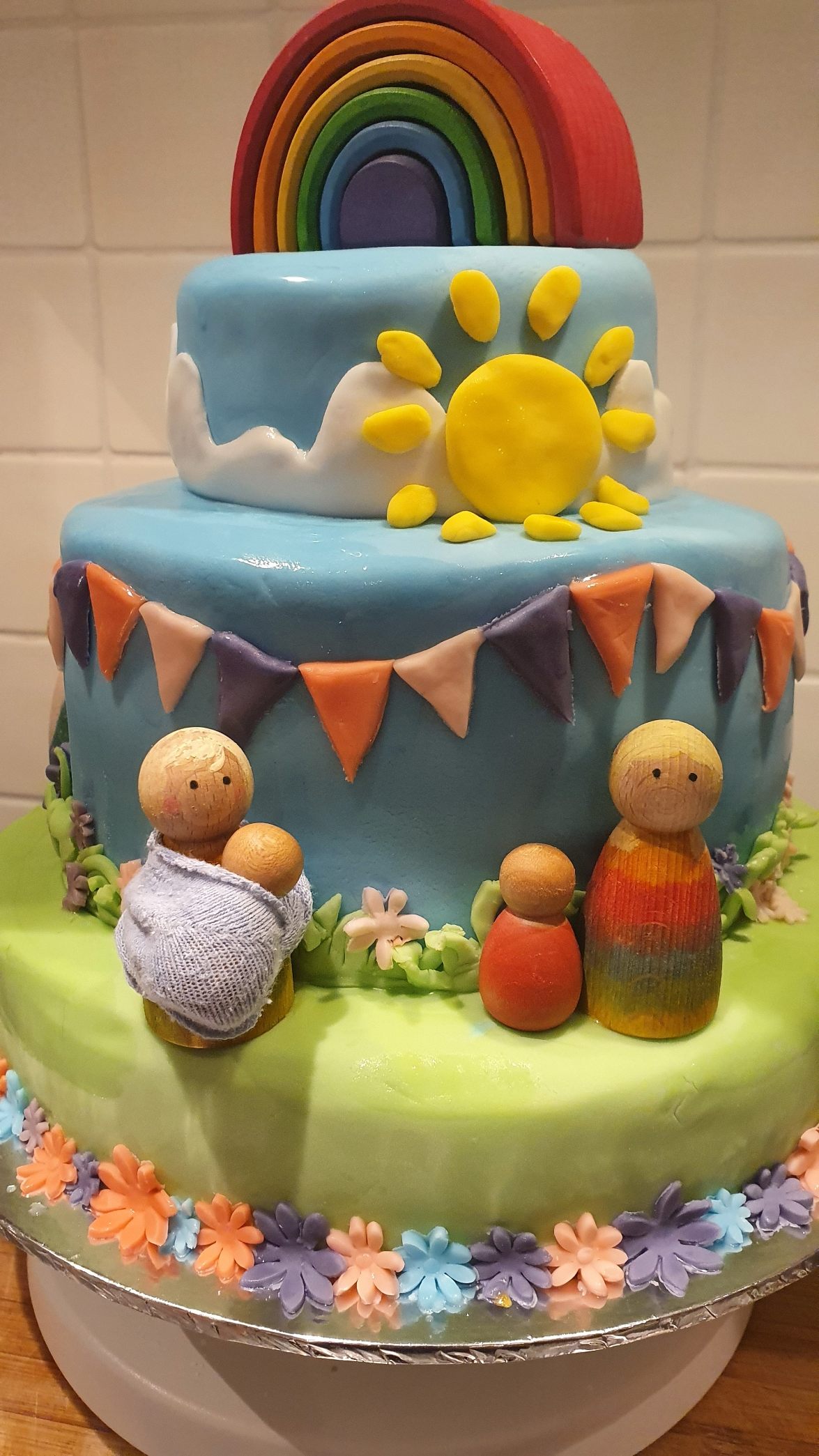 Kate Jones, a doctoral researcher at the Open University in Milton Keynes, England, recently gave a talk on #BakeYourResearch and how cakes and cookies can serve as excellent tools for public outreach. I spoke with her about the scientific baking scene and her award-winning cakes. This interview has been condensed and edited for clarity.
What do you research?
My research all sits around perinatal mental health, "perinatal" being pregnancy and postnatal experiences. My main focus is perinatal anxiety.
I believe you won Open University's "Bake Your Research" Competition the first time you entered?
This was 2020, and the weekend before the deadline, me and my kids were like, oh, should we just have a go? And I was absolutely shocked when I won.
Can you describe your cake?
The cake itself was presented with the message that one in five people experience postpartum anxiety, or carry some anxiety during pregnancy and postpartum. I had five people around the cake with their babies, which I fashioned from [wood].
I had four people clustered in pairs. We know that social support helps to reduce the risk of anxiety during pregnancy or following birth.
So they were a group of people, and this individual on their own was the one in five experiencing anxiety. And that was the message that I was trying to get across visually.
What was the reaction when you showed off the cake online?
The social media attention was really helpful. I was invited to give presentations on the subject to health visitors and midwives and to offer training on the importance of identifying and supporting perinatal anxiety. So that was real, direct impact from the cake and from the research.
I went to a Perinatal Mental Health meeting with very senior folk in the NHS [National Health Service]. And they introduced me as, "You may have seen her on Twitter, with a cake." It broke the ice immediately.
Do you have any idea how this got started? Showing off research through baked goods, with hashtags like #BakeYourResearch?
I tried to find out because I was really worried about intellectual property in my presentation. And looking around, I can't find who said it first.
But I found that it's [concentrated] in Australia, New Zealand, the United States, Canada, Ireland, and the UK. And the three main hashtags are #BakeYourPhD, #BakeYourThesis, and #BakeYourResearch.
I've mostly seen it in the UK. I suspect the Great British Bake Off has something to do with it.
I was just going to say that. There's such a public interest in Bake Off in the UK.
You've looked into this scientific baking trend pretty extensively. Is there a particular discipline that excels at it?
STEM, which is science, technology, engineering, and math, always dominates.
Oh, gosh.
These are serious people. They like things in a proper, pure scientific way. And they present amazing cakes.
Gastro Obscura covers the world's most wondrous food and drink.
Sign up for our email, delivered twice a week.