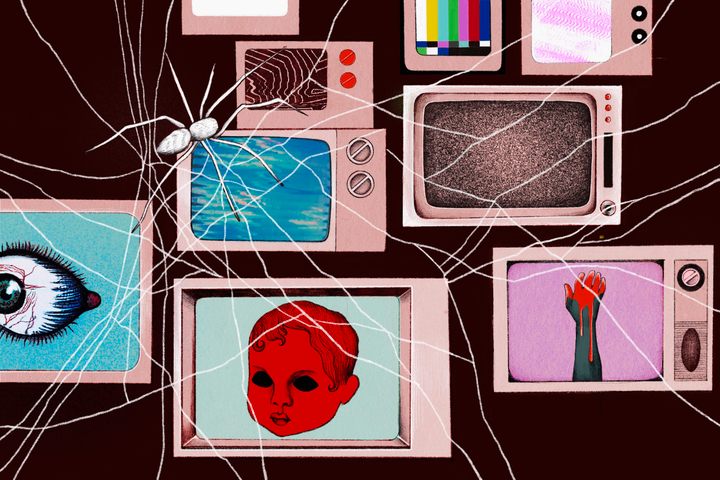 The Twisty Tale of the BBC Show Supposedly So Terrifying That It Was Destroyed
"Late Night Horror" was weird, innovative, and—mostly—will never be seen again.
It was 1985, and Chris Perry wanted to see something scary.
But not just anything scary, he wanted something very specific. Perry and his friend and fellow vintage TV collector, Richard Down, had spotted an ad in the pages of one of England's hefty 1980s media catalogs. It offered a single episode of an old BBC2 show, on a 16 mm reel, recorded way back in the 1960s. They ran to the nearest phone. The collectors just had to have it.
The person who placed the ad claimed to possess "The Corpse Can't Play," an episode from a short-lived and little-remembered series called Late Night Horror.
Their enthusiasm might sound like an overreaction. Late Night Horror seems rather unremarkable. It featured no big stars, received mixed reviews, and was dropped by the BBC after only six episodes. It is scarcely a footnote in the macabre output of the 1960s: The Twilight Zone, Rosemary's Baby, Night of the Living Dead, just about everything Charles Manson said to the press. But it holds an ominous distinction that those works will never have: It vanished.
In 1970, two years after the series first ran and amid complaints from viewers and British morality advocates that the show was too scary, Late Night Horror was taken out of circulation. Just how scary were those six episodes? We may never know. Shortly after, all known copies were supposed to have been erased or discarded. Overnight, every episode of Late Night Horror seemingly disappeared.
It was, perhaps, the scariest thing about the series. In both art and life, what we don't see is often far more terrifying and compelling than what we do, from the slasher lurking behind the shower curtain in Psycho to the anonymous voice on the other end of the phone in Scream, from the monster that just has to be under the bed to Shakespeare's "undiscovered country." Nothing excites an audience like not knowing. And this is what has transformed Late Night Horror's six-episode run from a cheap thrill to a kind of modern Necronomicon: an occult tome that only existed as a myth.
So it is easy to see why a budding TV archivist such as Chris Perry was thrilled to have finally reached someone with a copy of even a single episode. And why he was upset when it slipped through their fingers. "We were five minutes away," Perry says, his voice still pained at the memory. Down had called the seller, only to learn that the reel had just been claimed. Even more heartbreaking (and mysterious), the buyer was anonymous. "We still don't know to this day who bought it," says Perry. Late Night Horror had vanished again. Perry would have to wait more than 30 years before another opportunity would emerge from the shadows.
Late Night Horror is best known today, if it is known at all, by its mysterious (if slightly apocryphal) reputation: a broadcast so terrifying, that so scarred viewers, that it was not just taken off the air, but swiftly destroyed. It's a compelling story, but one that overshadows Late Night Horror's distinction as a forward-thinking piece of entertainment, both technically and socially. Moreover, its destruction not only reveals England's odd history of missing TV, it also illuminates something about how media consumption has changed, about cultural memory, maybe even about the ephemeral nature of art itself. Like a ghost, Late Night Horror had to disappear to make an impression.
---
When the BBC began developing the show that would become Late Night Horror in 1967, British television already had a long tradition of horror programming, starting with a 1939 broadcast of The Tell-Tale Heart. In the 50s, as the TV became a common household item, the popular Quartermass series of productions transmitted British horror—in this case with a sci-fi bent—to a wider audience. It continued into the 1960s with the sci-fi anthology series Out of the Unknown (49 episodes, 28 missing). But Late Night Horror had the distinction of being England's first horror series ever shot in color. This was not a testament to the BBC's high respect for slashers, but rather seems to have come from the belief that a trashy, late-night program would be a low-risk place to test out unproven technology. Still, as University of Warwick lecturer Helen Wheatley writes in her book Gothic Horror, the grotesque nature of Late Night Horror made it an unexpectedly perfect color pioneer. The show "drew on the Gothic, and in particular the profusion of blood and gore required by grand guignol Gothic horror, to experiment with the possibilities of the medium."
This was a meaningful moment for the genre. Color horror had already been on the big screen, but unlike in theaters, there were no ushers to stop young audiences from watching horror on TV. This vivid gore would be accessible to anyone with a color set in their living room, and slightly lax oversight from parents. "Those who worried about effects and influences of television," wrote Andrew Crissel in An Introductory History of British Broadcasting, "were not slow to point out that in its representation of violence, the blood would now run red."
The show was led by a charismatic producer named Harry Moore (who also produced Thirty-Minute Theater, the country's first color TV drama; 291 episodes, 241 missing). He was more than happy to let that red blood run. As recalled in Late Night Horror: A Complete Guide to the BBC Series, a 2022 review of the series by Colin Cutler and Steve Rogers, Moore sent a direct memo to his staff shortly before production began in 1967. "We must do everything we can from the very beginning to stimulate suspense, tension, atmosphere, potential horror and HORROR!" it read. "If there is blood, let's see the blood." Moore was a TV veteran and natural showman in the tradition of P.T. Barnum, with Barnum's gift for hyperbole. (In promoting the show, Moore once told the press that Late Night Horror would be television's "first horror series ever," a claim not even remotely true.) This attitude comes across in the showman's evocative directives to the crew of his new sideshow: "Blood, guts, thunder, lightning, eye balls, dark corners, cobwebs, close-ups, faces, faces, faces and above all EXCITEMENT."
The show's accomplishments went beyond body parts and EXCITEMENT. Among its directors was Paddy Russell, the BBC's first female floor manager, who would go on to become one of the network's most accomplished creators. After her death in 2017, The Guardian praised Russell's "gender trailblazing" and described her as a "television pioneer." Russell faced years of misogyny at the BBC, with one manager telling her no woman could ever direct a studio floor "like a man." ("Her response was that she had no intention of doing so," according to The Guardian. "She would run it 'like herself.'") Her work at Late Night Horror showcased Russell's credentials in the sci-fi/fantasy realm (then still hopelessly male-dominated), and she went on to become a regular director for Doctor Who (of 253 episodes from 1967 to 1978, 91 are missing), including helming "Pyramids of Mars," widely considered to be one of the greatest episodes in the show's history.
Another young woman working alongside Russell was actress Érin Geraghty. Geraghty, still a working actress, is perhaps best known for a recurring part on the long-running BBC drama Angels in the late 70s (where she again worked with Russell), and The Tales of Beatrix Potter, a ballet film that premiered in 1970 (where Geraghty met Queen Elizabeth). But one of her earliest roles, at the age of 12, was scaring the hell out of England on Late Night Horror. "It was always very playful," Geraghty says of the shoot. She recalls a key scene in which her young character handles dismembered body parts. Despite (or, more likely, because of) this, she says the experience was a fun one: "There was a bunch of children, of course, and they talked a lot about, you know, there will be like pretend eyes. But I don't remember any of us being frightened at all. I think it was all a bit of a laugh."
In fact, any anxiety came not from the gore itself, but from the new technical difficulties in shooting that gore. "The pressure that was on was all about the color," Gerhaty says. "I remember them coming and having an issue with something to do with the color on the cameras. Whether it was the blood, or whether it was the red of the blood against some of the other colors of our costumes. It was such such an experimental thing."
When Late Night Horror finally premiered in April 1968, the reaction from critics was not abject horror or unbridled enthusiasm. It was "somewhat uneven," according to the Complete Guide. What waves it did make came from the show's content. "I've heard that it wasn't recommissioned for a second season simply because they were a bit worried about the area it was going," recalls Dick Fiddy, a curator at the British Film Institute. This rumor, while unproven, was bolstered by a 2007 BBC News feature on the program, which stated that Late Night Horror was taken off the air because of "complaints it was too scary." The Radio Times (a British analogue to America's TV Guide) published at least one confirmed letter, in 1970, from a viewer "at a loss to understand the attitude of those responsible" for the show's explicit, macabre content. The show was also cited in a 1970 Sunday Times article about a proposed government investigation into links between violent TV and crime.
In truth, the show's terrifying reputation truly took hold only after it went missing. In the absence of the complete series, horror fans could only rely on the memories of Brits who had actually watched it—usually from the impressionable perspective of children. "It was quite shocking," recalls Fiddy. "I think it was controversial." A 1968 piece on the series in Radio Times makes it sound like it was made by the Antichrist, with tales of "BBC technicians buckling at the knees" and photographers stumbling out of the studio about to vomit. One can feel the sensational, hyperbolic hand of Moore all over the Radio Times story. As dubious as it all sounds, it is one of the few firsthand accounts of the series. Like a folk tale passed down between generations, the missing episodes of Late Night Horror grew to be as scary as our imaginations would let them be.
What we do know about the missing series can only be gleaned from production files at the BBC Written Archives outside Oxford. These summaries paint a picture of a show that was, for all Moore's bloodthirsty memos, tantalizingly oblique. Late Night Horror seemed to lean heavily on dread and allusion. The episodes "No Such Thing as a Vampire" and "The Kiss of Blood" combine ghost stories and Victorian intrigue. "Triumph of Death" is notable less for its bloodshed than for cast member Claire Bloom, a renowned stage actress and probably the biggest star to appear on Late Night Horror. (A former costar of Charlie Chaplin, Bloom is still working in 2023, at age 92.) Tonally, the stories feel closer to the death-tinged romances of Rebecca or, given their modest budgets, the chamber horrors Vincent Price shot with Roger Corman. Two episodes do, however, appear to indulge in some gore. One is "William and Mary," a darkly comic episode about a brain kept alive in a jar, based on a story by Roald Dahl. The other, as luck would have it, is "The Corpse Can't Play," the episode that surfaced in the 1980s, only to disappear again.
Whether fear or outrage or dark forces (or indifference) played a role, Late Night Horror was not picked up for additional episodes after its first run. It was shown again in 1970, after which the network's rights to repeat the series expired. It is believed that the tapes were erased sometime after this broadcast. "Subsequently, the series would slide into relative obscurity," the Complete Guide notes, "arguably becoming little more than a footnote in writings about genre television of the era." The show became a haunted relic, waiting for someone to find it.
---
The utter disappearance of media—a whole series—might seem confounding to modern audiences. Today, much media from around the world is available instantly, at home. If anything, there's a greater challenge in removing widespread access to some things. (Trust me. There's still a photo of me from college, sporting the most oversized pop-punk T-shirt anyone has ever worn, stubbornly online.) But half a century ago, "tape-wiping" was a common practice at the BBC and other British networks, and the network routinely destroyed portions of its library. According to Fiddy, erasing old broadcasts boiled down to one aspect of the entertainment industry that will never change: money. "Tapes were really expensive at the time," he says, "so they had to use them again."
Unlike Netflix or Paramount or Disney, the BBC has uniquely strict budgets because (fun fact) the network is principally funded by taxpayers, through a decree first proclaimed in 1926 by King George V with a Royal Charter, a document whose roots date back to the 13th century. "They couldn't waste license fee tax–payer's money by holding on to incredibly expensive tapes that held material that at that time couldn't be reshown," says Fiddy. All told, the purge of the BBC's archive over the years was enormous. By one estimate, as much as 70 percent of the programming made between the 1950s and the 1970s was deleted.
Surely there were ways to save money that didn't involve obliterating years of entertainment. How could they be so cavalier? The answer lies in a generational difference in how TV was consumed in an era before cable, streaming, and algorithms splintered culture. "Anything that went out, 15 million people were watching, maybe. Twenty million people sometimes," explained Royal Holloway professor John Ellis to the news series Timeshift, in 2003. (By comparison, in 2023, even the Coronation of King Charles III was watched by less than 15 million Brits.) "This was television, therefore, that was designed for that one moment of being shown to everybody," Ellis went on, "and you didn't think about showing it again very much."
Tape-wiping was a reflection of how people used to consume TV—and how society viewed the medium itself. For decades, TV was not considered a serious format, not like cinema, and the idea of preserving every episode felt about as necessary as engraving every tweet into marble. "Many didn't realize that these were valuable social documents of their time," Fiddy says. "And because television was an ephemeral art, and people were looking forward all the time, I think they were less interested in their own past." Even broadcasts that today would be in the Smithsonian (including early appearances of The Beatles, The Rolling Stones, and Bob Dylan) were deleted without a second thought. As Perry bluntly puts it: "People just never imagined in a million years you would repeat Top of the Pops."
Genre programs such as Late Night Horror were especially vulnerable. The few lucky programs deemed important enough to preserve were typically broadcasts of high culture: Shakespeare, opera, royal weddings. A "lowbrow" gore-fest? Not a chance. Science fiction and comedy were equally dismissed. In addition to the nearly 100 episodes of Doctor Who that are famously missing, the world came perilously close to losing Monty Python's Flying Circus. As Python member Terry Jones told Timeshift, the legendary sketch series was only saved thanks to a last-minute intervention from the show's editor. "He told me that they were going to wipe the first series in a month's time," Jones says. "So he helped us smuggle out the tapes from the BBC, and we recorded them onto Philips VCRs." The only known copies of one of the most influential comedy series in history spent years hidden in a cellar.
And so we see how England in the 1960s wanted future generations to remember its cultural output: the Royal Shakespeare Company and the London Symphony Orchestra, not low-budget, spine-tingling thrills. There's an argument to be made—and not an especially difficult one—that it's precisely those idiosyncrasies that make genre entertainment more deserving of preservation. "The policy of targeting light entertainment to junk I always thought was a mistaken one," said Python's Jones. "I mean, a concert made in 1960 is pretty much like a concert made today." On the other hand, adds Jones, "It's the light entertainment that records the history."
Or, in this case, the dark entertainment.
---
In the decades after "The Corpse Can't Play" slipped through his fingers, Chris Perry had devoted his career as an archivist to tracking down, restoring, and sharing lost programs—and Late Night Horror remained high on his list. In 1987, along with Down and two other college friends, he cofounded Kaleidoscope, a publishing and archiving organization. Over the years, the team recovered countless pieces of previously lost footage, including an early performance from the Bee-Gees, an episode of The Avengers (not those Avengers) that had been missing for 55 years, a 1967 broadcast of Romeo & Juliet starring a young John Gielgud, and a rare British version of Jim Henson's Fraggle Rock. By 2016, Kaleidoscope had collected more than 89,000 tapes and films. (Today, its archive includes some 750,000 items.) None of those, however, was "The Corpse Can't Play."
TV itself had grown, too. Far from its days of being almost literally disposable, the medium's historical importance was finally being recognized. This was due in large part to archivists like Perry, as well as historians like Fiddy at the BFI, who was instrumental in establishing the institute's vast television archive. The two began collaborating years earlier, when Perry and his team combed through the BFI's TV vault, then still a maze of forgotten treasures. "No one really knew what was missing from the archives," says Fiddy. "We had an idea of what we had, but until you actually went looking for something you didn't know it was missing."
Perry had become an archaeologist of sorts, and Late Night Horror was an occult artifact he just couldn't lay his hands on. "I've driven all over the country to go and look at things," he says. "Sometimes worthwhile, sometimes not." Occasionally, tapes were stashed so deep in collectors' homes that Perry had to climb on perilous rafters and knock down brick walls to recover them—although the tape behind that wall, Perry admits, was a dud: "Nothing interesting on it at all. Somebody bricked it up for some reason, for reasons we'll never know." (On the other hand, a blank tape bricked up for unknown reasons is somehow chilling, too.)
So Perry and his team were well prepared when, one day in 2016, one of them spotted the exact same print of "The Corpse Can't Play" on eBay, 32 years after Perry's close encounter with the elusive episode. The mysterious seller in the item's ownership history makes its full lineage murky. But the print likely had a long, globe-spanning journey after it escaped destruction at the BBC. The network routinely shipped 16 mm prints just like it overseas for foreign distribution. "If you sold a program to Africa, you might send it to 20 different stations in Africa," Fiddy says. "But people didn't want to send it back to the BBC. That would cost money." This time, however, budgetary restrictions were the show's salvation. Had it been sent back to England, the print would probably have been wiped. Instead, prints like these probably remained on shelves abroad until nobody knew where they had come from. In some cases, Fiddy says, horror series even wound up getting screened in movie theaters, mistakenly identified as stand-alone films.
Wherever it had traveled, by 2016 "The Corpse Can't Play" was back within Perry's grasp. He moved fast again, and a few bids later, Kaleidoscope had, at long last, secured a copy. It was a find 50 years in the making, but the same calm that sustained Perry in the decades before acquiring the episode tempered his emotions after. His memories about that day are surprisingly reserved. "Surprised it was so cheap," he sums up. "We actually got it for 85 pounds," he adds, explaining the other bidders were likely oblivious it was a missing episode. "Bear in mind that most missing TV goes for about two-and-a-half thousand pounds. That was a pretty good bet." Though he had finally hooked his white whale, his reaction was less raving Ahab and more dutiful Englishman. Perry, who only seeks tapes after getting credible leads, isn't even really looking for the other five episodes, though he says it "wouldn't surprise" him if the others were out there. He keeps calm and carries on.
Meanwhile, Érin Geraghty, who would also see the episode, was excited about the discovery for more personal reasons. "Really it was just I was interested to see what I was like as a kid," she says. Her answer once again highlights how technological developments have changed cultural memory. "Taking photos and having them developed was expensive. My parents weren't wealthy. We were a working-class Irish family," she recalls. "So when it was found and showed, I was interested to see what I was like as a child." Still, the veteran actress in her can't help playfully critiquing her 12-year-old performance: "To be honest about it, I think if I had looked back at that [when I was a little bit] older I'd have gone, 'Let's look and see actually if you've got hope of making a career in this business.' I would have gone, 'No, go and get a proper job. You're not going to make this because you're shit.'"
Perry presented the reel to Fiddy at the BFI. Fiddy, who has been key to the BFI's own lost TV recoveries (including the first on-screen performance of Pink Floyd), emphasized the importance of finding Late Night Horror in particular. "From our point of view, almost anything that gets rediscovered is another piece of the jigsaw of what the past history of television was," he says. "But when you discover something that's the only surviving episode of a series, they start to be even more important, because it actually speaks to you about what this series looks like." With this in mind, he included "The Corpse Can't Play" in the BFI's exhibition Missing Believed Wiped in 2017. For the first time in half a century, an audience sat down and watched Late Night Horror.
"The Corpse Can't Play" opens, innocently enough, with a boy's birthday party. Things grow ominous after the arrival of Simon, a shy classmate whose father had died a few years earlier, and he is cruelly mocked by the other young guests. (Yes, for having a dead dad. What can we say? Kids are monsters.) He takes this abuse silently, until someone suggests a party game, and the lights go out.
The ending? It's not for me to spoil a surprise that's gone unseen for decades. (Kaleidoscope has painstakingly restored the episode, which you can buy on DVD, no decades of searching required.) It's a shocking conclusion, to be sure, but in general, "The Corpse Can't Play" is surprisingly (or unsurprisingly) tame to modern horror sensibilities. I wondered if I had been expecting too much. Could anything live up to the 50 years of mystery created by the episode's absence? Was Late Night Horror more powerful before "The Corpse Can't Play" was rediscovered? Is there something to be said for keeping some work ephemeral, word-of-mouth, you-had-to-be-there? When we restore and revisit work that wasn't meant to be rewatched, in an entirely different time and from a different cultural perspective, is an important element of that work, ironically, lost?
I posed these questions to Fiddy. "There was something special" about the appointment-viewing of the past, he says, but he is quick to warn that today's media isn't as permanent as it sometimes seems. "It would be very complacent to think that things aren't going missing now," he says. "The way that television works now in particular means that, I think, there's a big danger of things going missing." He points out many streaming platforms never release their material on physical media such as DVDs or Blu-rays (or 16 mm reels, for that matter). And when streaming platforms lose the rights to a series (or the platforms themselves are shut down), there's no guarantee anyone will bother to protect those files. "I wouldn't be at all surprised if there will be gaps in that history, even from today," he says.
In other words, today's terrifying television could vanish just as suddenly as Late Night Horror. What could be scarier than that?