Spend Your Summer Hitting These Excellent Independent Ice Cream Shops
Atlas Obscura readers gave us the scoop.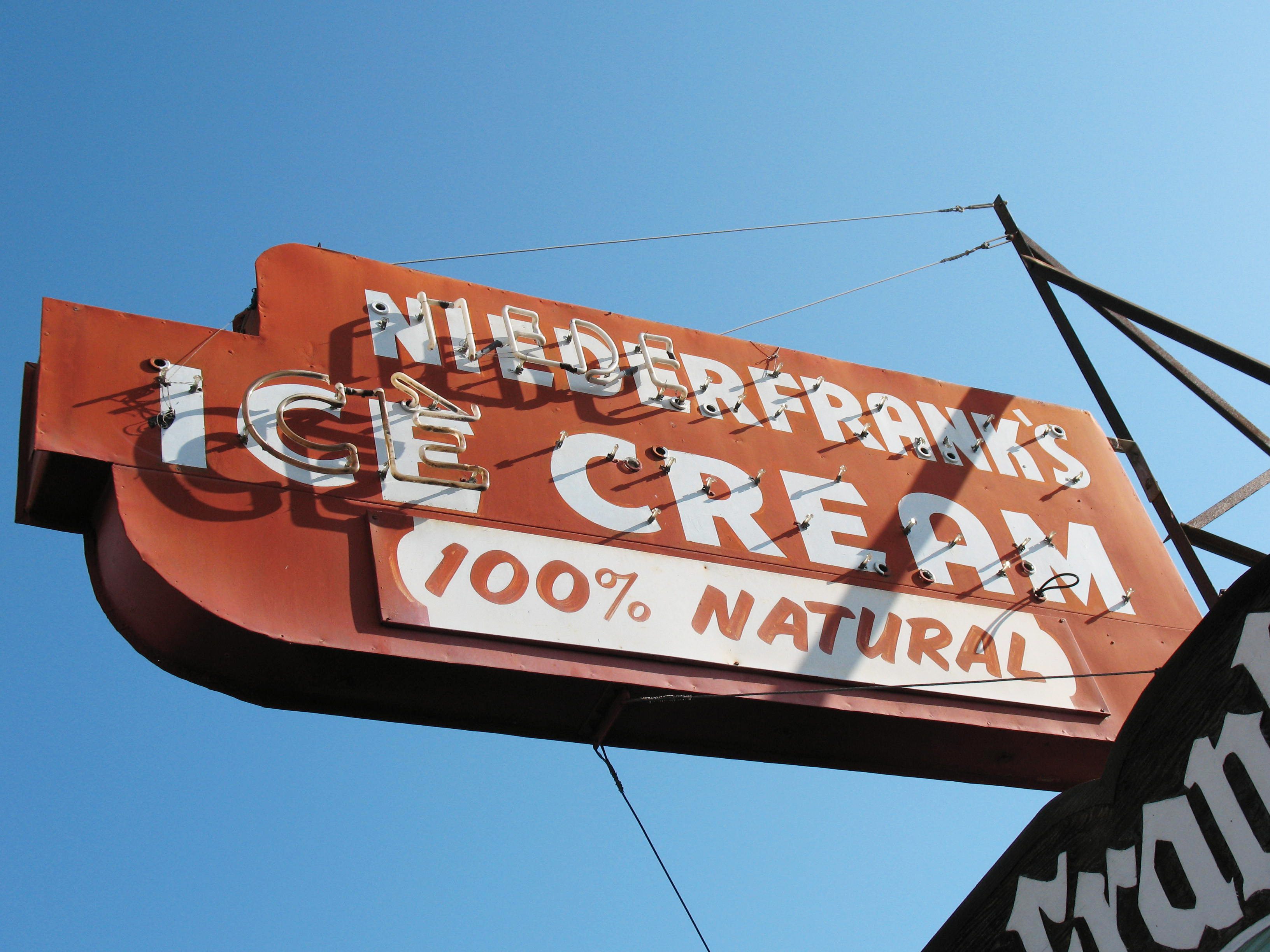 Summer's in full swing. It's hot, it's sweaty. We're indulging in too many cold showers and loads of laundry. But there's one saving grace, and that's a trip to the local ice cream shop. Not to sound too much like a Cathy comic, but ACK!, ice cream can really be a life saver on days like these.
In honor of National Ice Cream Day on July 15, we asked Atlas Obscura readers to tell us about their favorite independent ice cream shops, and the results were, well, cool. Across hundreds of responses you told us about the local ice cream shops that are important parts of your communities. Some offer fascinating new flavors, while others are just great places to get a few solid scoops. These favorite ice cream outlets embody not just the cold confections within, but the indulgent ritual of going out for a cone.
Check out some of the best submissions we received below, but fair warning, reading them will likely make you want to go get some ice cream. In fact, now it's a challenge. Just try and read about these local ice cream shops without craving a cone of your own. God, I want some ice cream…
Knoxville, Tennessee
"A local woman-owned and woman-run ice cream parlor, dairy farm, and pizza parlor! It's located in an old house in Strawberry Plains (an area of Knoxville) and also has an ice cream truck that shows up at the local farmers' market and events. All of the employees wear red gingham dresses and a cute retro style."
Recommended: "Their menu rotates, but Lavender Honey is a perpetual favorite. They also do dip cones in a variety of flavors!"
— Christina Sayer
Chamblee, Georgia
"It's located next to the downtown railroad tracks in an old train caboose. Apart from the ice cream being generously served and amazing and taste, the caboose looks like it has a giant scoop of ice cream on top."
Recommended: "Birthday Cake."
— Aida
San Marcos, Texas
"Rhea's is a tiny ice cream place in a quirky little college town that has kept up a long-standing tradition of making monthly customer-suggested ice creams the student population keeps interesting and seasonal."
Recommended: "Circus Animal Cookie."
— Benjamin Mikiten
Pesaro, Italy
"High quality ingredients, locally sourced if possible, and creative!"
Recommended: "Regina di Cuori (Queen of Hearts) is pretty amazing, mascarpone and sour cherries in syrup! I also love Brucaliffo (Caterpillar), a basil and lemon sorbet."
— Irene Boschi
National City, California
"Niederfrank's has been selling handmade ice cream since 1948. They make their own waffle cones and have a TON of flavors, both traditional and not. It is delightfully old fashioned and we HOPE it stays that way! We joke that it's the LAW that you MUST eat ice cream on national holidays, and much to our delight, they are always open (lots of places seem to close on Mondays). We love them!"
Recommended: "I always get chocolate chip but rotate the other scoop flavor (yummy sweet cream and peanut butter, for example). My husband gets rum raisin and a coffee flavor of some sort."
— Sherri Schottlaender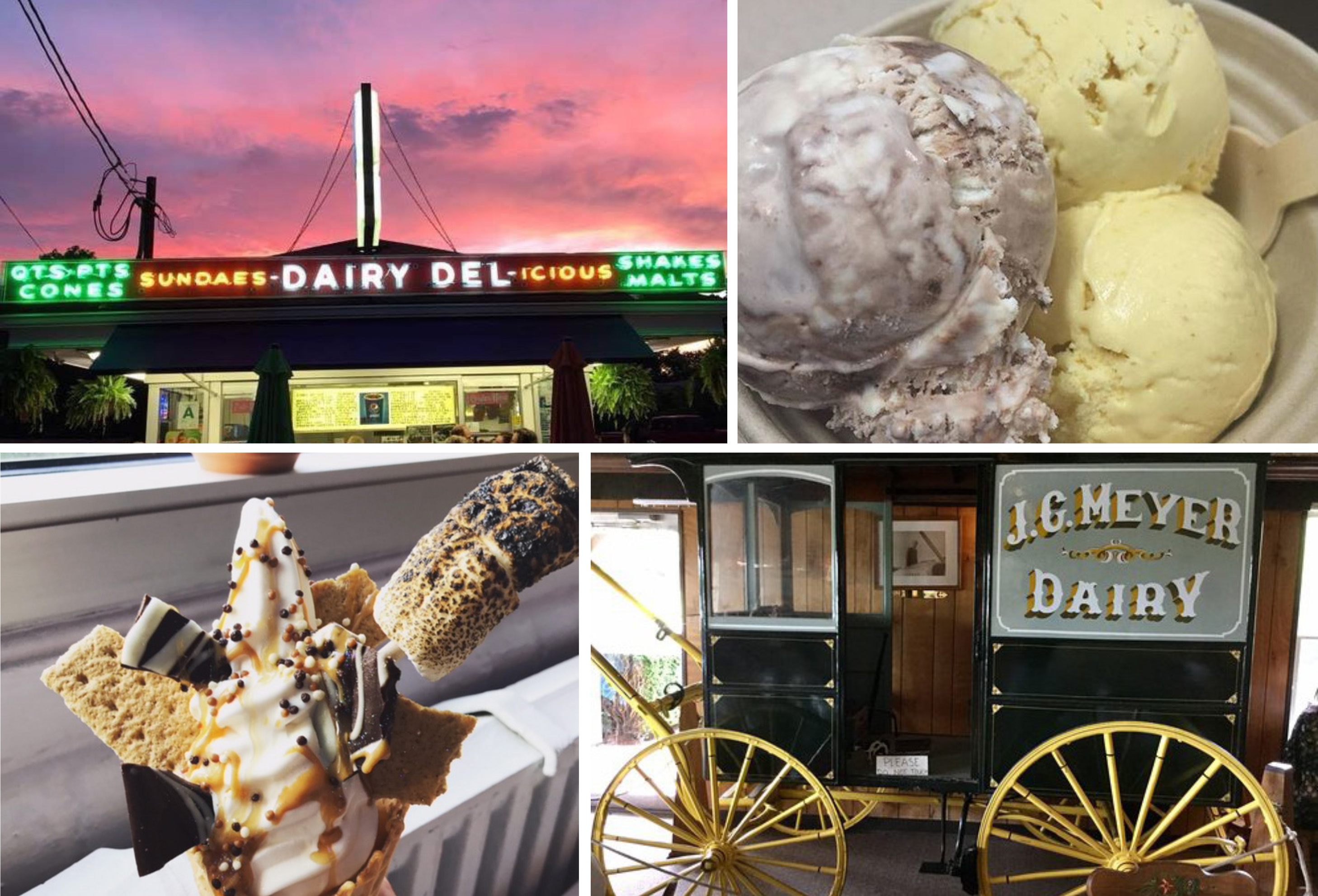 McCall, Idaho
"An ice cream shop located in an unassuming little alley in downtown McCall. You walk down the narrow passageway, and you find a small courtyard with seating and a booth where ice cream is sold. They also serve ridiculously large scoops. Even the kids scoops are larger than normal."
Recommended: "Their Birthday Cake flavor is incredible because it is filled with vanilla cake chunks, chocolate cake chunks, frosting, and caramel scattered through it."
— Clark Carver
Rochester, New York
"It offers a wide variety of ice cream flavors, but the real attraction is its own proprietary frozen custard. It comes in a dazzling array of flavors."
Recommended: "My husband's favorite is the Chocolate Orange, for me it's the creamy simplicity of their Vanilla I like best."
— Katherine
San Francisco, California
"Since 1953, still owned and operated by the Mitchell family. An eight minute walk from my flat!! 40 flavors including a few tropical inspired: Mango, Macapuno, Avocado, Buko, Ube, Langka, and more. The staff are polite and efficient. The line is usually out the door, and you never have to wait long!"
Recommended: "Caramel Praline."
— Phillip Bowman
San Francisco, California
"It's beloved in San Francisco for their dedication to quality and freshness. They make their ice cream in small batches, right where they sell it in the Mission District. They make their own toppings, they source their dairy and fruits from local creameries and farms. Bi-Rite is known for both their familiar flavors (Salted Caramel, Vanilla, Cookies and Cream) and their unique flavors (Balsamic Strawberry, Ricanelas, Brown Sugar Ginger Caramel Swirl). It's mentioned in their cookbook, Sweet Creams and Sugar Cones, that ice cream shouldn't simply be good. It should be unique to its flavor, in such a way that when you take a bite (or a lick) you'll know exactly what flavor it's meant to be. And Bi-Rite has definitely succeeded with that."
Recommended: "Ricanelas ice cream!"
— Lia
Louisville, Kentucky
"The shop first opened in 1951, and it hasn't changed much since then. It still has the old neon lighting. It also has the round concrete tables with newly added umbrellas. The owners are longtime residents of the area and one owner worked there when she was 15. Her mother and two aunts also worked there at one time."
Recommended: "They customize what I ask for, a cherry chocolate chip 'flurry' made with chocolate ice cream! Delicious!"
— Yvonne Miles
Palm Springs, California
"They make every ice cream they offer, and usually there are at least six (often more) vegan offerings. They offer flavors that are cutting edge as well as traditional offerings. Every single flavor I've tried is exceptional."
Recommended: "Watermelon Mint Sorbet."
— Richard
Hanford, California
"Old fashioned ice cream shop, soda fountain, cafe with counter seating and booths next to huge plate glass windows that face onto the town's old City Hall and park. It's been in the same location since the 1920s and is mostly untouched. Pink banquettes and pressed tin ceiling. All the ice cream is made on premises. Insanely thick milkshakes, so thick you can't use a straw until they have melted a bit. All of the flavors are delicious and loaded with milk fat. It used to be a full service dairy that sold its own milk and other dairy products as well."
Recommended: "Seasonal fresh peach and fresh strawberry. Super-chocolatey milk chocolate that almost hurts your mouth it's so chocolate."
— Jeff
Stockholm, Sweden
"Fryst is a hole in the wall located by the canal overlooking the all-white Karlberg Castle. Rehné and Benjamin who run it, take extreme care to balance the taste of their ice cream and sorbets. They only use the best seasonal ingredients (some of which, because of limited space, are stored right next to the customers). Fryst has a few flavours that persist throughout the year, but most of the flavours are switched out depending on what quality ingredients are available and what inspiration is in the air at the time. Fryst also makes holliday-relevant flavors like Gingerbread on Christmas, Champagne/Strawberry on New Years, and Semla on Fat Tuesday. All the ice cream at Fryst is draped in generous amounts of the caramel or nuts that make up the taste of that particular ice cream. Nom nom nom! The best time to visit Fryst is when it's raining or in the off season. Then the line is smaller and Rehné and Benjamin have had more time to focus on balancing the ice cream and experiment with flavors."
Recommended: "Salmiak, Lavender/Honey, Autumn Apple Pie with Browned Butter."
— Björn
St. Louis, Missouri
"They make your ice cream to order to order with liquid nitrogen and blow torches."
Recommended: "All of them. Simple Strawberry is my favorite, but their vanilla shake rendition of a White Russian is also spectacular."
— Max Raden
Queensbury, New York
"It's been featured on the Today Show, and for good reason. It's all homemade soft serve ice cream, in RIDICULOUSLY delicious flavors, and a large is literally the length of a grown adult human's forearm! A small is a large at any other ice cream establishment!"
Recommended: "Blackberry & Coconut TWISTED."
— Katie G.
Montreal, Canada
"It offers incredible flavors inspired by various Asian cuisines as well as whimsical flavors from your childhood. Examples include Durian and Fruit Loops."
Recommended: "Hong Kong Milk Tea"
— Liliane Pang
Long Beach, California
"It was started in the kitchen of a neighbor, and slowly she grew it into a business with two locations. In the store you can watch the ice cream being spun, and you can taste as many of their yummy flavors as you'd like. They also offer waffle bowls, and the most delicious butter cake. Their latest creation is called Cabernet Brownie, it has red wine brownie chucks in vanilla ice cream."
Recommended: "Cashew Fennel Chip."
— Carol Clark
Alexandria, Virginia
"[They] sell Wisconsin custard to neighbors at reasonable prices in a region where ice cream is marketed mostly towards tourists (and at tourist prices). The custard is rich and creamy, very different from soft serve. Each day, they have a different flavor in addition to the usual Vanilla and Chocolate. President Obama made a trip there in 2009 and there is still a cute picture of him and his then eight-year-old daughter, Sasha. We experienced a scare when the owner Liz Davis shut down briefly last year, her hard work was evident throughout the shop but also personally exhausting. But fortunately, she was able to sell the shop and relax!"
Recommended: "Mozambique, with cinnamon, nutmeg, and cloves."
— Zack DesJardins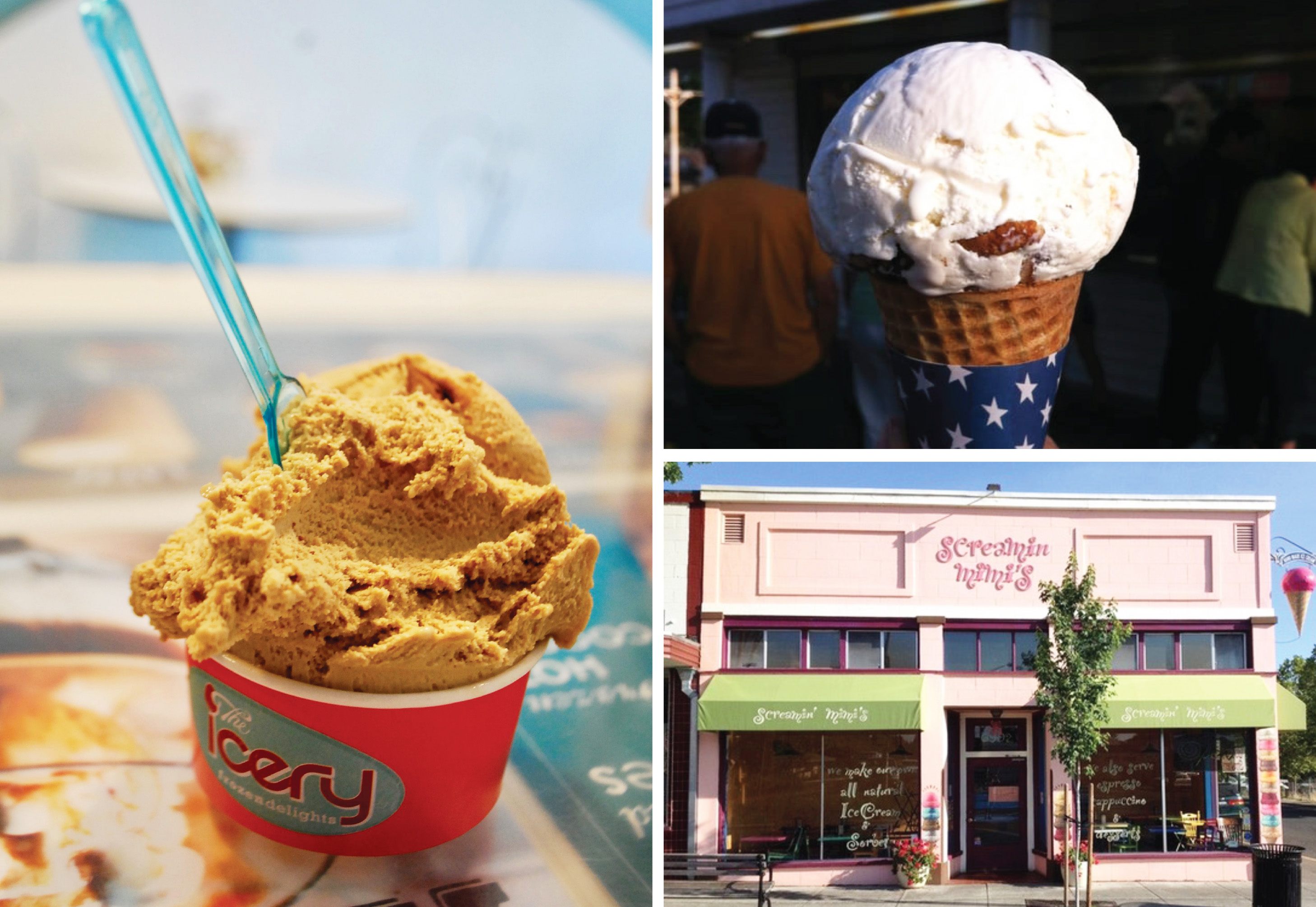 Montreal, Canada
"I think Kem Koba represents what Montreal is about: multiculturalism. It is owned by Ngoc Phan and Vincent Beck. Beck is from France and Phan is from Vietnam. They have combined their cultures to create atypical flavors like Hibiscus, Vietnamese Coffee, Pandanus, Almond and Sour Cherry, Corossol, Lychee, Mango Lassi, and all kinds of Southeast Asian fruits. Although you can have those individually, they prefer to combine flavors, often a traditional and an exotic flavor, in their soft serve. That represents our city. We come together from all over the world in a happy harmony (at least most of the time). And the line is always, always long."
Recommended: "Pandanu Leaf"
— Marie Lamensch
Oakland, California
"The name is hilarious, but the real story of it is that it took about two years to open. During that time it sat closed with a beautiful, tantalizing sign and slowly added more and more fascinating interior elements (wavy pink plastic walls, a ceiling painted blue with clouds, giant plastic ice cream cones) week by week… but stayed closed! They painted fantastical pictures on the windows of an ENORMOUS donut with scoops of ice cream inside it, leaving us to wonder, will they serve that? Over time it just turned into an awful tease. I wanted an ice cream shop in my neighborhood so bad, especially one so overwhelmingly pink and magical. But whenever I asked the guys at the corner store next door (same family that was going to open the shop) when it would open, I got responses ranging from 'probably next week!' to (dismissive hand wave) 'eh…' I gave up hope over time. Then one day, out of frickin' nowhere, it opened."
Recommended: "Cookie Monster. It's bright blue and includes elements of cookies and cream, cookie dough, brownie, etc. It is so wonderful and one time they were out and while I was struggling to pick another flavor, a small child ran into the shop with a look of joy which absolutely crumbled when he heard there was no Cookie Monster."
— Amy Martin
Beaverton, Oregon
"It's called Ome Calli, which means "second home" in Nahuatl, an indigenous language in Mexico (spoken during the Aztec empire). It was founded and currently owned by Mexican immigrants, and it serves people in the Latino community and beyond in the Portland metro. It's amazing because of the way its ice cream and frozen treats are associated with a particular culture but the shop is also very open to everyone in the community. I worked there part time in the summer and I love it a lot, especially getting to chat with customers in English and Spanish."
Recommended: "I would say either Corn or (alcohol-free) Tequila with Sunflower Seeds!"
— Amanda Flores
Sebastopol, California
"They make their own ice creams and sorbets from local ingredients and they are wonderful. They also make their own waffle cones, nice fresh and crunchy. They are constantly trying new flavors or bringing back seasonal flavors. Yesterday as we drove by their sign proclaimed Lavender ice cream."
Recommended: "I'm a purist, Chocolate all the way. My favorite is their Deep Dark Secret in a waffle cone."
— Kee Nethery
Salina, Kansas
"[It's] special because they offer terrific basic flavors, unusual specialty flavors, and are very responsive to customer requests for flavors you can't find anywhere else in the central Kansas region. They also offer non-dairy options."
Recommended: "Maple Bacon, and Salted Caramel Banana."
— David Hawksworth
Islandmagee, Northern Ireland
"It has been run by a local family for more than 70 years. What makes it special is the transformations it has gone through the years from a dance hall, to a big toy store, and now to a mixed retail shop and cafe, but something has never changed. They have always sold their own family recipe of ice cream throughout all those years and store transformations. So that just tells you that the ice cream is a winner with the public."
Recommended: "Strawberry Cheesecake."
— Nicholas Davis
Pittsburgh, Pennsylvania
"You can smell their homemade waffle cones from about a block away. My favorite touch is that they put an M&M in the bottom to stop ice cream drips. I love that you get a bit of chocolate with that last bite of the waffle cone!"
Recommended: "The crowd favorite is Birthday Cake, but I like their Chocolate Chip Cookie Dough!"
— Candy
West Lafayette, Indiana
"The nicest part about going to The Silver Dipper is the man that works there! He is as passionate about ice cream as anyone that ever existed. You could even call him an ice cream nerd. The fat (read: deliciousness) content in their ice cream is so high they don't want to tell you!"
Recommended: "The midwestern classic: Blue Moon."
— Colleen Neiner
Madison, Wisconsin
"It's part of the University of Wisconsin Center for Dairy Research. The ice cream produced there is obscenely rich in butter fat with a mouth feel that has to be experienced to be believed. The portions are large with innovative flavors."
Recommended: "Two stand outs are Orange Custard Chocolate Chip and Union Utopia, vanilla ice cream with swirls of peanut butter, caramel, and fudge."
— Henry Verden
Monona, Wisconsin
"On the front window is a giant fish painting. There isn't a huge variety of ice cream, but it's all good. Everyone goes to the bait shop in the summer. It's the go to place since we don't have a proper Chocolate Shop (that's a Midwestern ice cream company, it's the best ice cream ever). The bait shop is something everyone in Monona knows. It also sits right on the lake so you can visit it by boat."
Recommended: "Blue Moon (It's everywhere in the Midwest, but it's one of my favorite flavors)."
— Skye
Montgomery, Texas
"We have been known to skip dinner entirely and just go to Chiller Bee! It's actually frozen yogurt, but so delicious, dozens of flavors and hundreds of toppings."
Recommended: "I love the Tahitian Vanilla, but the Pomegranate Raspberry is delicious too!"
— Steven Meeker
Baltimore, Maryland
"The Charmery is everything you want in an ice cream shop. Interesting flavors, great staff. My favorite was when they paired with local restaurants to create ice cream with ingredients like saffron, Marcona almonds, and other spices that are used in international cuisines."
Recommended: "Old Bay Caramel."
— Carol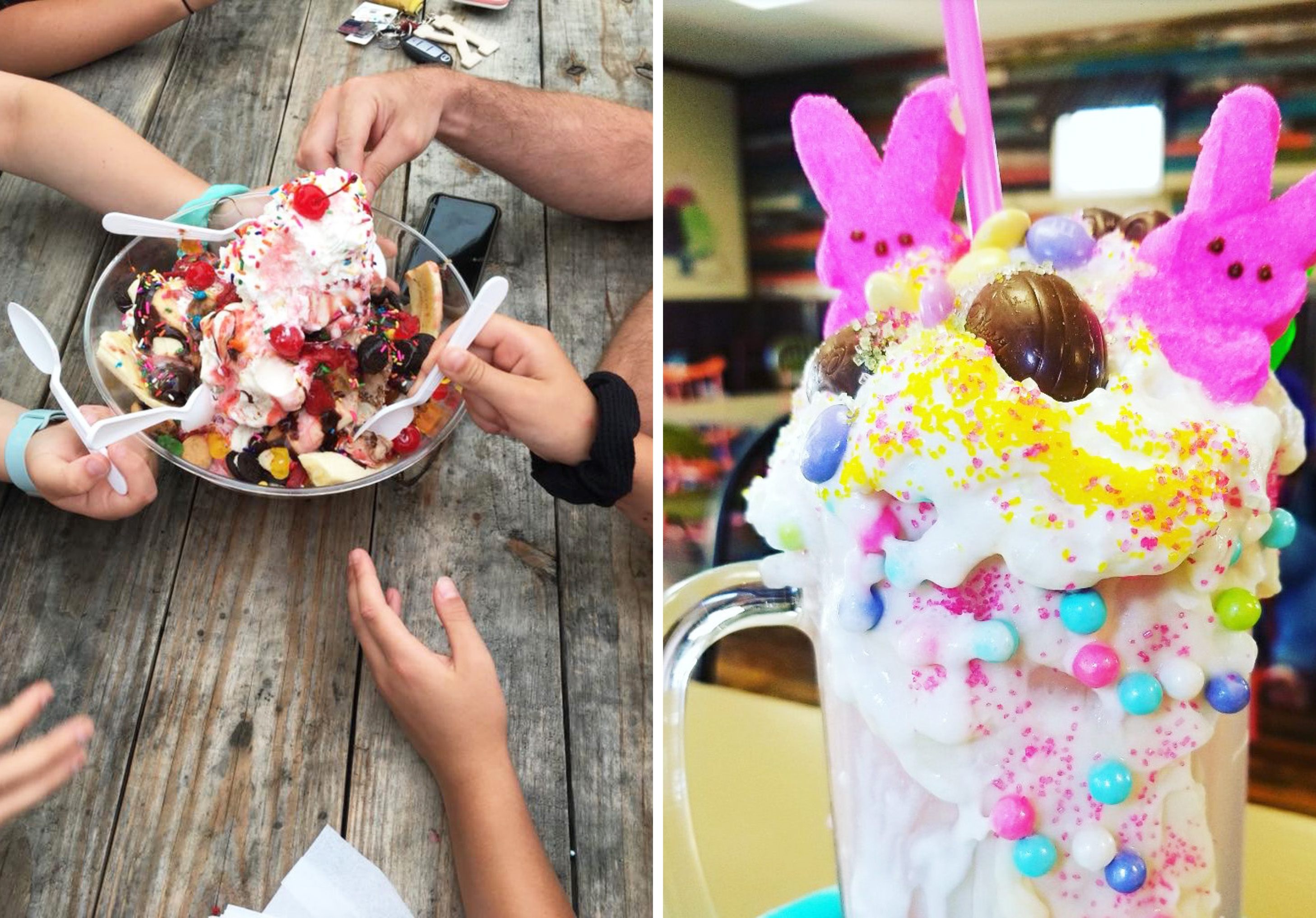 Anchorage, Alaska
"They make their own ice cream using local ingredients including spruce tips and salt from Prince William Sound."
Recommended: "Sitka Swirl."
— Timothy Baranoski
Phoenixville, Pennsylvania
"Cool little interior in downtown Phoenixville, Pennsylvania with a great owner. First time I went in and got ice cream, I didn't see the notice that it was cash only. I got to the register with no cash on me. I started to stumble through an apology, indicating that I'd go to the nearest ATM, when he said to me, "Don't worry about it. You can get me back next time." I thought that was a seriously cool attitude to have. In the time since, I've seen him do the same thing several other times for others."
Recommended: "I'm partial to 'The WHYY Experience,' a flavor dedicated to a local radio station, consisting of vanilla ice cream with butterscotch and chocolate-covered pretzels, in a pretzel cone."
— Thomas Foster
Seaham, England
"American diner style, with black and white floors, red vinyl booths, jukebox. Ice cream made on site, with new, bold flavors occasionally."
Recommended: "Turkish Delight."
— Barbara Young
Malone, Wisconsin
"[They have] the most delicious goat milk ice cream in a variety of flavors! They are also a working goat farm, so at certain times of the day you can go outside to pet the baby goats or watch the milking process from behind a big glass window in the milking parlor."
Recommended: "I'm a Vanilla girl, but they also have an incredible Sea Salt Caramel."
— Shannon Schuren
Bridgeville, Delaware
"I love Vanderwende's Farm Creamery! Vanderwende's offers about 25-30 different flavors of ice cream. My favorites are Lemon Chiffon and Salty Caramel. They also have milkshakes, sundaes, and even a dog sundae that comes with two dog treats in it. Bonus: you can eat your ice cream outside, right next to a pasture full of dairy cows. That is, if the wind is blowing in a favorable direction. Otherwise, you might want to stay inside."
Recommended: "Salty Caramel."
— Julie Peters
Minneapolis, Minnesota
"My favorite ice cream parlor is MN Nice Cream. They sell soft serve with all kinds of amazing toppings to choose from. It started out as a food truck and finally found a little spot to call its own just this year."
Recommended: "They have the standard chocolate, vanilla, and strawberry, but offer special flavors now and then."
— Monique Hernandez
Chicago, Illinois
"[This shop] has been around since 1926 in a pastel pink, hacienda-style building. The origin story of founder Joseph Sapp growing up as an orphan on a work farm and saving up money to buy ice cream, is pretty special too."
Recommended: "The titular treat of ORC is a cone with five flavors stacked on top of each other. Chocolate, Strawberry, Palmer House (New York vanilla with cherries and walnuts), Pistachio, and topped with Orange Sherbet."
— Joe Lalonde
Norwood, Ohio
"The Norwood Delite creamy whip always has blue soft serve, which is a weird Cincinnati obsession."
Recommended: "Blue and Vanilla Swirl with rainbow sprinkles."
— Julia Hider
San Diego, California
"Mariposa Ice Cream is hands down my favorite ice cream parlor. The owners (Anna and Dick) make everything from scratch, which means summer time brings wonderful fresh flavors, like Peach. The best part about Mariposa is that it embodies what an ice cream shop should be to a community. The owners know everybody, and everybody loves them. Testament to this is that the walls are plastered with thank you notes from school kids and neighbors. When I was in elementary school, Anna and Dick got to know all of us kids by offering $1 cone happy hour. Twenty years later, Anna remembers my face and name any time I stop by, despite the fact that it might be a year or two in between visits home. Ice cream should be delicious, but it should also be provided by people who love you, and that's what makes Mariposa the best!"
Recommended: "Banana Walnut."
— Erica
Hadley, Massachusetts
"Arguably the best ice cream I've ever had, and all the dairy comes from the animals so it's fresh and local. They also generally have baby calves, piglets, and other cute critters around the front so you can see them being adorable as you eat your treat."
Recommended: "Peach Pie."
— Thomas Varley
Maugansville, Maryland
"[This] will always be my favorite ice cream shop. I've lived in Maugansville, a neighborhood outside of Hagerstown, Maryland my whole life and the creamery has always been a favorite staple of mine. Their menu has evolved many, many times over the years with things like stuffed pretzels and pulled pork sandwiches being on the menu at one point. But the star has always been the huge variety of ice cream available. I love trying every new flavor they get in and it's always a huge portion for very cheap."
Recommended: "Flower pot sundays, 20 flavors of 'lollipops' (snow cone with soft serve inside it), and massive banana splits."
— Dylan Benedict
Phoenix, Arizona
"The best, most crowded, vegan cold spot in town. They are the creators of the infamous tSoynamis, a vegan soy and coconut soft-serve ice cream topped with a variety of goodies to anyone's liking. This local shop has a variety of signature creations that we all love and enjoy often. However, it is their creative new off-the-menu items (i.e. Bone Thugs n' Carmely) that makes us come back daily or weekly."
Recommended: "Soy Capitan! It's Captain Crunch cereal, vanilla and chocolate swirl ice cream, and fresh strawberries."
— Vy Nguyen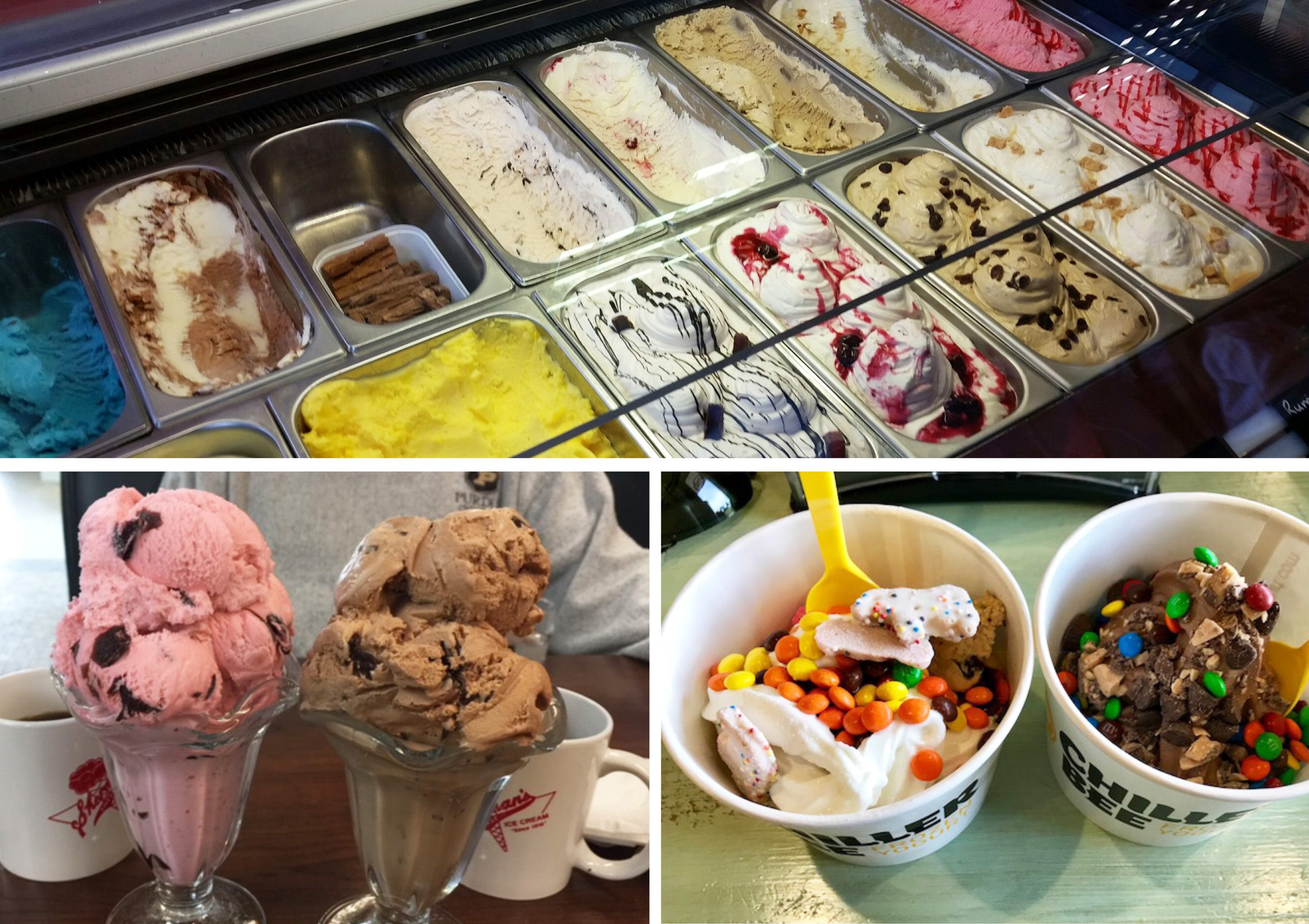 Portland, Oregon
"[They] serve a variety of beautiful and interesting flavors of ice cream, several non-sorbet vegan flavors, beer floats, and sorbet cocktails. Also, they parked their truck so it was blocking the driveway of the ICE facility and served free ice cream to all the protesters, with a big sign that said, 'NO FASCISTS.'"
Recommended: "Pirate (banana, molasses, dark rum)."
— Sascha
Indianapolis, Indiana
"Located along an old rail line transformed into a multi-modal community trail, Broad Ripple Ice Cream Station (BRICS) provides a gathering spot for people of all ages to get a sweet treat. Locally owned and operated, you always run into someone you know at BRICS. And the ice cream is scrumptious."
Recommended: "It's hard to choose just one. Whistle Stop Wake Up, Broad Ripple Blackberry, Monon Tracks."
— Sara VanSlambrook
Afton, Minnesota
"Selma's is the oldest ice cream shop in Minnesota. It's been around for at least a hundred years and is still in business. They sell old fashioned candy there as well, like candy cigarettes. I read somewhere that the building was originally an ammunition storage building during the Civil War that got converted into the ice cream shop it is today."
Recommended: "Blue Moon or Superman."
— Julia Kobilka
Six Mile, South Carolina
"Specialty creations in a mug."
Recommended: "Praline Pecan."
— Sharon Chandler
Auckland CBD, New Zealand
"The craziest, tastiest, most luxurious ice creams I've ever had the pleasure of eating! Giant Squid anyone? Or ice cream in a Yorkshire Pudding instead of a cone? Instagram perfection with the taste to follow it up."
Recommended: "They change all the time, making the most of local fresh produce. Tamarillo, pineapple, bitters, macadiama, and bee pollen is a current one!"
— Helen Gurley
State College, Pennsylvania
Established in 1887, their 1910 milk wagon is on display in the ice cream shop today. Lots of folks rave about the creamery at close by Penn State, but after living in the area for 30 years I can tell you that Meyer's ice cream is superior.
Recommended: "They are all delicious, but I'm partial to their black raspberry."
— Kelly Walker
Singapore
"It's located in an old shopping building and even though it's quite out of the way, many people go there for a value scoop of high quality ice cream or sorbet in a store that's small, warm, and cozy. They do amazing flavours with high quality ingredients and also do in depth research about new flavors, especially ones that highlight local flavors and tastes."
Recommended: "White Chocolate Nori."
— Oscar
Lansdowne, Pennsylvania
"They make gelato that tastes like your right back in Italy! They also make their own Philly-style Italian water ice recipe like no other. A mom & pop shop that looks like you are walking into a whimsical snow land of wonder (with a cherry on top)."
Recommends: "So many but one favorite is Coconut Basil."
— Avril Losacco
Siloam Springs, Arkansas
"[They craft] unique and classic flavors with 100% natural ingredients and colors in a picturesque, small downtown location. They began seven years ago as a fundraiser to support a local family's child adoption, and they still partner with adoption support organizations today. I love that they like to experiment with flavors and you never know when there might be something new in the case. Some of their flavors include Caramel Bourbon, Happy Goat, Lavender Mint Chip, Carrot Top Sorbet, Gunpowder & Roses, and my son's favorite is Blackout Lemonade which is a rich black color."
Recommended: "I personally like their coffee flavors."
— Sara K. Anderson
If you have a favorite ice cream shop of your own to share, head over to our community forums and tell us about it!
Responses have been edited for length and clarity.
Gastro Obscura covers the world's most wondrous food and drink.
Sign up for our email, delivered twice a week.