This Latte Artist Forms Foam Into Flocks of Birds
Put a bird on it!
A curious eye peers up from the cup, its head cocked to the side, its beak small and sharp against the tufted plumage of its chest. Ku-san brings the cup to her lips, and its taloned feet disappear. Ku-san has been making bird-themed latte art for 10 years, and she showcases her whimsical creations on her Instagram account, @Kunit92. Each cup holds a miniature portrait of a feathered friend: a proud cockatiel with rosy orange cheeks and an electric mohawk; a sweet sparrow with dun wings; a plump yellow-breasted magnolia warbler.
A native of Aichi Prefecture, Ku-san has lived in Tokyo for five years. She's not a professional barista and has never worked in coffee. Instead she makes the lattes at her home in north Tokyo as a hobby. She's a coffee lover and frequent café patron, and became interested in latte art when she bought her first espresso machine. At the time, the latte art she saw was mostly hearts and leaves. "My first attempts weren't very good," she says (you can see some of those early cups in the annals of her Instagram account). "But in one of those failed hearts, I saw a bird's chest." And so Ku-san's bird latte art was born.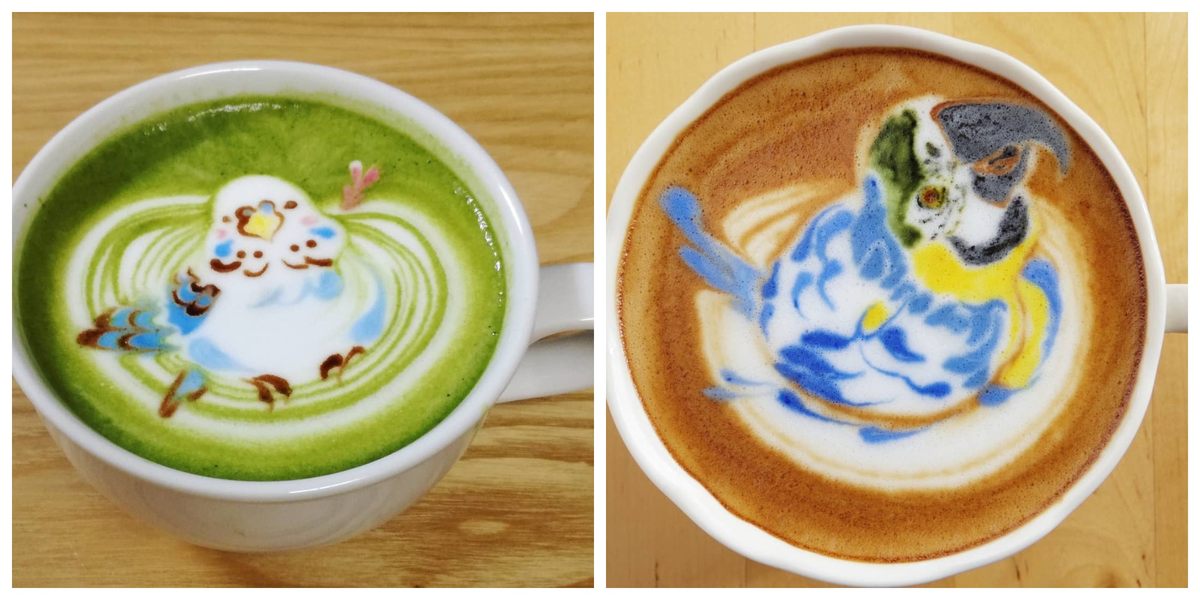 Latte art is big in Japan, which is home to latte-art books, magazines, and championships. Japanese baristas regularly take home accolades in international competitions such as the World Latte Art Championship and the Latte Art World Championship Open. The burgeoning field has produced formal categories. Baristas using the free-pour technique control the flow of milk and foam with just the movement of their wrist, without touching the surface of the drink. To create more intricate designs, baristas using a technique called etching draw designs in the foam with the tip of a metal thermometer or bamboo skewer. Other techniques include heaping foam to form a character that rises out of the cup (3D latte art), or even machine printing a photographic image on the foam with ink made of coffee (photo latte art).
Ku-san starts with a free pour to make a foam circle that forms the bird's body. She then uses a metal skewer to add lines and details. After the foam shape is done, she uses natural food dye mixed with foam for color accents, and occasionally chocolate syrup. And although she most often uses espresso as a base, she also uses matcha, which provides a lush green background that matches her tropical subjects well.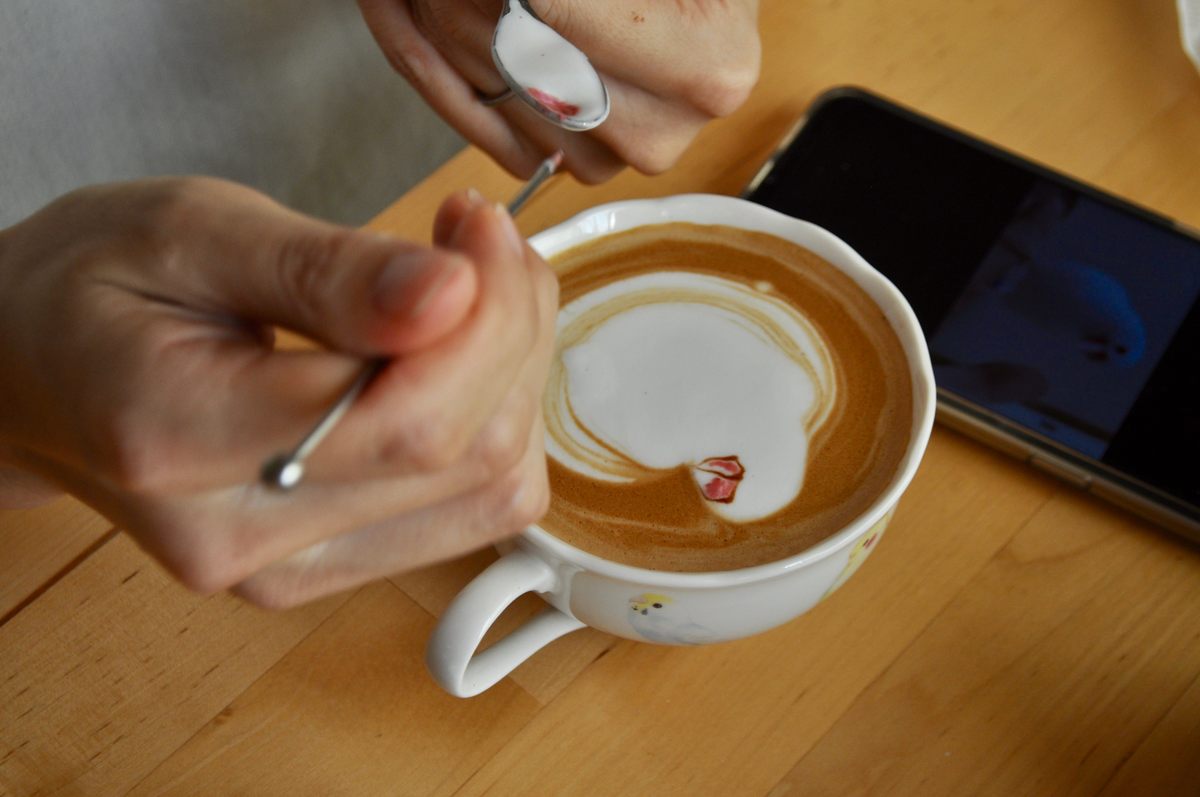 "My father keep parakeets, chickens, and doves," says Ku-san. "And as an adult, I first kept a cockatiel as a pet." Her current "ai-chou" (literally love-bird; in Japanese the designation "ai" or "love" is added to the front of an animal to denote a pet) is a Bourke's parrot named Sakura. Ku-san draws inspiration from Sakura and her previous cockatiel. On Twitter, she sometimes asks people to post their birds as models.
"I make bird lattes most every day, whenever I want to drink coffee," she says. "Lately, I have been getting a lot of pictures from people who say it's okay to use their pets as models." Because of the size and the shape of the canvas, small, round animals are easy to make, which explains the popularity of cartoon teddy bears and rabbits in latte art. Bird latte art, however, is not very common, explains Ku-san. "Given the drawing area, small parakeets are easiest to make." She tries her hand at other, bigger birds too, including peacocks and swans.
Though Ku-san's latte art isn't available in any cafe, she sometimes makes her creations at bird-themed popup events, where bird lovers gather to shop for avian arts and crafts. She also draws and crochets; her handiwork includes small crocheted birds and tiny felted coffee cups with latte art.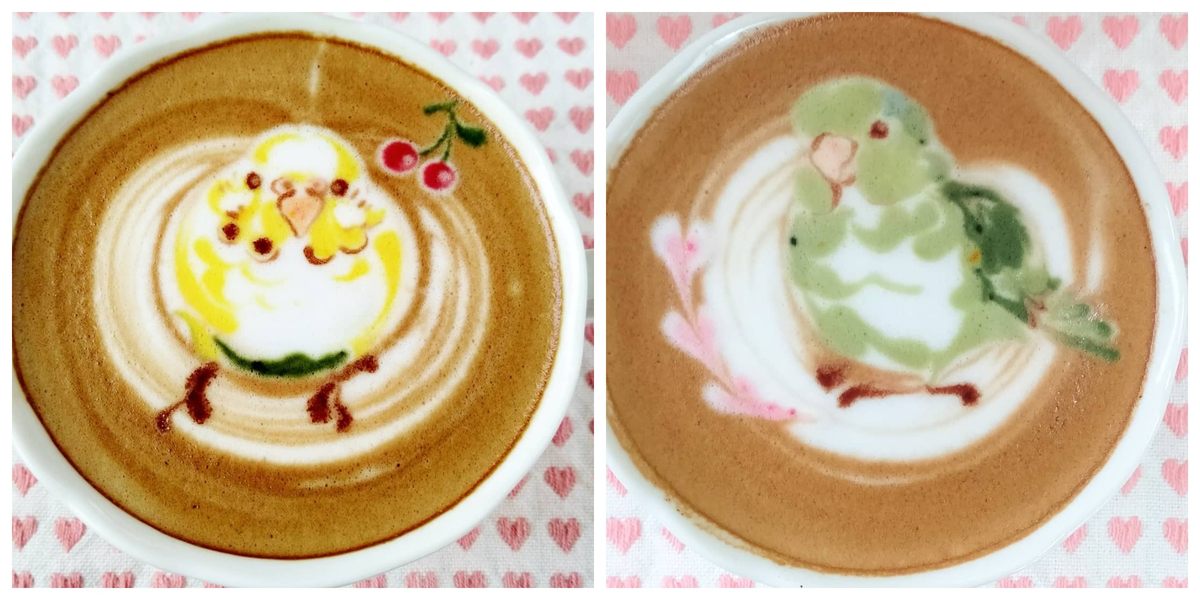 "I try to make each latte in seven to 10 minutes, with five minutes being the goal," she says. "You don't want the drink to be lukewarm." Rather than perfecting every detail, she prefers to work quickly and make something impressionistic. The work is, after all, extremely ephemeral, lasting only about five minutes before the lines start to melt and disintegrate.
Ku-san says that combining her love of coffee and her love of birds simply makes her happy. Daily life is often a series of mundane moments punctuated by small pleasures. A coffee break is a short reverie, and the icing on the cake, in this instance, is the foam on the latte.
Gastro Obscura covers the world's most wondrous food and drink.
Sign up for our email, delivered twice a week.