The Library-Themed Livestream Where Birds Stretch Their Wings
A little "library" that's literally for the birds.
At an unusually unruly library in Virginia, there's food everywhere and droppings on the floor. Sometimes, visitors stand on the reception desk and squabble with abandon.
Welcome to Bird Library, a large bird feeder designed to resemble a public reading room, where feathered patrons from finches to sparrows (and the occasional squirrel) congregate. Perched in a backyard in the city of Charlottesville, it is the passion project of librarian Rebecca Flowers and woodworker Kevin Cwalina, who brought together their skills and interests to showcase the lives of their backyard birds.
"Both of us have a love for birds, but once we set up the library we really got into it, making up stories for them," Flowers says. When she noticed that mourning doves look like they're wearing blue eyeshadow, for example, she created a character named Miss Dove. "I imagine her as a children's librarian who doesn't actually like children. We have pictures of her being lazy or making some strange faces."
Flowers and Cwalina created Bird Library five years ago after they discovered the Piip-Show, a now-defunct live feed of a birdhouse decorated as a coffee bar that became one of Norway's most popular TV broadcasts. Their feeder can likewise be observed on a 24/7 livestream, and its activity followed on a website where the couple regularly posts photographs of particularly comical or rare encounters. Recent visitors have included a striking rose-breasted grosbeak, a cardinal that looks like it's vaping, and a trio of mourning doves seemingly caught in a serious meeting. Cwalina rebuilt and expanded the library last year, but the original one featured miniature, handmade books that common grackles would steal and leave scattered around the yard.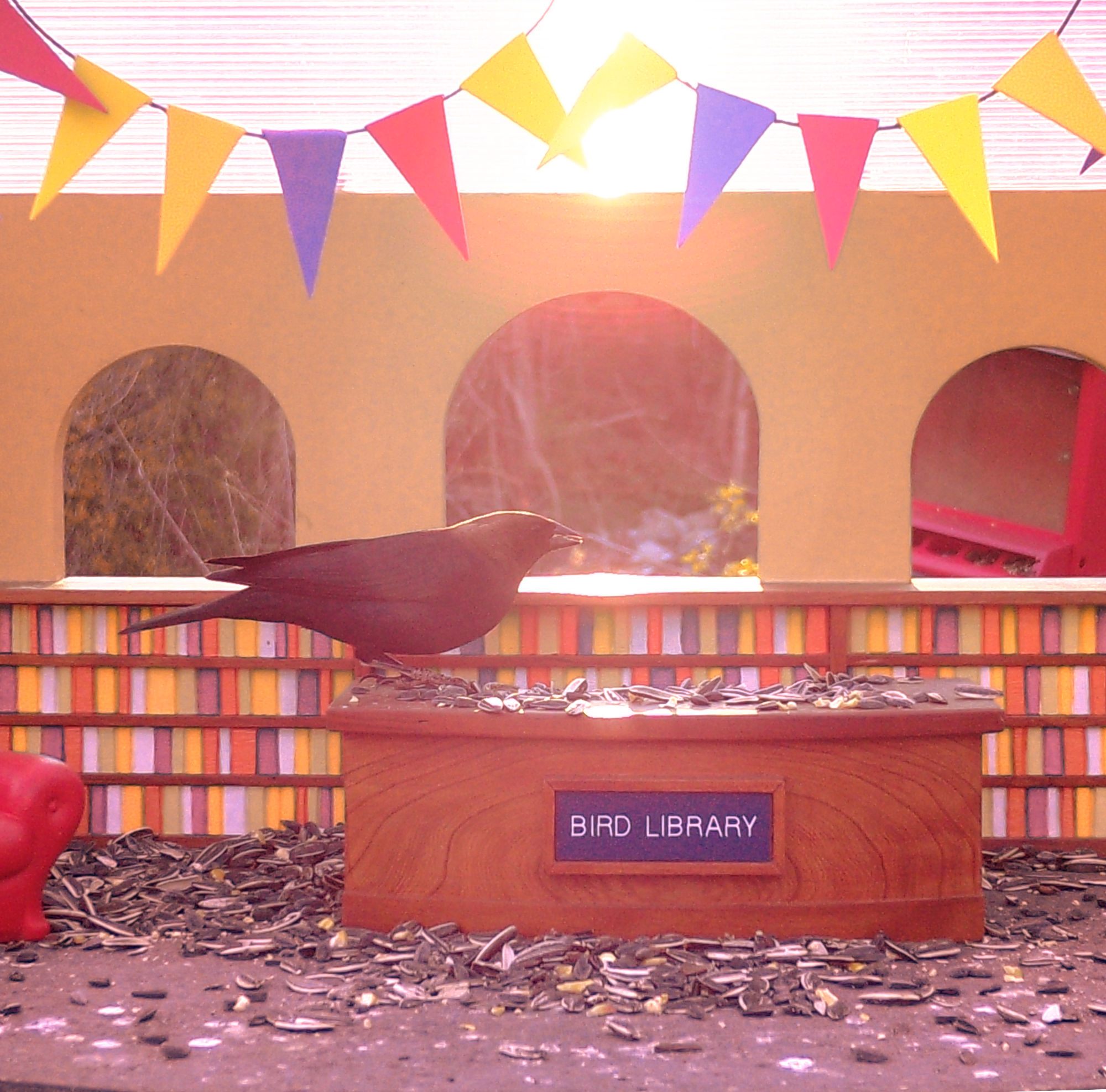 "They all have their own personalities, and you can learn a lot about birds by watching their mannerisms," Flowers says. "Mourning doves tend to be ground feeders, so they snack and stay a while. A nuthatch will fly in, grab a seed, and fly out. Some of the sparrows have a technique where they eat the food and fling it everywhere, like a dramatic explosion of bird seed. Cardinals can be a little aggressive to other birds—they're often fighting with sparrows."
As an activity that can be enjoyed in solitude, birdwatching has gained traction as a popular way to pass time during the COVID-19 crisis. Not only are more people going birding in nearby parks or woods; more people are also turning to webcams of birds, which offer individuals who do not have the luxury of accessing green space a way to connect with nature. The Cornell Lab of Ornithology's live cameras, which spotlight avians from barred owls to red-tailed hawks, have received twice the amount of traffic during the months of March through May compared to that same period last year, according to the Lab's Bird Cams Project Leader Charles Eldermire. Viewers are also spending three times the amount of time on those feeds despite a reduction in cameras this season.
That spike might be attributed to a common yearning to find comfort in the natural world during a time of overwhelming uncertainty. "Watching birds can help provide the thread that stitches the fabric of an increasingly fractured-feeling-world back into something that approximates whole," Eldermire says. "Birds offer a continuum of learning opportunities, with more common local residents that can be easy to get to know and observe intimately, and surprising visitors that might be new or transient. To catch a glimpse [of them] or a snippet of a recognizable song can spark excitement during these pandemic days when so much can seem the same."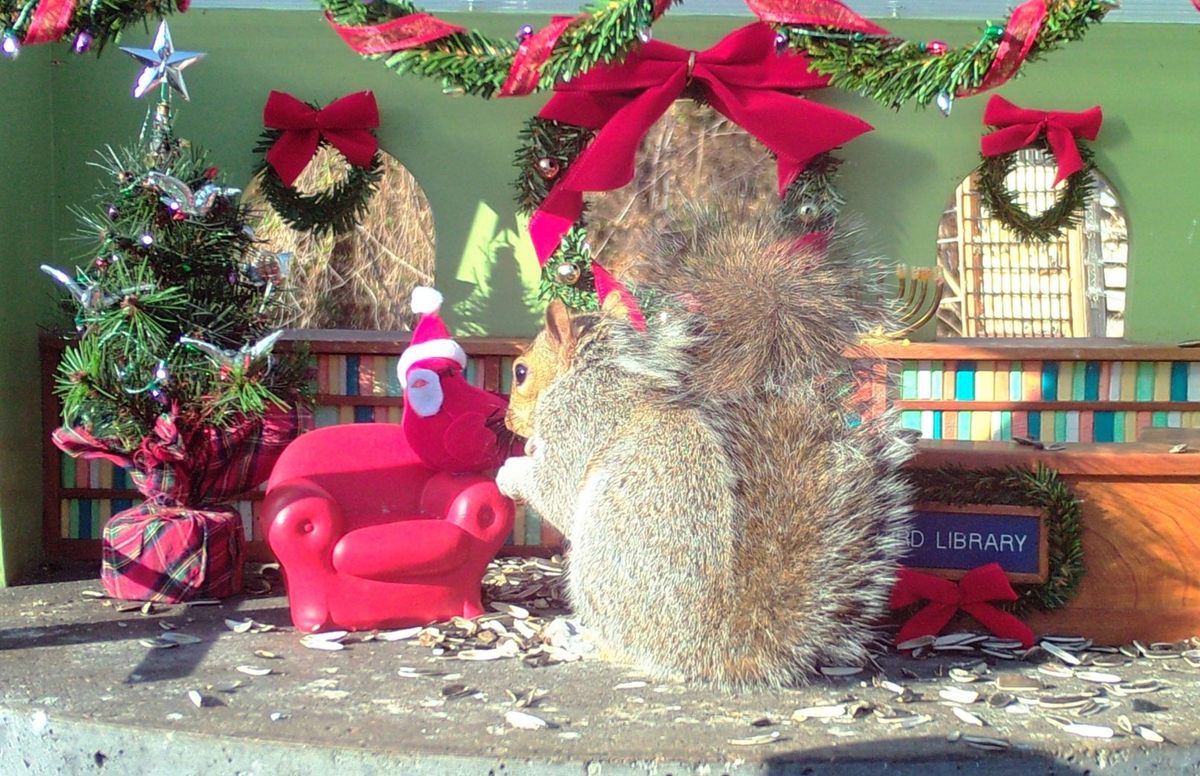 Birdwatching is also a calming activity, whether done in an open park or out one's kitchen window. "It forces you to slow down, be quiet, and tune in more to your senses and surroundings," Cwalina, who is a member of his local Monticello Bird Club, says. "You have to physically be still, too, so in a way there's a meditation aspect to it."
Bird Library is mostly visited by common backyard birds, but monitoring it has been a simple way for Cwalina and Flowers to get acquainted with their local biodiversity. Collecting specific data on everyday visitors can also be a valuable citizen-science project: Project FeederWatch, launched by the Cornell Lab, invites people in North America to count their backyard birds to help track long-term population trends. "It's fairly easy to build a bird feeder," Flowers says. "Make it your own by having it relate to something you enjoy."
Cwalina hopes to eventually publish an open-access plan for a similar bird library, so that other birders can build their own versions. "I would love for people on the West Coast, in other countries, to set up live cameras on them," he says. "How cool would that be, to have a whole network of bird libraries?"