A Lifelong Blimp-Lover Sets His Collection Free
Alan Gross, aka "Airship Al," is sending 100 boxes of lighter-than-air delights to the University of Akron.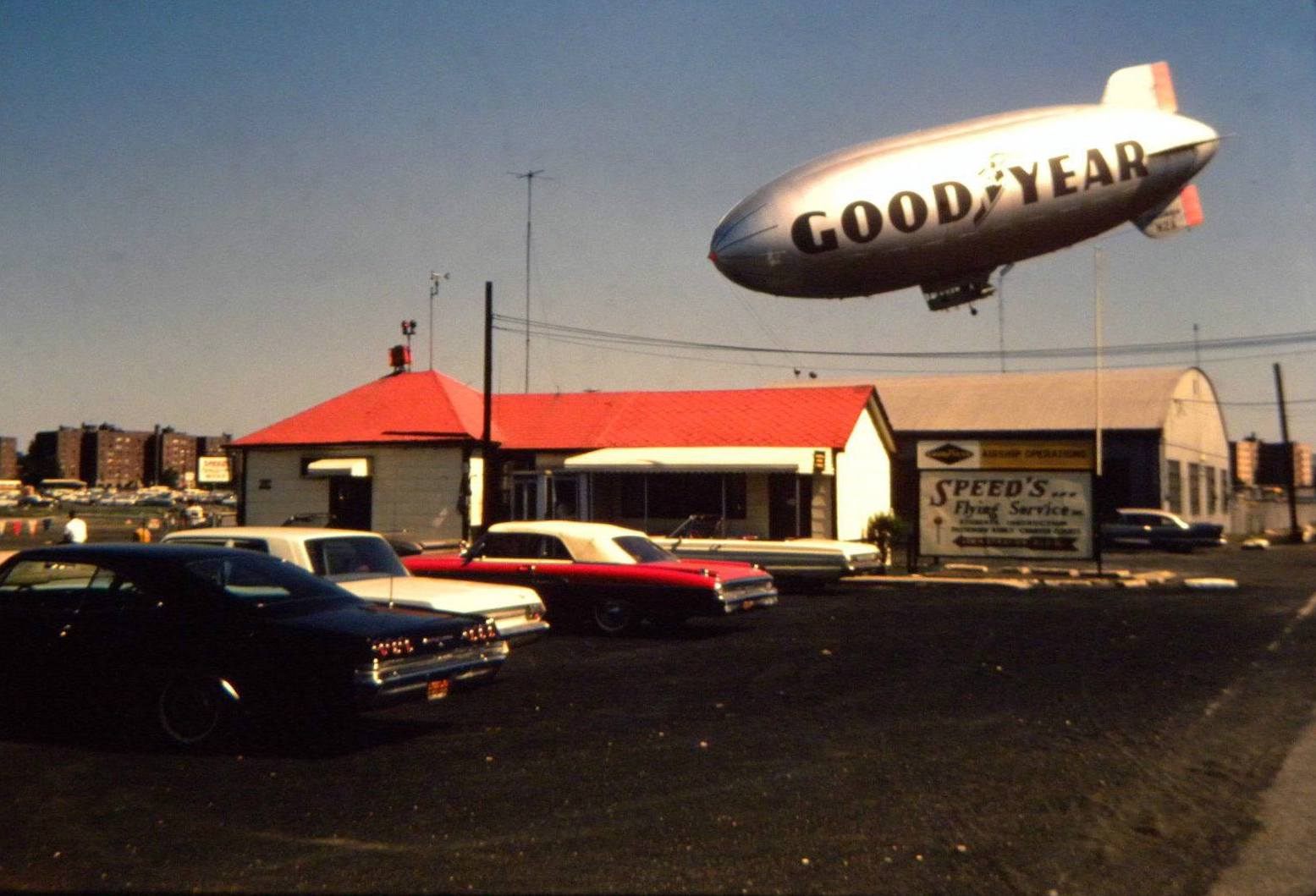 When Alan Gross was 13 years old, a blimp followed him home. It was 1964, and Goodyear was sending a couple of airships up to Queens for the New York World's Fair. One arrived just as Gross was taking the bus from day camp back to his apartment in Flushing, and he watched, fascinated, as it nosed through the air above the street. When he got home, he ran up the stairs just in time to see it pass his living room window, engine roaring.
"I just thought, "That's the coolest thing ever,'" Gross says. "When the second blimp showed up a few weeks later, that sealed the deal. I always knew that blimps were going to be a part of my life."
Now, 54 years later, Gross still lives in the same apartment. Blimps don't fly by his window anymore—there just aren't that many in the sky these days—but inside, the walls, shelves, cabinets, and closets are filled with tributes to them. Last week, Gross, who also goes by "Airship Al," announced that he was donating much of his collection to the University of Akron, where it will live alongside other materials documenting the history of lighter-than-air flight. This means that over the next few days, he'll watch much of his life's work lift off and drift away.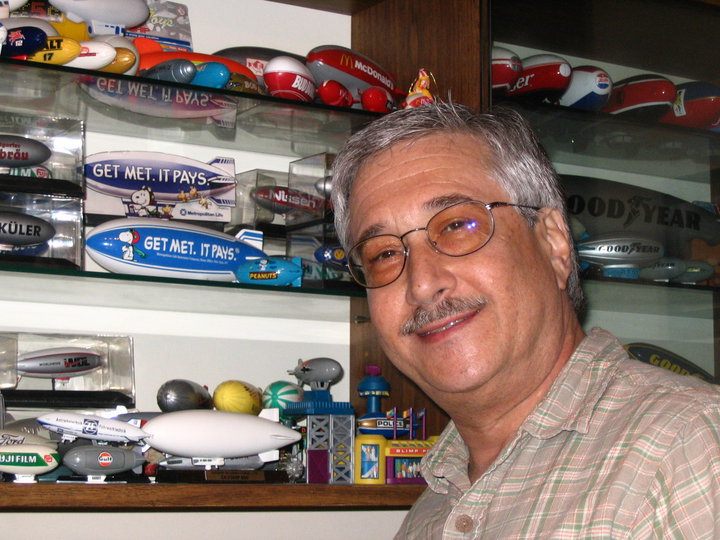 Gross attributes his collecting prowess to his status as a blimp insider. After spending much of his free teenaged time at Flushing Airport, Gross eventually got a job with Goodyear's ground crew as a "rope grabber": someone who helps the blimps prepare for take-off, and wrestles them down when they land. While he later pursued a career in broadcast journalism, he was able to stay airship-adjacent, developing marketing materials for various blimp operating companies.
As a result, he often had a camera in hand. In the 1980s—when, he says, "blimps were experiencing their renaissance"—he recorded the entire construction of the McDonalds airship, "Big Mac 1," from the envelope's initial layout to the final inflation. The next year, he participated in a six-blimp parade over New York City.
He'd find himself leaning out the window to film a blimp's-eye-view of an event, or up in a helicopter, shooting a blimp on its own turf. "I must have at least two or three thousand hours of airship-related videos," he says. "It got out of hand!"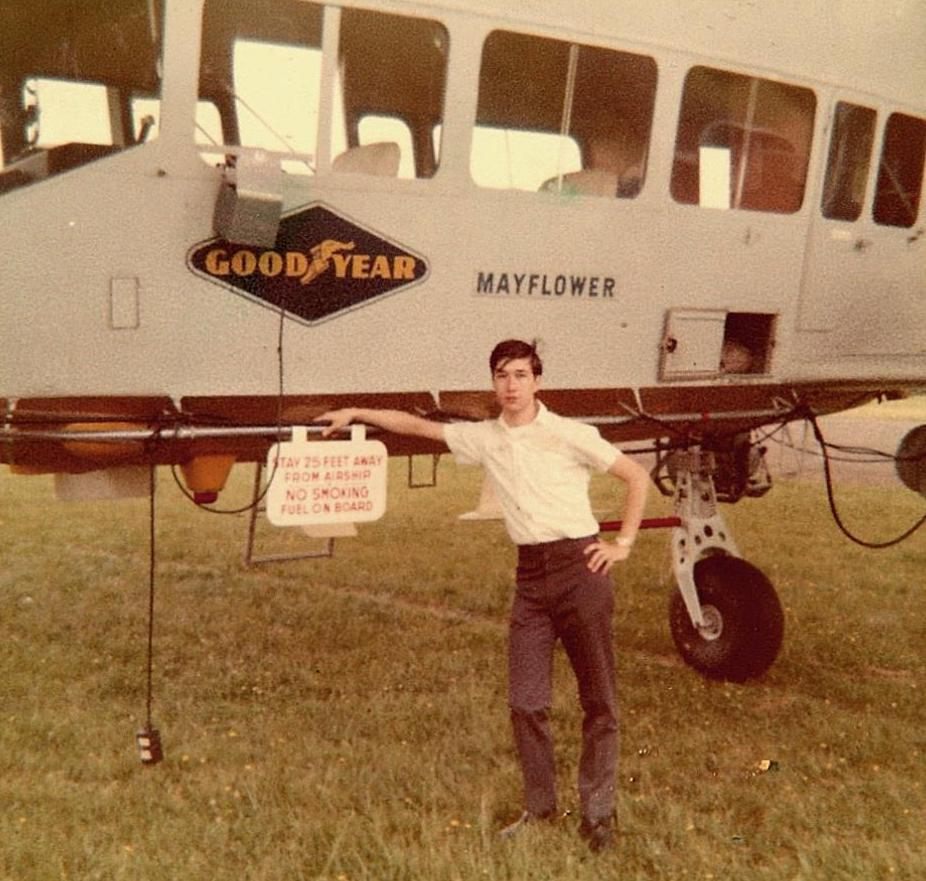 Along the way, he collected a lot of other stuff, too. He has uniforms and patches. He has model blimps and inflatables. He has a blimp-shaped aftershave bottle, a 1970s collaboration between Avon and Goodyear. He has an Edison phonograph cylinder of a song called "Come Take a Trip in My Airship." He even has oil paintings by Burt Dodge, the artist who hand-painted a number of iconic airships, including Fujifilm's, Sea World's, and MetLife's. (The paintings are portraits of blimps, of course.)
"I've just got boxes and boxes," he says. "You name it, I've got it." A few dozen of these have already made their way to Akron. About 70 more will make the trip next week. (Some of Gross's favorite items, as well as things he has doubles of, will stay in his apartment—otherwise it would be far too empty.) Goodyear, which is headquartered in Akron, has also expressed interest in displaying some of the materials at their blimp bases.
But Gross isn't too sad to say goodbye. As he points out, much of the world's historical blimp materials are currently in the hands of private collectors like him. Although enthusiasts share their memories on internet forums and Facebook groups, more official repositories are few and far between.
"A lot of companies have folded," he says. Many former landing sites have also been shut down, or even destroyed—the Flushing Airport, for example, was bulldozed in 2008. "They had some beautiful pre-WWII hangars there," says Gross. "And then one day it was all gone."
He sees his donation as a way of preventing further disappearances. "This is what I always wanted," he says. "I saved a lot of airship history, and now I can share it. It's not going to just be sitting in boxes." Instead it will be flying free.