For Sale: Boston's Skinny Spite House
This slim 19th-century home, just 10 feet wide, is seeking new owners who aren't afraid to get close.
The celadon house at 44 Hull Street in Boston's North End neighborhood has handsome exposed brick and a bathroom with vivid blue tiles. It boasts a lush, green private yard and enviable views from the roof deck. Charming amenities, for sure, but not the most notable things about this house.
It's narrow—really, really narrow. Blink-and-you'll-miss-it narrow. Stretch-your-arms-and-brush-both-walls-narrow. It's so narrow that previous owners had to saw their box spring in half to coax it upstairs, and even then only managed to wedge it in their bedroom by shoving it through a window. The svelte structure is known to locals as the Skinny House, and it's up for sale for $1.2 million.
This home is reportedly a "spite house"—a building designed to stymie another construction project or bug neighbors by blocking sunlight or stamping out their view. Many spite houses were "constructed in the days when building codes were lax," urban journalist John Metcalfe once reported for CityLab, "and so their underlying contempt and animosity has been grandfathered into the modern landscape." These odd little properties are likely to be found in old neighborhoods, where the street grid was once jagged and might still be irregular today.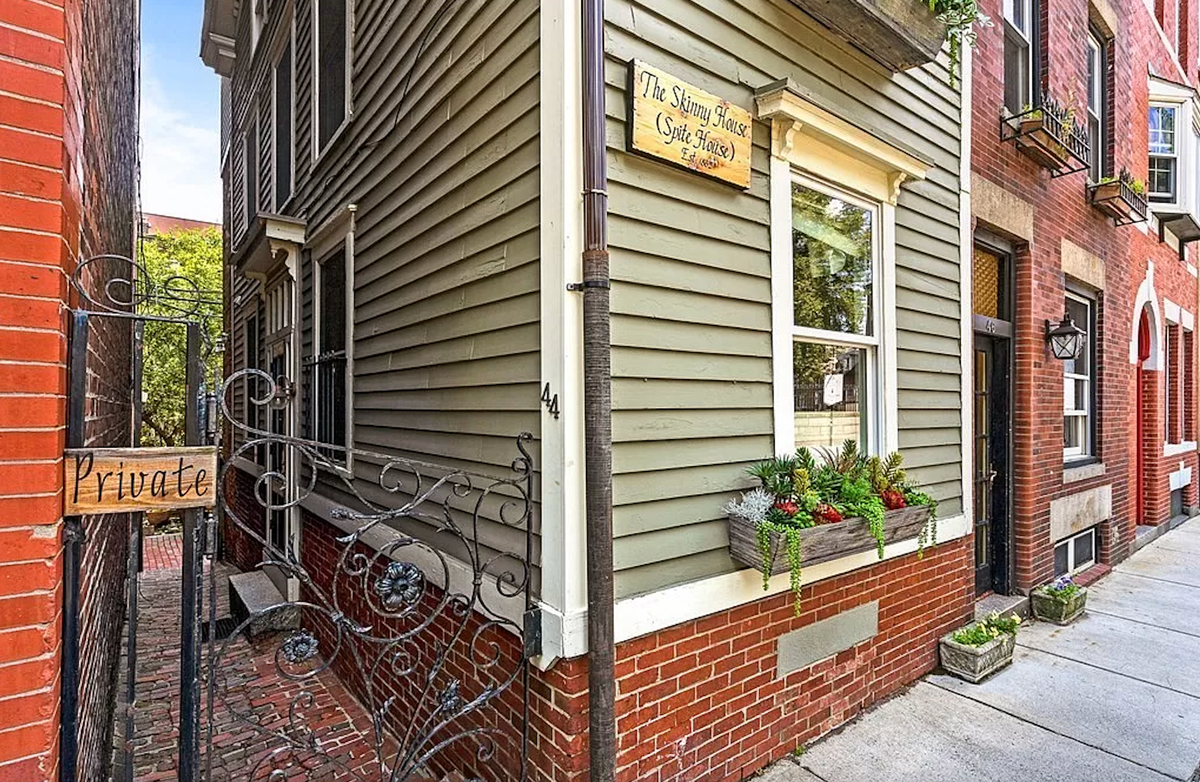 The origins of this particular spite house are "obscure," the Boston Globe reported in 2005, but local legend describes it as the result of two brothers tussling over a slice of land. One reportedly went off to fight in the Civil War and came back to find that his brother had blown through their inheritance and built himself a house on property that had passed to them by their father. The unfriendly act left only a slice of land, which the builder thought would be too small for a second dwelling. Undeterred, the enterprising returning brother simply squeezed a house in on the remaining sliver. That was apparently the first iteration of the house that stands today, which has been stretched by renovations over the years.
Today, at its roomiest, the two-bedroom, four-story home measures a bit more than 10 feet wide and 30 feet long. "In a city where there are many narrow lots, this far exceeds the norm," Ellen Lipsey, executive director of the Boston Landmarks Commission, told the Globe in 2005. "As far as we know, it is the narrowest house in Boston." Some of the walls nip in: In places, the house's walls are just a little over six feet apart.
When architects plan new two-bedroom apartments in Boston, they're often designing living room spaces that are around 13 feet wide, which comfortably fit a couch and TV unit, says Aeron Hodges, an architect and senior associate at Stantec. Ten feet would be "pinching it," Hodges adds, "but if it's smartly designed, it can definitely work."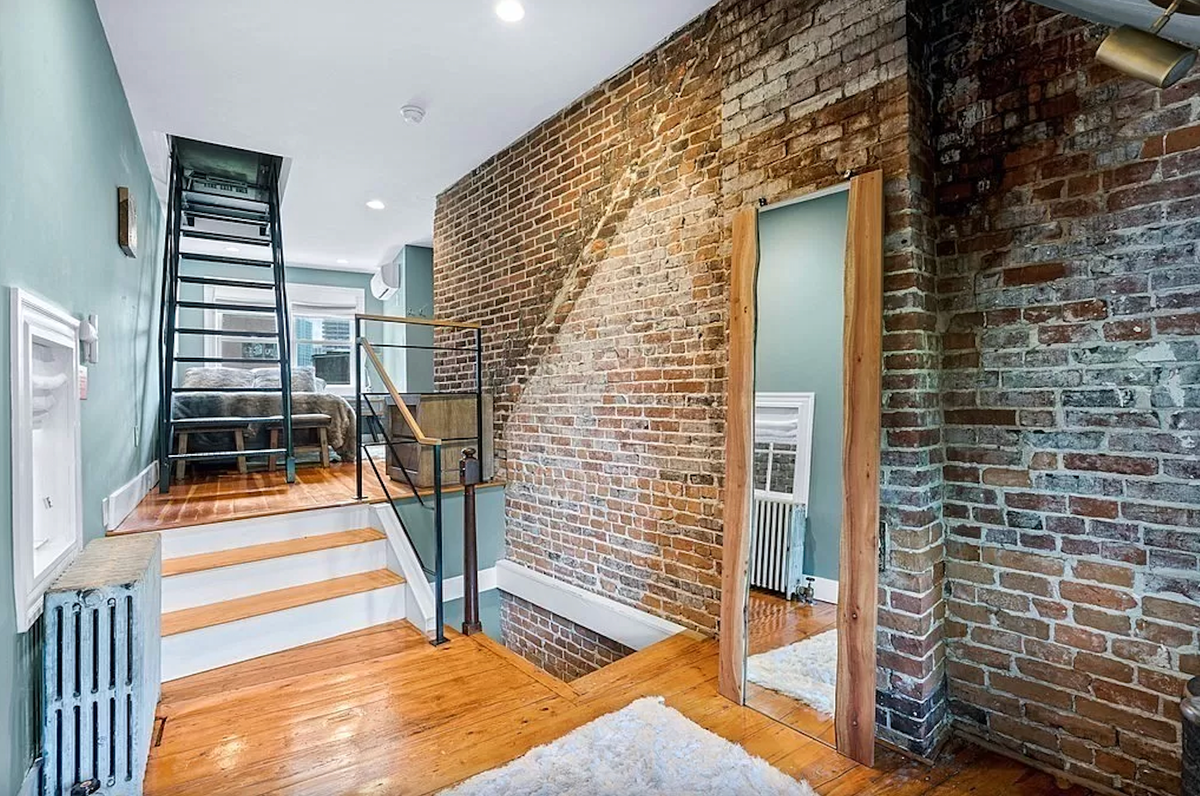 Living in a home like the Skinny House has its charms, but also its hassles: Passing from one room to another often requires a flight of stairs, since the floor plan is stacked. (Listing agent Carmela Laurella of CL Properties declined to comment on the place's quirks for this article, explaining that she was swamped with interest about the unusual dwelling.)
Hodges says the house is a bit of a novelty, but it's not all that cramped. With a total of 1,165 square feet of livable space, it's toward the more spacious end of two-bedroom apartments in Boston, which range from around 750 to 1,200 square feet, Hodges estimates. "I think it's actually really cute," she says.
The house is currently under contract, but keep an eye on the listing: If that offer doesn't pan out—and you happen to have $1.2 million to spare and aren't claustrophobic—this could be the spiteful little home of your dreams.