Bulgaria's Abandoned Communist Monument Gets a Lifeline
The Buzludzha Memorial House has a polarizing history and an uncertain future.
There's a remote peak in Bulgaria's Balkan Mountains, Buzludzha—about 5,000 feet of limestone and granite with a long history. In the 1860s and 1870s it saw battles between rebels and the Ottomans, it was the clandestine site of the first meeting of the Bulgarian Social Democratic Workers Party in 1891, and during World War II Bulgarian partisans attacked fascists there. It had grown quite the reputation, but the summit had remained relatively unadorned. In the 1970s, architect Georgi Stoilov sought to change that.
The Bulgarian native designed an imposing concrete monument to socialism that looks like it fell out of the sky. The citizen-funded Buzludzha Memorial House was used for gatherings of the Communist Party for just nine years, from 1981 to 1990, before it was abandoned with the ideology that inspired it. Since then, the brutalist- and futurist-influenced structure has fallen into disrepair. Recently, the Getty Foundation awarded a $185,000 grant to study and preserve Stoilov's alien masterpiece.
The funding comes at a crucial time, as the monument is currently in ruin, perhaps only a few years from being beyond saving. "The idea of preserving is really now or never … if it was another five or 10 years it wouldn't be worth it in my opinion," says preservation advocate and historian of the site Richard Morten. When Morten first saw the monument on a trip in 2007, "There were holes in the ceiling and really aggressive beams of sunlight falling in at different angles, which is very dramatic," he says. The cold mountain winters have compromised the roof and walls, and architects and preservationists are concerned about "concrete cancer," when rust develops inside the material and weakens the metal supports within.
Beyond concerns about the integrity of this surreal saucer-and-tower, the monument has also been overrun with graffiti (mostly of the anti-communist sort), while its detailed mosaics, which tell the history of the country and its socialist movement, are slowly dropping away. The Getty's "Keeping It Modern" grant will go toward assessing the current state of the Buzludzha Monument, as it is now known, and devising a management plan for its future.
"The first step with this Getty grant is to basically [use it as] a planning grant to find out how bad it is. Then, get a plastic sheet on top of it to stop the moisture from going in … do an architectural scan and get the blueprints and update and digitize them," says Morten. The team plans to create what's called a Building Information Model—a comprehensive digital database and model—and then sample the concrete itself.
"I don't find it surprising the Getty Foundation got interested to take part in the conservation. It's only natural and I think this is merely the beginning of a much larger initiative to save the Buzludzha Monument," says Mihail Kondov, a tour guide for the site. "The increased interest in recent years has had downsides as well, unfortunately. Every subsequent visit I made at Buzludzha, I noticed more graffiti appearing, more pieces of the mosaics disappearing, letters from the front facade going missing and various other acts of vandalism."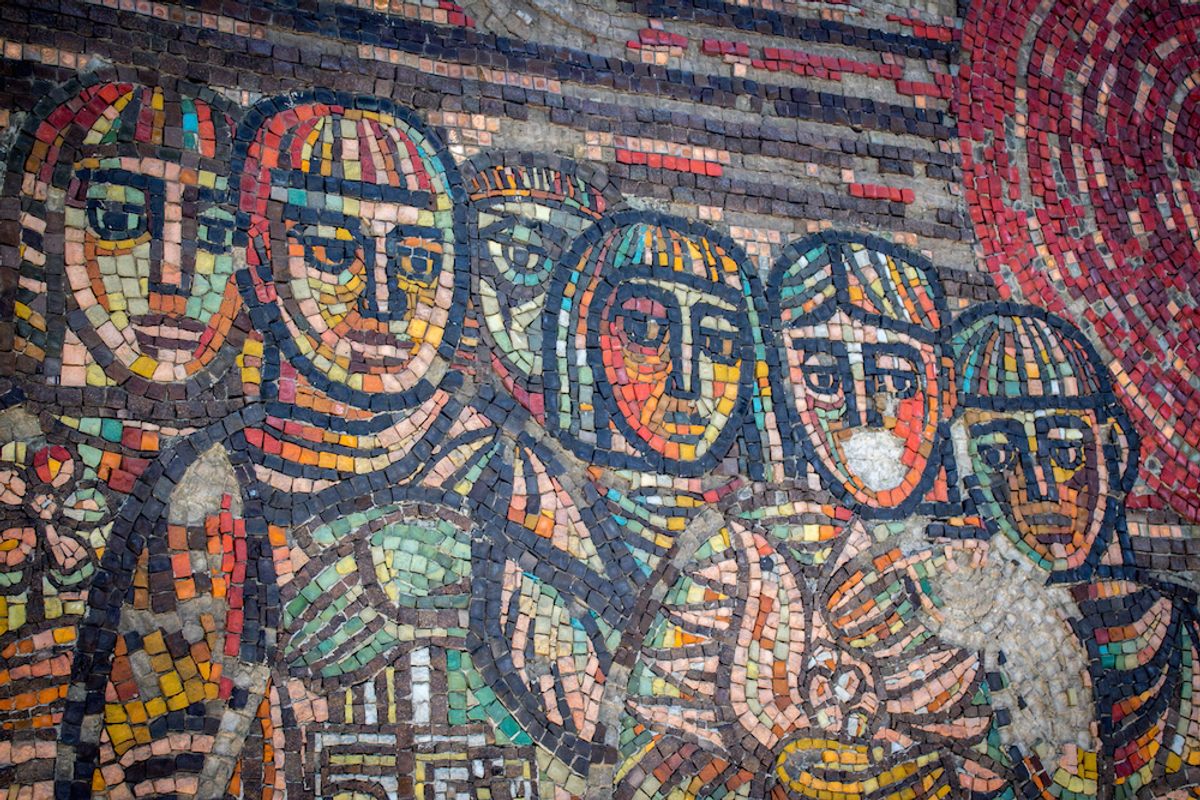 The Buzludzha Monument's location in Bulgaria's rugged, natural landscape—high on a peak—meant it was never a particularly practical choice for a political meeting hall. That will make preservation and ongoing staffing difficult, too. Ideally, the grant will help close these gaps. And there's local support to save the monument, as well. "You've got a lot of people who are nostalgic for that period," says Morten. Though some Bulgarians are still upset about the government that built the structure, he adds: "Increasingly there's a trend of people who want to preserve it for non-political reasons."
Naturally, there's been some pushback from locals who are uncomfortable with the monument's initial purpose of celebrating communism. "The 'C-word' is a sensitive subject to say the least," says Kondov. "Some might be afraid restoring it will aim to rekindle the flames of communism." Kondov counters that there will be many benefits to turning the monument into a proper tourist attraction. "Those shortcomings could be overcome if people are better informed about the benefits as well as having their concerns addressed adequately. Something like a rebranding campaign of sorts can go a very long way to resolve those issues," he adds. One idea is to convert the monument hall into an objective historical museum, with less emphasis on politics than on the striking absurdity of the architecture.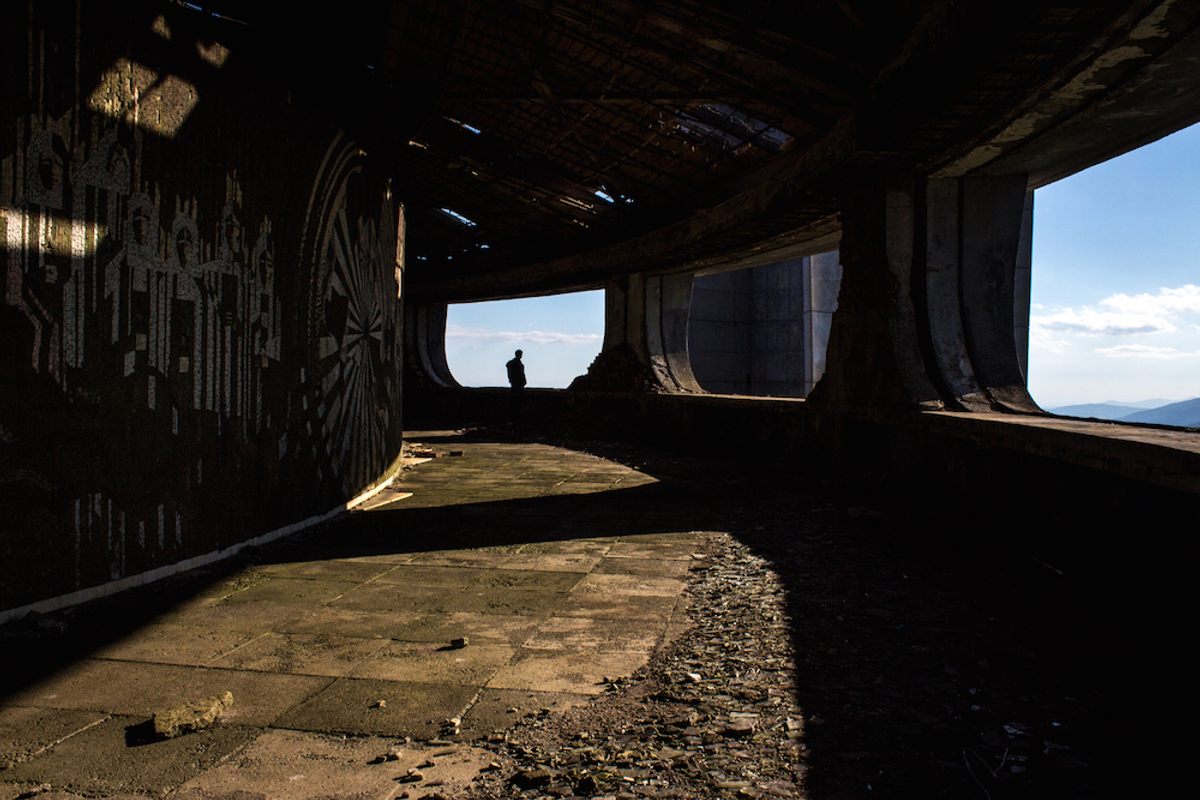 "I've personally met and spoken to people from as far as Australia, Brazil, and Canada … they didn't randomly stumble upon it either, they came to Bulgaria specifically to visit Buzludzha," says Kondov. "Bulgarian government on the other hand is keeping it quiet and no official government tourism bureau advertises it as a tourism destination.
"I think the country and most importantly its officials ought to embrace this difficult past," he adds, "to learn from it and work toward a better tomorrow."