The Return of Karachi's Legendary 'Caked Alaska'
An entire generation associated the beloved riff on Baked Alaska with teen romance and rebellion.
In August 2020, 46-year-old Natasha Kazmi returned from Virginia to Karachi, the city she had left when she was 19. Even as she built a life and raised two daughters in the United States, she had longed to return to Pakistan, counting down every Friday until her next visit. She had little by way of a plan, but she arrived as a pâtissier trained at the Cordon Bleu and Bellouet Conseil in Paris. In October, a childhood friend asked her to bake something, and Kazmi made a chocolate-caramel entremet, which her delighted friend posted a photograph of on a Facebook group for food reviews.
The friend happened to be two-time Oscar winning director Sharmeen Obaid Chinoy. Kazmi was inundated with orders. Soon she was delivering up to 10 cakes a day and running a home-based pâtisserie out of her apartment. Her daughter came up with a name, Wildflour, and helped her create a logo.
On a sweltering day in April, I watch Kazmi and four assistants in her small kitchen. It is the month of Ramadan, and Wildflour has received so many orders for iftari, the meal when Muslims break their fasts at sunset, that she was baking until 5 a.m. Wildflour's menu includes macarons, truffles, tarte Tatin, Bundt cakes, gâteau Concorde, and tiramisu. The bestseller, however, is something she has been making since she was a teenager: the Caked Alaska.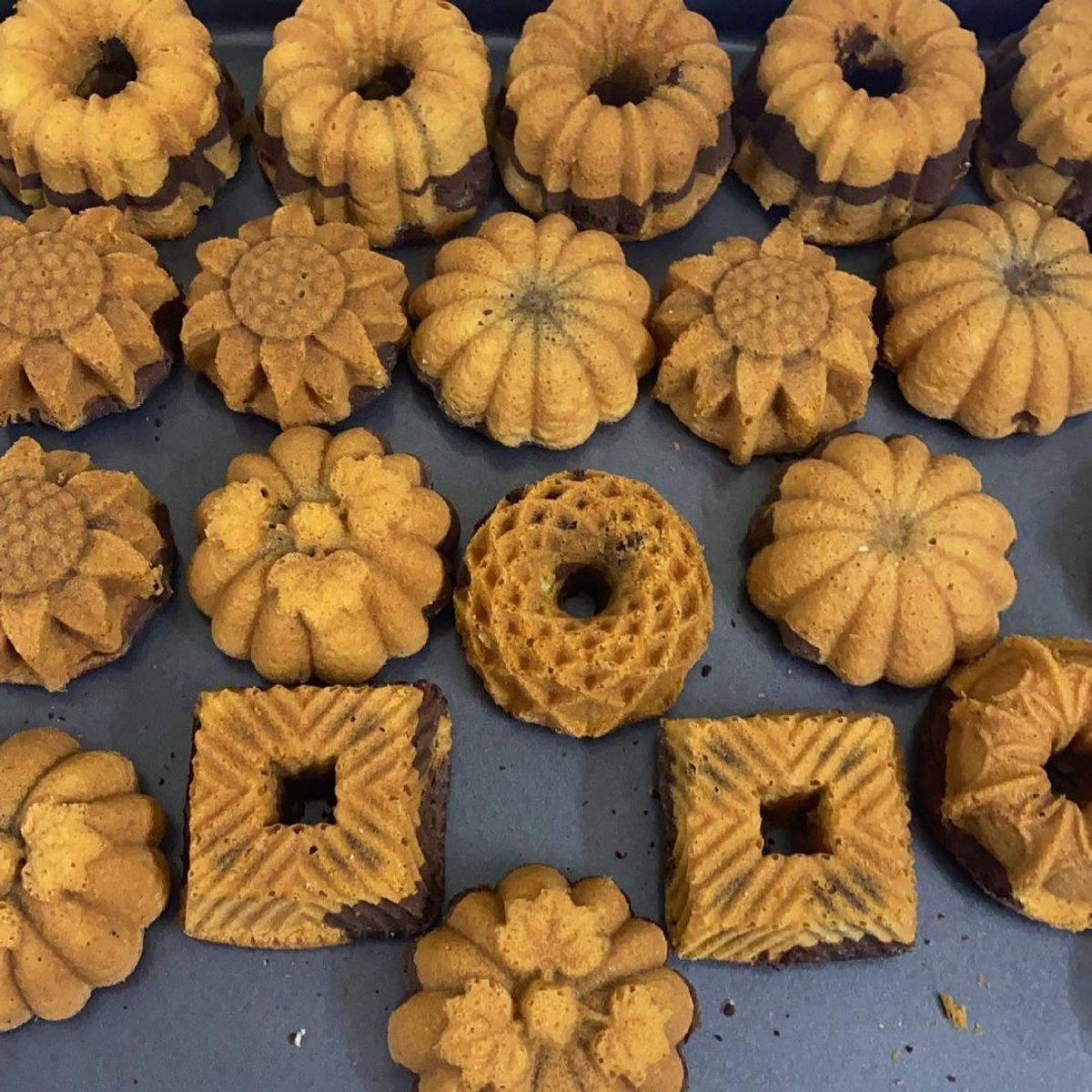 Kazmi has been taken aback by the demand for this simple cake. She's just delivered 25 slices for a dinner party, and the other night, she received a call from someone waiting in her building's parking lot. A customer and his friends asked if she had three Caked Alaskas. A few minutes later, he called again: Could they get another one? They had eaten all three in the car.
Caked Alaska is a slice of midnight-black chocolate cake that has been halved, packed with vanilla ice cream, and drenched with two sauces, chocolate and creamy white, that marble together. "I learned to make all this fancy stuff in France, and then I came here and people want me to make only one thing," Kazmi says, laughing.
It is a dessert that many in Karachi have been longing to taste for almost a decade. This is no French recipe, but a confection dreamed up at a dining table in Lahore by Kazmi's uncle, Mahboob Aslam, and his wife, Rosemary, 29 years ago, as they planned to open a restaurant. This simple cake is delicious, for sure. But it is popular for what it offers: a return, however momentary, to the time and place where we first tasted it.
In 1992, Aslam had quit his job managing Shangrila, a resort started by his father, to create something of his own: an eatery called Copper Kettle. At the time, Lahore had two restaurants, Xinhua and Salt and Pepper, catering to a growing taste for fast food. (American chains such as McDonald's had not yet arrived.) Aslam felt there was room for another. Scouting locations, he found he could only afford the basement of a building in Lahore's Gulberg neighborhood. "The owner wanted PKR 3 million ($19,700 by today's conversion rate) for it," Aslam recalls. He paid him PKR 700,000 and promised the remainder once he made the money. "He warned me that no restaurant had ever succeeded in the basement."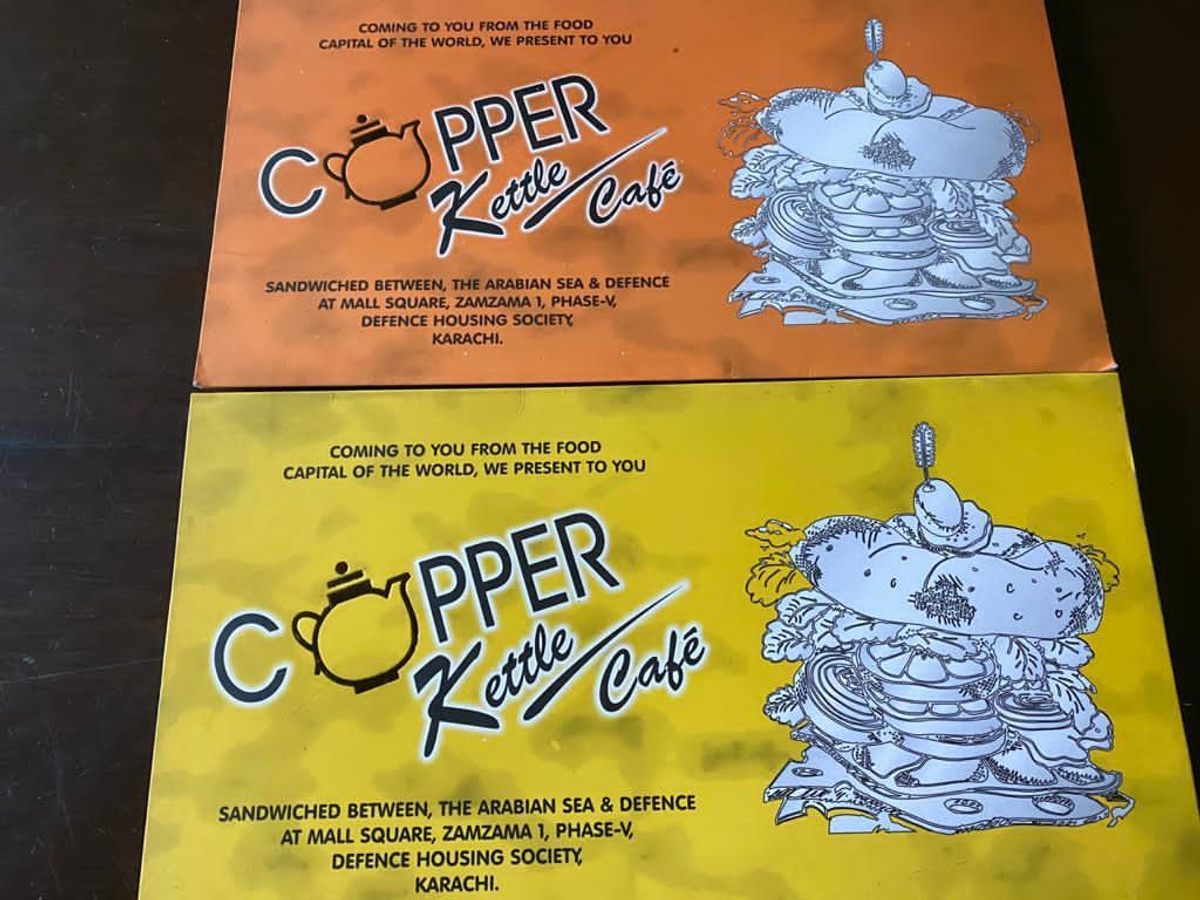 Aslam and Rosemary, an accomplished cook, came up with the menu with their children. They played around with names, thinking of puns or cheeky plays on curses or common phrases: Kiss My Buns was a chicken burger, while Slick Chick was a pasta. Rosemary made a chocolate cake, but they didn't want to add cream or icing between the layers. What about ice cream? someone suggested. They learned to make ice cream with a thick, creamy texture akin to gelato. "I didn't even have an oven in the restaurant's kitchen yet," Aslam says. "Rosemary would make the cakes at home and send them over. I saw something called a Baked Alaska in a magazine, so we played around with the name and decided to call ours the 'Caked Alaska.'"
On the restaurant's first day, there was such a crush of people that orders were going out 40 minutes late. Aslam was so overwhelmed that his manager gently ushered him outside while he calmed the crowd. He knew Copper Kettle was going to be successful when he discovered that Xinhua, one of the most popular restaurants in the city, had planted two men in his kitchen to work as cooks. "They would make things half wrong, a bit burned, or they would delay orders," he recalls. He caught them when they packed a takeaway order for a Chicken Chuck and the chicken was raw.
Rosemary was making up to 120 slices of Caked Alaska every day. "We tried so many different desserts, but people kept coming back for the Caked Alaska," Aslam says. The serving was generous. "We knew that Lahoris are gluttons, you see," he explains. "It was a big portion and included the ice cream and a lot of sauce—a great dessert for the hot summer months." Aslam credits the cake for their success; nine months after Copper Kettle opened its doors, Aslam was able to pay his debt to the building's owner.
By 1993, he decided to open a second Copper Kettle in Karachi with his sisters Nilofer and Yasmeen. A week before the opening, they had no one to make desserts. Yasmeen approached her daughter, Kazmi, who loved to bake. "She asked me if I would be able to handle school and making the desserts," Kazmi recalls. They paid her, and on weekend nights, Kazmi would receive frantic phone calls and rush back to make cakes for a line of customers that trailed out the restaurant doors.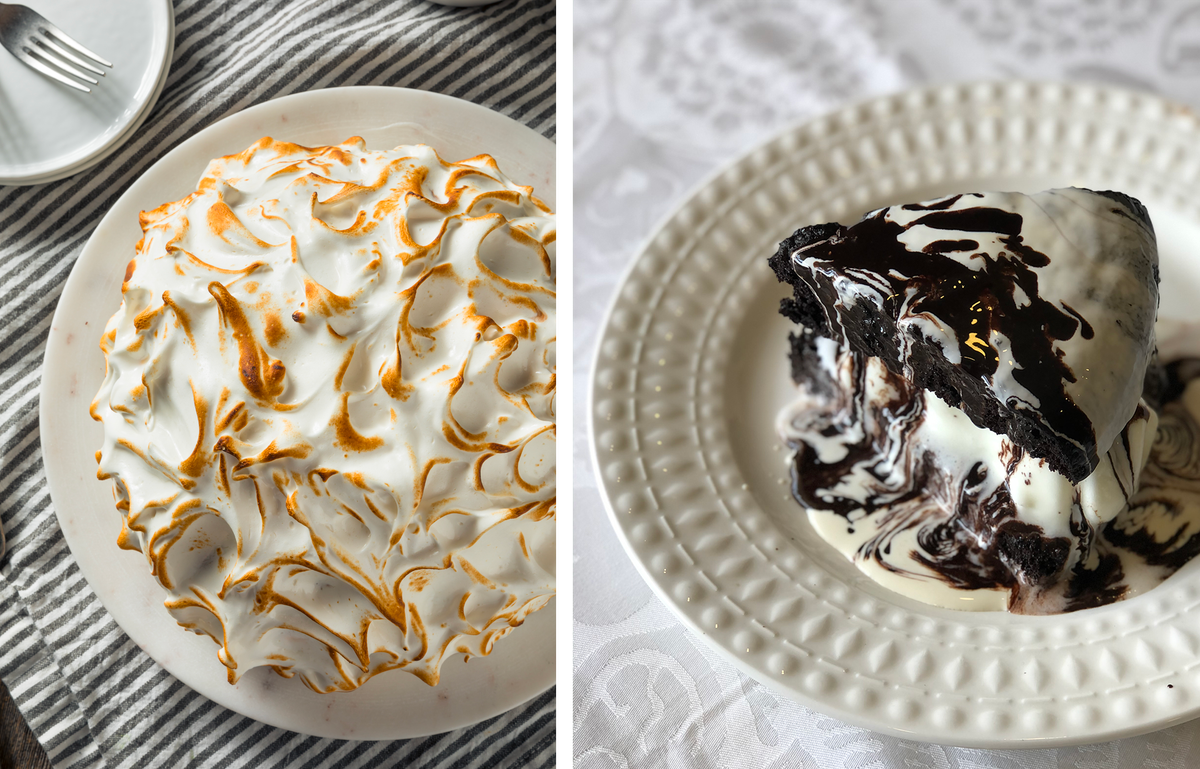 Maqsood Ali, 46, joined Copper Kettle as a waiter when it first opened in Karachi. "Everyone came there!" he says. "I served politicians, cricketers, singers, actors." Even today, he laughs as he recalls the names of the dishes and how young patrons would giggle as they said "Kiss My Buns" in front of their parents. One evening, Murtaza Bhutto, the brother of then-prime minister Benazir Bhutto, came in for a meal with friends. "I'll have a Son of a Bitch," Ali recalls Bhutto saying, while his friends burst out laughing and corrected him. (It was a Son of a Botch, a beef burger.)
But the customers that Ali remembers most are the teenagers. For many young people living in Karachi, Lahore, and Islamabad (where Aslam opened a third branch), Copper Kettle was the spot you could go without parents. It was the place for first dates, flirtations, anniversaries, and, should a relationship sour, where your friends brought the two of you to negotiate a "compro" (compromise).
The waiters saw it all and learned not to be scandalised. "When I started working there, I thought the kids were really bad," Ali admits. He lived in a colony a short walk away from the restaurant. "Over there, for a girl and a boy to even stare at each other wasn't acceptable. We would come to work and spend 12 or 13 hours in a space where teenagers could hold hands or hide in corners together." When he spotted a couple kissing over a meal, he chided, "Guys, this is Pakistan, not America." His manager overheard. "What's your problem?" the manager scolded. "Are you a cleric? Let them do what they want." Still, when a teenage boy, at the restaurant with his date, promised him PKR 5000 if he'd turn off the lights for five minutes, he refused.
Some parents didn't approve. "One time, a girl's father turned up at the restaurant as he suspected she was on a date," Ali says. Her boyfriend fled to the bathroom, where he hid for two hours.
Copper Kettle shut its doors in Karachi in 2011, following a feud between Aslam and his sisters. Aslam retained the rights to the Copper Kettle name and all items on its menu, and he closed the other two branches a few years later. "I was so bitter that I never wanted to open another restaurant," he says. Others jumped at the chance to replicate its success. "Many restaurants tried to copy the Caked Alaska," he says. "But they were missing something that made the original special. None of them got it right."


The last Caked Alaska was served at the original Copper Kettle in Lahore in 2017. The teenagers who packed the place have now grown; many have children that attend the same schools they did, and experience the same heartbreaks and joys, even if they play out in online spaces rather than in a dimly lit restaurant with arcade games in the back and dishes whose cheeky names made them feel like rebels.
Kazmi knew this when she put Caked Alaska on Wildflour's menu: She was catering to the memory of a taste, and a yearning for a time when a first date could be sweet enough to make us dream that it would be our last first date, when the heat of a fight could go out quick as the flame of a birthday candle, when the greatest injustices were by our parents and teachers and not the world outside our homes.
There is little from our past that exists in the way that we remember it—we return to our childhood homes and classrooms and marvel at how small they seem. "The cake we made then was very dry as we used commercial-grade ingredients," Kazmi explains. "People would hate it today." She retained the original recipe for the chocolate sauce, but uses the best butter, cocoa, and chocolate she could find in Karachi, as well as some ingredients brought back from the United States, and tweaked the recipe until she landed on one for a cake that was just right. When she sent her first orders out, she was nervous. Then, the reviews came: "Nothing has changed. This is just as perfect as I remember it."
Gastro Obscura covers the world's most wondrous food and drink.
Sign up for our email, delivered twice a week.