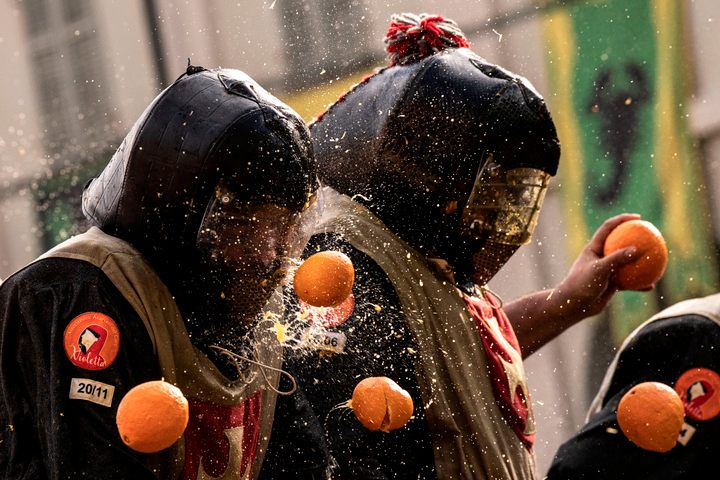 Ivrea's Battle of the Oranges Is Raucous, Sticky Fun
The Italian Carnival celebration involves one town, nine teams, and three tons of citrus.
As traditions pass through decades and generations, sometimes their origins get a little hazy. The Carnival of Ivrea is one of those. But regardless of how it started, the Battle of the Oranges, as it is known, has become a deeply rooted tradition that brings visitors from around the world to the town in northwest Italy.
One of the stories behind the festival is that it is a reenactment of an actual historic event. According to Pierre Laszlo in the book Citrus: A History, the three-day festival held before Lent is a reenactment of "bloody uprisings by the townspeople," but exactly who their oppressors were is in question. The revolution might have been against Ranieri di Biandrate, a 12th-century tyrant known for jus primae noctis, a violent custom that gave him the right to every bride on her wedding day (though scholars debate the law's existence). When he tried to assert this "right" with one local woman, he met a grisly fate. His head, freshly removed by his would-be victim, was shown to the crowd in triumph. Inspired by her brave act, people marched to his castle and burned it to the ground. Another story pits the town against Marquis William VII of Montferrat, a 13th-century tyrant who was accused of the same crime. How oranges came to be involved is unknown. Either way, the festival commemorates an uprising. As one festival attendee told The New York Times in 2007, "It's a festival that represents the people against any type of oppressive power."
During the festival, the town erupts in a mock battle, with orange throwers—representing the revolters—and riders in horse-drawn carts defending the castle, and each group wears its own elaborate costume. Nearly three tons of oranges, imported from the south, fly, leaving the city a pulpy mess. Horses and those wearing easy-to-spot red hats are off-limits, but in the heat of battle, it's hard to avoid getting plunked once in a while.

Atlas Obscura takes a look at this sticky situation.