San Franciscans Sing Sea Chanteys by the Seashore
It's actually on the Bay, but this monthly event brings together hundreds of maritime music enthusiasts.
Walking out onto the historic Hyde Street Pier after dark feels a world away from the glittering San Francisco skyline and the iconic cable car just up the block. The pier is lined with half a dozen historic schooners, ferries, and tugs. Standing on the thick rigging ropes that keep the creaking ships from floating away, sleek night herons scrutinize the frigid waters of the San Francisco Bay, searching for fish. The occasional loud splash signals a sea lion swimming by. Every few seconds, the lighthouse lamp on Alcatraz Island blinks out in the bay.
About halfway down the pier is where, on the first Saturday evening of every month for the past 37 years, San Francisco's sailors, maritime enthusiasts, and a variety of singers and musicians have gathered on the Eureka, a steam ferryboat built in 1890. For three hours, from 8 to 11 p.m., the small crew sings call-and-response work songs about life on the seas, from sailing around Cape Horn to tales of tragic whaling expeditions.
There's no set list or agenda. And there are only three rules: no drinking, no smoking, no falling off the pier. This is the Chantey Sing.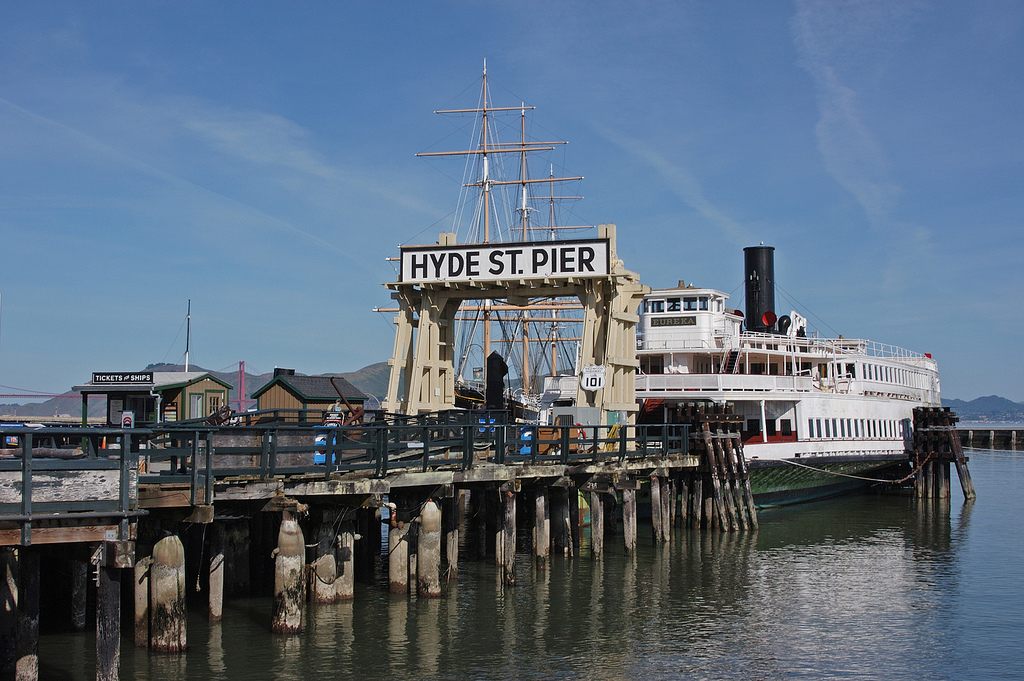 At the helm of the event is Peter Kasin, a park ranger in the Interpretation Division at the San Francisco Maritime National Historic Park, which includes the Hyde Street Pier. Little has changed since Kasin attended his first sing in November 1989. Started by retired ranger Dave Nettell in 1981, the "sing" was adopted by several other rangers who inspired and ultimately passed the lively tradition down to Kasin in 1996.
The Chantey Sing is part of the park's emphasis on buoying the public's interest in all aspects of maritime culture, including sea music. In addition to daily docent tours of the pier, this is accomplished with an events calendar, including what has become the nation's longest-running sea music concert series, started by ranger Celeste Bernardo in 1989. The park also hosts a "floating film" series, special event sing-alongs, and author events on topics as wide-ranging as the legacies of women in maritime trades, African-American chanteys, and early Hollywood depictions of life on luxury ocean liners.
The wholesome public singalong feels like a throwback to another era, not only because it's a longtime San Francisco tradition, but because of the concerted efforts of Kasin and his crew to create a welcoming, family-friendly environment. "I think of the chantey sing as a safe place to sing," Kasin says. "I remember how shy I was about singing [when I first started attending the event], so I encourage people at all levels to sing and try to create a non-judgmental atmosphere." His success in cultivating an encouraging environment sustains the event's most devoted fans, some of whom come wearing naval-style caps and jackets.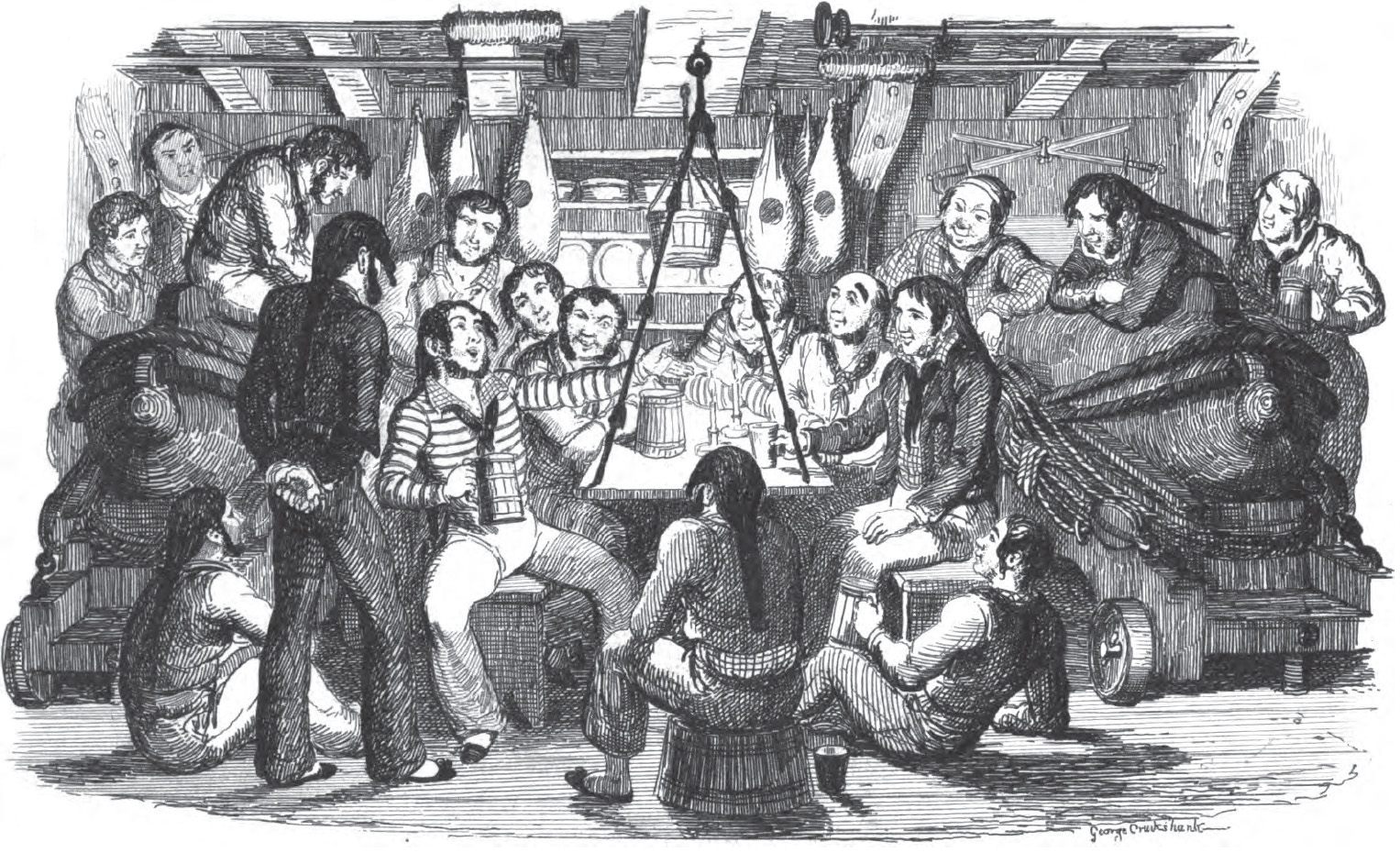 Traditionally, chanteys hold a dual purpose: to entertain off-duty crews, and as work songs sung to lighten the load of grueling onboard chores or harbor-side stevedoring. Chantey songs derive from many cultures, spanning the West Indies to Ireland to African port towns, and come in many languages including English, French, and Welsh. As with other folk-derived work songs, there remains debate about the degree to which enslaved people influenced the style of chanteys sung by paid maritime crews.
These diverse songs are divided into several subgenre classifications. According to the Library of Congress, off-duty deepwater fisherman sing fo'c'sles, or songs sung on the forecastle (the front lower ship deck used as living quarters). Chanteys unique to sailing barges on the River Thames are known as bargeman's songs. There are also pulling shanties, typically sung by laborers in the Caribbean as they pull heavy objects down a beach. Even the word chantey has variant spellings—chanty, shanty—owing to the global reach of work songs sung by multicultural sailing crews.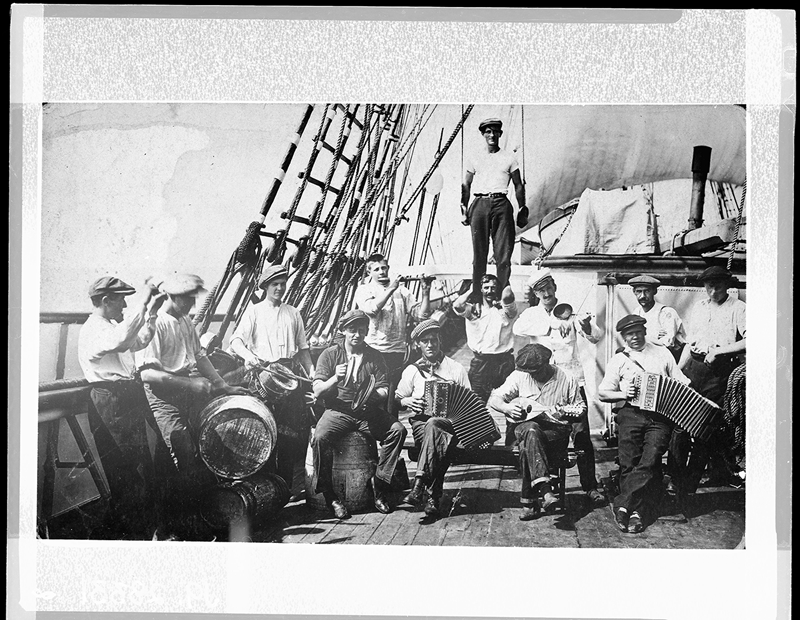 At the San Francisco singalong, many guests come with their favorite songs memorized. These span the lengthy history of sea chanteys across oceans, as well as across many generations of naval sailors and merchant marines. Many of the chanteys reference San Francisco specifically, owing to the seaside city's historic Golden Gate strait and numerous cargo ports, including the infamous Gold Rush-era Barbary Coast district.
Even though the songs are meant to be sung from memory, someone occasionally brings sheet music for reference or inspiration; others use their smartphones to look up lyrics. A few musicians carry their own instruments, from concertinas to mandolins, and stand to lead a or two.
In previous eras, many attendees also brought their own mugs. Usually, there's a roughly 15-minute break every hour, during which hot beverages are served from the galley of the Balclutha, which is typically docked on the opposite side of the pier from the Eureka. Hot chocolate and cider are free, though tips are encouraged. Paper cups are provided to those who don't bring their own.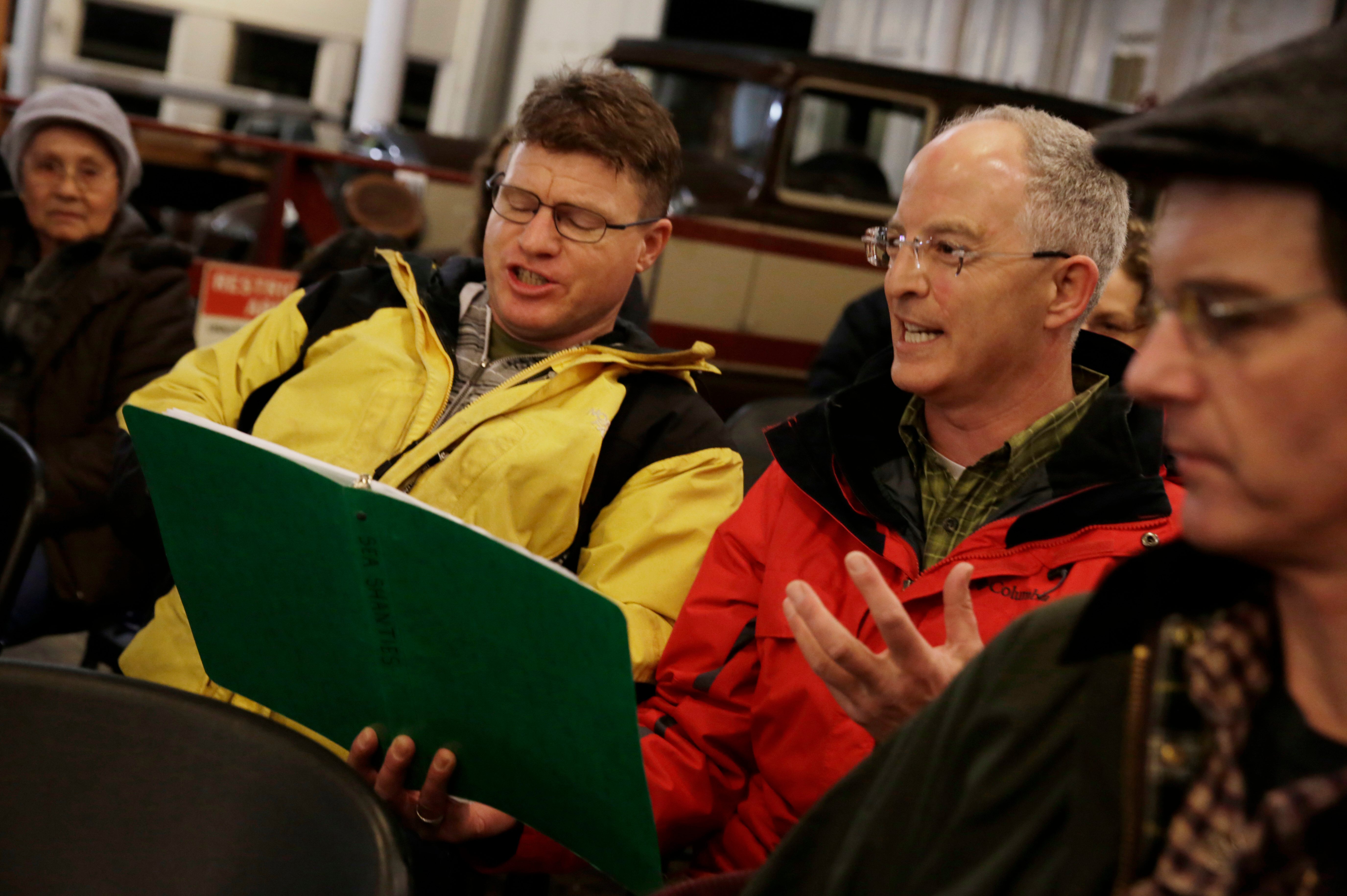 The call-and-response style of work songs make sea chanteys particularly alluring to all level of singer and sea music fan. Accordingly, the San Francisco sing draws a cross-section of amateur and professional folk performers. Most months, local musicians, including Walter "Salty Walt" Askew and Riggy Rackin, sit up front, facing the crowd like friendly choir directors, leading when there's a lull or helping a singer from the crowd if he forgets a verse.
Attendees can come from as far away as Australia and as close as Canada. It makes sense that this singalong would draw visitors from out of state and out of country. While there are other maritime-themed public singing events in the United States, including in Seattle, Staten Island, and aboard the USS Constitution in Boston, the San Francisco chantey sing is the oldest.
Until September 2016, the San Francisco sing ran until midnight, with the final hour reserved for bawdy sea chanteys. Think songs about romancing the captain's daughter or what debauchery awaits when you and your mates get to port. Since then, the cutoff time has been 11 p.m. "It is of course sad that after 35 years of chantey sings running until midnight, this change is necessary," Kasin wrote to his chantey sing email list, citing late night safety concerns and a mutual decision between U.S. Park Police and pier personnel. "Your safety comes first," he added.
Still, the tradition lives on, with more than 100 regulars and visitors filling the ferry deck folding chairs every first Saturday. Some regular attendees have made the sing such a part of their lives, Kasin has witnessed them grow as they've gathered to harmonize together over the years.
"I've seen kids grow to adults. I've seen shy people come out of their shell and begin singing in public for their first time. I've seen people meet at the sings and form relationships," Kasin says. "One couple met there a few years ago and are now engaged to be married."
You might say that's something to sing about.